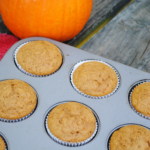 Print
Pumpkin muffins
Pumpkin muffins made with fresh or canned pumpkin.
Mix pumpkin puree, sugar, eggs, and vanilla together.

Sift together flour, and remaining dry ingredients into the wet ingredients.

Mix together until just combined.

Fill each muffin liner in a muffin tin up ⅔ of the way full.

Bake at 350 for 18-20 minutes.