Top picks for healthy allergy friendly Halloween candy that actually taste good. No one wants gross candy. These candies are safe for most people with food allergies, so they can still join in on the candy fun!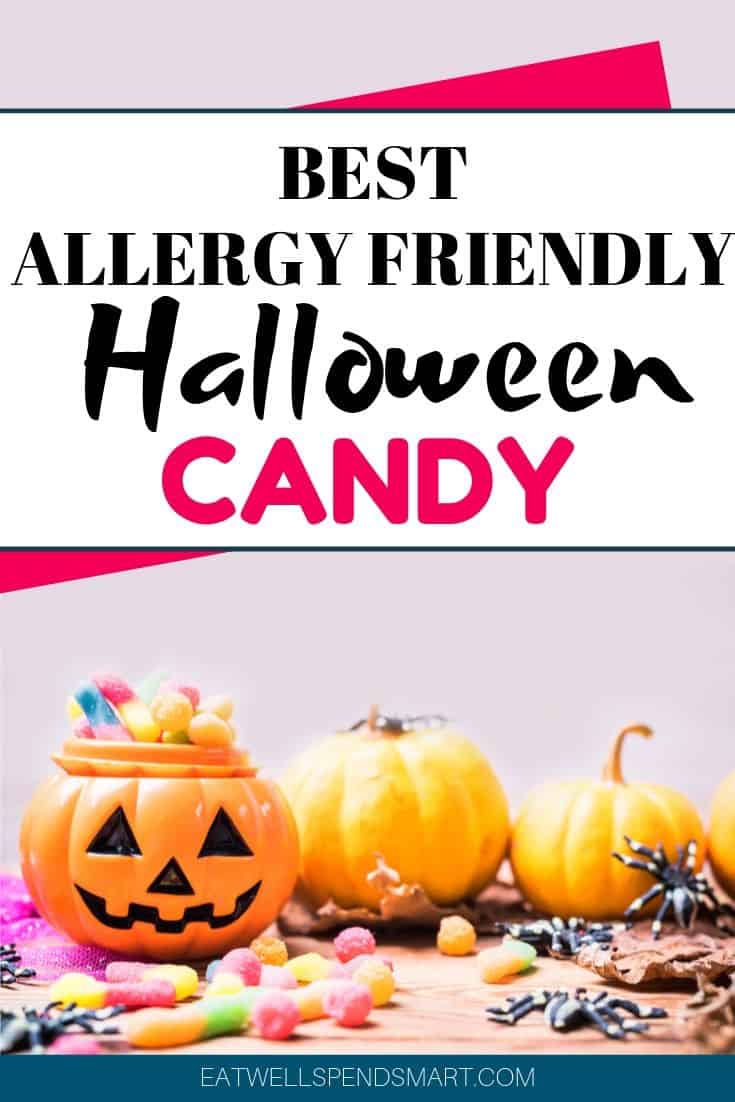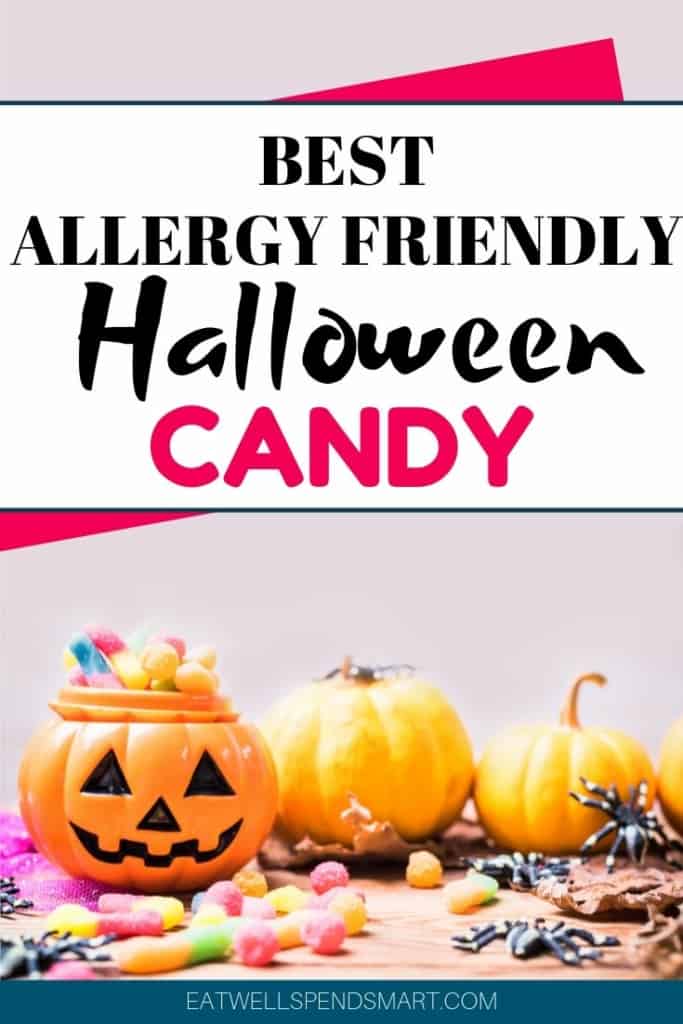 This post contains affiliate links.  By purchasing through my links, I may receive a commission at no additional cost to you.
Food allergies on Halloween
Food allergies on Halloween can be a real bummer. I appreciate my local allergy support group for throwing a food free Halloween party where the kids can dress up, play games, do crafts, and receive non-food prizes. While this type of activity is definitely the safest for a child with food allergies, sometimes a kid wants to join in on the candy fun.
My daughter is one of those with many food allergies but still enjoys trick or treating. Most years she gets the candy and just picks out the few candies that she can eat and we get rid of the rest. I always feel bummed for her when she has to throw out her favorites like the chocolate candies. It rips out my mama heart a little.
This year I'm going to buy some allergy-friendly chocolates to swap out with the ones she's allergic to and it will hopefully make for a more cheerful event. While she has never complained once, I know she will be so excited with the change.
In case you find yourself in the same boat looking for allergy friendly candy for your own family or to pass out on Halloween, I have compiled a list of what I think are the best tasting candies. They are free from the top eight allergens and also corn and food dyes. They are not only allergy-friendly, but also healthier too. Honestly on Halloween and special occasions I don't care much about the health factor, but some people do, so I made sure my picks met those standards too.
What about the cost?
Yes, these treats are more expensive than a variety pack of standard candy. But when it means a kid that doesn't normally get to eat these treats can actually participate in the fun, I think it's worth it. To cut down on costs, if it's for your neighbor kids, consider one big pack of suckers instead of multiple bags of different candies. If it's for your own kid, consider smaller packs instead of larger packs.
Allergy Friendly Halloween Candy
1. YumEarth Organic Lollipops
These individually wrapped suckers are a real treat for anyone. Everyone loves a lollipop, and these are allergy friendly and free of food dyes. If you don't need the 300 pack, they also sell a 50 pack for a smaller price.
2. YumEarth Gummy Bears

Similar to standard gummy bears but without food dyes and corn syrup.
3. YumEarth Candy Corn and Spooky Gummy Fruits

This combo pack is a great alternative to candy corn and spooky gummy fruits. Note: The candy corn does contain egg white powder. If that is a concern for you, do not purchase.
4. Enjoy Life Crunchy Mini Cookies
These crunchy chocolate chip cookies are a huge hit in my house. Free from most allergies and delicious. Enjoy Life is a great allergy-friendly company.
Buy on Amazon
5. Enjoy Life Chocolate Minis
We absolutely love Enjoy Life's milk-free chocolate. All of the varieties are delicious and don't taste "healthy". I'll be buying these for sure for a swap to my daughter's chocolate candies.
6. No Whey Foods Assorted Chocolates
Similar to all of your favorite chocolate treats, this variety pack looks awesome to swap out with the standard trick or treating chocolate. This is another great brand for dairy free chocolate.
Note: Caramel and nouget bars do contain corn and chickpeas which can be problematic for some. I still included this variety pack because the other three are pretty solid.
Non-food Halloween Treats
If you want to skip the candy altogether, it's also fun to hand out non-food treats. They can be a fun and welcomed alternative to the piles of candy that the typical child will receive Halloween night. I prefer items that can be used instead of just the plastic junk toys. They usually just get looked at once and tossed in my house. The consumable gifts are more likely to get used in my experience. Here are some of my favorite ideas.
I hope you have a fun and safe Halloween with your family. If you have a child with food allergies, what are their favorite treats?