Crockpot pinto beans are the epitome of simple southern comfort food.  These simple pinto beans are made in the slow cooker so that they can simmer all day and get tender while you are free to do something else.  The pinto beans, thanks to the magic of the crockpot, get tender and delicious while producing a creamy juice. They are just like Grandma used to make.  Follow my tips for perfect crockpot pinto beans.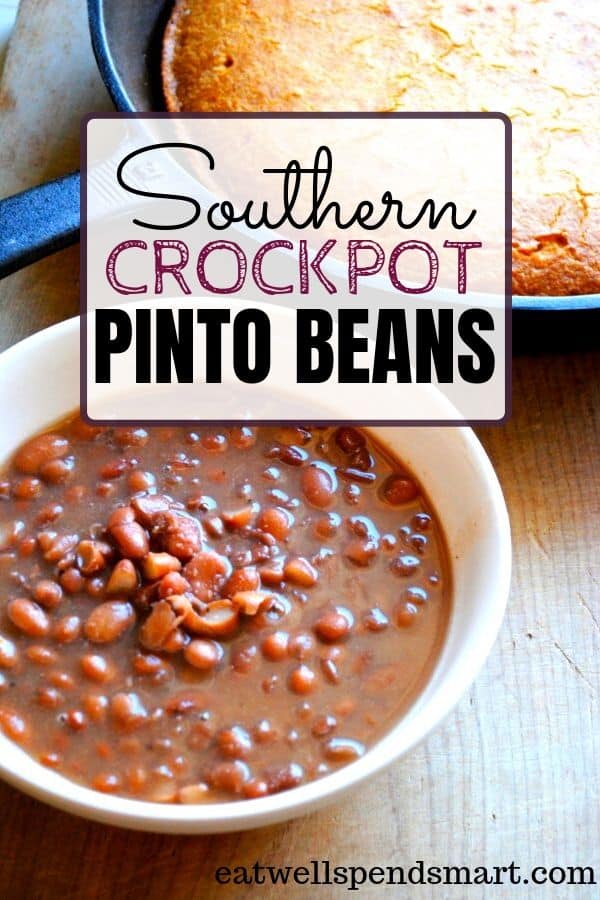 Slow cooker pinto beans: simple comfort food
When I think of pinto beans, I think of my grandma.  She is the queen of a comforting pot of simple beans.  As a child, when we would visit, we would almost always be served a pot of beans at one point or another.  That and chicken and dumplings have become her two signature dishes that all of us grandkids are now making in our own homes.  Both make you wanna slap your pappy as my grandpa says.  She often serves her pinto beans with greens and cornbread for a complete simple and frugal down home cookin' country meal.
Beans are so simple to make on the stove top, but I know many of you aren't home during the day to babysit a pot of beans simmering on the stove for a couple of hours.  Using the crockpot is a great way to get dinner on the table if you work outside the home or are just busy with other things and can't devote a lot of time to cooking.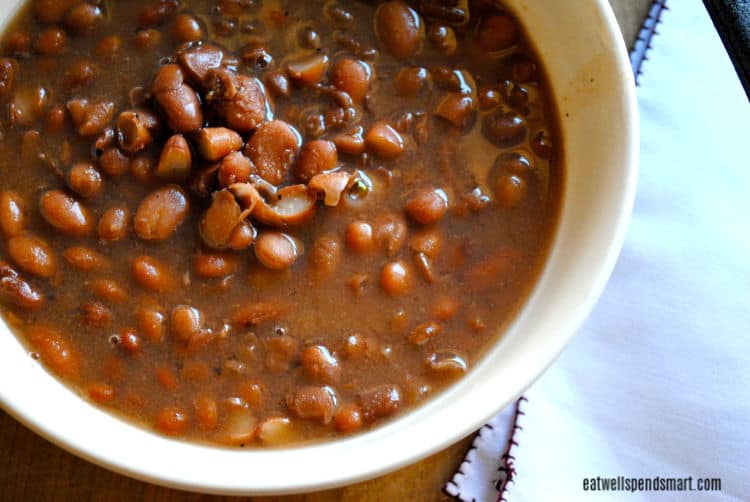 Uses for leftover pinto beans
These crockpot pinto beans are seasoned very simply with just salt, pepper and a little bit of bacon, ham, or bacon fat.  In my mind there is no need for fancy seasonings with this humble dish.  The simplicity of the seasonings, makes the flavor of the bean shine through.  I also like to keep the seasonings simple so leftover beans can be turned into different things.
Beans are an excellent frugal protein source.  One of my favorite food budget tips after I have cooked them, is to reuse them in other recipes.  Cook once, use in multiple dishes.
They are excellent in burrito bowls or taco salads. Simply layer any ingredients that you desire:  rice, beans, cheese, salsa, guacamole, corn, peppers, lettuce, sour cream.
For re-fried beans, mash or puree the beans.  You can add it to a toasted corn tortilla shell for tostadas, wrap them in wrap, serve it with eggs and salsa, etc.  You can also use them in tacquitos, beans and greens soup, a bean dip or bean burritos.
Slow Cooker Pinto Beans FAQ
Do I have to soak my beans?
No, when using the slow cooker you do not have to soak the pinto beans.  If you are prone to digestive upset from beans, I would soak the beans overnight to help digestibility.
Do I have to use bacon fat or meat in my pinto beans?
No, you can absolutely make these without either. They simply add that smoky pork flavor that is traditional in southern cooking.  If you are vegetarian, add a bay leaf for more flavor.
Mine aren't thickening. How do I get that thick juice?
The creamy thick juice simply comes from the starch in the beans.  There is no need to add another thickening agent.  Just cook your beans longer.  They will also thicken more the longer they set. If your juice is not thick, next time try a little less water. You could also use an immersion blender to slightly purée a portion.
What sides go well with slow cooker pinto beans?
Any southern side dish would be a great choice. My recommendations are boiled cabbage, collard greens, and homemade cornbread. Yum!
Crockpot pinto beans: step by step
1.  Rinse and sort beans.  Pick out any funky ones or debris.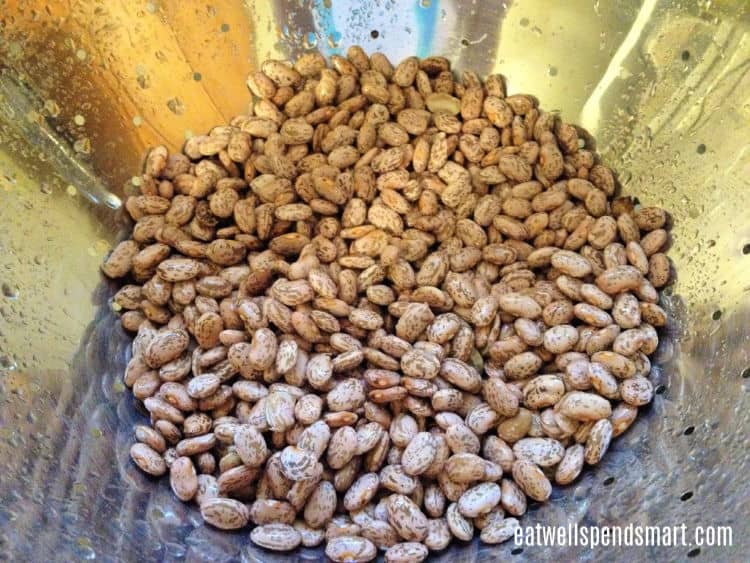 2.  Optional step: Soak beans overnight with about 2 inches of warm water covering beans and a pinch of baking soda.  If you are short on time, this isn't a necessary step.  Just rinse and put in slow cooker and proceed with cooking. You may have to add another cup of water if you aren't soaking ahead of time.
3.  After soaking your beans they will look like the picture below. Drain soaked beans and place in slow cooker.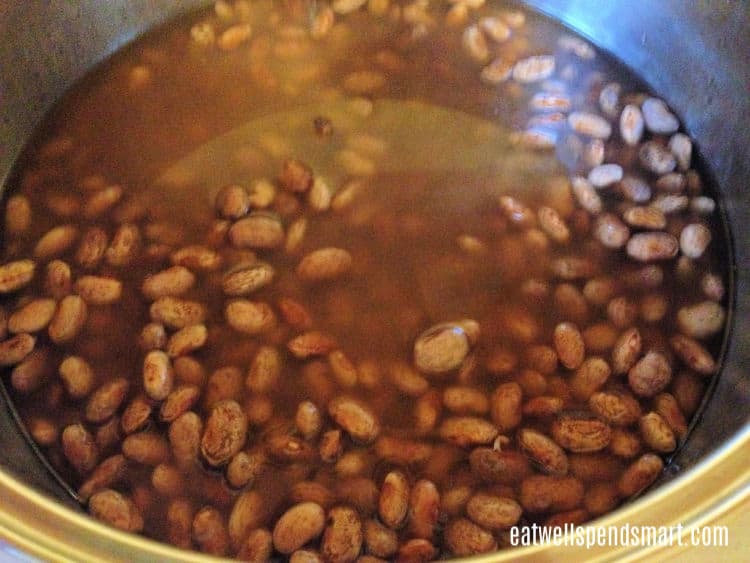 4.  Add 6 cups water or broth, fat/bacon/ham hock (if using), and salt and pepper.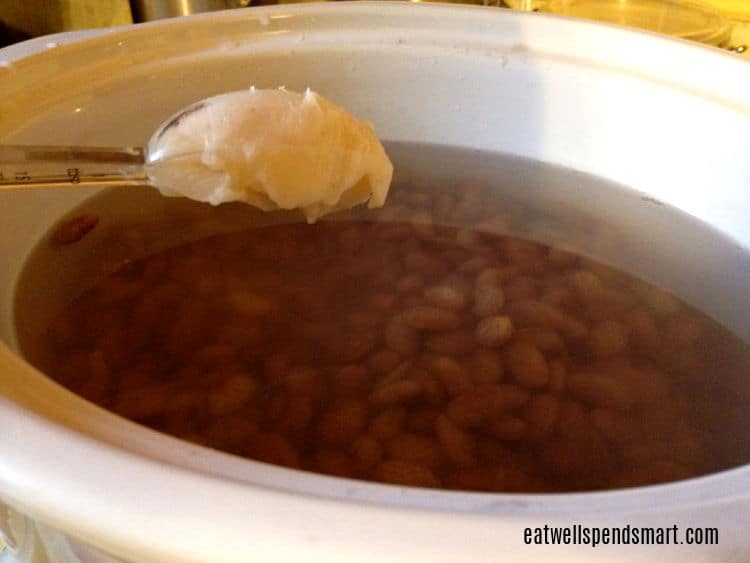 5.  Stir beans and taste for salt preference.  Add more if needed. Now gobble down those southern slow cooker beans!

Crockpot pinto beans
Simple southern pinto beans made easy in the slow cooker. Tender, creamy, and flavorful.
Ingredients
1

lb

dry pinto beans

6

c

water

7 c. if not soaking beans prior

1 ½

tsp

sea salt

½

tsp

pepper

Use ¼ tsp if you prefer less spice.

1

tbsp

bacon fat

or ham hock or 2 pieces chopped raw bacon

1

bay leaf

optional but recommended if vegetarian
Instructions
Rinse thoroughly and sort beans, removing any stones or beans that don't look good.

In a pot or bowl, add warm water covering the beans by two inches. Let soak overnight. (This is an optional step and not necessary if you are short on time. Add another cup of water in step 4 if not soaking.)

Drain the next day and add beans to a slow cooker.

Add 6 cups water, salt, pepper, and bacon fat, raw bacon, or ham hock. Use a bay leaf if you are vegetarian.


Cook on low for 8 hours or on high for 5 hours. If beans are not tender, cover and cook longer. Depending on your slow cooker and age of the beans, it may take longer.


Taste and add more salt to taste if needed.

Notes
If you are short on time, you don't necessarily have to soak the beans ahead of time. You may have to cook the beans a little longer.
More southern favorites:
More easy slow cooker recipes: