Sack lunch ideas that require no refrigeration and can be kept at room temperature. I've included classic ideas as well as some different ones for more adventurous eaters. Great for field trips, summer camp, car trips, hiking or camping.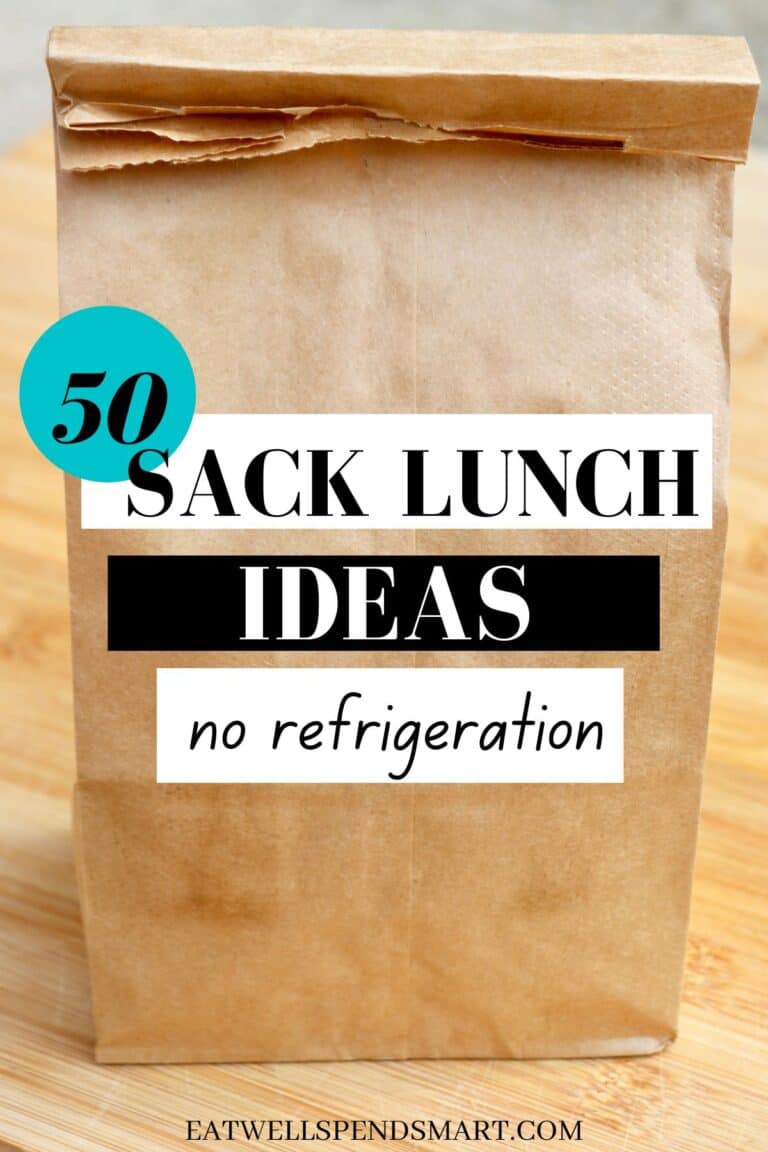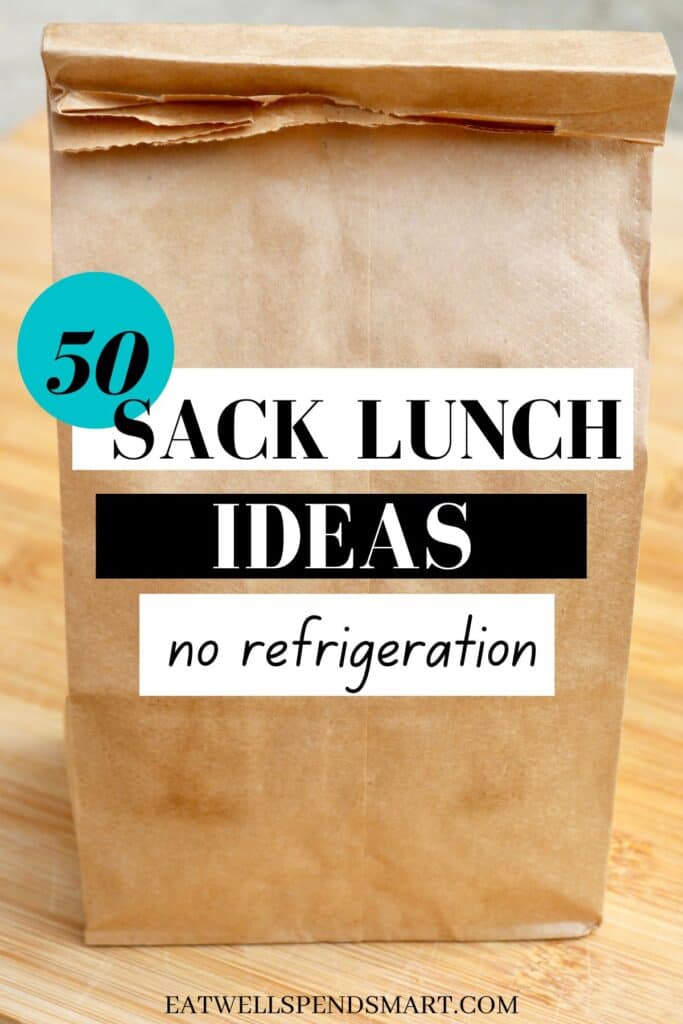 This post contains affiliate links. If you make a purchase through my links, I may receive a commission at no additional cost to you.
Packing a disposable sack lunch for yourself or your child can be tricky. Maybe you are going on a family hike, camping trip, or your kid has a field trip or summer camp requiring a disposable lunch. You immediately panic thinking that your standard school lunches that you send with ice packs in your reusable bento box won't work.
It can be difficult to think of easy sack lunch ideas that don't require an ice pack for cold lunches, especially if you have a picky child. I have done the hard work for you and brainstormed a list of foods that are perfect for a paper bag packed lunch. Everything on this list can be thrown away after eating.
What can I pack for lunch without refrigeration?
Although it may feel limiting, there are actually a lot of foods that do not require refrigeration. It might be helpful to show your child this list and see what foods look appetizing. Giving them ownership often goes a long way in making it more likely they will actually eat the food you pack.
peanut butter and jelly (You could also sub almond butter or sunflower butter)
peanut butter and honey
peanut butter crackers
fresh vegetables:  snap peas, carrots, celery, grape tomatoes, yellow or red bell peppers, cucumbers
dried fruit: dried mango, dates, dried figs, raisins, etc
pita chips
fruit cup
fresh fruit with the peels on: cuties, banana, peach, plum, apple, cherries, grapes, strawberries, blueberries, etc.
applesauce pouches
protein bars or other snack bars
hard cheeses (low moisture): parmesan cheese, aged gouda, Pecorino Romano, asiago
tuna packs with crackers or stuffed in a pita pocket
granola: store-bought or homemade
chips
fruit strips
popcorn
nuts
crackers
pretzels
sunflower seeds
pumpkin seeds
trail mix
bagel
rice cake
sealed pepperoni pack
water or juice box
Additional foods with ice packs
If you really wanted to include some perishable foods, you could include an "ice pack". You could freeze your child's water bottle or juice box ahead of time and have that act as your ice pack. Make sure to remove some of the water before freezing so it leaves a little space for the water to expand as it freezes. I would wrap the frozen drinks in paper towels and place them in a small ziplock to keep condensation from ruining the brown paper bag.
Of course, there is still a potential danger in this method as you are never 100% sure if the food will remain a safe temperature, so proceed with caution. The shelf stable list above is always the safest bet.
For additional sack lunch ideas in this category, you could add the following:
deli meat sandwiches or wraps
string cheese or cheddar cheese cubes
hard-boiled eggs
bagel with cream cheese
build your own lunchable: meat, cheese, crackers
tortilla pinwheels with any fillings you wish
non shelf-stable yogurt: You can also freeze this ahead of time so it's thawed and likely still cold by lunch.
rotisserie chicken
beans and bean dip
Sack Lunch Examples
Here are some example of combinations you could put together for sack lunches. Sometimes the visuals can be helpful. I like to aim for a protein, carb, fat, and something they will look forward to eating.
The Classic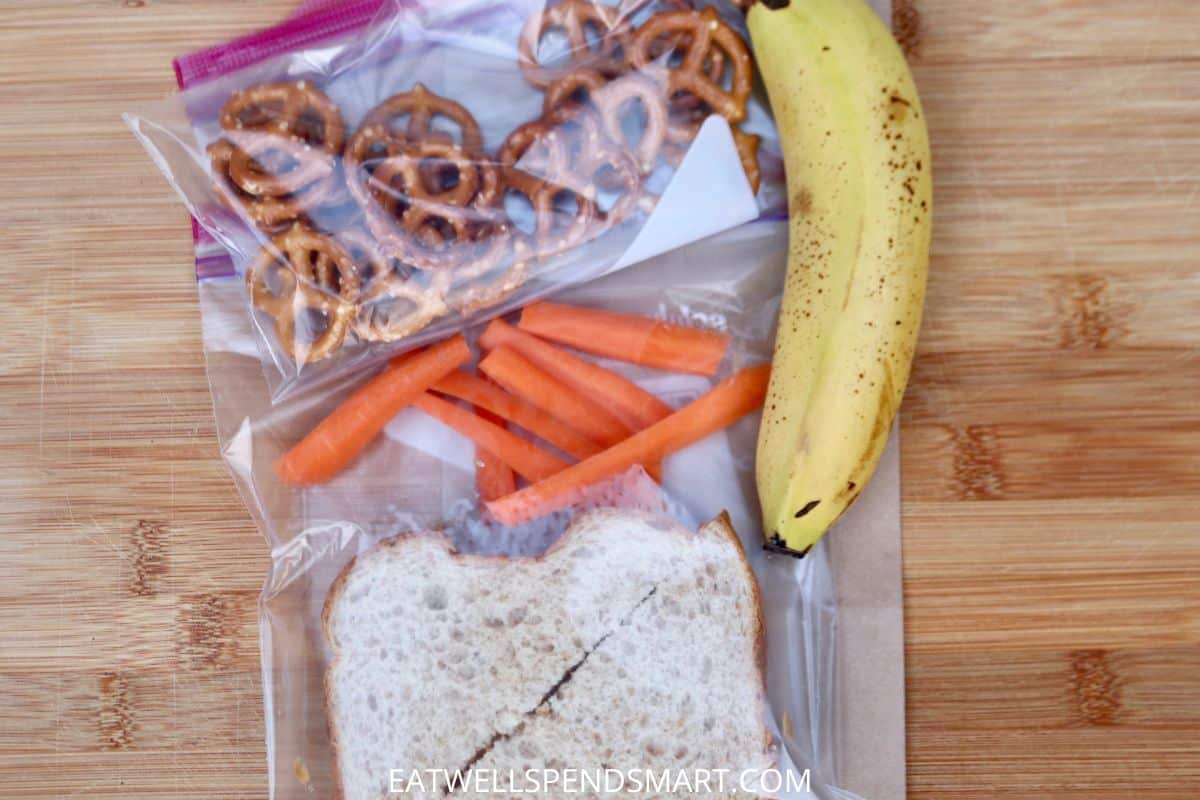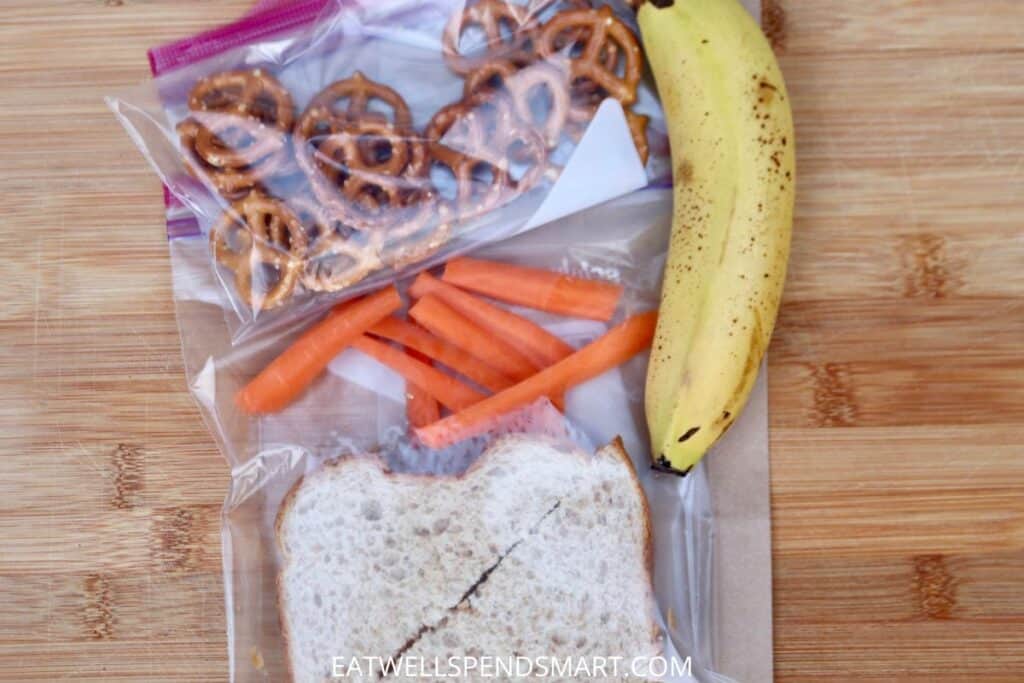 Peanut butter and jelly sandwich, carrot sticks, banana, pretzels
The high protein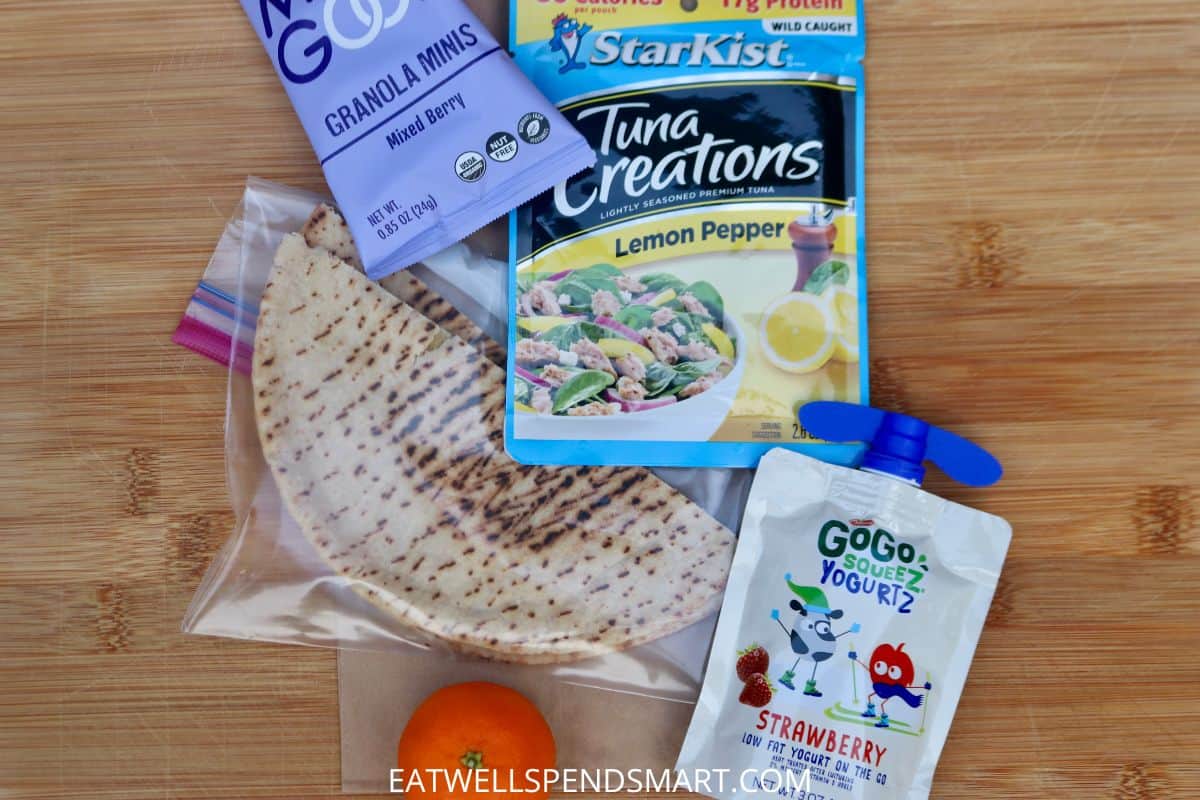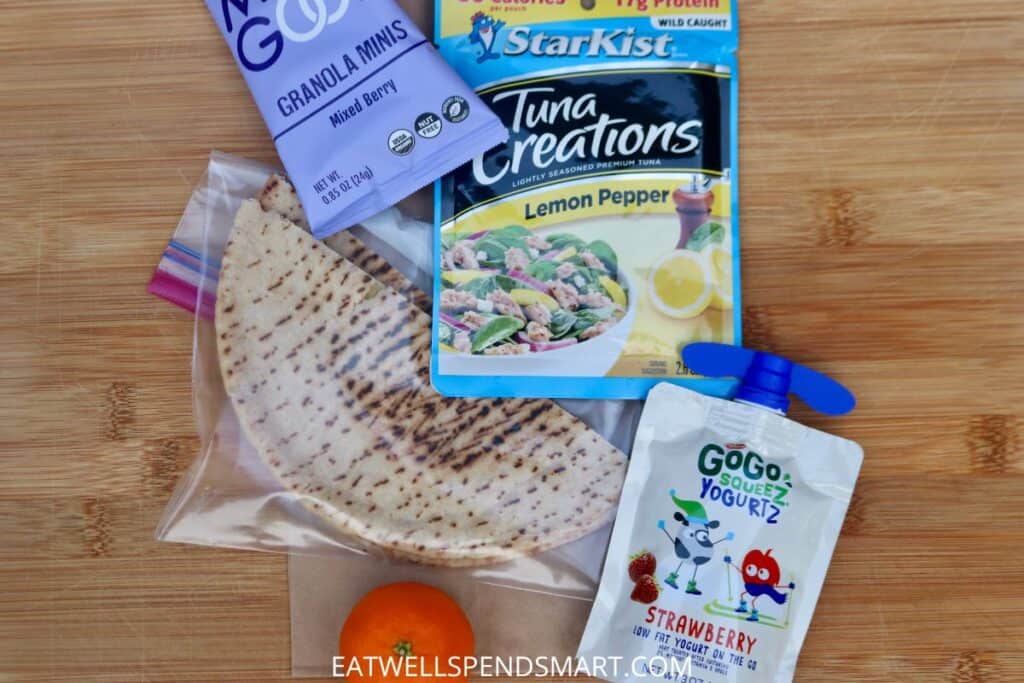 tuna pack, pita, shelf stable yogurt pouch, cutie, granola. Make sure to pack a disposable spoon or fork for the tuna. You could also pack an individual condiment packet like ranch, ketchup or mayo for the tuna pita.
The Italian foodie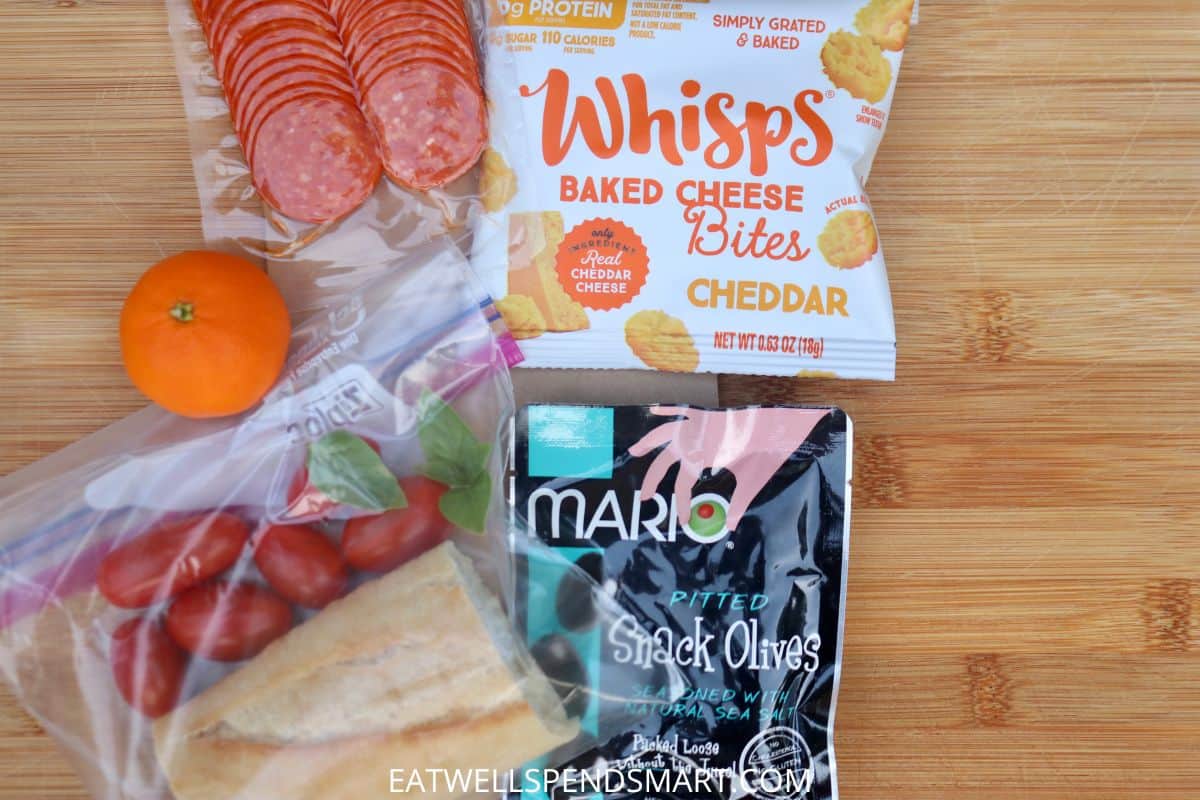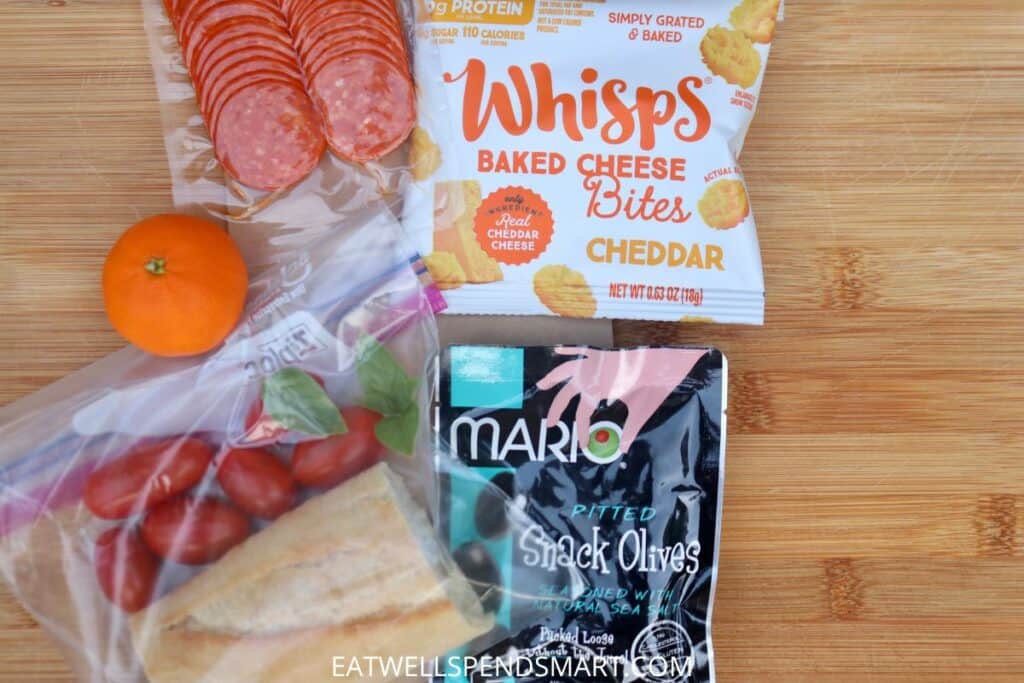 baguette, sealed pepperoni, grape tomatoes, basil, packaged olives, cheese crisps, fruit. Cut the bread in half in case they want to make a sandwich with the pepperoni.
The nothing fresh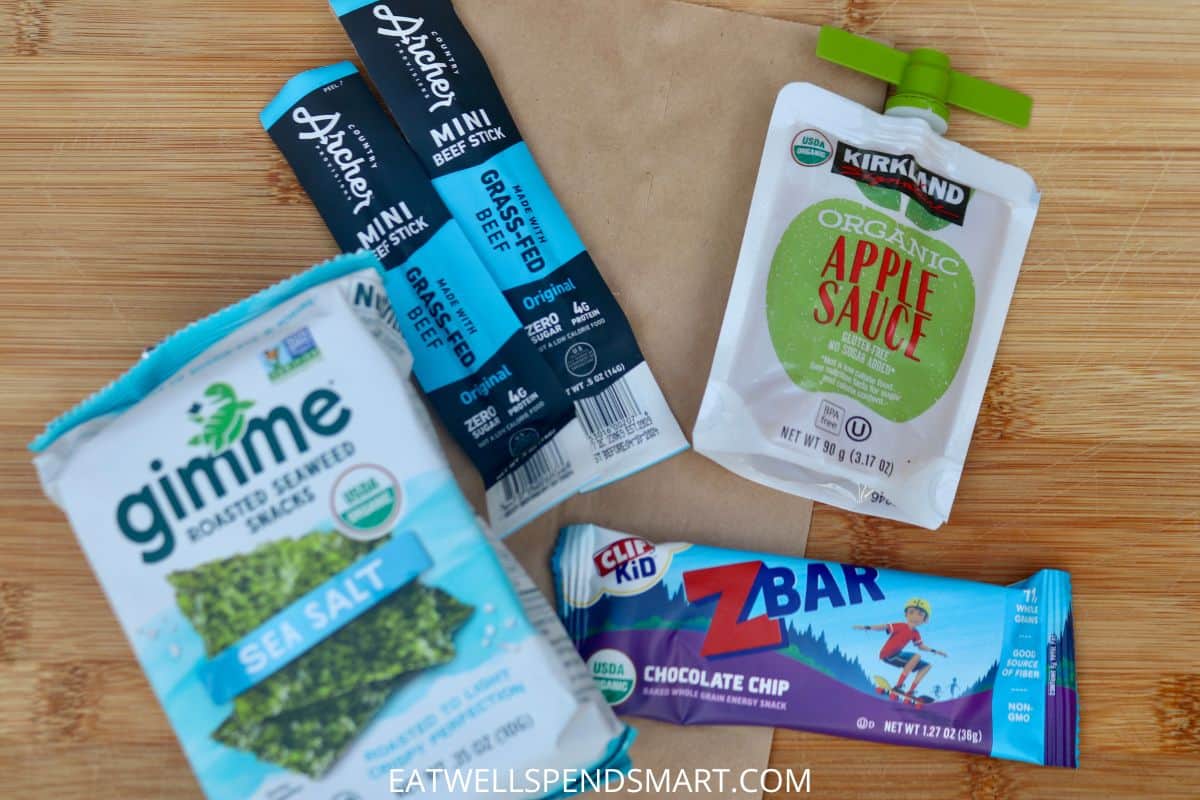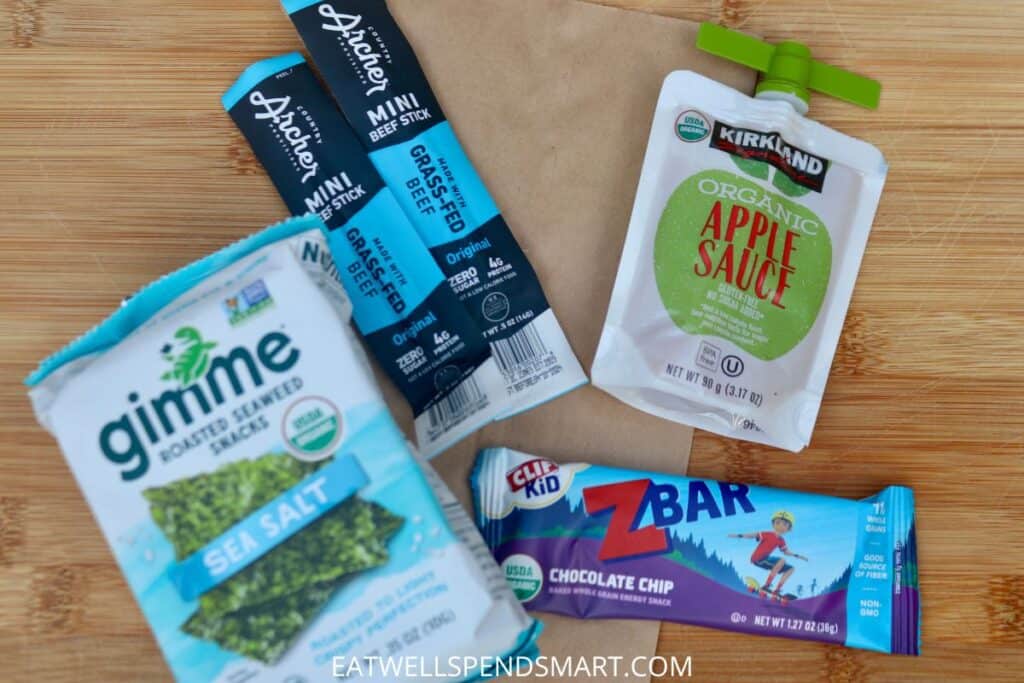 beef sticks, applesauce, seaweed chips, snack bar
The homemade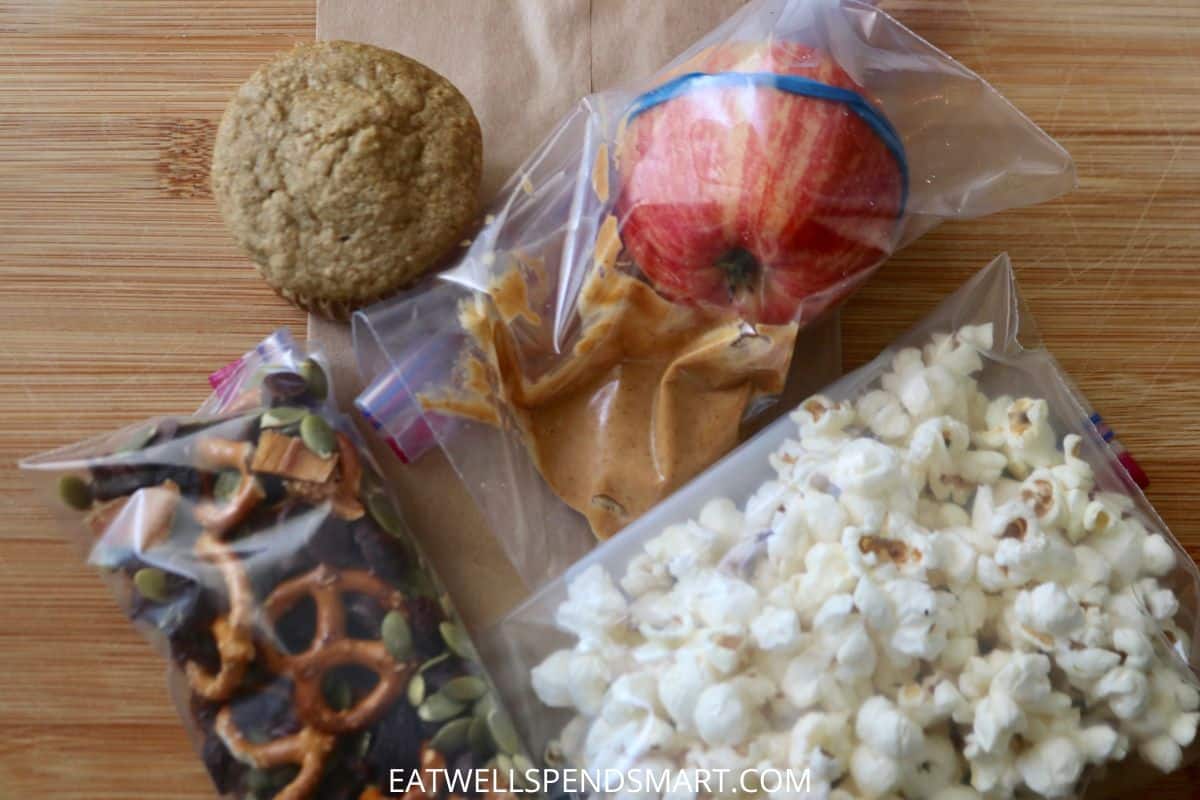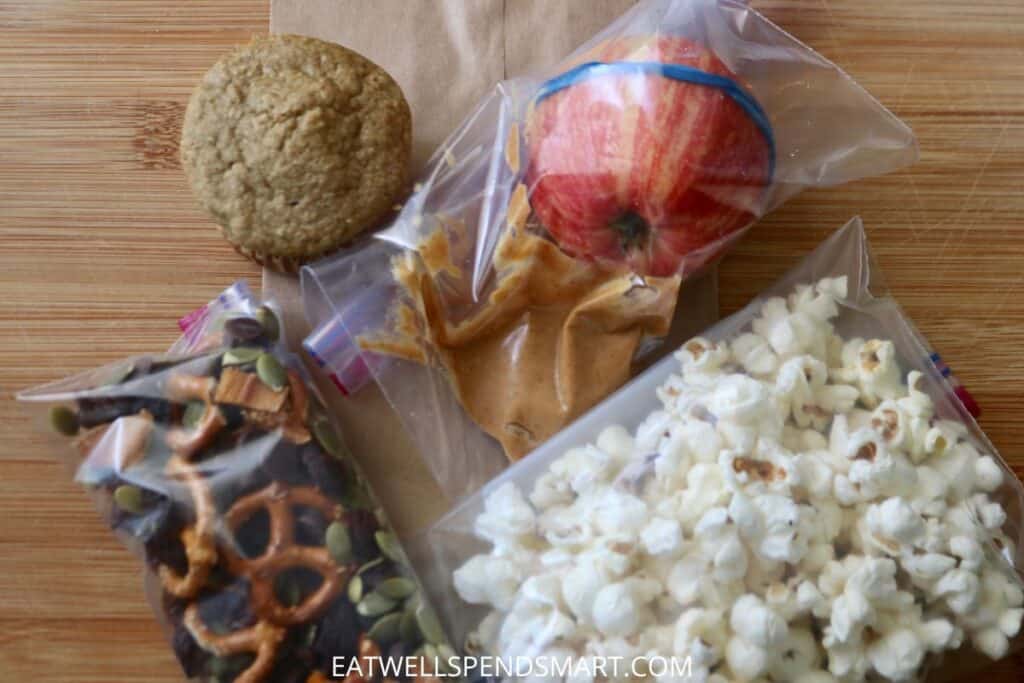 muffin, peanut butter and apple slices, popcorn, trail mix.
A shallow snack bag is ideal for the peanut butter so they don't have to reach down far in the bag for dipping. I also like to cut the apple ahead of time and then keep it closed with a rubber band to keep the apple slices from browning. The trail mix can be anything you have on hand. Pictured is pumpkin seeds, chocolate chips, pretzels, raisins, and chopped dried mango. You could also add nuts, cereal, coconut, or other dried fruit.
The picky eater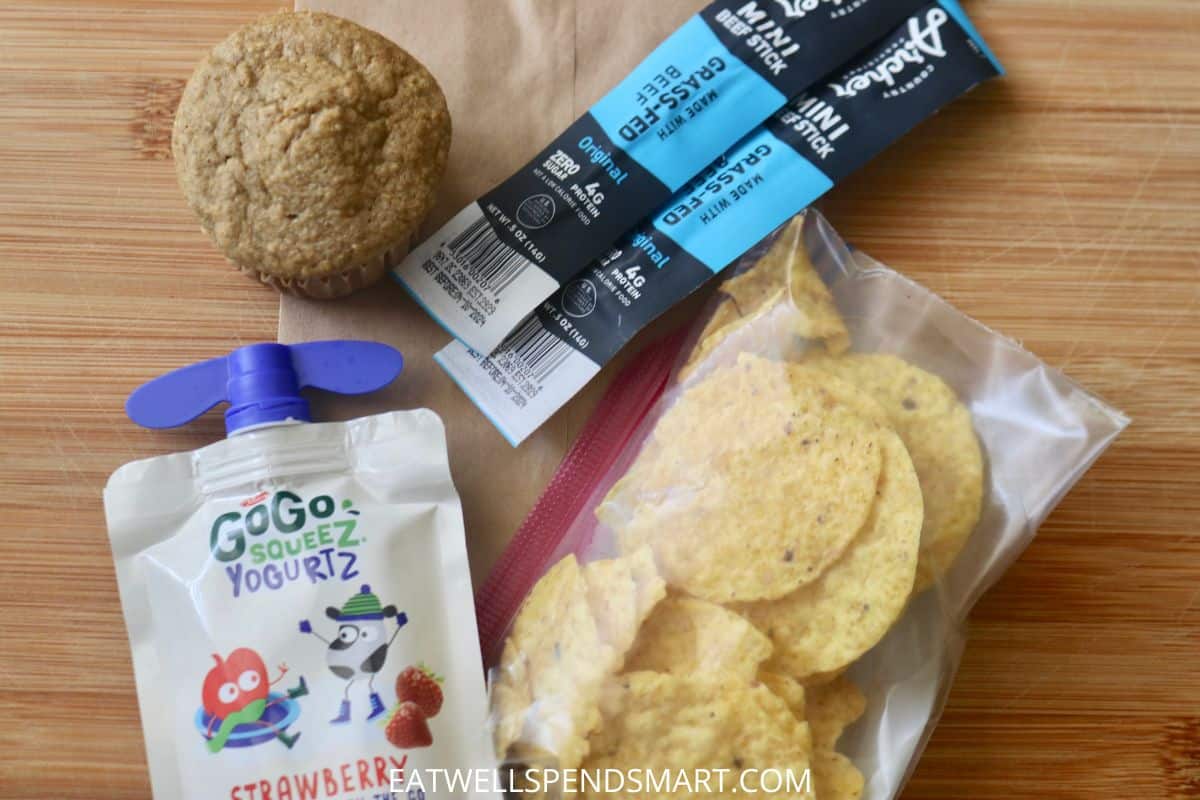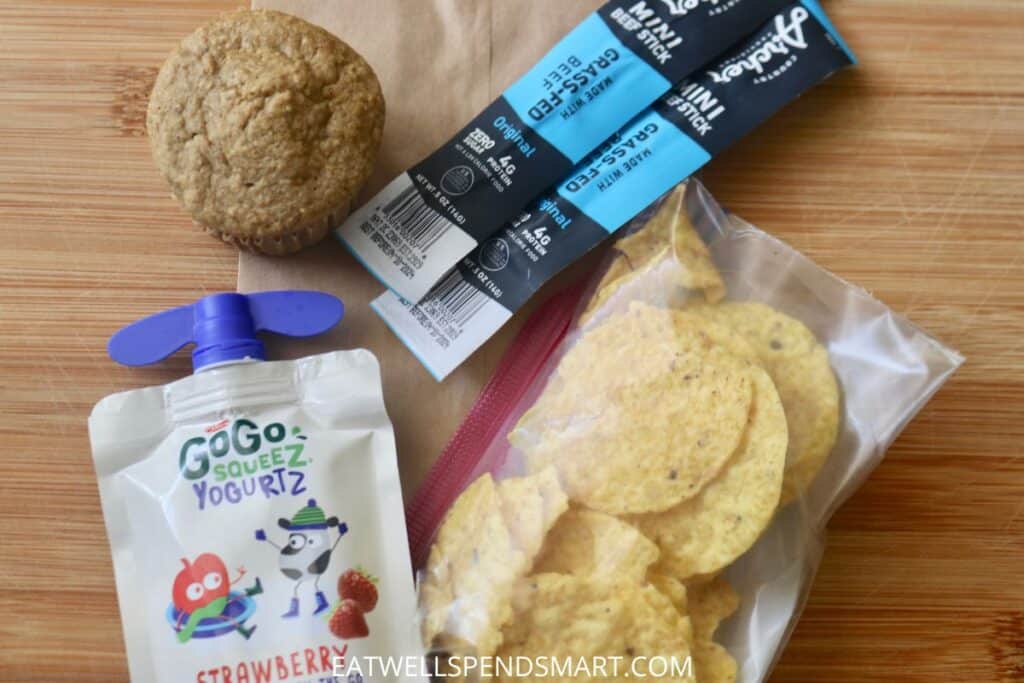 beef sticks, muffin, chips, yogurt
The budget eater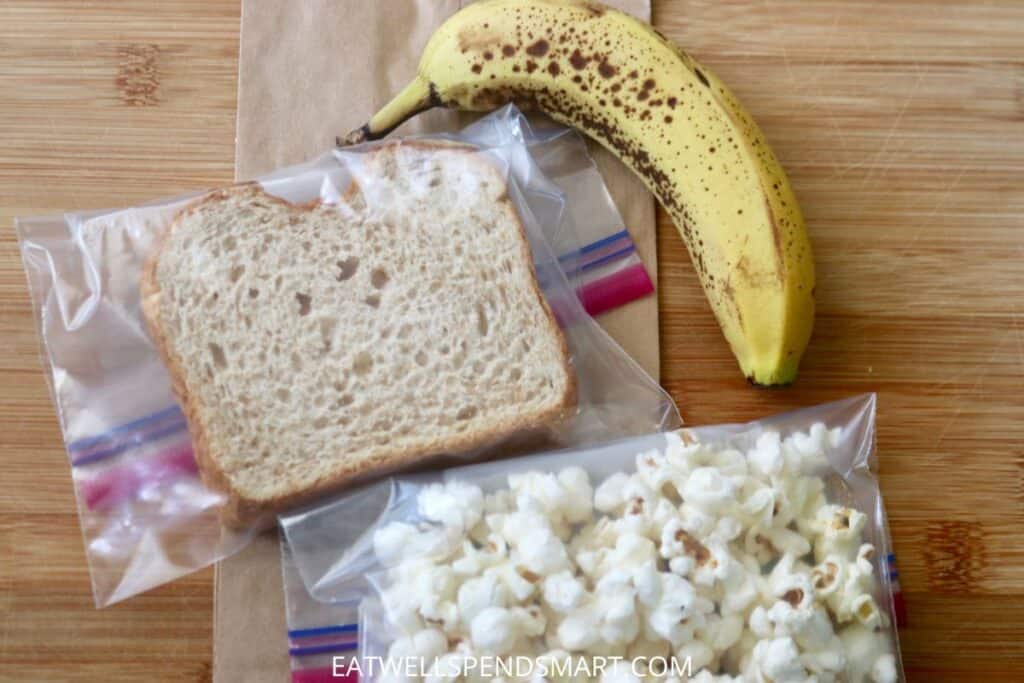 PB&J, popcorn, banana
The chicken salad kit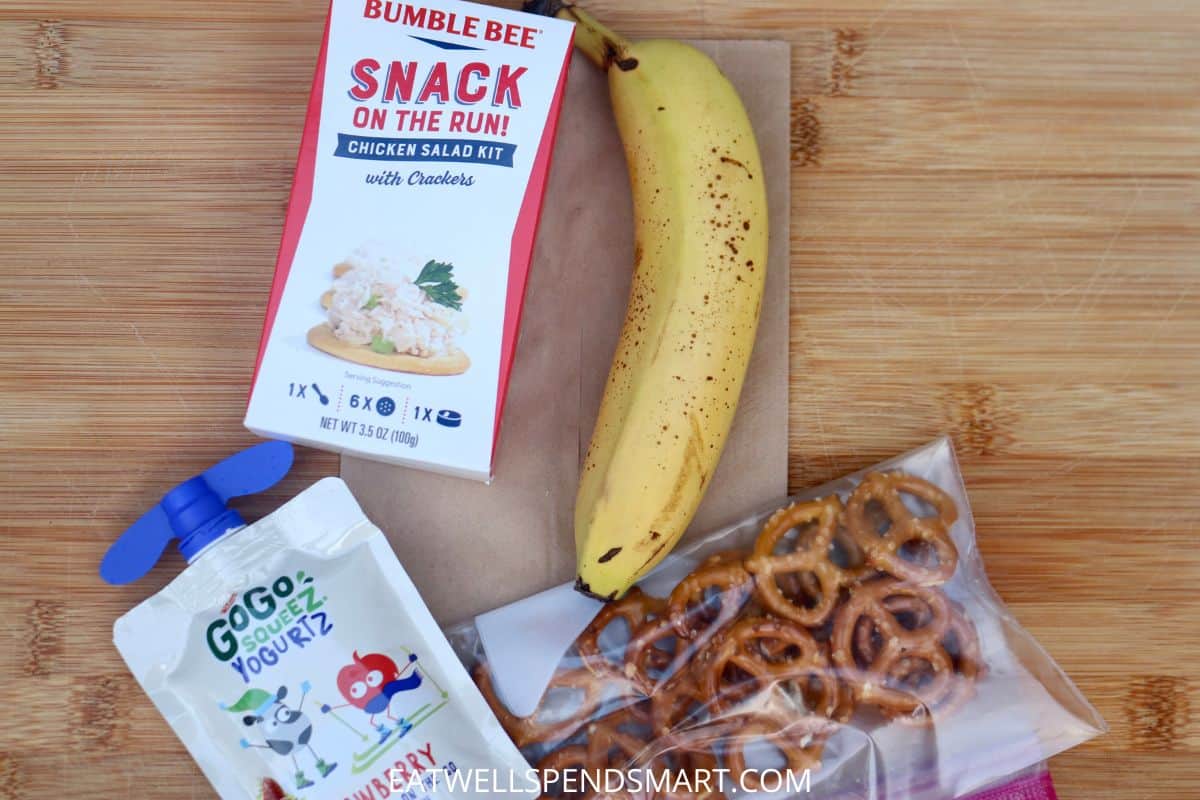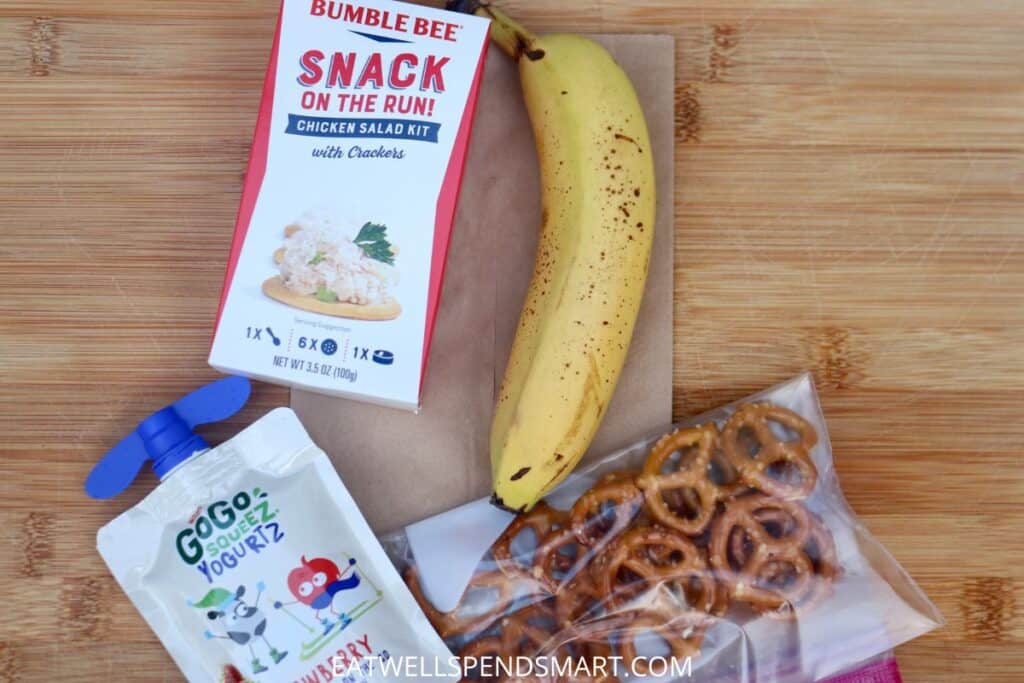 chicken salad kit, banana, yogurt, pretzels
This little kit is not ideal ingredient-wise but it is very convenient for sack lunches and pretty decent in taste. It comes with six cracker and a little spoon for spooning the chicken salad onto the crackers.
Wrapping and packing options
Of course, plastic bags can always be used to pack small amounts of food like sandwiches and chips. If you do not like the idea of all of that single use plastic going in the trash, try wrapping your sandwiches in parchment or butcher paper and securing it with string or tape.
Don't forget to send a water bottle or juice box, frozen if needed to keep cold.
Include disposable forks or spoons if needed. If you really hate the idea of plastic, you could try compostable cutlery instead.
Also don't forget a napkin or paper towel. If you wrap it around the water bottle, it can act as a wet wipe catching condensation as the water thaws.