Learn how to make a flaky homemade biscuit recipe without buttermilk. Just five simple ingredients in this easy homemade biscuit recipe: flour, salt, butter, baking powder, and milk. Follow my simple steps to achieve perfect biscuits every time.
This post contains affiliate links. If you make a purchase through one of my links, I may earn a commission at no extra cost to you.
One of my absolute favorite breakfasts growing up was biscuits and gravy. So satisfying on a Saturday morning eating a warm flaky biscuit slathered with homemade gravy. While I have fond memories of popping the canned biscuits, there's just nothing like homemade. Biscuits made from scratch are the best biscuits. You just can't beat fluffy biscuits with flaky layers.
Why are homemade biscuits better than canned?
I will put my homemade biscuits against a canned biscuit any day. You can not beat the taste of homemade. They are rich, salty, buttery, flaky, and soft on the inside. All of these just qualities you just can't get with a canned biscuit.
The leading canned biscuit on the market contains these ingredients:
ENRICHED FLOUR BLEACHED (WHEAT FLOUR, NIACIN, FERROUS SULFATE, THIAMIN MONONITRATE, RIBOFLAVIN, FOLIC ACID), WATER, PALM AND SOYBEAN OIL, SUGAR, PALM KERNEL OIL, BAKING POWDER (SODIUM ACID PYROPHOSPHATE, BAKING SODA, SODIUM ALUMINUM PHOSPHATE). CONTAINS 2% OR LESS OF: DEXTROSE, SALT, POTASSIUM CHLORIDE, XANTHAN GUM.
To me, there are too many additives that I don't like to feed my family. My homemade biscuits only contain five simple ingredients that you likely already have on hand: flour, salt, baking powder, butter, and milk.
Do you have to use buttermilk in biscuits?
While homemade buttermilk biscuits are great, buttermilk just is not an ingredient that I readily keep on hand.
In spite of what you may have heard, no, you do not have to use buttermilk to make delicious homemade biscuits.
Buttermilk imparts flavor, but by using a high quality butter and plenty of salt, these biscuits have plenty of flavor. It also provides acidity to help biscuits rise, but we are fixing that with a little extra baking powder. Buttermilk also is said to produce a tender biscuit, but I find milk works just as well. I like using an Irish butter with a high fat content and whole milk to still achieve flavorful tender biscuits.
So in short, no you do not have to use buttermilk or even a buttermilk substitute like milk and lemon juice.
Ingredients needed
The best part about this biscuit recipe is that it uses five basic ingredients that you likely already have in your pantry.
all purpose flour: I like to use an organic unbleached all purpose flour to avoid glyphosate and other additives. I purchase mine in bulk from Azure Standard. You could also substitute an all purpose 1 to 1 gluten-free flour. Do not use a self-rising flour because we our using our own leavening agent.
salt: I use a mineral sea salt from Redmond Real Salt.
baking powder: Just regular baking powder works great or use a corn starch free baking powder if you can't eat corn.
butter: I love salted Irish grass fed butter like Kerrygold or the Aldi Irish butter.
cold regular milk: Whole milk works best in my opinion, but you could also try a milk substitute.
How do you make easy homemade biscuits without buttermilk?
This recipe is so easy and does not require fancy equipment like a food processor to make. You basically just need a bowl, something to cut the butter, and your hands.
First you mix your dry ingredients together in a large bowl: all purpose flour, salt, and baking powder.
Cut up your very cold butter into small pieces and place into flour mixture. Alternatively, you could grate your butter using a cheese grater.
Next, using a pastry cutter, fork, or your hands, cut in your butter into the flour. That's a fancy way of saying smash together the butter and flour mixture until it is well combined. The butter should look like the size of peas in the flour.
Then pour in your milk and mix just enough for it to come together into a crumbly dough. Do not over mix your biscuit dough or you may end up with tough biscuits.
Turn dough out onto your countertop and smash together into a thick rectangle.
Then you are going to do a series of 4-5 folds and smashes to create layers and flaky biscuits. Fold the dough in half and smash. Repeat 4 times.
Then using your hands, press out dough until it is about ¾ inch thick. Using a round biscuit cutter or a glass, press straight down and pull straight up to cut the biscuits. Do not twist.
It should make about 9-10 small biscuits.
Place biscuits on a parchment paper lined cookie sheet. Bake biscuits in a preheated 425 degree hot oven for 15 minutes or until lightly golden brown on the top. Do not over bake, so keep an eye on them.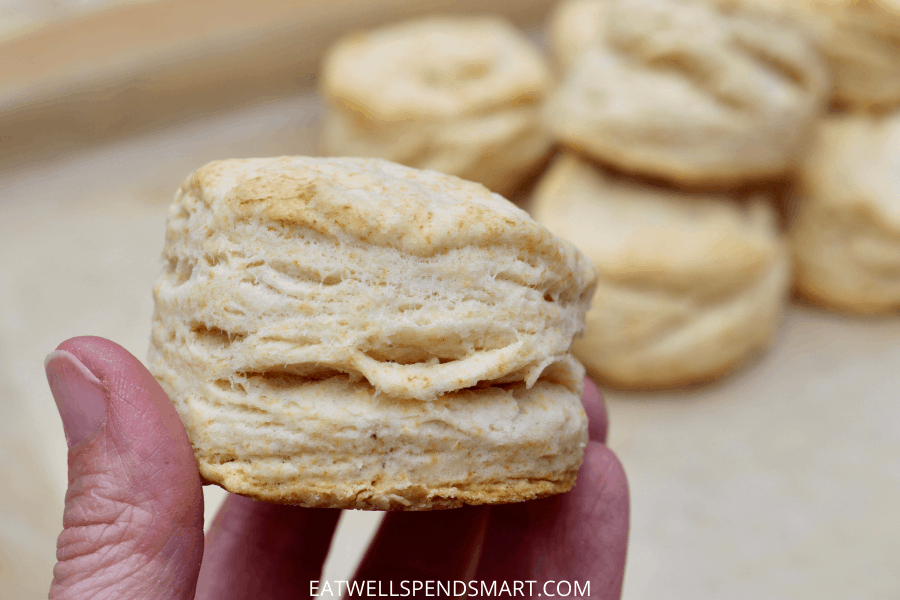 What to serve with homemade biscuits?
Well in my opinion, biscuits call for homemade Southern sausage gravy. My recipe is simple and again only requires a few ingredients.
You could also make biscuits sandwiches. Some topping options include:
bacon
egg
ham or Canadian bacon
cheese
avocado
spinach
I also love serving hot biscuits with a good quality butter, jam, honey, or apple butter. So simple and delicious!
Easy Homemade Biscuit Recipe Without Buttermilk
A fluffy and flaky biscuit recipe using on five simple ingredients.
Ingredients
1 ¾

cup

all purpose flour

1

tsp

salt

I prefer Redmond real salt

1

tbsp

baking powder

7

tbsp

butter

cold

¾

cup

whole milk
Instructions
Preheat oven to 425 degrees F.

In a large bowl, whisk together dry ingredients: flour, salt, baking powder.

Cut up or grate butter into small pieces and cut into flour using hands, fork, or pastry cutter. Butter pieces should be the size of peas.

Add milk and stir until a rough dough forms. Take care not to overmix.

Scrape biscuit dough onto countertop and use hands to form into a large rectangle.

Fold dough in half and smash four to five times. This creates the flaky layers.

Using hands, press dough out until it is about ¾ inch thick.

Using a round biscuit cutter or glass cut out 9 biscuits. Do not twist cutter. Cut straight down and bring straight back up.

Place cut biscuits on a parchment lined baking sheet and bake for 15 minutes or until beginning to get golden brown. If you over bake they may be dry so keep an eye on them.
More breakfast recipes to try:
Pin it