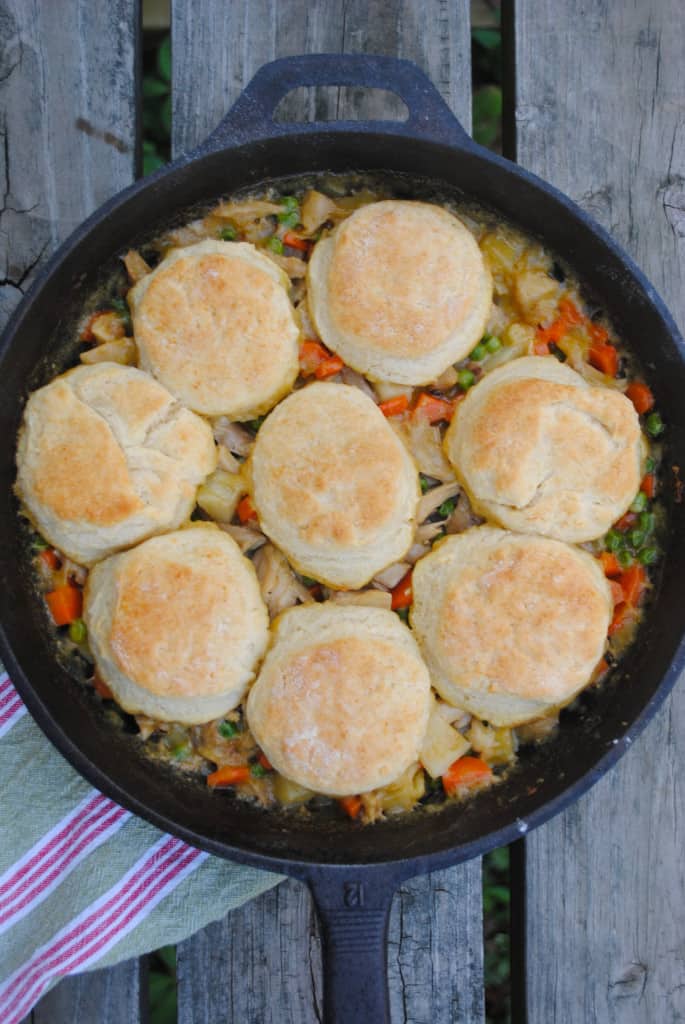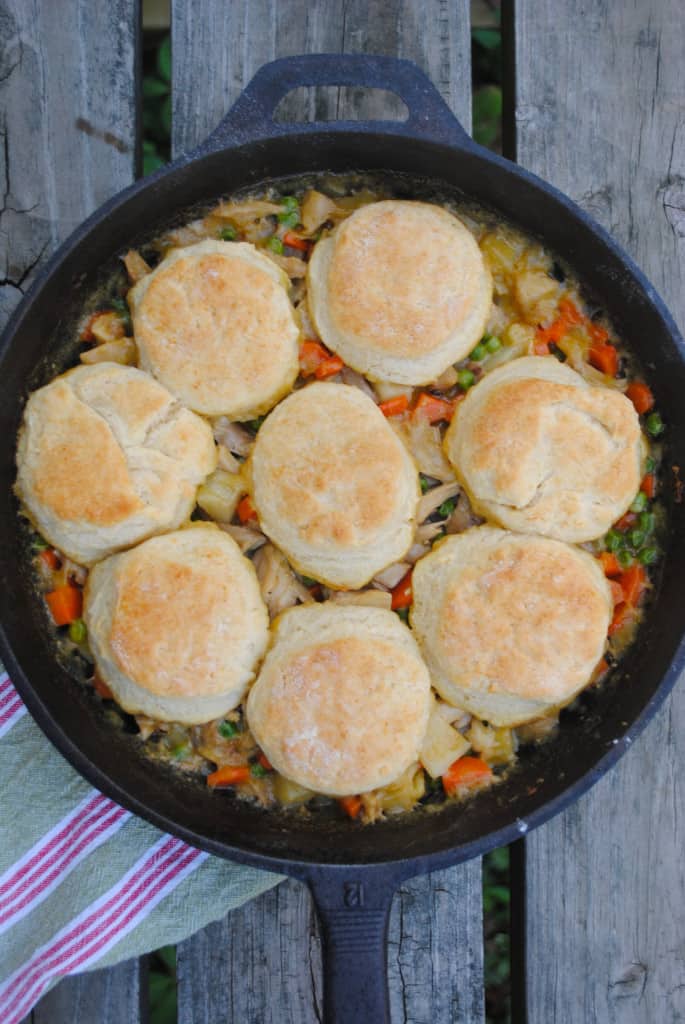 I love a one dish meal.
I love using my cast iron skillet.
I love pot pie.
I love frugal meals.
The end.
Just kidding.  Hang with me folks.  It's been a long weekend.
My mom was in town this weekend and we celebrated my son's second birthday at the zoo.  That's a lot of walking, my friends.  Then after the zoo, we came home and spent the rest of the day out in the garden, preparing the beds.  We actually worked on them all weekend.  I'm beat.  To top it off, my little sweetie woke up in the wee hours of the night crying and complaining that her ear hurt.  We didn't sleep much the rest of the night to say the least.  The good news is that she's doing much better.
Oh wait, you came here for the food, didn't you?
So sorry.  I'm running on fumes here.
Back to the pot pie.  We roasted a whole chicken Saturday night and with the leftover meat, I immediately saved half for the freezer and the other half for this pot pie.  The bones also went on the stove in the stock pot for homemade chicken stock to use in this recipe too.  I told you this was frugal didn't I.  🙂
I didn't really feel like fussing with a pie crust, so I had my hubby make some biscuits to top this bad boy.  It was delicious and hit the spot after an exhausting weekend.  Yay for only one dish to wash too!  Have I mentioned I hate doing dishes?
Chicken pot pie with biscuits
Chicken pot pie with biscuit topping. Simple comfort food.
Ingredients
FILLING

2

T.

butter

½

cup

diced onion

1

cup

diced potatoes

1 ½

cups

diced carrots

2

T.

flour

or stir in 2 T. arrowroot after adding the liquid

1 ½

cups

shredded/cubed leftover chicken

1 ½

cups

Chicken stock

⅓

cup

whole milk

⅓

cup

frozen peas

1

t.

sea salt

I started with unsalted broth. If your broth is salted, start with a lower amount of salt and taste before adding more.

BISCUITS

1 ¾

cup

flour

sprouted, whole wheat or unbleached white would all work fine

½

t

sea salt

1

T.

baking powder or baking soda

7

T.

butter softened and cut into cubes

¾

c.

milk
Instructions
Melt butter in large oven safe skillet over medium heat.

Add onions, potatoes, and carrots.

Saute until vegetables are tender, about 10-15 minutes.

While vegetables are cooking, make biscuits. (See recipe below.)

Add 2 T. flour to cooked vegetables and stir. This will look pasty. Cook for a couple of minutes to take the raw taste out of the flour.

Add stock, milk, chicken and salt and stir to combine. Cook until mixture is bubbly and thickened, stirring frequently.

Add peas to filling.

Top with raw biscuits and bake in 425 degree oven for 15 minutes until biscuits are puffed and browned.

BISCUIT INSTRUCTIONS

Mix dry ingredients.

Add butter and cut in to flour mixture.

Add milk and combine until it becomes a rough dough.

Transfer to a floured surface and kneed 10 times until mixture comes together to a nice soft dough. Add more flour if it is too sticky.

Press dough with fingers until it is ½ inch thick.

Cut with a biscuit cutter or a small round glass.