My kids love chicken fingers if we go out to eat, but sadly restaurant chicken fingers don't love them.  I don't know if it's the oils they fry them in or the breading ingredients, but you can almost guarantee they will end up in the bathroom at the restaurant with a tummy ache in the middle of the meal.  Last year, my daughter had the revelation that food made at home didn't cause her the digestive issues that she got when eating out.  I love it when kids make these kinds of discoveries on their own because it helps them own decisions for their bodies.
We've been on a mission to makeover those crispy chicken fingers that are so popular with the kiddies, and make them at home.  We are very pleased to what we came up with.  The end result is crispy and flavorful and very close to restaurant-style without the yucky ingredients. There are two secrets to a delicious homemade chicken finger.  First is the seasoning.
Chicken is pretty bland on its own and requires quite a bit of seasoning.  I season my chicken finger breading with this organic season salt from Redmond.  It is delicious and I love that it's healthy and takes the guess work out of the seasoning. I used to just use salt and pepper when making chicken fingers, but it was just missing something.
This season salt contains not only quality unrefined sea salt, but also onion, coriander, mustard, pepper, paprika, celery seed, tumeric, and parsley.  There's no MSG and funky additives, which I love. I use this stuff on chicken, fish, pork chops.  It's truly all-purpose and a great seasoning to have on hand for all kinds of quick meals. It also makes for one tasty chicken finger!
The second secret to a crispy chicken finger is the double breading action to give it a good crispy coating.  I dip each tender in the seasoned flour mixture, then egg, then back in the flour, then back in the egg, and then back in the flour before dropping in the hot oil.  It really makes a difference when doing multiple coatings.  If you are allergic to eggs, try buttermilk or another liquid to bind with the flour.
Lastly you'll want to use a quality oil.  I use expeller pressed coconut oil since I buy it in bulk and it doesn't have a strong coconut taste.  Do not use vegetable oil, soybean oil, canola or any industrial oil like that.  It's just not good for the ol' bod.
If you follow these steps, you'll have a delicious and healthier crispy chicken finger that you can feel good about feeding your family.  I hope you love them as much as we do.  They are a favorite around here for kids and adults alike.
If you want to find some organic season salt for your home, you can find it here in the individual container.  I would also recommend their variety gift box since it contains a shaker each of Real salt, organic onion salt, organic garlic salt, and organic season salt.  I use all of these in my own home and love them.  You might be able to find it at your local health food store as well.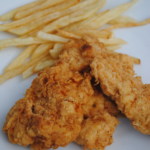 Crispy chicken fingers
A crispy chicken finger made at home without the yucky ingredients.
Ingredients
1

lb.

chicken tenders

preferably organic or pasture raised

1

cup

flour of choice

2-3

tsp

Redmond organic season salt

depending on how seasoned you like yours

2

eggs

beaten

expeller pressed coconut oil or another healthy fat for frying
Instructions
Heat oil in a heavy bottom skillet over medium high heat.

Season flour with season salt and mix together on a plate.

Dredge chicken tenders in seasoned flour, then egg, then flour, then egg, then flour again.

Drop in hot oil and cook on one side until well browned. Flip to other side and cook until brown and crisp.

Transfer to plate and continue cooking remainder of chicken tenders.
Disclosure:  This post was written in conjunction with Redmond.  All opinions and pictures are my own.  I only share brands with you that I believe in, share my mission, and that I use in my own home.