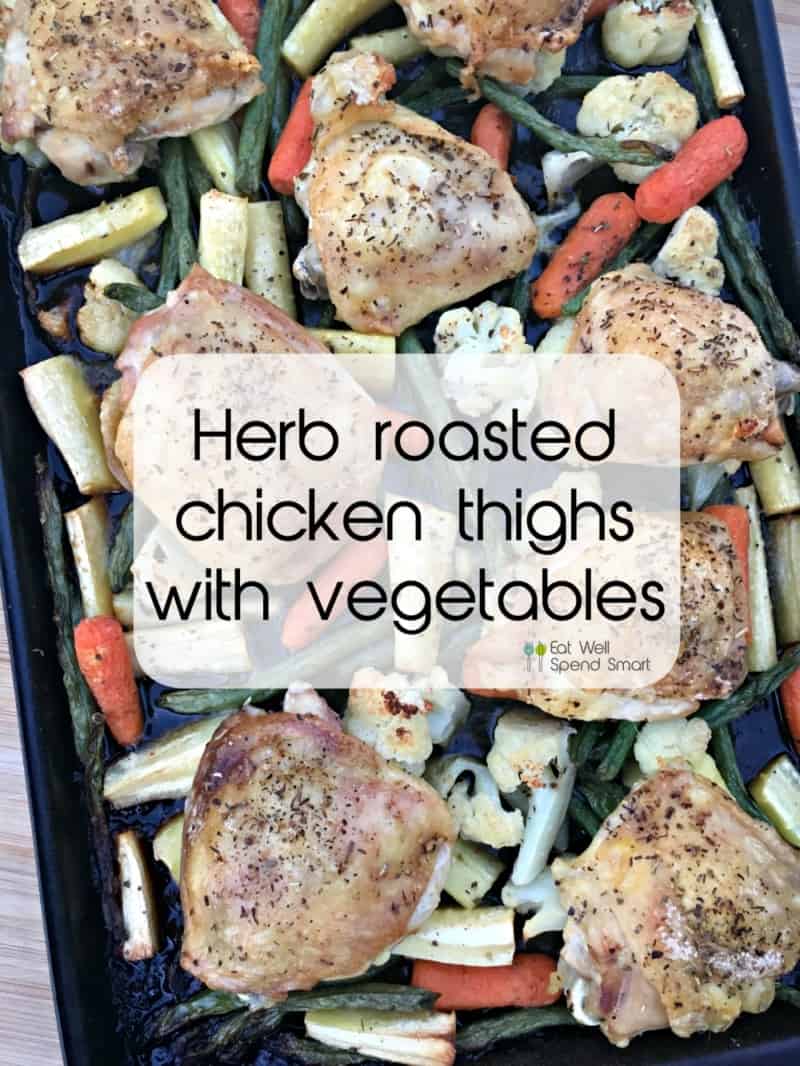 Need a dinner that meets all of the requirements of a successful dinner?
Family-friendly
Budget-friendly
Easy
Few dishes
Try this herb roasted chicken thighs with vegetables, because it checks off every one of those, which is a winner winner chicken dinner in my book.
My three favorite ways to cook on weeknights are recipes using the slow cooker, pressure cooker, and the oven.  I love these three methods because they are mostly hands off and usually one-dish dinners.  They require very little preparation and clean up and mama needs all the free space in her brain as she can get.
This herb roasted chicken thighs with vegetables couldn't be easier and tastes delicious.  The only work required in this dish is rough chopping a few vegetables and seasoning everything.  I like to make it even easier by choosing a couple of vegetables that don't require any chopping at all, like baby carrots and green beans.
This is a great "recipe" to make when you have a bunch of random veggies that you really need to use before the next week, like that half head of cauliflower or that one lonesome sweet potato that didn't get used.  Chop up whatever you have on hand and it will be delicious.
Just look at that crispy skin!  My favorite part!
Herb roasted chicken thighs with vegetables
Ingredients
Bone in skin on chicken thighs

as many as you desire

Variety of long cooking vegetables

beets, carrots, green beans, cauliflower, sweet potato, potato, parsnips, etc Enough to cover the bottom of a large rimmed sheet pan.

herbs of choice

rosemary, thyme, oregano, salt, pepper

1

T.

olive oil
Instructions
Preheat oven to 450 degrees F.

Cut vegetables in about 1.5 inch pieces and place on a baking dish.

Drizzle a small amount of olive oil on the vegetables and toss to coat. You won't need much because you will get quite a bit of liquid/fat from the chicken on top.

Season vegetables liberally with salt and pepper and herbs if you wish. My kids don't like herbs on their veggies so I leave them off.

Put chicken thighs directly on top of the veggies and make sure the skin is dry. Take a towel or paper towel and blot if needed. Cut off extra skin that hangs off of the chicken.

Season chicken thighs liberally with salt, pepper, and herbs. Season under the skin as well for maximum flavor. If you don't have time or energy it's ok to skip under the skin.

Place in hot oven and cook for 45 minutes or until skin is crispy and chicken has reached an internal temperature of 165 degrees F.

Take out of oven and eat!