Somehow in the past week I exchanged swimming pools for apple picking.
90 degree temps for 40 degree temps...
grilling for slow cooking...
tank tops for sweatshirts...
popsicles for hot tea...
I wasn't ready for it.  I didn't see it coming.  I was still enjoying my sweet summer garden tomatoes, sprinklers, shorts, and flip flops when out of nowhere the sky turned overcast and the temperature fell into the forties.  Where did this cold weather come from?  Who ordered this change in temperature?  Certainly not me!
I kept seeing my friends post fall goodies, pumpkin spiced coffee drinks, and baked apples, but I just wasn't feeling it at all!
This weekend though, I got in my kitchen and went to work.  Believe it or not it was beef bones that changed my mind and finally got me in the mood for cool temps and all that it brings.  Yes, beef bones.  Meaty beef bones that had been sitting in my freezer waiting for me to make a delicious homemade beef stock with them, and that is exactly what I did.
You know you have made a good beef stock when it gels after taking it out of the refrigerator. When you see that jiggle, it makes you almost cry.
So how do you make such a gelatin rich homemade beef stock that blows the canned and tetra packed broths out of the water?  It's simple really.  Let me show you.
Start with several pounds of soup bones.  I had a mix of marrow bones, meaty bones, etc.  Mine came from a grass-fed cow that I had butchered last year.  Some people don't like that they get bones with their beef purchase, but I rejoice at the fact.  So much potential lie in those bones. They are just begging to be made into a delicious and nutritious homemade beef stock, which in turn will be made into soups, stews, gravies, and sauces.  I can feel my gut thanking me already.
Brown those babies really well.  This is a crucial step that you shouldn't skip.  Trust me.  With chicken stock, no roasting of the bones is required, but with beef stock, it's necessary.  I roasted mine in a 400 degree oven for about 45 minutes.
After roasting the bones, your house will already be smelling fabulous.  Now it's time to transfer them to a stock pot.  With a chicken, I use my slow cooker, but with beef stock, I usually need more room than will fit in my slow cooker, so the stock pot it is.
Then I roughly chop a couple of carrots, celery stalks, and onion and place them in the pot with the bones.  Don't worry about chopping them small.  I usually quarter the onion, and break the carrots and celery in half and just toss it in.
You can throw some extras in there too as you wish:  bay leaf, a few peppercorns, fresh thyme, or any other fresh herbs that you like.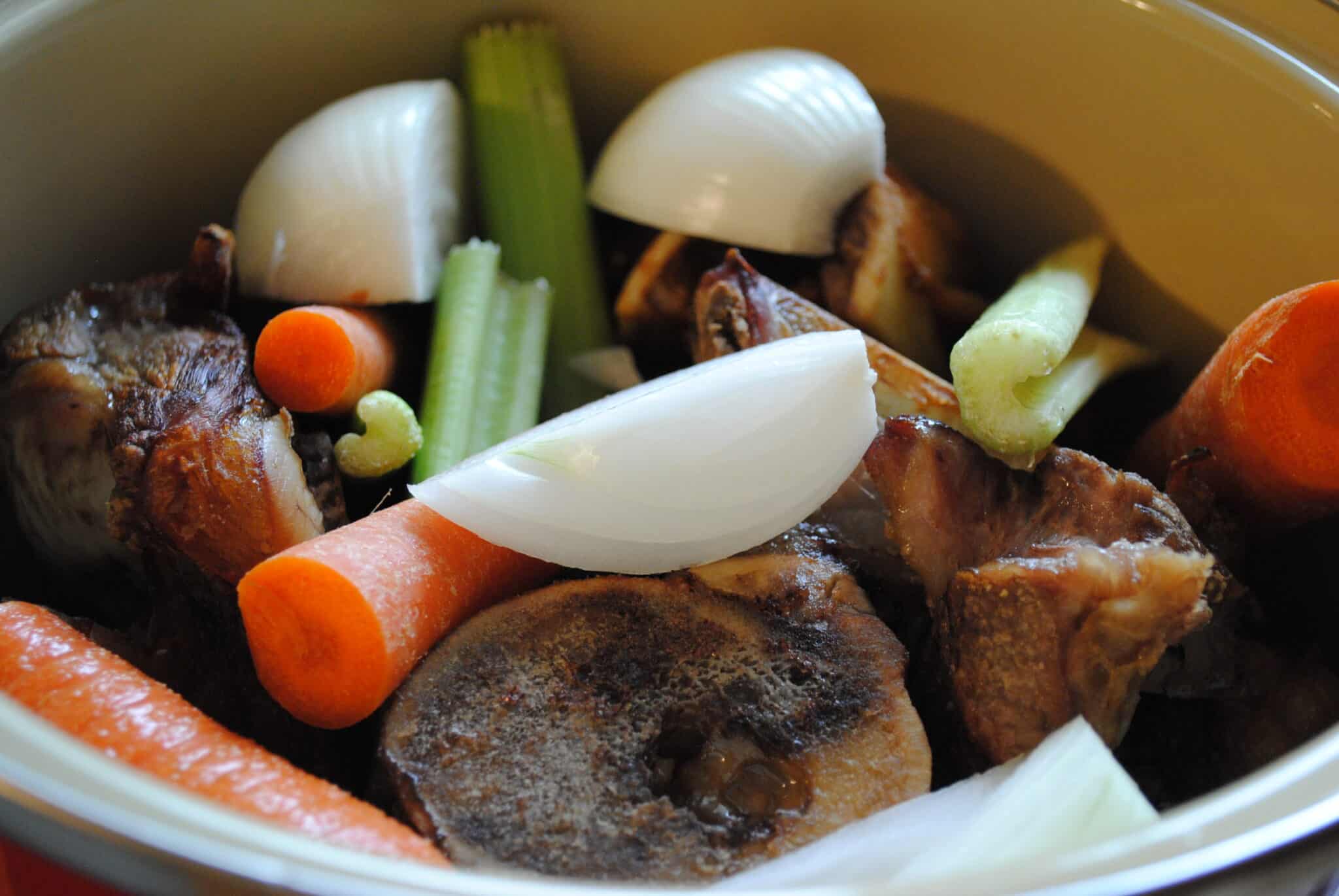 Add water to cover the bones and vegetables.  Put the lid on slightly vented and simmer for all day or overnight.  I usually simmer for at least twelve hours.  You are looking for a gentle simmer and not a rolling boil.  You can cook it for up to 24 hours, but I wouldn't go more than that.  Add more water if it starts getting too low, but DO NOT water log it or you probably won't get it to gel.
Now once you have cooked your stock, it's time to strain it.  I use a fine mesh strainer and discard the vegetables.  Store in jars for the refrigerator or freeze for future use.  You can also freeze some in ice cube trays for quick sauces and gravies.
Save the meat!
If your bones were meaty, pick off any meat that is on the bones.  It will be super tender and delicious.  I got about a pound of meat off of my bones, which I saved for beef stew the next day.
If your bones are still super hard, you can add them to a slow cooker with fresh vegetables and water and cook overnight again for more stock.  It likely won't gel like the first batch but it will still be good for you.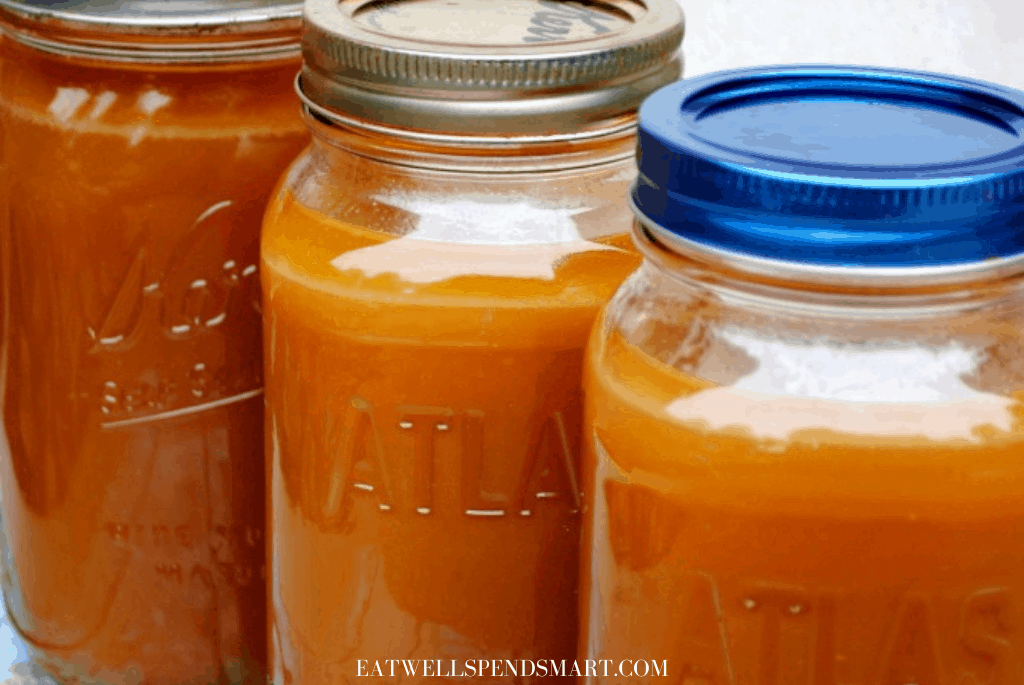 What do I  mean, "gel"?
After you refrigerate your broth, if it has a good ratio of water to meaty bones, it will turn solid and a jelly-like consistency.  Do not panic if this happens!  You did nothing wrong and your broth is full of gut healing and collagen boosting broth. Your skin and tummy will thank you!
If it doesn't gel, it certainly doesn't mean that your stock is no good and not nutritious.  It will still be full of minerals and nutrition and gelatin, but is just a tad watered down.  I also find that I get a much better gel when I have plenty of meaty bones in the mix.  For some reason, it really makes a difference for me.  My chicken broth is the same in my experience.  When I cook a whole chicken I'm much more likely to get it to gel than just from the bones alone.  So for me, meaty bones + long slow simmer + not too much water = a nice gel.
Should you keep the layer of fat or skim it off?
That's entirely up to you.  I'm not one that is afraid of fat, especially from healthy grass fed animals.  I do however scrape off the fat layer that forms in the refrigerator just because I don't like the greasy flavor that it gives the broth.  I either toss it, save it for cooking, or give it to my dog as a treat.
Now here is a handy printable recipe for you to tuck away in your recipe box:
Homemade beef stock
A delicious and nutritious easy homemade beef stock. A staple in every real food kitchen.
Ingredients
Several pounds of meaty beef bones

1

onion

2

celery stalks

2

carrots

herbs

peppercorns, bay leaf (optional)

water to cover
Instructions
Brown bones in the oven at 400 degrees for 45 minutes.

Transfer bones to a large stock pot.

Add vegetables and additional flavorings.

Add water to cover bones and vegetables.

Simmer for 12-24 hours.

Strain broth in a fine mesh strainer and discard vegetables.

Pull any meat off of bones and reserve for a later meal.

Store broth in refrigerator for a week or the freezer for a longer period of time.