I am of the opinion that we make meals at home more difficult than they need to be.  We don't always need to be scouring the internet for "recipes". You simply need some easy staple meals using simple cooking techniques that you rotate over and over again.  Sure, it may take a little experimenting to find your family's style, but once you do, you're golden.  My family's style is mainly an easy protein and a couple of quick sides, such as roasted vegetables or rice. Yes we eat soups, stir fry, salads, and casseroles as well, but the bulk of our meals are a simple protein + simple sides.
I mentioned simple cooking techniques above and you may be wondering what I mean by that.  I use lots of cooking methods in my home, but the two main ones that I use every single day are sautéing and roasting.  Once you get these down, you can cook an endless variety of healthy meals. I won't get into roasting today, but sautéing is what I'm highlighting with this recipe.
Cooking Light defines sautéing as
To sauté is to cook food quickly in a minimal amount of fat over relatively high heat.
Tender vegetables like mushrooms, zucchini, onions, and peppers lend themselves really well to sautéing. Chicken breasts/tenders, lean thin pork chops, and tender cuts of beef are also fantastic meats to sauté because they are tender, cook quickly, and really benefit from the browning that occurs from cooking the meat on a moderately high heat.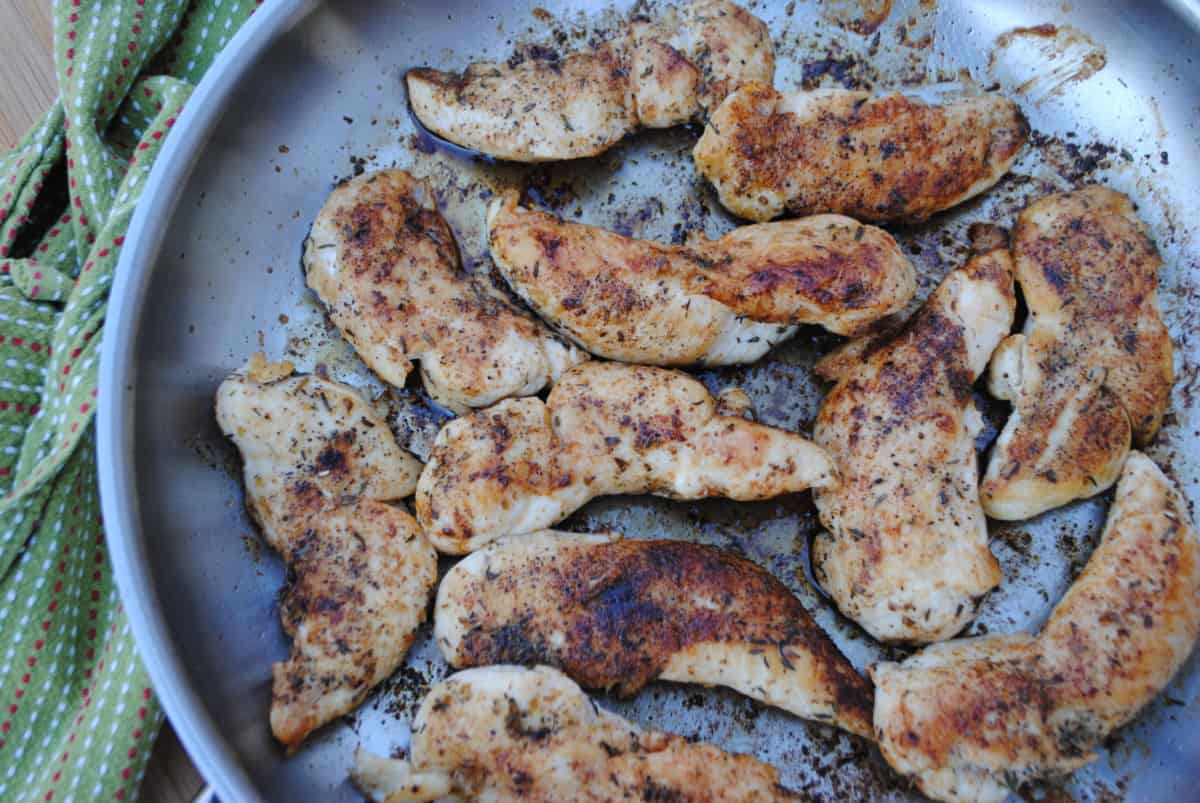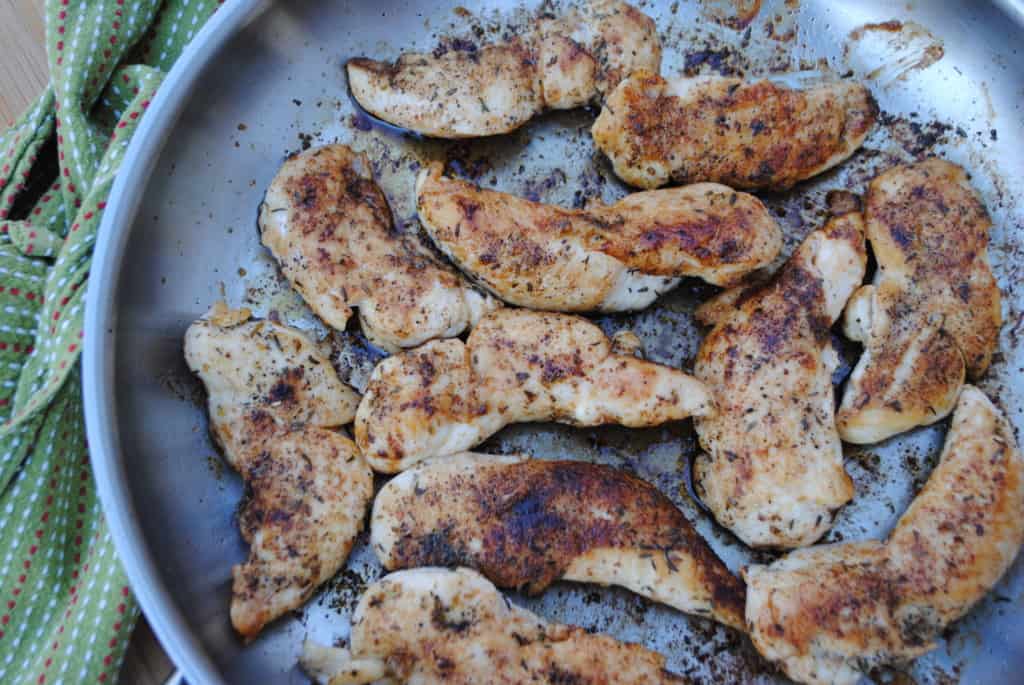 How to sauté chicken tenders
I love making these easy sautéd chicken tenders as a fool-proof weeknight dinner when I need something quick that I know the whole family will like.  They are flavorful and just down right simple. Learning how to sauté chicken tenders is easy. The main things you have to remember are:
Pat dry the meat.
Season your meat well.
Don't overcrowd the pan so they have plenty of room to develop the brown crust.
Get your pan and fat hot enough.
If they are wet, too close together, and your pan isn't hot, they have a greater chance of steaming, not browning, and losing flavor potential.
The best thing about these sautéd chicken tenders is that you can play with the spices to your liking.  This spice mix here is a pretty general spice mix, but you could also use Cajun seasoning, curry spices, lemon pepper, or Mexican spices and completely change the flavor profile of the chicken.
Serve with roasted veggies, a baked sweet potato, or a simple salad with homemade dressing and you have yourself a winning quick and easy weeknight meal.  I think you will love this one and will continue to make it over and over again in your home.  I know I do!
Easy sautéd chicken tenders
Quick and easy, healthy chicken tenders.
Ingredients
2

lbs

chicken tenders

½

tsp

salt

½

tsp

pepper

½

tsp

garlic powder

½

tsp

paprika

½

tsp

thyme

½

tsp

oregano

2

tbsp

olive oil

or fat of choice
Instructions
Heat skillet over medium heat and when heated add 2 T. oil to skillet.

Pat dry chicken tenders and sprinkle ¼ tsp each of the spices on one side of the tenders.

Place chicken season side down in hot oil and brown on one side for about 4 minutes or until brown.

Season second side of chicken with remaining seasonings and flip over to brown second side.

Chicken will likely not be cooked inside. If it is not, turn heat down to low, put lid on skillet and cook for another few minutes or until chicken is cooked through. If you have a meat thermometer, you are looking for an internal temp of 165 degrees.
Pin it for later!