Sloppy Joes...slop sloppy Joes.
Tell me you understood the Adam Sandler lunch lady song reference there.
No?  Ooookay...well this is awkward.  🙂
If you are an American, you know what sloppy Joes are.  They certainly don't need an explanation or introduction.  This American classic has graced many a dinner table and school cafeteria for years.
The version that I grew up on as a kid, and probably you did too, was made by browning ground beef and dumping a can of a popular sloppy joe sauce over the top.  While it certainly made for an easy dish, it lacked in the real food department.
I thought it was about time that my kiddos were introduced to the world of sloppy joes.  Every childhood, in my opinion, needs to have a place for sloppy joes, and when you can make them with real food, there's no reason not to.  Eating real food doesn't mean having to say goodbye to these iconic dishes that bring back so many childhood memories.  For that, I am so thankful.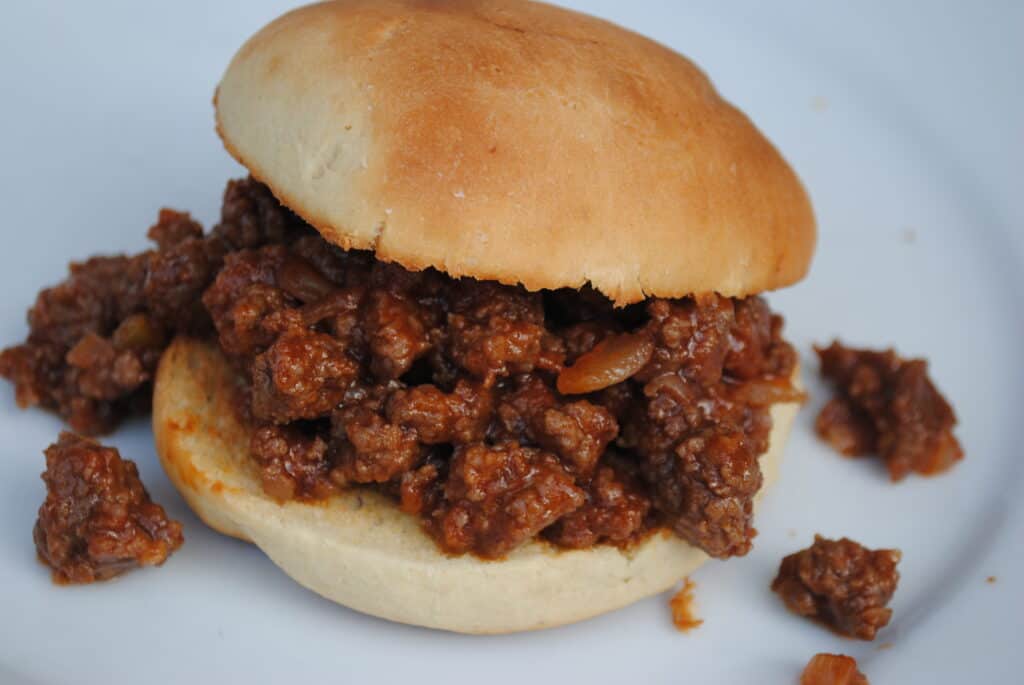 My six year old took little convincing.  "Mmmmmm...I like this sweet meat," she exclaimed as she gobble down her sandwich.
My three year old took a little more prodding.  It was a full fifteen minutes before he even took one single bite.  I tell you what, that little booger is stubborn, but when his sister finally convinced him that it was indeed tasty, he ate it with glee.
I think we decided that we'll keep ol' Joe around as long as he's the real deal and not the fake stuff in the can.
You can serve the sloppy on my homemade buns.  They can be made with unbleached flour or whole wheat.  Quite tasty and can be made ahead of time and frozen.
Sloppy joes from scratch
No more canned sauce. Try these sloppy joes from scratch!
Ingredients
1

lb

ground beef

⅓

cup

onion

diced

⅓

cup

bell pepper

diced

2

cloves

garlic

pressed or minced

⅔

cup

tomato puree

more if you like it "extra sloppy

½ to 1

tsp.

sea salt

to taste

3

T.

honey

decrease if you like a less sweet joe

1

tsp

chili powder

2

T.

apple cider vinegar

pepper to taste

1

tsp.

mustard

optional My husband doesn't like mustard so I sometimes leave it out.
Instructions
Brown ground beef in a skillet.

Add onion and peppers. Saute a few minutes until soft.

Add remainder of ingredients and simmer for about five minutes.

Taste and adjust seasonings if desired.