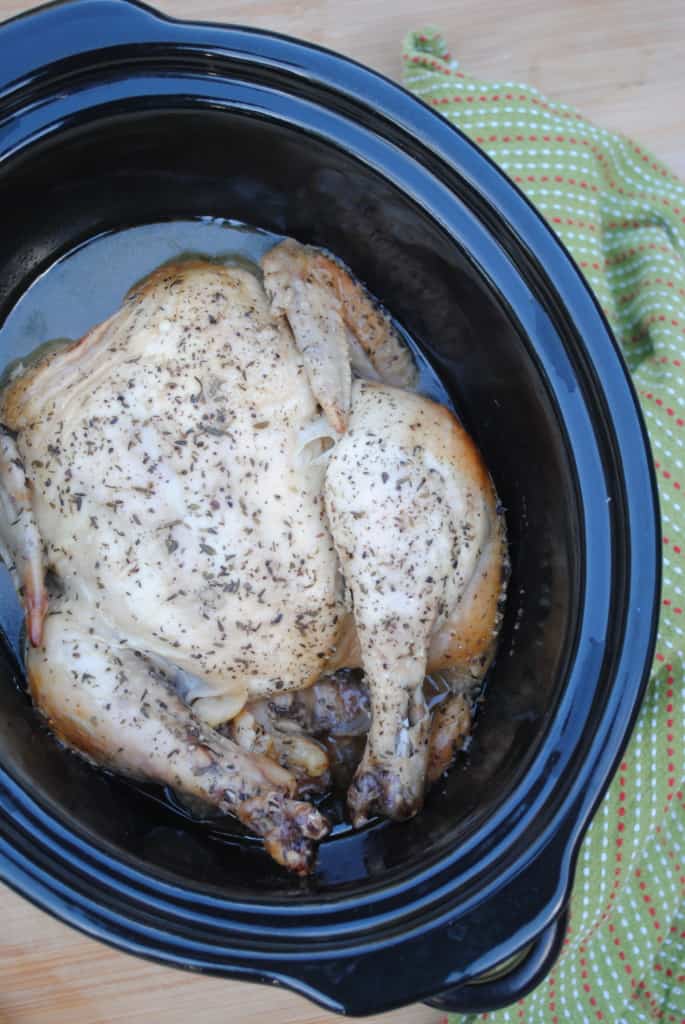 I just adore simple food that packs a big punch.  I rarely fuss with complicated food anymore.  It's the simple stuff that my family likes best, and what I keep going back to over and over again.   Why make it harder on myself than it needs to be?
Whole chicken with mashed potatoes and gravy was one of my favorite meals as a child, and still is today.  We eat it about once a month around here so that I can use the leftover meat in other chicken dishes and the bones for delicious mineral rich stock.  By the time it's all said and done, we get about 4 meals out of one chicken.   Even if you buy an expensive pasture-raised chicken, it becomes economical when used in this manner.
I've shared with you a whole roasted chicken recipe before that uses herbed butter under the skin to make the skin crispy and delightful. It really is quite delicious, but that doesn't make the cut for the "everyday" meal.  Even though it's certainly not hard, most of the time I want something with a little less mess and hands on time.
This chicken in the slow cooker is perfect because you just throw it in the slow cooker, shake on a little seasoning, and turn it on.  Bada Bing Bada Boom.  You're done!  As it cooks, delicious drippings and broth will gather in the pot that will easily turn into a simple gravy after adding a little thickening at the end.  If you want the skin to get crispy, put the chicken under the broiler for a few minutes to crisp the skin.
I hope you enjoy this hassle-free home cooked meal as a regular rotation in your home.
Slow cooker whole chicken with gravy
Comfort food whole chicken with gravy without a lot of fuss.
Ingredients
1

whole chicken

salt

pepper

thyme and oregano

optional

1.5

T

arrowroot powder or non-GMO cornstarch

1.5

T

water
Instructions
Place chicken in the crockpot breast side down.

Season with salt and pepper and thyme and oregano if desired.

Cover with lid and cook on high for approximately 3-4 hours or low for 5-6 hours.

When chicken is done, transfer to a cutting board and let rest for 20 minutes until you can easily handle the chicken.

If you want crispy skin, place chicken under the broiler to crisp up skin for a few minutes.

Strain and measure the juice that has accumulated in the crockpot.

After straining and measuring the broth, put it back in the crockpot with the crockpot still turned on. Mine was about 2 cups.

You will want to use about 1.5 T. of arrowroot or cornstarch and water per 2 cups of chicken broth. If you have more broth than I had, use a little more. If you have less than I had, use a little less.

In a separate small bowl, mix the water and arrowroot to make a slurry.

Whisk in the slurry to the hot bubbling broth until thickened. If your broth is not bubbling, it will not thicken very fast. (As an alternative, you could put it in a small saucepan, bring it to a boil, and add the thickening.) Turn off heat and taste to check for seasonings. You may have to add some more salt, pepper, thyme, and oregano.

Debone chicken and serve with hot gravy.
Notes
You could also make your gravy by using a roux method instead of the slurry method. Melt 2 T. butter in a saucepan. Add 2 T. flour and whisk until smooth. Whisk in broth and bring to a bubble to thicken. Season with salt and pepper if needed.
Save the bones!  Please don't throw them away!  Make some easy and delicious chicken stock in the crockpot!