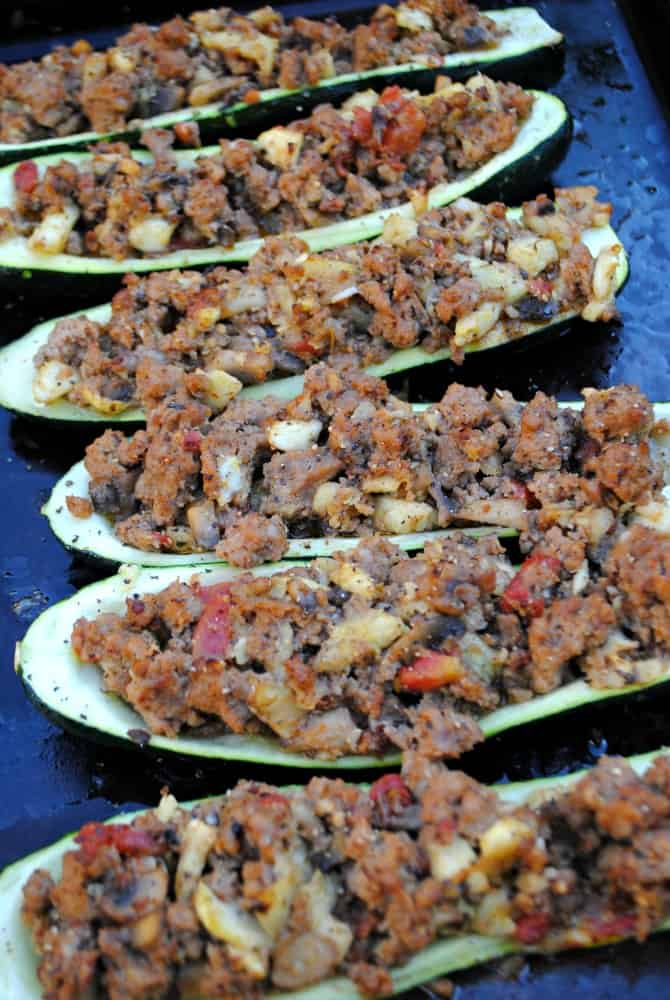 When you eat seasonally you rarely get tired of the same old thing.  There's a natural rhythm to the year when certain foods are only available in certain times of the year.  In the summer, that means zucchini is in abundance.  I always have it running out of my ears and make all of my tried and true zucchini recipes.  I serve it sauteed for breakfast and dinner as a side dish, spiralized as a pasta substitute, shredded in a zucchini bread, and last but not least my favorite: zucchini boats.
I have been making these for years and look forward to them in the summer when my garden starts providing new gorgeous green zucchini just begging to be used for tasty zucchini boats.  They can be customized in a variety of ways to suit different dietary needs.  If you are vegetarian, use more mushrooms, other veggies, beans, or quinoa. If you can tolerate dairy, add some cheese on top.  If you prefer a different kind of meat, go for it!  The method still pretty much remains the same.
Step by step process
Slice your zucchini in half lengthwise and scoop out the pulp with a spoon. Chop up the pulp and reserve for later.
Place on a baking tray, drizzle with olive oil and bake for about 20 minutes.
Brown the meat and set aside.
Saute vegetables.
Add in reserved and chopped zucchini pulp.
Add in tomatoes and spices.
Add back in meat.
Fill your "boats" with the fillings and bake until zucchini is completely tender for about another ten minutes.
These are truly a summertime delight!  I hope they become a family favorite of yours as well.
Zucchini boats
Sausage and vegetable stuffed zucchini. A summertime delight!
Ingredients
3

medium sized zucchini

1

tbsp

olive oil

1

lb

Italian sausage

ground beef can be subbed

4

mushrooms

chopped

½

cup

diced tomatoes

fresh or canned

½

tsp

salt

2

tsp

Italian seasoning
Instructions
Cut zucchinis in half lengthwise. Scoop out centers with a spoon creating a "boat" shape, taking care to reserve the zucchini pulp.

Brush with olive oil, place on a baking sheet, and bake at 400 degrees F for 20 minutes.

Meanwhile, in a large skillet, brown sausage. Remove from skillet and set aside.

Add mushrooms to skillet and saute until tender and brown.

Chop the zucchini pulp into pieces and add that to the mushrooms cooking for a few more minutes.

Lastly add the tomatoes, salt, and Italian seasoning, along with the sausage. Simmer for a few minutes to combine flavors.

Take zucchini out of the oven and fill evenly with sausage filling.

Put back in oven to bake at 400 degrees for 10 more minutes.