A creamy and hearty Zuppa Toscana soup filled with chunky potatoes, sausage and kale.  It's perfect for winter to cozy up and warm the belly. It can also be made dairy-free and Whole 30 approved if you aren't consuming dairy. This Zuppa Toscana is fast enough for a weeknight meal but also great to do as a meal prep for lunches throughout the week.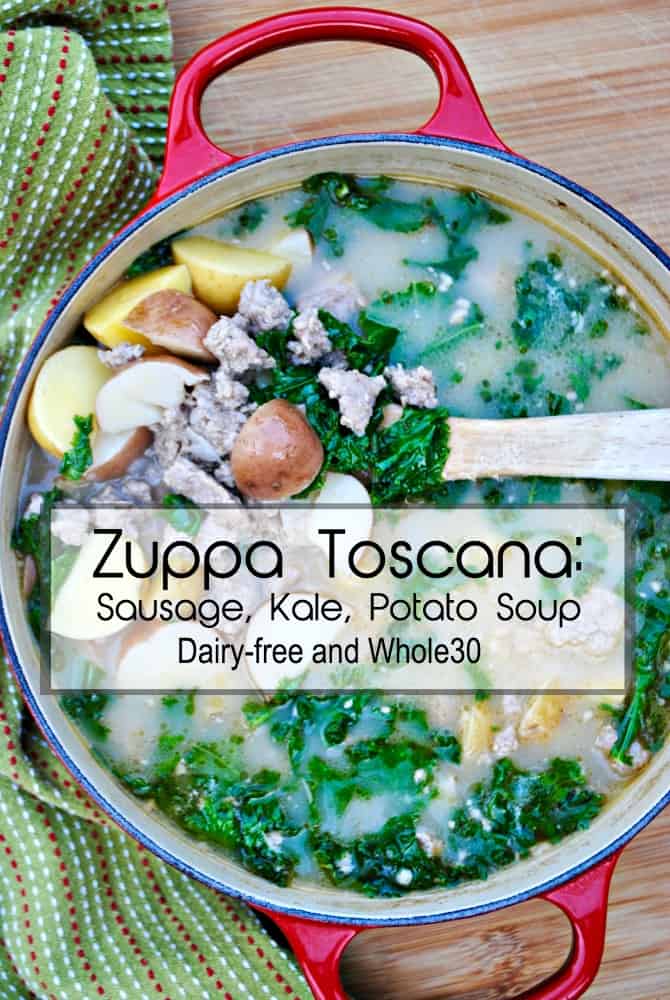 A favorite money saving strategy that I use every month in my monthly meal plans is to utilize the power of broth and soup.  If you are consuming chicken in your diet, make the simple switch to buying chicken with bones, so that you can take advantage of those lovely bones that sadly often end up in the trash. Please don't throw your chicken bones in the trash.  I might cry! Take five minutes and put them in the slow cooker, Instant Pot, or stockpot with some water and a bay leaf to make some practically free broth.  For years I never did this, and now it's just second nature and habit to use the bones for stock.
Now that you have your almost free broth, you can use it to stretch your meat, beans, produce, and grains by turning them in a delicious and highly nutritious soup! This Zuppa Toscana is one of my favorites because I almost always have all of the ingredients on hand.  Kale is a staple in my house because my husband and I eat it for breakfast almost every morning.  Potatoes, onions, and garlic are absolutely always in my pantry.The only thing I don't always keep around is sausage, so that's pretty much the only thing I need to add to my grocery list when I want to make this soup.
Whole30 options
Let's talk about the sausage really quickly.  You can buy store-bought if you would like. There are a couple of brands that are making cleaner ingredient sausages these days, or you can make your own with ground pork and my sausage seasoning blend.  It only takes a few minutes if you are on a Whole30 or special diet and don't want to use a store-bought sausage.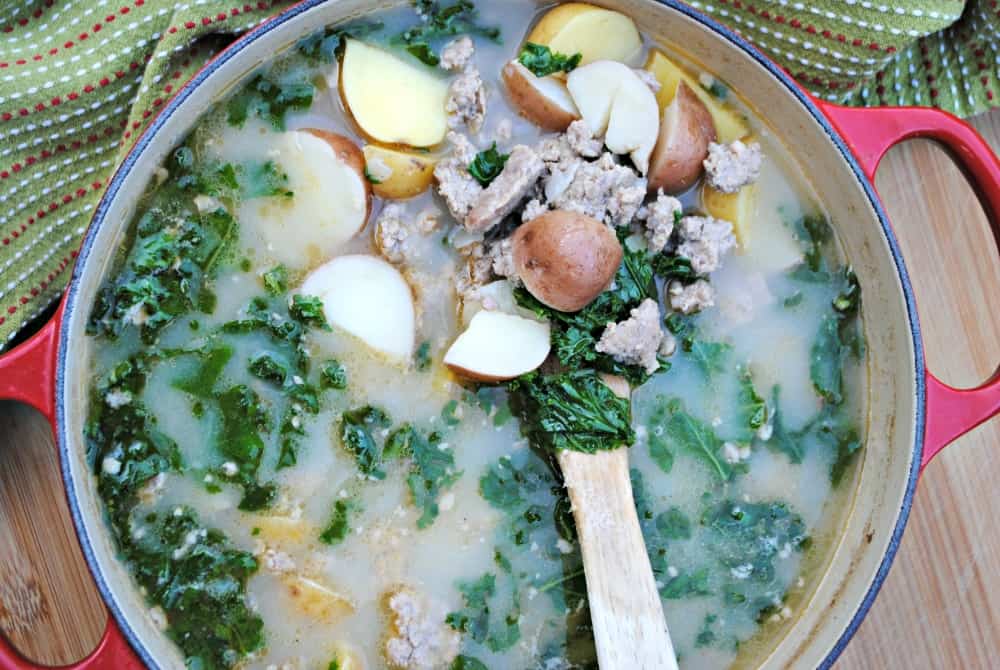 One more note about the creamy agents in this soup.  If you can use cream, do it.  It's so yummy.  If you can't eat dairy or are on a Whole30, you have a few options.  Coconut milk will yield that most creamy factor.  Make sure you are getting unsweetened, and if you are using a can, be sure to mix it up well to distribute the fat and coconut water.  Other options that are still yummy but will yield a thinner soup are almond milk, cashew milk, and even oat milk.  Really any non-dairy alternative milk will do, but each offers a little different taste. For example, oat milk is sweeter than some of the others and not Whole30 approved.
I hope you try and love this Zuppa Toscana.  It's easy and fast, especially if you are lazy like me and buy small thin skin potatoes that don't have to be peeled.  🙂 No shame in my game.  Happy eating! If you ever make one of my recipes and like it, I would love for you to share it on social media.  Tag me @eatwellspendsmart on Instagram and Facebook.  You can also use the hashtag #eatwellspendsmart.
Zuppa Toscana
A simple and nutritious chunky soup make with sausage, potatoes, and kale.
Ingredients
1

lb

sausage

½

large onion

diced

4

cloves

garlic

minced or pressed

1

tsp

salt

use less if your broth is salted

¼

tsp

pepper

or to taste

pinch

red pepper flakes

4

c.

Yukon gold potatoes

cut into chunks

2

c.

kale

chopped

1

bay leaf

6

c.

broth

mine was homemade and unsalted

1

c.

cream

or sub coconut milk or other dairy-free milk
Instructions
Brown sausage in a stock pot.

Add onions and sauté until soft.

Add garlic and cook for a minute.

Add broth, potatoes, salt, pepper, red pepper flakes, and bay leaf. Bring to a boil, reduce heat and simmer for about ten minutes or until potatoes are tender.

Add cream or dairy-free milk and kale and simmer for another five minutes.

Taste and adjust seasonings if needed.