A simple recipe for 3-ingredient peanut butter oatmeal balls. Perfect for a snack when you want healthy fats, protein, and carbs all rolled into one easy treat. These oatmeal energy bites are great for meal prep too!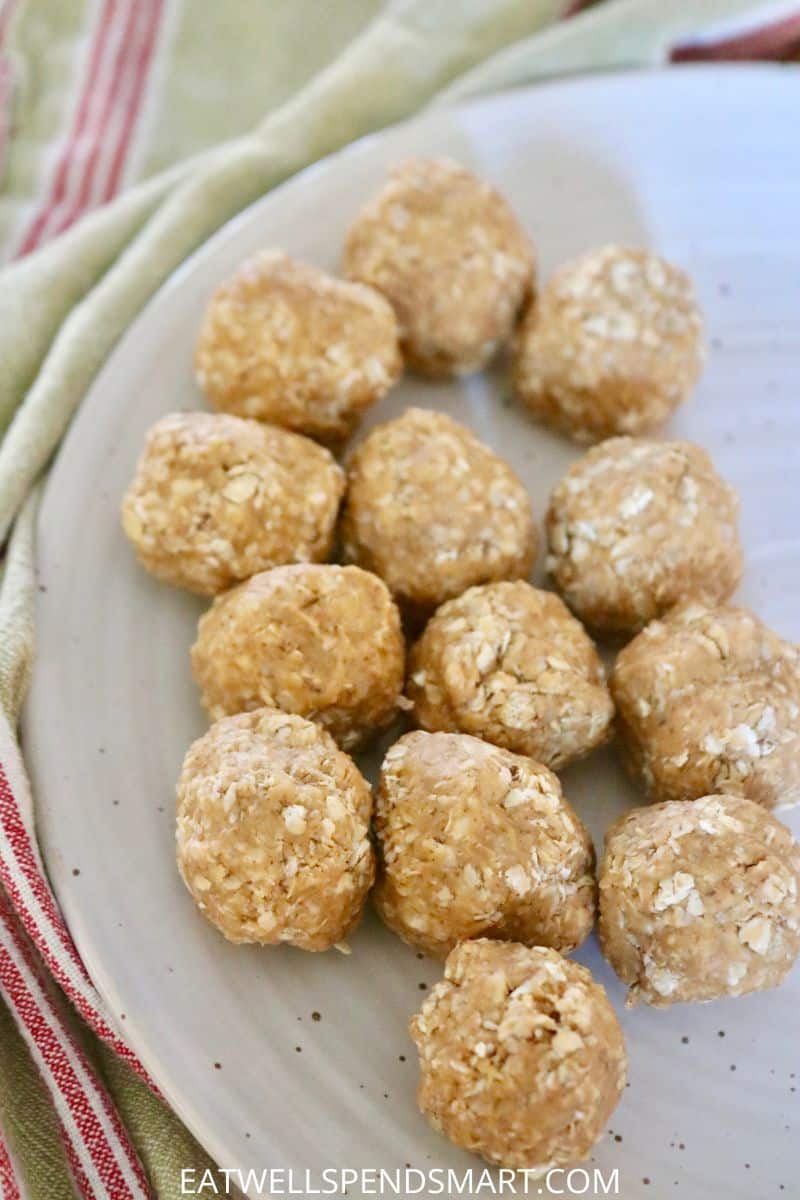 Easy recipes are my favorite thing to create. I always try to think of ways that I can take a recipe and make it even easier with the least amount of ingredients possible. I have been making these peanut butter energy bites since my kids were little, so at least seven years now. They have always been a favorite snack in our house. When I first started making them I loaded them up with all kinds of ingredients, but the base always remained the same: peanut butter (or another seed butter or nut butter), honey, and oats. That's the beauty of these. Simple inexpensive basic ingredients that almost everyone has in their home. Just my style.
Give this easy healthy snack a try this week. Prep them on Sunday night so you can have a little snack ready to go for you and your family all week. It's also a fun one to get kids involved making. They love rolling them into balls. Now that my kids are older, they just make them by themselves without help from me, but I have fond memories of us in the kitchen making these yummy little treats.
Simple ingredients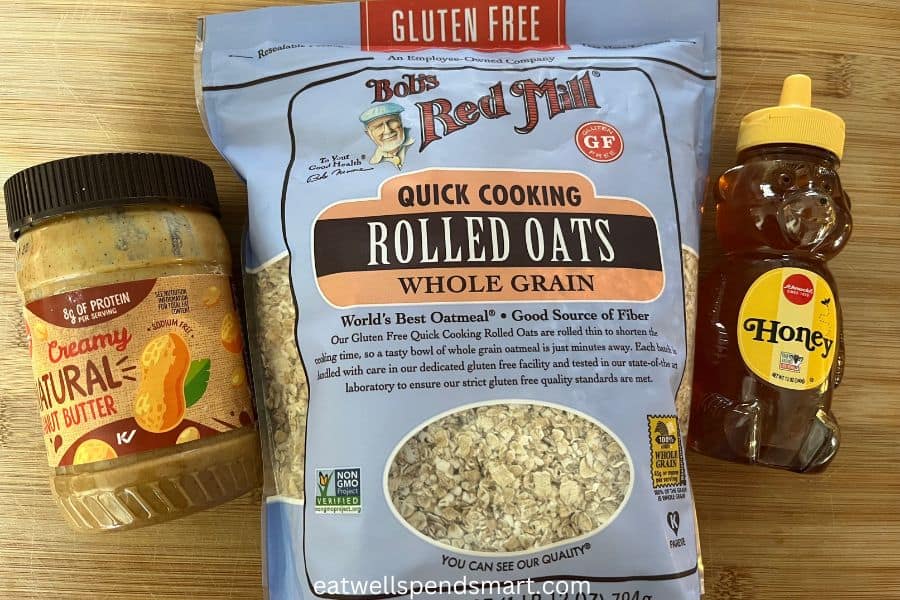 peanut butter: Creamy peanut butter or crunchy peanut butter can be used. My kids always liked the smooth. I prefer a natural peanut butter with just peanuts and salt as the ingredients. Almond butter or sunflower butter may be substituted, but peanut butter gives the best results.
honey: Any honey will work, but it needs to be a pourable honey. I use 2 T. honey, but if you prefer a little sweeter oatmeal ball, you could add another tablespoon of honey. Pure maple syrup can also be substituted for to make it vegan friendly.
oats: Quick oats work best for this recipe since they are thinner and broken up into small pieces. If you are using old fashioned oats or a thicker consistency oat, you may want to pulse the oats in a food processor or blender for a second to slightly break down the oat. It's not absolutely necessary, but it does make the raw oats easier to chew.
Step-by-step instructions
In a medium bowl, stir together peanut butter and honey.
Pour in oats and stir with a spoon until evenly distributed. They will be a little hard to stir, but keep stirring and smashing with your spoon and they will eventually come together.
Using a small cookie scoop or a spoon, scoop out a small amount and form into balls with your hands.
Eat right away or store in the fridge for later.
Optional add ins
If you want to add a little variety, you can add any of the following mix-ins:
chia seeds
coconut
flax seeds
hemp seeds
mini chocolate chips
chopped dried fruit
protein powder
How to store
Store in airtight container or a ziplock baggy.
They can be kept at room temperature for several days, but I prefer to store in the refrigerator so the peanut butter stays more solid and holds its shape better.
3 ingredient peanut butter oatmeal balls
A simple snack with minimal ingredients.
Ingredients
½

cup

peanut butter

natural

2

tbsp

honey

1

cup

quick oats
Instructions
Pour peanut butter and honey into a medium bowl and stir well to combine.

Add in quick oats and stir until well incorporated. It might be a little difficult to come together, but keep pressing and stirring with a spoon until it forms a solid mixture.

Using a cookie scoop or a spoon, scoop out a small portion of the mixture and form into small balls. You should get about 12-13 oatmeal balls from each recipe.
Notes
Add in any mix ins that you wish: mini chocolate chips, chia seeds, flax meal, chopped dried fruit, coconut, etc.
These are mildly sweet. For a sweeter peanut butter oatmeal ball, add another tablespoon of honey or to your taste.
For more healthy snack ideas, read my article 50 Cheap Healthy Snacks