Are you trying to eat more protein but need it to be on a budget? I've got you covered! Below are ideas for high-protein foods that are the best bang for your buck without resorting to protein powders. Include these cheap protein sources as part of your weekly meal plan.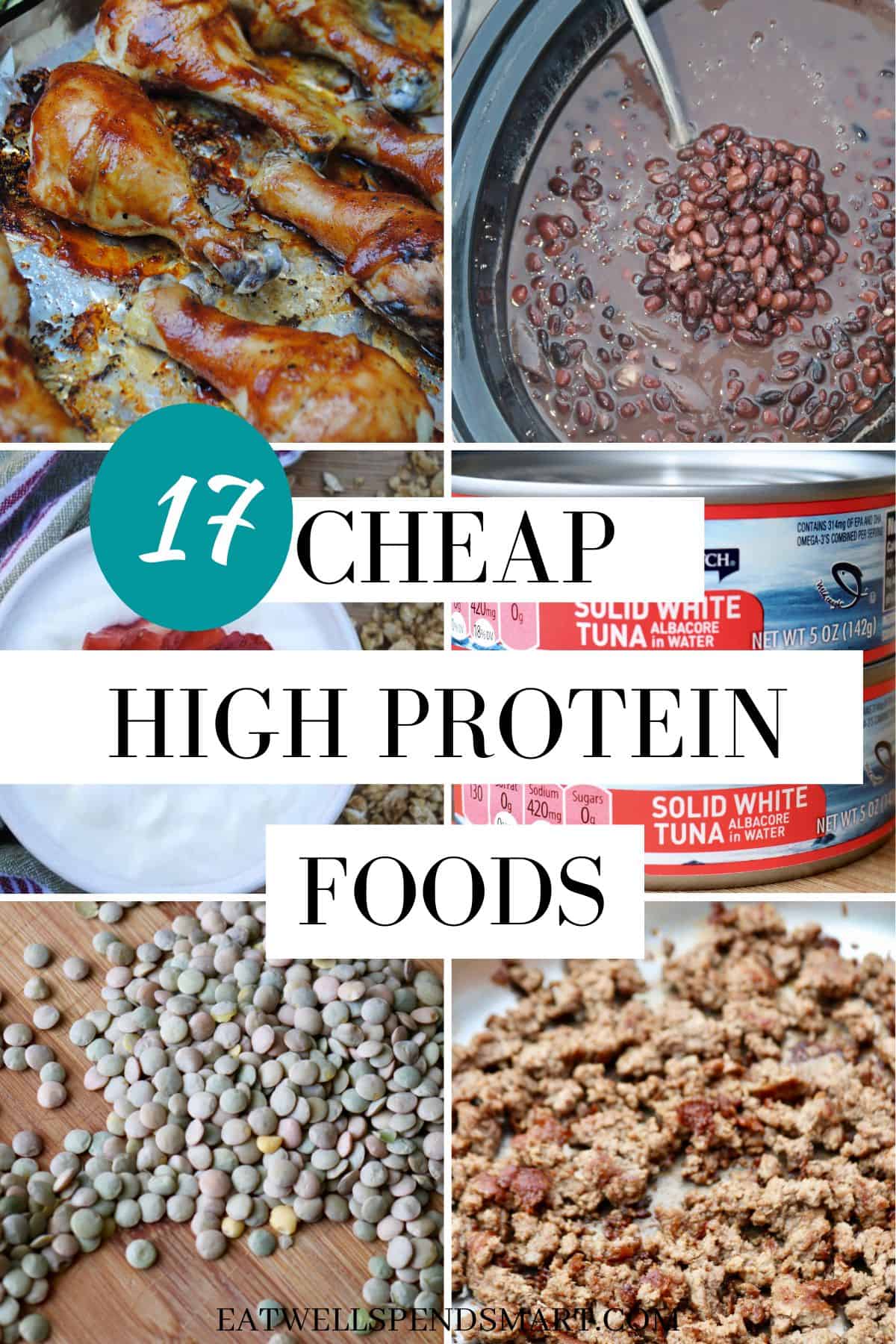 It can be difficult to get enough protein into your diet. Add in rising food prices, and it makes it even more challenging!
Protein is still something I believe is worth prioritizing because there are so many health benefits. Protein is needed in the diet to make new cells and repair old ones. It is important for growth of children, hormones, and can be helpful for weight loss and building muscle mass. During digestion, proteins are broken down into amino acids, which are needed for a healthy body. Essential amino acids can only be obtained by eating food, so you can see why getting enough protein is important.
I won't tell you how many grams of protein you should eat a day because that is based on so many individual factors like your goals, caloric intake needs, and more. What I can do is help give you some ideas for reaching your protein goals even on a budget.
Plant-based proteins
Plant protein is a good option for those on a vegan diet and omnivores alike. Including them in your diet is a great way to vary your protein sources. Keep in mind that these plant sources also contain an ample amount of carbohydrates as well, so be mindful of that if you are on a low-carb diet.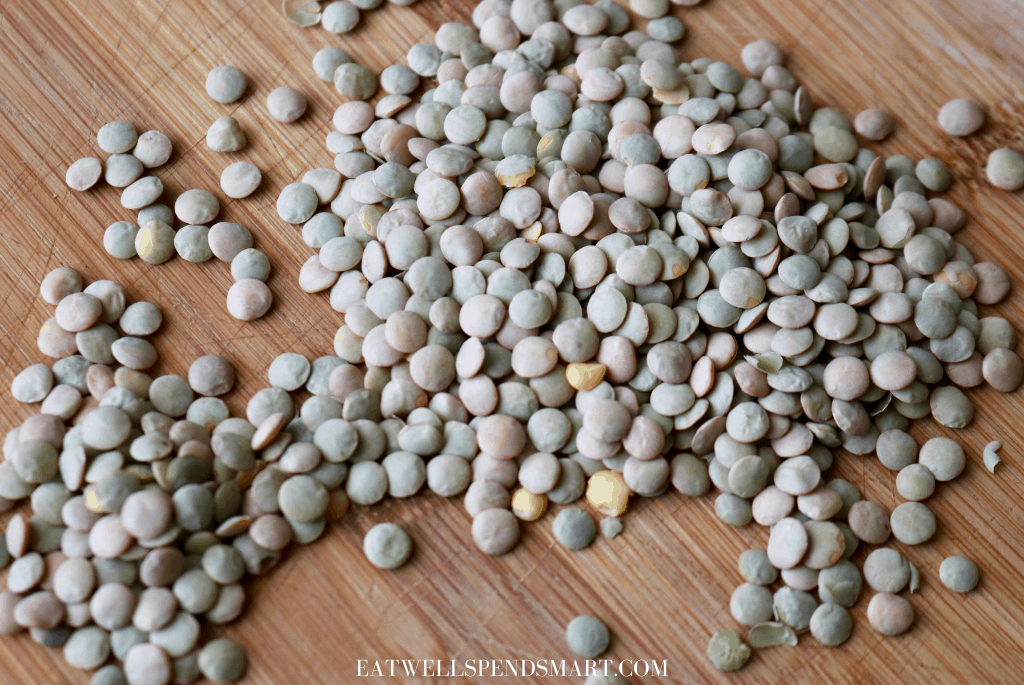 1. Lentils
Protein: 9 g protein per ½ cup cooked lentils
Lentils are such a great inexpensive food. They are actually very versatile too. My favorite way to use them is as the protein source in a hearty lentil soup, curry, or lentils and rice. You can also use them to make classics like shepherd's pie, sloppy joes, or filling for burritos. Not only are they cheap, lentils are also nutritious. High in protein, fiber, potassium, and iron.
2. Beans
Protein: 8g per ½ cup cooked beans on average.
Although beans are often thought of as a nutritious carbohydrate source, they also pack a pretty decent amount of protein as well. Black beans, pinto beans, kidney beans, chickpeas, and white beans are all beans that you can consider as good plant based protein. Use them in soups, stews, casseroles, blended dips, and fillings for burritos and tacos. Try my crockpot pinto beans for a cheap southern meal.
3. Lima Beans
Protein: 7 g per ½ cup cooked lima beans
Lima beans are a great vegetable protein source. Eat them as a simple side dish with some butter and salt or make a delicious succotash perfect in the summer months.
4. Split peas
Protein: 8 g per ½ cup cooked split peas
Split peas don't get enough recognition in my opinion. A good split pea soup is so comforting and reminds me of my childhood. You can also make crispy split peas for a fun snack.
5. Peanut butter
Protein: 8g per 2 Tbsp serving
Everyone is familiar with peanut butter as a cheap food. Nut butters in general are high in protein, but peanut butter is the most economical.  Make a traditional pb&j, mix with oat and honey for peanut butter balls, or pair it with bananas or apples for a snack.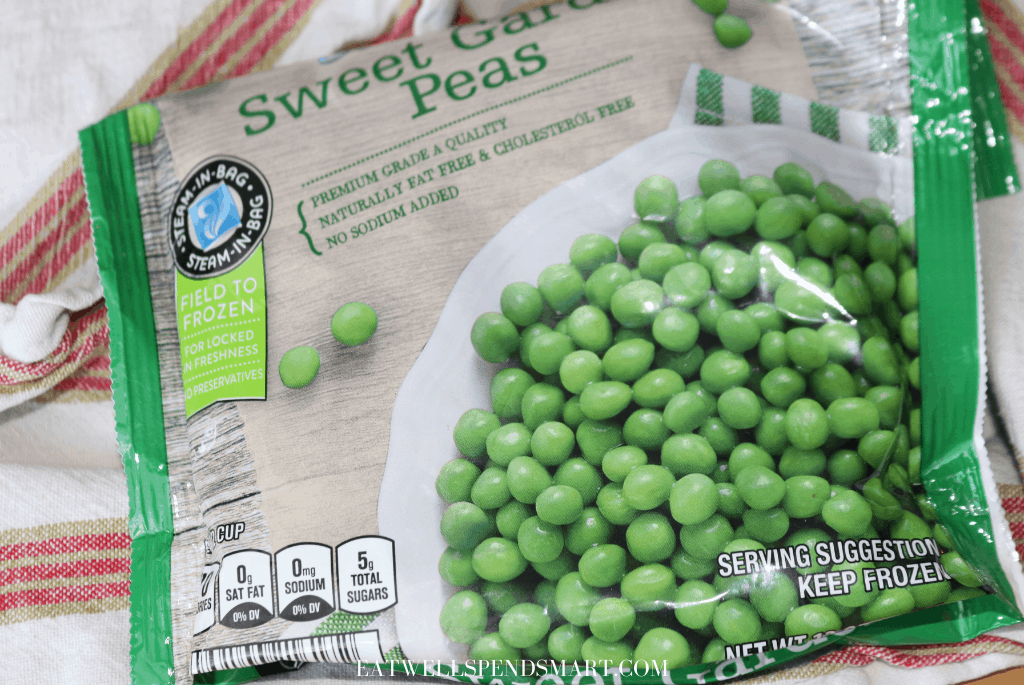 6. Green peas
Protein: 8g per 1 cup
Frozen green peas are always in my freezer. They are a great vegetarian source of protein, and I can throw them in just about anything: soup, casseroles, fried rice, pasta with peas, or an easy side dish.
7. Pumpkin seeds
Protein: 8.5 g per ¼ cup raw shelled
Pumpkin seeds are not only a good source of protein but also a good source of healthy fat, magnesium, zinc, and potassium. I love to add them to granola, put them in a trail mix, or top salads and soups.
8. Sunflower seeds
Protein: 6g per ¼ cup kernels
I use sunflower seeds the same way as pumpkin seeds, as toppings and snacks. Sunflower seeds are not only high in protein, but also high in many other nutrients including vitamin E, folate, potassium, selenium, and magnesium.
9. Edamame (soybeans)
Protein: 10g per ¾ cup
Edamame is a fun snack, appetizer, or side dish in Japanese cooking. It can also be added to grain bowls, soups, and Asian noodle recipes. Bags of edamame can be found in the freezer section of the grocery store typically for a great price.
Animal based cheap protein foods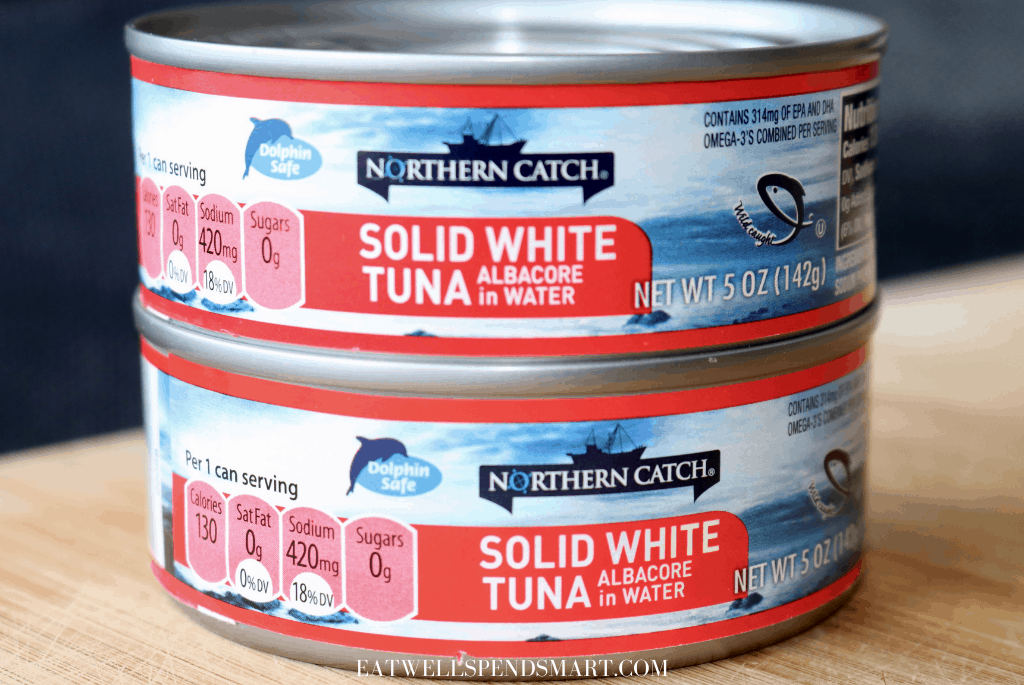 10. Canned tuna
Protein: It varies from brand to brand, but tuna contains about 25g of protein per 5oz can.
Canned tuna has an incredible amount of protein in such a small amount. It's an excellent source of shelf stable protein in case of emergencies or for quick lunches. Read my 16 ways to use tuna for recipe inspiration for this cheap protein source.
11. Canned salmon
Protein: 18 g per 3oz serving or 90g per 14.75oz can
I always keep canned salmon stocked in my pantry. My daughter loves salmon patties and if I need a quick meal or if the budget is tight, I pull out the canned salmon. It is much more affordable than fresh fish.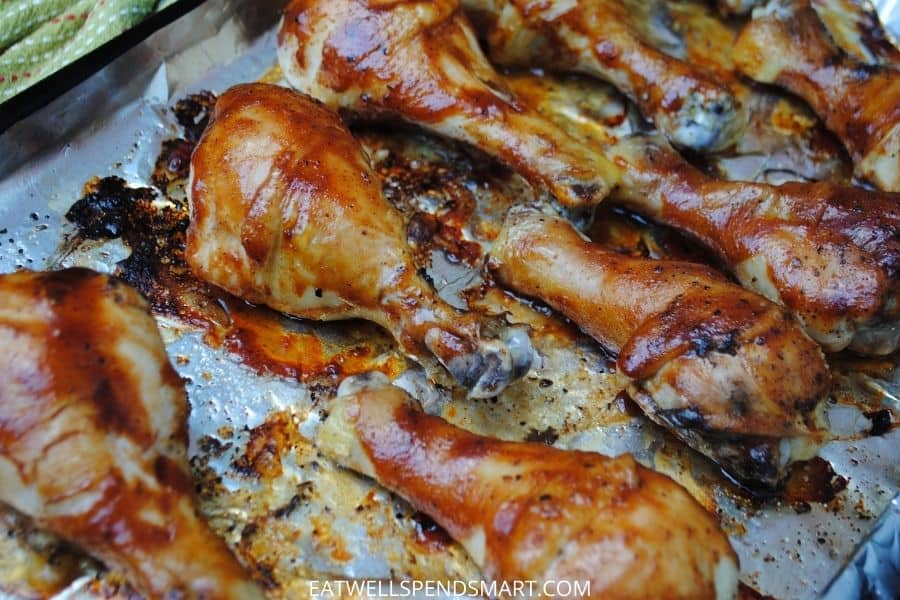 12. Chicken drumsticks
Protein: 12.4 g per chicken drumstick
Chicken drumsticks are almost always a good price at the store. I also find that kids tend to love them. Great on the grill or baked in the oven, they are an excellent cheap high protein food. Try my oven baked bbq chicken drumsticks or my baked herbed chicken legs for easy cheap meals.
13. Cottage cheese
Protein: 13g per ½ cup
Cottage cheese is one of my favorite protein sources. It's so delicious in scrambled eggs to bump up the protein and also makes for a great snack paired with fruit. It is a staple in our house.
14. Greek yogurt
Protein: 17g in ¾ cup serving
Greek yogurt is another one of those dairy products that packs a huge protein punch. It contains almost double the protein as regular yogurt. The price varies by brand. For a cheaper protein source, look for an off brand or one that's on sale. Great Value is still very economical and can be found at Walmart. Use it in fruit smoothies or protein shakes, oatmeal, or make a parfait.
15. Bone broth
Protein: Amounts will vary, but typically bone broth has about 10g of protein per cup of broth.
Buying meat on the bone gives you opportunities for multiple protein sources. Not only can you get protein from the meat itself, but if you simmer the bones in water with veggie scraps for a few hours, you also get the benefit of a protein-rich broth that you can make into soup, make sauces and gravies, drink by itself, or cook your grains in. The homemade broth is practically free!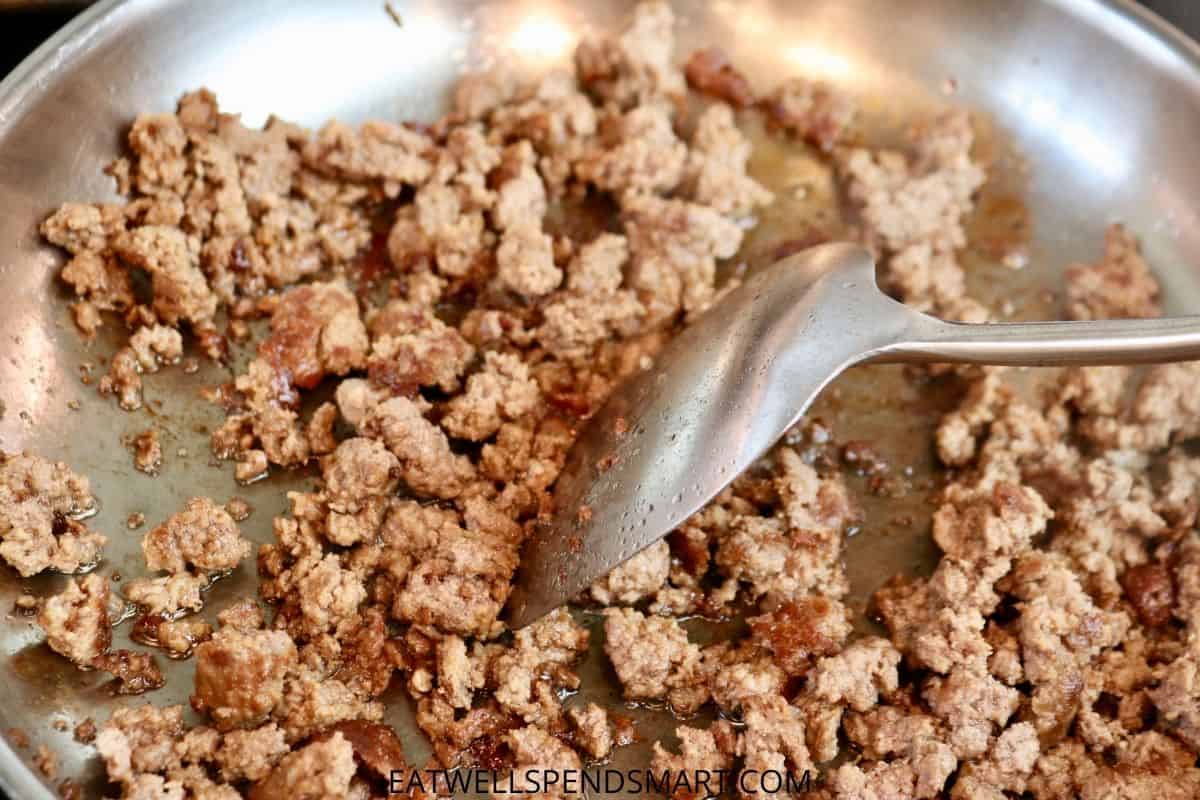 16. Any clearance meat
Protein: varies
Any meat is very high in protein, but it's not always the cheapest. To save on meat, browse your grocery store circular and find what is on sale. Plan your meals around that or buy extra and stock your freezer while the price is low. Also look for markdowns and clearance meat. You can often find really good deals this way. Ask your butcher when he/she typically marks down items, and be sure to visit the store at that time. Also learn strategies like buying whole chickens and getting multiple meals from one whole chicken. Meat can still be a cheap protein source and part of your frugal meal planning strategy.
17. Eggs
Protein: 6g per large egg
Eggs used to be king of the cheap high proteins. Yes, I know eggs are much more expensive now in 2023 than they used to be, but they still can be an economical source of protein. Let's say a dozen eggs is $5. Each egg costs $.41. If you have 2 eggs, that's $.83 for 12g of protein. Still not too bad. It will be even better if prices go back down again.
What would you add? What is your favorite inexpensive protein source?