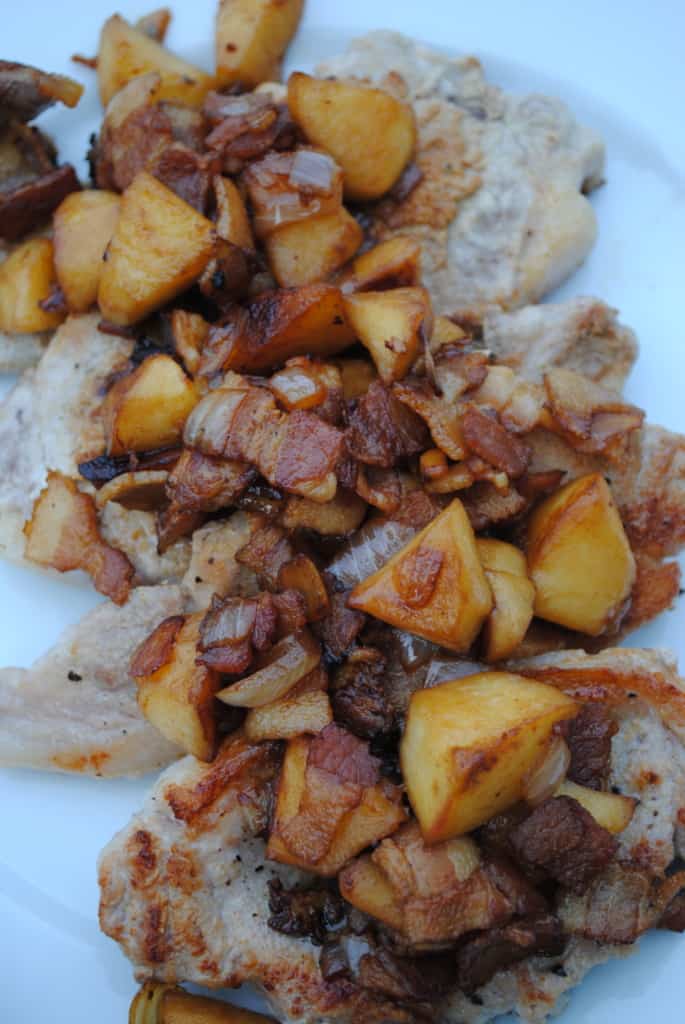 Hello fall!  Can you feel the temps cooling and the air getting crisp?  While I adore summer, I enjoy the change that autumn brings.  There are so many family traditions that we do every single September and October to celebrate the changing season.  In addition to visiting the pumpkin patch, carving pumpkins, jumping in leaves, and lingering out back around a bonfire, we also every single year without fail take a trip to a local orchard to pick apples.  It is certainly a highlight of the season.
After I recover from sticker shock of three bags of bounty, we return home with way too many apples and I'm always pressed with what to do with them before they start to go bad.  I make my share of sweets like apple cake, apple crisp, apple sauce, apple pie, apple waffles, and apple muffins.  I had just about had my fill of sweet apple concoctions, but we still had a few apples to eat, so I searched for savory preparations of apples.
In my search, I came across pork chops with applesauce and bacon.  I thought the bacon and apple combination was a fabulous idea but wasn't too wild about the applesauce.  I dabbled with the combination of  tart and sweet apples, caramelized onions, and salty bacon.  What's not to like?
This meal is a must have for fall in my opinion.  Drizzle it with a little honey and maybe even some balsamic vinegar, and you have yourself a winner that takes less than thirty minutes to make.  Serve with some greens or a side salad for a quick and easy complete meal.
Bacon and apple pork chops
Ingredients
4-6

boneless porkchops

2

small-medium apples

peeled and diced

3

slices

of thick cut bacon

sliced into bite sized pieces

1-2

garlic cloves

1 large or 2 small minced or pressed

1

small onion

diced

drizzle of honey

salt

pepper and garlic powder to taste
Instructions
Season both sides of porkchops with salt, pepper and garlic powder.

Heat 1-2 T of your choice of fat in skillet (preferably cast iron) over med-high heat.

Place porkchops in skillet and sear both sides. You are looking for a golden brown color.

Turn back heat to med-low until porkchops are cooked all the way through. Do not overcook!

While chops are cooking, add bacon to second skillet over med heat.

When bacon is starting to get crisp, scoot it over to the side of the pan and add onions and garlic to the other side.

After a few minutes, onions should start to soften. Add apples and stir the bacon, onions, and garlic together.

Cook for about 10 minutes until apples are soft. Heat may need to be lowered.

When porkchops are done top with apple mixture and drizzle with a small amount of honey.