Baked apple oatmeal is an awesome breakfast to prep for the week and perfect for fall. Made with simple pantry ingredients, it's a low cost healthy breakfast that your family will love.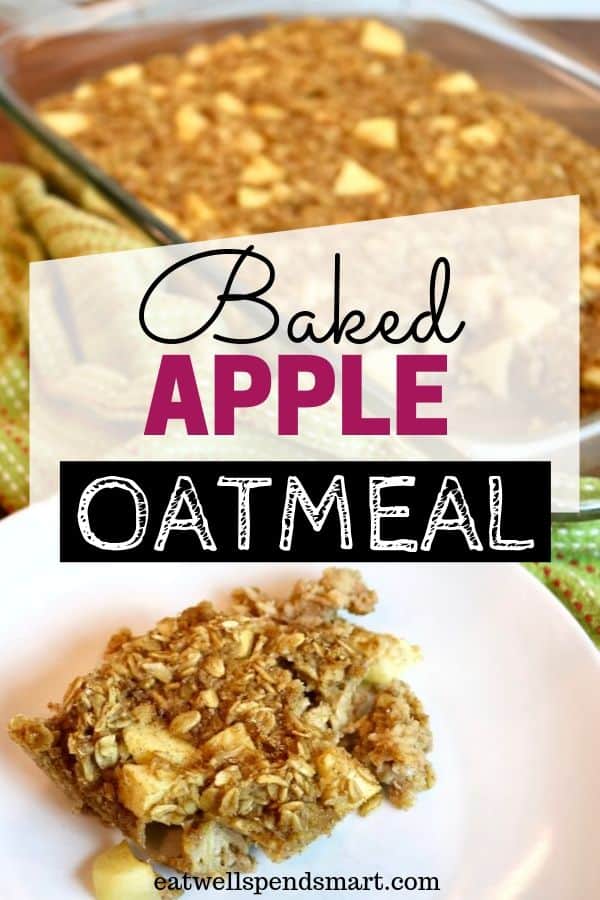 This post contains affiliate links. If you purchase through my links, I may receive a small commission at no extra cost to you.
It has changed over the years depending on our season of life, but my current breakfast strategy is to prep one large breakfast ahead of time on Sunday and rotate it with eggs, bacon or sausage, and smoothies throughout the week.   I find that this strategy saves me time and my sanity in the morning when I'm not at my freshest. Hello, non-morning person.  This baked apple oatmeal is one of those make ahead breakfasts that gets rotated, especially in the fall when apples are in season.
If you are wanting to get a hot breakfast into your family but find yourself short on time in the morning, this might be a good strategy for you too. My husband takes a prepped breakfast every single morning to work. Whether it's a breakfast burrito, breakfast bowl, yogurt with fruit and granola, muffins, egg sandwich, or this baked oatmeal, he's always faithful to put his breakfast together the night before so he can grab and go at 7:30am to catch the train for work.
Since my daughter was diagnosed with food allergies a couple of years ago, I use a lot of oats.  I find that it's a cheap gluten free grain that I can make into so many different things. This baked apple oatmeal is just another yummy way to use them.
What I love the most about this baked oatmeal is that it uses simple pantry ingredients that most people have in their home already. I love recipes like that. If you are gluten free though, I do recommend buying certified gluten-free oats just to be safe.
I hope you love this recipe and it becomes a staple breakfast in your own home.
Baked apple oatmeal
A great make ahead breakfast made with simple ingredients. Perfect for fall.
Ingredients
3

eggs

1 ½

c

milk, milk alternative, or water

½

c

maple syrup

1

tsp

vanilla

2

tbsp

oil or melted butter

3

c

rolled oats

2

tsp

cinnamon

1

tsp

baking powder

½

tsp

salt

2 ½

c

apples

peeled and chopped
Instructions
Preheat oven to 350 degrees F.

Whisk together wet ingredients (eggs, milk, maple syrup, oil, and vanilla) in a bowl.

Stir together dry ingredients (oats, cinnamon, baking powder, and salt) in a separate bowl.

Pour the wet ingredients into the dry ingredients along with the apples and stir until well combined.

Pour oat mixture into greased 9x13 baking dish and spread out evenly.

Bake at 350 degrees for about 25 minutes or until baked oatmeal is firm.
Did you make this recipe? If you enjoyed it, I would love for you to leave a review and share it on social media.