Are you ready to make your best turkey recipe for Thanksgiving? No more dry and tasteless turkey here. Follow my steps for a flavorful and juicy bird that is simple to make and yields great results.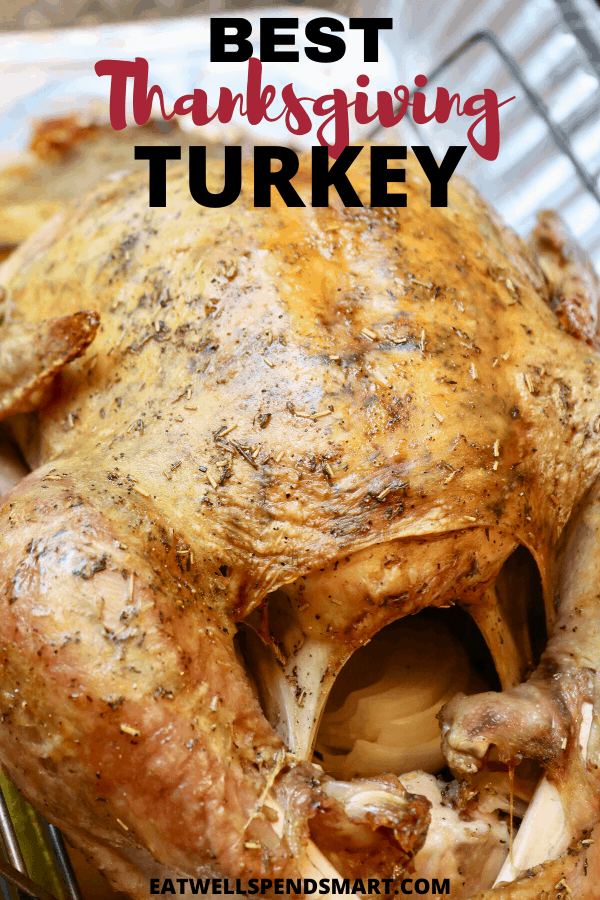 Too many people are scared of making a turkey on Thanksgiving. I felt the same way my first couple of years hosting my husband's family. I messed with brining, basting, and complicated recipes. They were too much for me and still didn't yield the results I was looking for.
Then I came to my senses and discovered my favorite way to cook the best turkey for Thanksgiving. I use butter, plenty of salt, and dried herbs to season the bird and that's it. Sounds too simple? It's not. Let me show you how.
What Size Turkey
Knowing how big of a turkey to buy can be a bit controversial, but I like to say at least 1.25 lbs per person. This weight includes bones, innards, etc, so it's not just the final weight of the meat. If you want some leftovers, steer closer to 1.5 lbs per person. To me, it's better to have too much than too little because leftovers are life in this house!
Thawing the Turkey
The last thing you need is a frozen turkey the day before you want to roast your bird. That's a perfect way to add extra stress to your life. A turkey is a large bird and takes a long time to thaw safely in the refrigerator. I would say give yourself 1 day in the fridge per 3-4 lbs of turkey. We are going to be seasoning it the day before we are going to roast and eat, so it's better to err on the side of having it thawed a day early than risk trying to work with a frozen bird.
Making a Compound Butter
First we are going to make a compound butter. Now don't panic. All this means is to smash some stuff in the butter to combine them. You need to soften a stick of butter or a ½ cup of butter substitute like Smart Balance for those with dairy issues. Just keep it on the counter for an hour or two. Don't put it in the microwave because you take the risk of melting it. Softening just makes it easier to incorporate the seasonings.
After your butter is softened, put it in a bowl, dump the seasonings in and mix it with a fork until everything is all combined. There you have it. You just made a compound butter.
Now we are going to place our turkey on a rack in a roasting pan or a foil pan that you can buy very cheaply at any grocery store, the Dollar Tree, etc. You are just wanting to elevate your turkey so it doesn't cook in the turkey drippings.
Remove any innards from your turkey and pat the skin very dry with a paper towel or kitchen towel. This goes for any kind of meat. Wet meat prevents browning, and we want that nice golden color in the finished turkey.
Seasoning the Turkey
Next comes the hardest part in the entire process, but I promise it's not difficult. Starting at the bottom of the breast by the legs, take your fingers and gently separate the skin from the meat. You aren't removing it, just loosening the membrane that holds them together. We are going to shove that herb butter in between the skin and the meat to create flavorful meat and crispy skin, so keep working your hands under the skin along the breast and legs as best you can.
Start working in all of that butter under the skin. Save about a third for the outside and slather the outside with the remaining butter so that it's completely coated under the skin and outside of the skin.
Stuff with Aromatics
The next part is up to you. If you are feeling up to it, you may stuff the cavity of the bird with aromatics of your choosing. Options are onions, a bundle of fresh herbs, a lemon cut in half, a garlic bulb cut in half, or apples. I sometimes do this and I sometimes don't. Your turkey will still be delicious without this extra step and it will likely cut down on the cook time if you don't stuff your bird. It is totally up to you though. You are the boss of your kitchen.
Lastly cover your pan with a single layer of foil and pop it in the fridge to sit overnight. This overnight prep allows time for the salt and herbs to do its magic seasoning the meat. If you are short on time, you may put the turkey directly in the oven to start baking, but it will benefit greatly from sitting in the fridge soaking up all that flavor from the salty herb butter.
Cooking the Turkey
The next day you are going to place your already prepped turkey (with the foil) in a 350 degree oven. When cooking at 350 degrees, I like to say 13-15 minutes per pound or an hour per 4 pounds. So if you have a 12 pound bird, it will take about 3 hours.
The only way to know for certain is by using a meat thermometer. They are a cook's best friend when cooking meat. You are looking for an internal temperature of 165 degrees, checking at several points of the bird. It's ok to remove the turkey from the oven just a few degrees shy of that because it will carryover cook a little while it rests.
The last hour of cooking, remove the foil so that your turkey skin can get nice and golden in color. If the skin is getting too brown, simply place the foil back over the bird. If it's not getting brown enough, feel free to raise the temp on the oven a bit to brown it. Every oven is a bit different, so this is where you have to use your own judgment and cooking knowledge to improvise a bit.
There is no need to baste this turkey. It's unnecessary, and to me, constantly opening the oven to baste just lets heat escape from the oven, lowering your oven temperature and causing a longer cook time.
Allow time to rest
Figure in time for the turkey to rest. I like to allow it to rest 30 minutes before carving. This allows the juices to redistribute back into the bird instead of running all over your cutting board.
Plus it gives you plenty of time to make your gravy from the drippings. Speaking of drippings, after your turkey has come out of the oven, tilt your turkey off to the side to allow any drippings to run out into your roasting pan. Strain and save these to make a delicious and simple homemade gravy.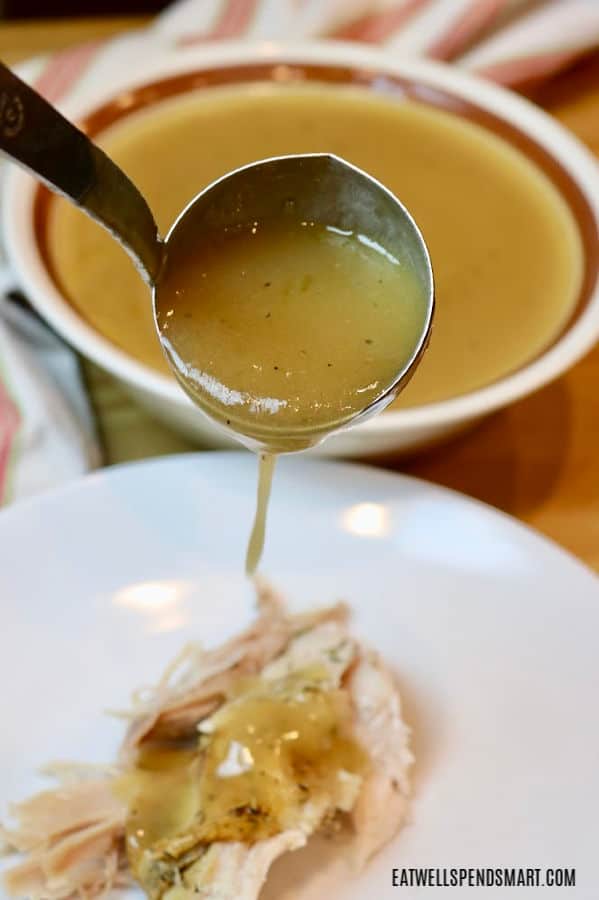 Carving the Turkey
Please don't mangle the bird after you've worked so hard to cook it. I ended up with shredded mangled turkey for several years before I discovered how to properly carve it. This is my favorite video tutorial on carving the turkey like a pro.
Helpful tools
More Thanksgiving Recipes
Best Turkey Recipe for Thanksgiving
Turkey roasted with an herb butter under the skin and baked until golden brown.
Equipment
roasting pan

meat thermometer
Ingredients
12

lb

turkey

½

c.

butter

or butter substitute like Smart Balance

1 ½

tsp

salt

use a little more if butter is unsalted

½

tsp

pepper

1

tsp

dried thyme

1

tsp

dried ground sage

1

tsp

dried rosemary

optional aromatics

onion, apple, fresh herb bundle, garlic bulb
Instructions
Soften butter on countertop for about an hour.

Add all seasonings to butter and smash/mix with a fork until well combined. Set aside.

Remove neck and innards from turkey and discard.

Pat turkey dry with paper towels or a clean kitchen towel.

Place in a roasting pan with a rack.

Using your fingers, loosen the membrane that holds the skin and the meat together to make a cavity for the butter to go under the skin. Work your way over to the legs and under the skin of the entire breast.

Using about ⅔ of the compound butter, rub it into the meat under the skin.

Rub the remaning ⅓ on the entire outer skin of the turkey.

Stuff with any desired aromatics. This is an optional step.

Cover with a single layer of foil and refrigerate overnight.

The next day remove turkey from fridge and preheat oven to 350 degrees.

When oven is preheated, place the turkey in oven as is and cook for about 13-15 minutes per pound. A 12 lb turkey will take approximately 3 hours.

The last hour remove the foil and continue roasting so that the skin can develop a golden brown color. Add foil back if skin gets too brown. Increase heat if skin is not browning as you like.

When temperature has reached 162-165, remove from oven. Tip turkey on it's side toward the legs to allow the drippings to run into the pan to reserve for gravy. Cover turkey and allow to rest for 30 minutes before carving.
Notes
For a bigger turkey, double the butter and seasonings and increase the cooking time using the rule of about 13-15 minutes per pound.
If you make this recipe and love it, I would greatly appreciate a review and comment. It helps others see the recipe and spreads good cooking all around! Tag me on social media @eatwellspendsmart and use the hashtag #eatwellspendsmart