Turkey gravy from drippings is one of the best things about the Thanksgiving feast. Rich, luscious, and perfect slathered all over the turkey, mashed potatoes, and dressing. With just a few simple ingredients, you can make a delicious turkey gravy from scratch. No gravy mix or jars required. Just turkey drippings, flour (regular or gluten free), stock, and salt/pepper.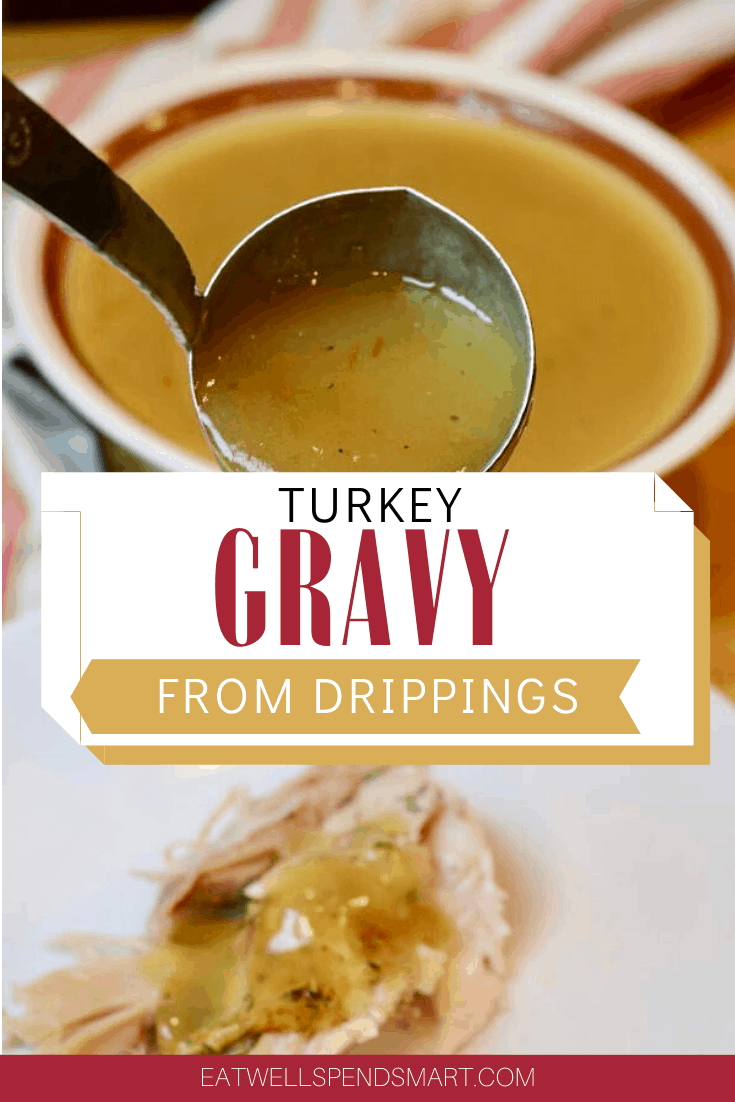 It's time for the gravy, baby! What is Thanksgiving turkey, mashed potatoes, and dressing without gravy smothering it? I have no idea because the gravy is my favorite part. Not just any gravy though. If it's canned or gravy from a mix, I'll pass. This is luscious made from scratch turkey gravy from drippings. It's so good and I can't for the life of me figure out why people don't make it from scratch when it's this easy and cheap.
If you have drippings from the turkey, a thickener, and some extra liquid, you can make turkey gravy from scratch.
How to Make Turkey Gravy from Drippings
First roast your turkey. If you don't have a good recipe, try my best Thanksgiving turkey recipe. It's delish. When finished roasting, tilt your turkey to let all of the juices and drippings fall into the roasting pan. Set your turkey aside to rest while you make the gravy.
Separate the Fat
Strain all of your drippings into a measuring cup. I got about 2 cups from my 12 lb. turkey which consisted of about a half cup of fat and 1 ½ cups of liquid. If you allow your drippings to set a for a few minutes, the fat will rise to the top. You will need to skim off the fat from the other liquid, but don't throw it away! We are going to make a roux, or a thickening agent for the gravy. You can skim the fat with a spoon or you can use a fat separator. A fat separator is helpful to separate the two instead of skimming. You may or may not need all of the fat. If you are making only a little gravy, you will likely only need a couple of tablespoons. If you are making gravy for a large crowd, you may need all of that fat.
How much gravy?
You can make as much gravy as you wish. A general rule of thumb is using the formula 1 T. fat + 1 T. flour + 1 cup liquid= 1 cup gravy. I also like to plan for about ⅓ to ½ cup of gravy per person. So for 10-12 people, I would make about 4 cups of gravy. For 20-25 people, I would make 8-10 cups of gravy.
For today's tutorial, I will be using ¼ cup of fat, ¼ cup of flour, and 4 cups of liquid (1 ½ cups drippings + 2 ½ chicken stock) to yield approximately 4 cups of gravy.
You can easily scale up or down your desired amount of gravy by doubling, tripling, or dividing to yield however much gravy you need.
Start With a Roux
In a saucepan, whisk your fat and flour together over medium low heat. Cook for a few minutes until the flour is beginning to get a golden color. The darker your roux, the darker your gravy. The only downside is that the longer you cook it, the less thickening power it has, so for me, I like a light to medium golden color. You can use regular flour or a gluten free flour or a starch like potato starch.
Add Drippings and Broth
Next slowly whisk in your drippings and stock. Bring to a boil and simmer until it has a slightly thick consistency. Gravy doesn't need to be super thick and gloppy. It just needs to be thick enough to leave a luscious mouth feel that coats the turkey and mashed potatoes without running all over the plate in a watery mess.
Taste and see if it needs more salt or pepper. You may also add a shake or thyme or rosemary, but I find it unnecessary if you use my turkey recipe because the drippings are already flavored with the herbs.
When it tastes like you want and has the consistency that you desire, strain if needed and serve hot in a gravy boat or bowl.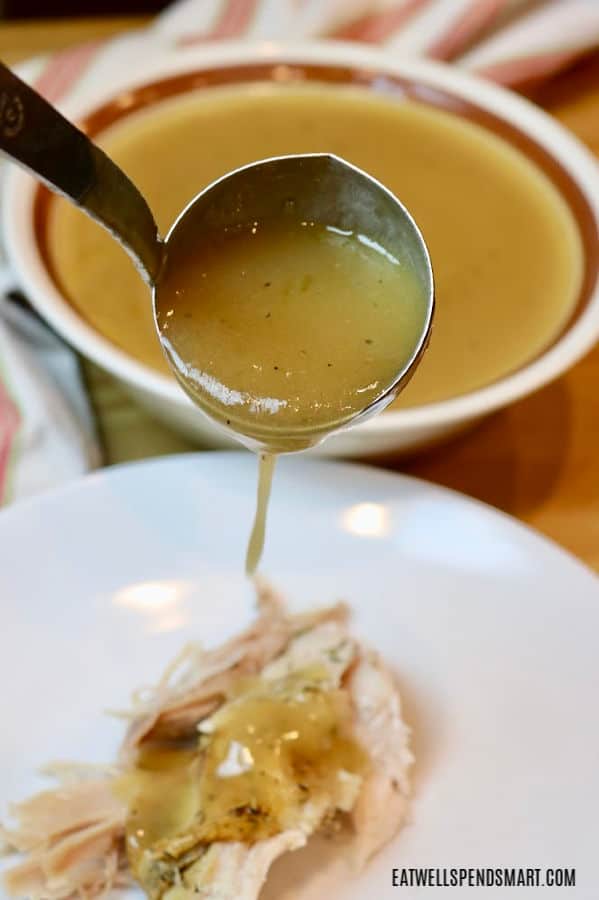 Troubleshooting
If your gravy is too thick, add more liquid a little at a time until it thins out.
If it is too thin, make a slurry of flour or cornstarch with a little bit of water and whisk that into the gravy.
For lumpy gravy, strain it through a fine mesh strainer to strain out any lumps.
If your gravy is too greasy or oily on top, take a spoon and scrape it off as best you can, whisk it in and don't worry about it, or take a paper towel edge and gently try to soak up the little greasy areas on top.
If it's too salty, add a little water.
Helpful tools for this recipe:
Share the Love
If you make this recipe and love it, I would greatly appreciate a review and comment. It helps others see the recipe and spreads good cooking all around! Tag me on social media @eatwellspendsmart and use the hashtag #eatwellspendsmart
More Thanksgiving Recipes
Turkey gravy from drippings
Simple turkey gravy from drippings using a roux, drippings, and broth.
Ingredients
¼

c

fat

separated from drippings

¼

c

flour

all purpose or gluten-free all purpose

4

c

liquid

drippings plus additional chicken broth or water

salt and pepper to taste
Instructions
Tilt fully cooked turkey to allow juices to run out of turkey cavity into the roasting pan. Drain drippings into a measuring cup.

Using a fat separator or a spoon, skim fat from drippings. Use your desired amount of fat for the gravy roux and discard the rest. Do not throw away the remaining juices under the fat.

In a saucepan, whisk together fat and flour together of medium low heat to make a roux. Cook for a few minutes until it has developed a light golden color.

Slowly whisk in turkey juices + however much more broth/water you need to make 4 cups of liquid.

Bring to a boil and whisk while cooking until gravy is thickened. Taste and adjust seasonings if needed. Strain if needed and serve hot.