Are you looking for a weekly cheap meal plan for two people that includes all three meals? Look no further. A healthy meal plan for two people that costs less money than one meal in a restaurant. If money is tight at your house, give this menu plan a try.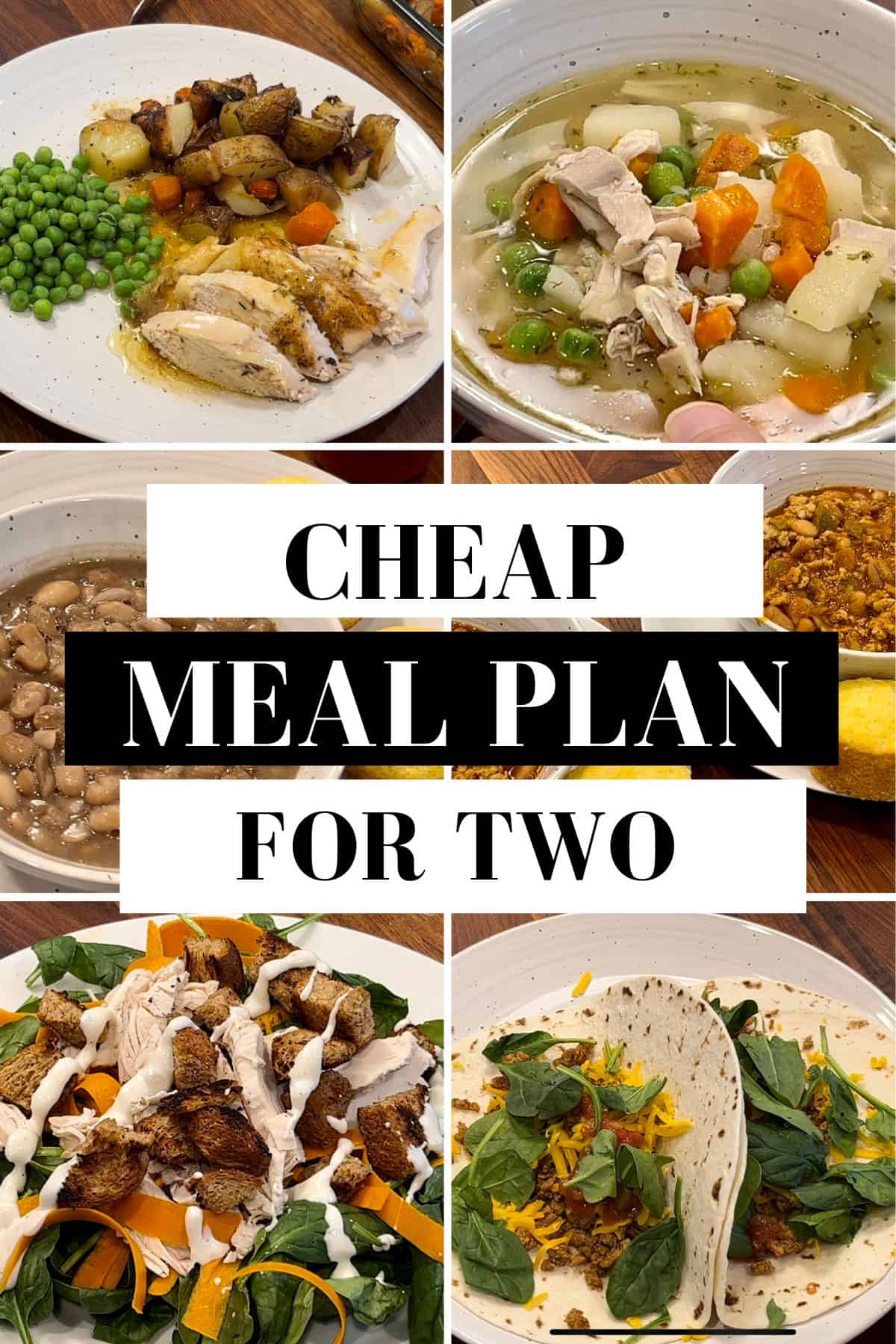 There are many cheap meal plans for two people out there floating around on the internet, but they rarely include breakfast and lunch. They may claim $50/week for two people but only include five dinners and that's it! To me, that's not helpful for people on a tight budget looking for help for what to feed themselves for a week's worth of food.
I am aiming to show you an example of how to feed two people on a $50/week grocery budget. I will include easy recipes for breakfast, lunch, and dinner designed to prevent food waste while still eating nutritious meals.
About this meal plan
The $50 also includes ALL pantry staples needed except salt and pepper, so if you already have some of those items you won't have the extra cost of purchasing those, which means more money in your pocket or left in your food budget.
At the end of the week, you will have the beginnings of a food stash with leftover salsa, Italian seasoning, chili powder, potatoes, frozen peas, a little rice, and butter. Bonus points!
Lastly, I am including a video tutorial showing you how to cook each of these meals from start to finish. Cooking from scratch is one of my favorite ways to eat well even when you do not have a lot of money. I know that not everyone is familiar with cooking from scratch though, so think of this video as your friend/big sister/mom coming alongside you teaching you new skills that you can take into the future!
I hope you find this one week meal plan helpful on your quest to lower your grocery bill while still eating healthy meals.
Tips for creating a meal plan for two on a budget
Use what you already have first!
This is truly one of the easiest ways to save money. Don't go out and buy more food if you have perfectly good food at home. Feel free to adjust my plan based upon what you have to cut the grocery budget even more!
Shop the sales and plan meals around them.
If chicken breasts, chicken leg quarters or another cut is less expensive per pound than a whole chicken, feel free to substitute based on the sales. If another fruit on sale is less expensive than apples, purchase that instead.
Choose generic brands over name brands.
You will notice many of the ingredients I purchased were Great Value, Walmart's generic brand. They are much less expensive than the name brand and still taste great.
Choose versatile ingredients that can be used for multiple meals to prevent food waste.
You will see the same ingredients used in various creative ways to create completely new meals. For example, potatoes are used in an egg dish for breakfast, in a soup for dinner, and also stuffed with leftover chili. This is a great way to prevent food waste.
Cook simple meals with basic ingredients.
A delicious meal does not have to contain fancy costly ingredients. You will notice this meal plan uses very few ingredients per meal. Even the spices are kept simple, using only salt, pepper, Italian seasoning, and chili powder. This just goes to show that a simple recipe can still be flavorful and delicious!
Have your protein do double duty and eat leftovers.
I know you may not have much time to cook from scratch, so chicken and beans that we batch cook are used for multiple meals. By using this method it takes less time to cook dinner, and for some meals you are only reheating leftovers which means no cooking at all.
Grocery shopping
I chose Walmart to purchase all of the ingredients for this cheap meal plan for two. Walmart is a store that can be found in almost every town and typically has good prices compared to other local grocery stores.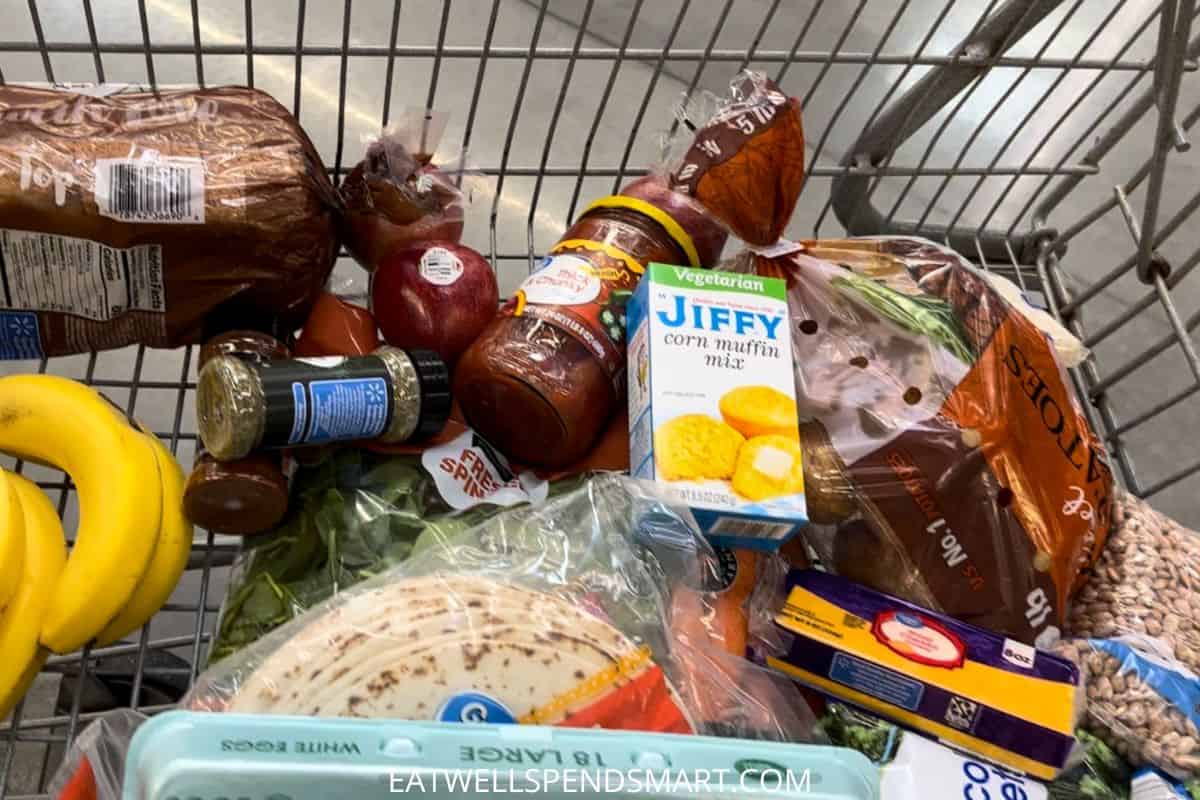 Grocery List
Everything you need to make this budget meal plan is included in the list below. The only pantry staples that are required beyond this list is salt and black pepper, which most people will already have in their kitchen.
Take this shopping list with you to Walmart to purchase all of the ingredients. Prices are reflective of when I went shopping in Missouri on 4/28/23. Your prices for the exact same items may vary.
carrots 1 lb bag:  $.98
russet potatoes 5lb bag:  $3.27
Marketside fresh spinach 10 oz:  1.98
cucumber:  $.72
gala apples (3):  $2.07
bananas (4):  $.88
Great Value frozen broccoli florets 12 oz:  $1.16
Great Value frozen peas 12 oz:  $.98
Great Value long grain white rice 1 lb:  $.88
Great Value medium flour tortillas 10 ct.:  $1.98
Great Value wheat bread:  $1.78
Jiffy corn muffin mix:  $.62
Great Value chunky salsa, mild 24 oz:  $2.36
Great Value pinto beans, dry 1 lb:  $1.24
Tyson whole chicken:  $7.37
Butterball ground turkey 1.25 lb:  $4.98  (Ground beef can be subbed if it is on sale and less expensive than the ground turkey. At the time I went to the store, the turkey was cheaper.)
Great Value butter quarters:  $3.98
Great Value sharp cheddar cheese block 16 oz:  $3.68
Great Value large white eggs 18 ct:  $2.92
Great Value Italian seasoning:  $1.12
Great Value chili powder:  $1.12
Subtotal: $48.00
Tax: 6% $2.88
Total: $50.88
For a printable version of the meal plan, shopping list, and recipes, click here or on the image below to download. No strings attached.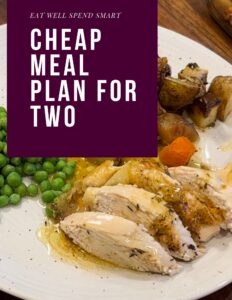 Weekly menu
Day 1
Breakfast: breakfast burritos
Note: You can prep them the night before or make them fresh. These breakfast burritos will be used tomorrow for breakfast too.
Lunch: grilled cheese sandwiches, carrot sticks, ½ apple
Dinner:  roasted chicken, potatoes, carrots, peas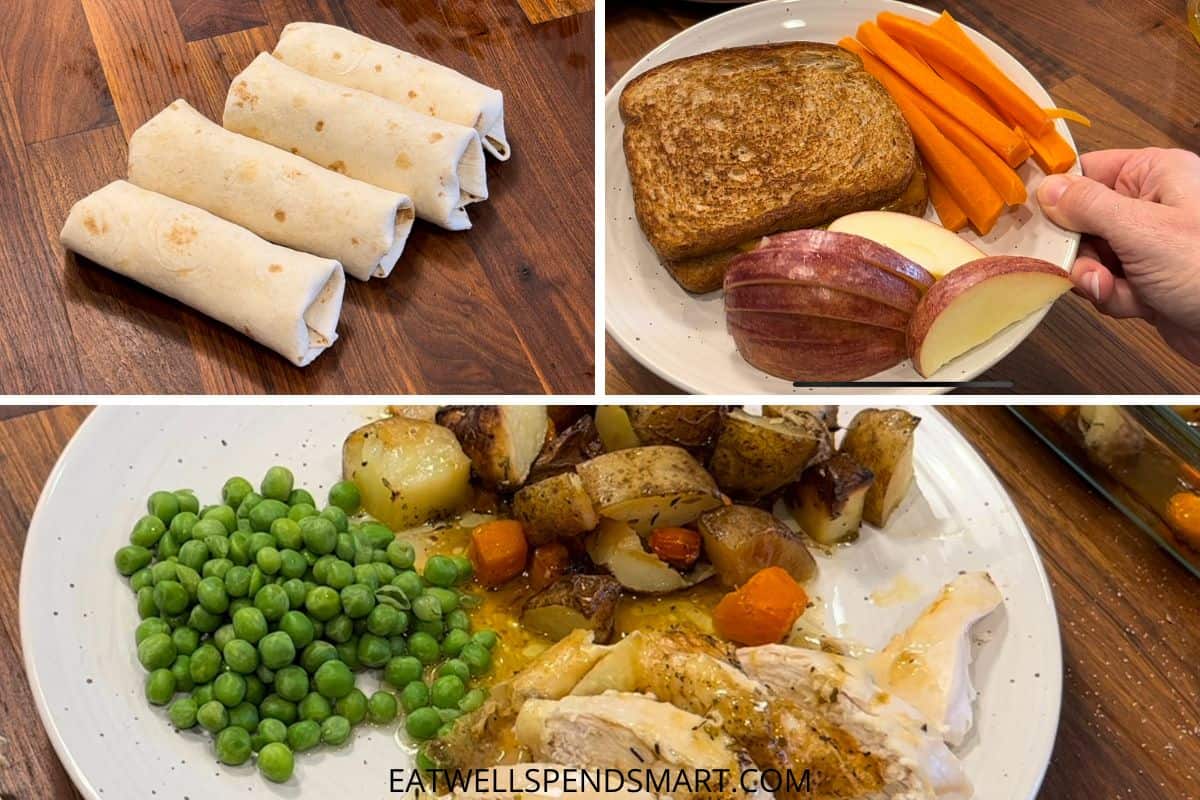 Day 2
Breakfast: breakfast burritos
Lunch: chicken spinach salads with homemade croutons
Dinner: chicken soup
Prep: (optional) You could meal prep the egg casserole the night before day 3 to make the morning easy or you could make it fresh on day 3.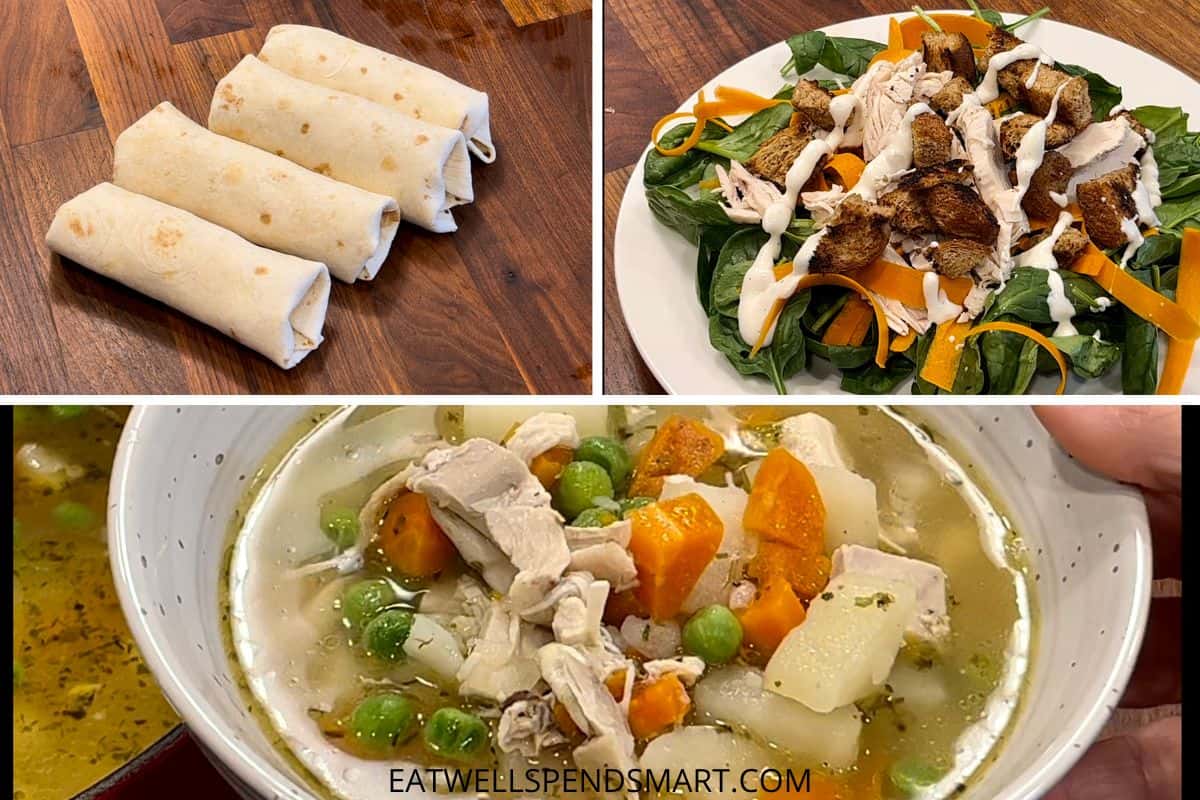 Day 3
Breakfast: spinach, potato, cheddar egg casserole and ½ banana each
Note: You could meal prep the egg casserole the night before to make Monday morning easy or you could make it fresh Monday.
Lunch: leftover chicken soup
Dinner: chicken broccoli rice
Prep: soak pinto beans overnight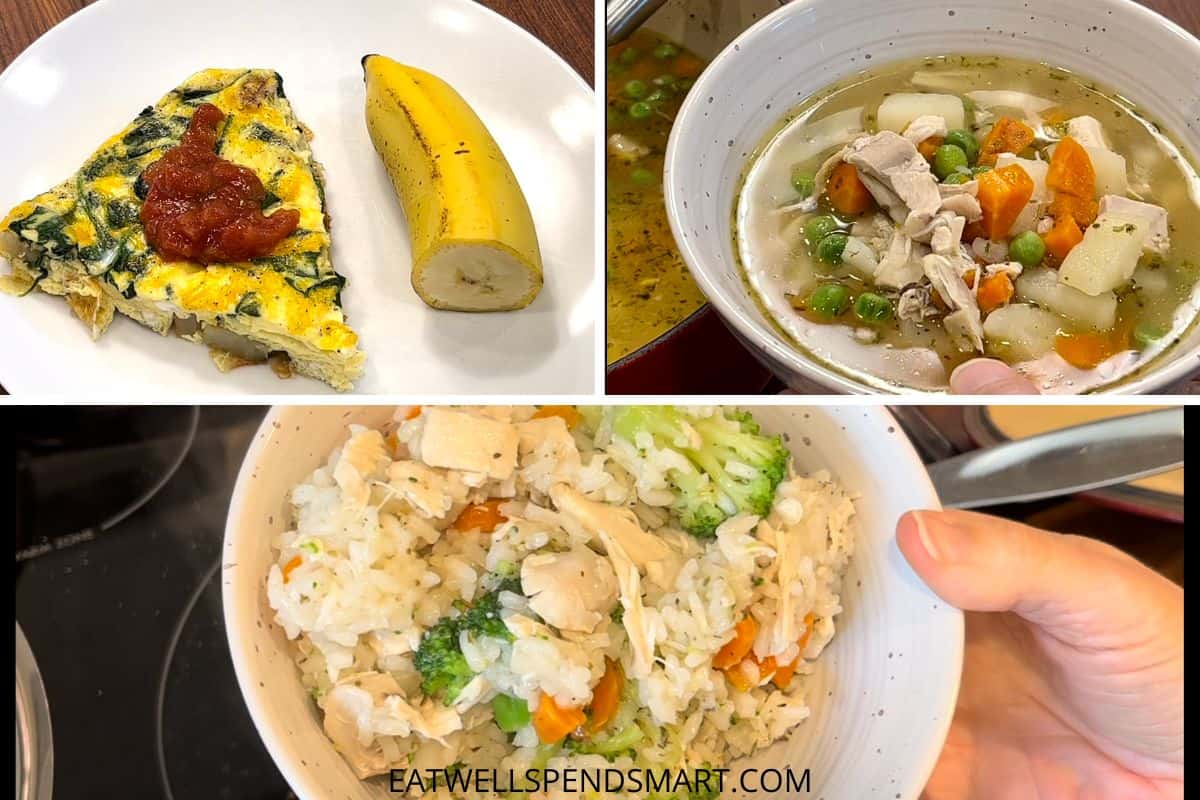 Day 4
Breakfast: egg casserole, ½ banana each
Lunch: leftover chicken broccoli rice
Dinner: pinto beans (slow cooker or stovetop), corn muffins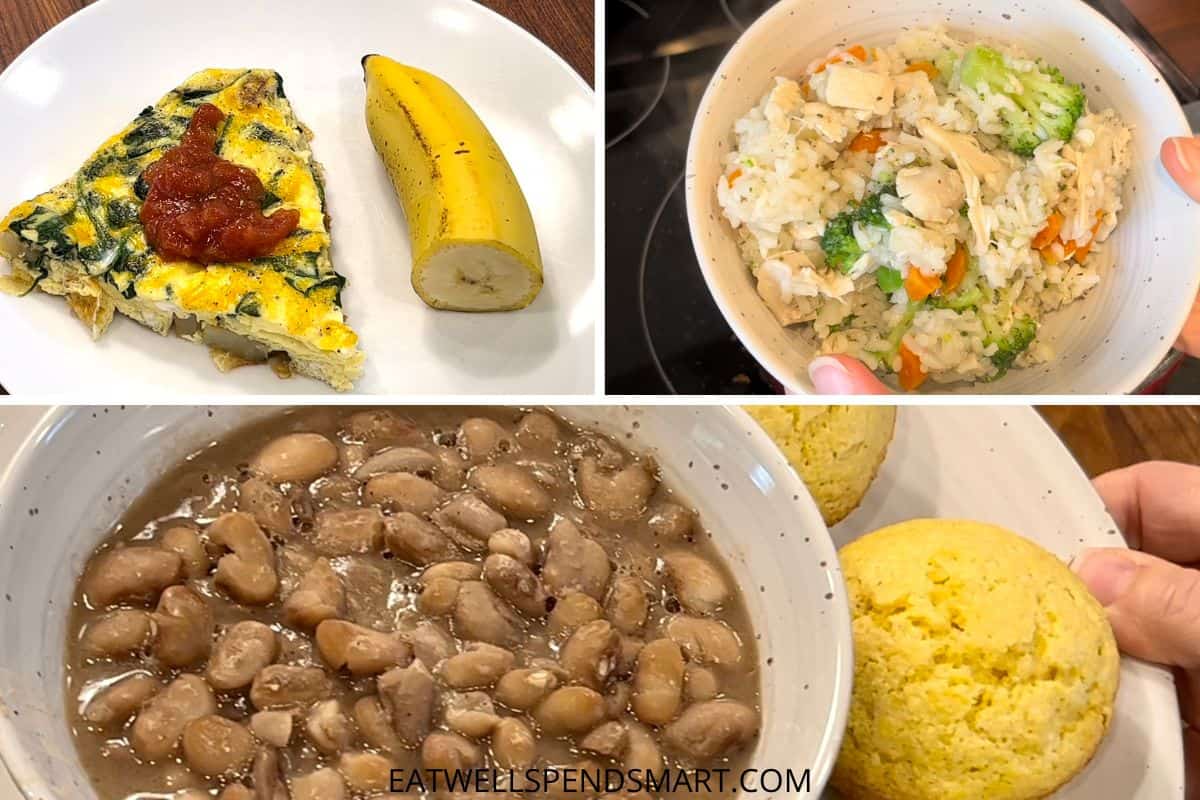 Day 5
Breakfast: egg casserole, ½ banana each
Lunch: bean and cheese burritos, ½ apple
Dinner: turkey chili, corn muffin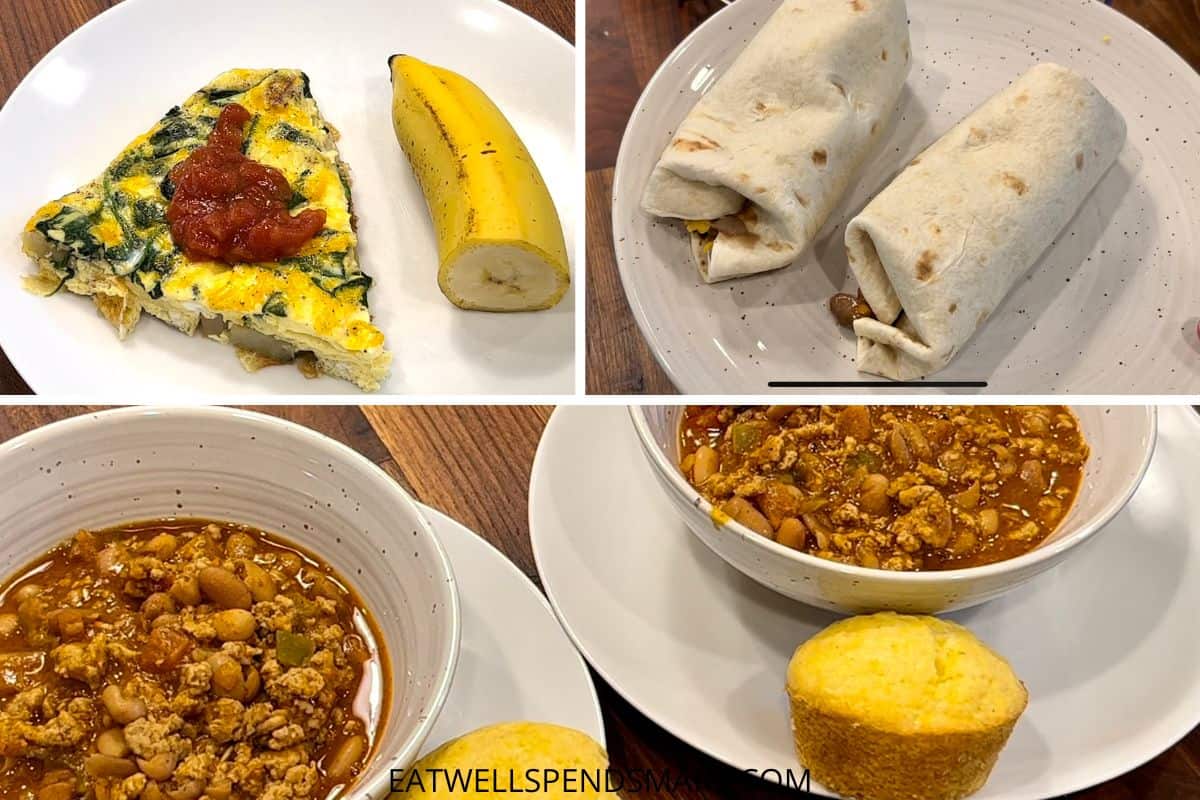 Day 6
Breakfast: egg sandwich,
Lunch: grilled cheese sandwiches, ½ apple, cucumber slices (pic shows carrots instead of cucumber slices)
Dinner: chili topped baked potatoes, side salad
Day 7
Breakfast: egg sandwich
Lunch: grilled cheese sandwiches, cucumber slices
Dinner: turkey tacos