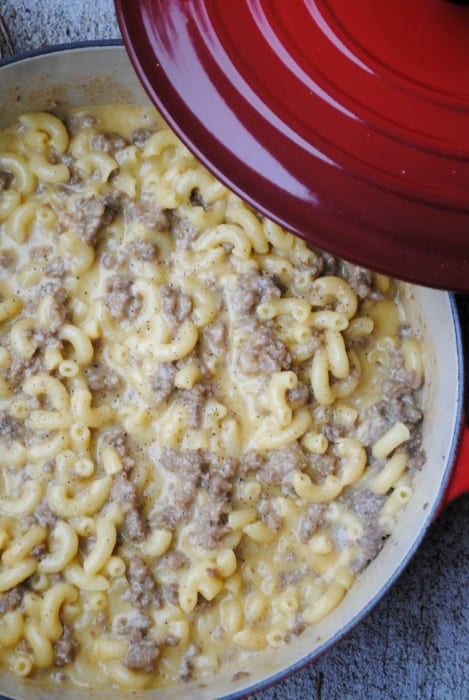 Sometimes you just want to push the easy button on dinner.
Sometimes when you start on this cooking from scratch journey, you miss the days of the boxed dinner.  The simplicity of it.  Browning some ground beef and dumping a packet in the skillet and calling it a day sounds mighty fine at the end of a long day.
Since we've been without a real kitchen for well over a month now, everything I've been making is super easy and usually only requires one dish.  Doing dishes in the bathtub or bathroom sink is not very appealing.
This easy cheeseburger macaroni is very similar in taste and level of difficulty to your old boxed food days of hamburger helper.  Brown some ground beef, dump in some seasonings, liquid, and macaroni.  Simmer and melt in some cheese.
Simple, folks.
I purposefully kept the seasonings of this dish simple, but if you would like to jazz it up a bit more, feel free to add in some kick like maybe some taco seasoning, hot sauce, a squirt of dijon, or really anything that your heart desires.  You can even play around with the cheese if you wish to branch out a bit and add some variety to your sauce.  I chose a basic cheddar cheese, but many other cheeses will work fine.
Hit the easy button tonight, tired mama or daddy.  You need a break.
Cheeseburger macaroni from scratch
A homemade version of hamburger helper boxed cheeseburger macaroni.
Ingredients
1

lb.

ground beef

1

tsp.

garlic powder

1 ¼

tsp

salt

¼

tsp

pepper

2

tsp

non-GMO cornstarch or arrowroot

2

c.

milk

1

c.

water

1 ½

c.

macaroni noodles

2

c.

cheddar cheese

shredded
Instructions
Brown ground beef and drain off any grease.

Add garlic powder, salt, pepper, and cornstarch.

Pour in milk, water, noodles, and stir.

Bring to a bubble, reduce heat to a simmer. Cover and cook for 10-12 minutes or until noodles are cooked. You may need to stir every few minutes to prevent sticking.

Stir in cheese and serve hot.