My kids love helping in our garden.  They get involved in the entire process from start to finish:  seed planting, weeding, watering, and harvesting.  Both of my kids have been helping since they were about a year old.  Every year they look forward to getting out our seed starting supplies, watering every couple of days, and planting our new spring and summer crops.
One year, though, my daughter wanted her own space where she could do what she wanted to with it.  Ms. Independent is like this with just about everything.  Clothing, room decor, and more she puts her own unique spin on it all.  I don't mind though.  I love when she takes initiative on her own projects.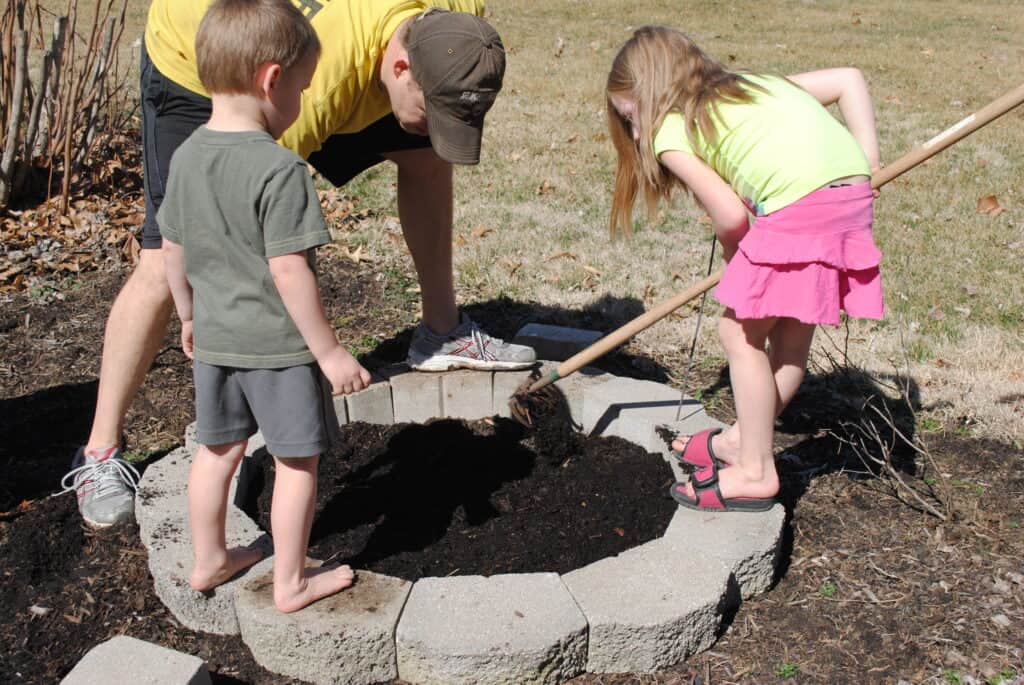 She had the idea of using these concrete blocks that we had leftover from another project to make the border for her garden.  She wanted it in a circle, so daddy helped her drag over all of the blocks next to the black raspberry patch, and she placed them in a circle ready to be filled with dirt.  The kids filled the bed with dirt and compost and waited and waited and waited for weeks until the weather was warm enough to plant.
They both decided to plant a snow pea plant that they started inside several weeks back, a small row of carrots, a small row of radish, and 2 green bean plants.  This is where we get our seeds. (affiliate link) My youngest scattered the seeds and planted too many in one spot, while my oldest took more time to make sure they were planted just right.  It's really all part of the learning experience though, and I'm just happy to see them excited about growing things and being active learners.
Lastly they watered their new garden and made tags to remember what they had planted.
My daughter also has plans to make a flag for her garden, but hasn't found the perfect material yet that won't get messed up in the outdoors.  She thought about cardboard or paper and decided that would disintegrate.  We'll see what she comes up with.  I'm just having fun watching them in the process.
Creating a little garden for your children is a great idea. It's super easy and there are no rules - it can be as big or small as you like. It's so rewarding watching them take responsibility for their own little area and they will learn so much.
Have you ever made a special garden just for the kids?