Since we started on our clean eating venture many years ago, I have grown to love vegetables and fruit. There's really not any vegetables that I just don't like.  Even beets and Brussels sprouts, which I used to turn up my nose to, have become family favorites.  Learning how to cook them and simply season them to bring out their natural flavor and make them taste great, certainly helps.  
Even with this love for produce, I still found myself falling into a rut of getting only a serving of veggies in at lunch and maybe 1-2 servings in at dinner.  In my opinion, that just isn't enough to provide enough nutrients for my body.  My lab results from this year seemed to back up this opinion, since they indicated that I was deficient in several areas, so while I am taking supplementation, such as nucific probioitc complex, to improve gut health and increase absorption rates, I am also experimenting with doubling my produce intake to get as many nutrients into my body as possible. The gut is basically a second brain in the body and I want to make sure it's getting all the necessary nutrients it needs. Additionally, my toilet habits have changed drastically since switching diets so using supplements makes my habits more regular and healthier.
I thought I would share with you what I'm doing in my efforts to increase my produce intake in a day, which I hope will encourage you to maybe add a few more veggies into your day as well.  
How I'm Doubling My Produce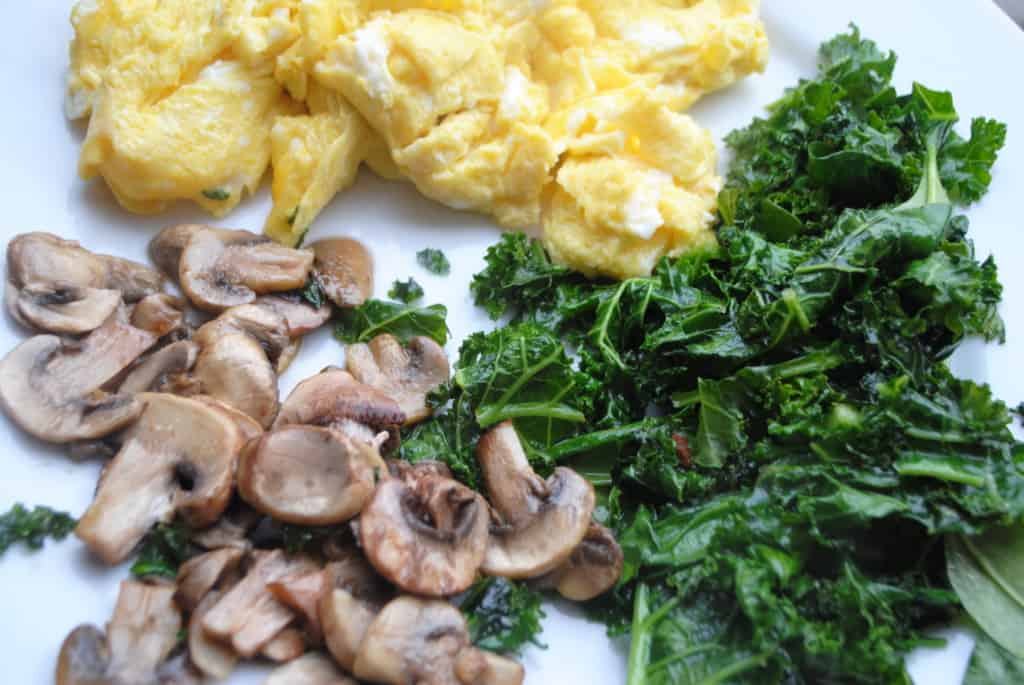 Veggies with breakfast
Greens and mushrooms alongside my eggs:  It only takes a few minutes to sautée some quick cooking greens and mushrooms to go with eggs.  Greens cook down tremendously too, so I am able to eat several cups in the morning to get me off to a good start.  I cook it all on a big griddle to save time.
Leftover roasted veggies:  I often make a huge pan (or two) of roasted veggies at night for dinner.  It is such a time saver to warm the leftovers up from the night before and serve it as a hash with eggs, bacon, or sausage.
Produce loaded into a smoothie:  I'm not a huge smoothie person, but I do from time to time like to make them in the mornings.  Frozen veggies like greens, okra, and cauliflower often make it into my smoothies along with frozen fruit. Throw in some healthy fats and protein like flax, chia, coconut, nut butters, avocado, and collagen, and you have a well-balanced nutrient packed smoothie.
Load me up for Lunch
Leftovers or quick assembly are the name of the game in my house for lunch.  Veggies don't always equal a lot of time spent cooking.
Big salad with leftover protein:  I always like to have leftover protein in the fridge to put on top a huge salad.  Either I chop my own lettuce or buy a pre-mixed chopped salad greens container.  Then I add peppers, carrots, cucumbers, apples, blueberries, hemp hearts, seeds, or whatever else tickles my fancy.  It only takes a few minutes to assemble it all together and top it with a homemade dressing.
Stir fry with leftover protein:  Now this one has been my absolute favorite veggie packed meal.  I adore a good stir fry.  I like to make a big batch at the beginning of the week and eat on it a couple of times.  Sometimes I will use frozen stir fry veggies and sometimes I will chop my own.  Carrots, celery, peppers, onions, broccoli, cabbage, and snap peas are all vegetables that I like to include.  Really though, I just use whatever needs to be used up in my fridge and freezer.  Then I throw in some leftover chicken and season it with jarred curry paste, coconut aminos, and fish sauce.  SOOOOO good!
Soup:  Soup made at the beginning of the week with tons of veggies inside is a great way to get in a  ton of nutrients.  Not only can it be packed with produce, broth is super nourishing and very easy on the food budget.
Sandwich with veg on the side:  If I'm in the mood for a sandwich, I make sure to put lots of lettuce and veg on my sandwich as well as produce on the side like berries, carrots, cucumbers, or celery with nut butter.  Sometimes I make a sandwich wrap using lettuce or another green instead of a bun.
Double up with dinner
My dinner has pretty much stayed the same, except I roast double the veggies so that I can have leftovers for breakfast or lunches on the following days.  I also like to include a big salad on the side to increase my veggies even more and create an easy side dish.
It's also nice to make a veggie packed soup and eat the leftovers for lunch like I talked about above.  
So what about you?  How do you like to pack your days with produce?