If you need a quick meal that most people in your family will love, try these fast and frugal chicken fajitas. Normally made with breast meat, I made these a little more budget friendly by using boneless skinless thighs. You can certainly sub chicken breasts if you prefer and the results will still be delicious. Chicken thighs are just a little harder to dry out and tend to be more flavorful.
Fajitas are a great meal to serve in the summer because peppers are in season and typically cheaper than they are in the colder months. Peppers always make an appearance in my garden because they can be a pricey vegetable in the store. If you don't have a garden, and want to make peppers more affordable, try scoping out the discounted produce bins at the store, local markets, or shop at Aldi where the prices are always cheaper.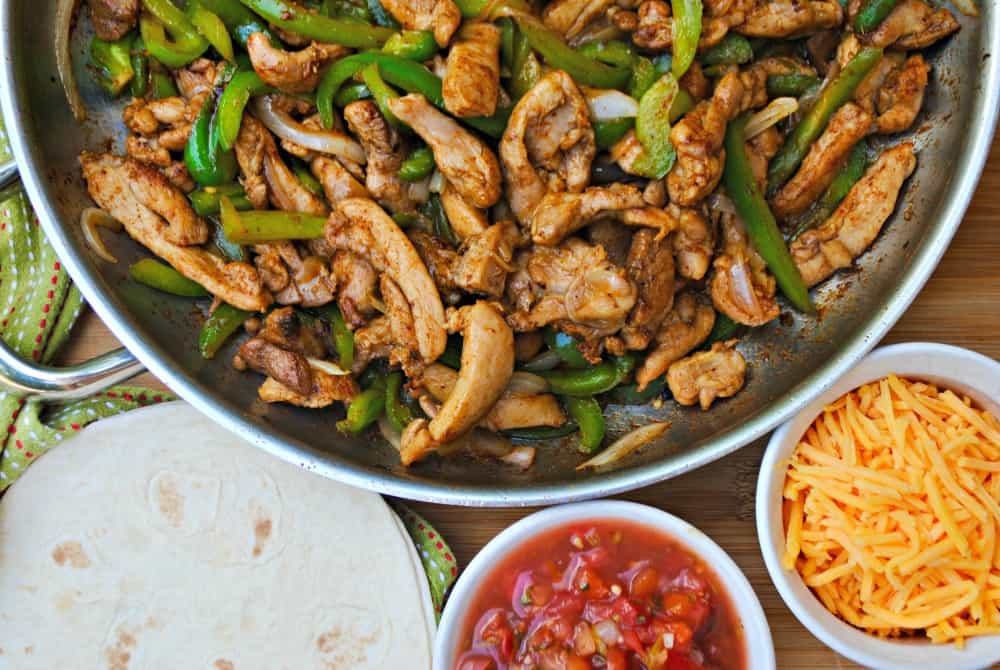 One thing I love about fajitas beyond the quick preparation is the versatility when serving. For the pickier eaters, pick out the chicken and serve it on a tortilla with some cheese. For the low carb eaters, skip the tortilla and pile the chicken, peppers, and onions on a big bed of lettuce. For the traditional, pile your tortilla high with all the fixins. I highly recommend salsa, guacamole, and sour cream and cheese for the dairy eaters.
Fast and Frugal Chicken Fajitas
2018-07-02 12:15:03
Serves 4
Nutrition Facts
Amount Per Serving
* Percent Daily Values are based on a 2,000 calorie diet. Your Daily Values may be higher or lower depending on your calorie needs.
Ingredients
2 lbs. chicken thighs, cut into strips
2 T. olive oil
2 bell peppers (any color), thinly sliced
1 onion, thinly sliced
1.5 tsp chili powder
1 tsp salt
1 tsp cumin
1/2 tsp garlic powder or 3 cloves garlic, minced
tortillas
toppings of choice (sour cream, cheese, sour cream, avocado)
Instructions
Heat skillet to medium heat.
Sprinkle chili powder, salt, cumin, and garlic powder onto chicken and stir to combine well.
Add olive oil to hot skillet and add chicken.
Cook while frequently stirring until chicken is no longer pink. (About 5-6 minutes)
Remove cooked chicken from pan and set aside on a plate.
Add sliced onions and peppers to the same pan and cook until crisp-tender.
Add chicken back into pan, including any pan juices that may have accumulated on the plate, and heat through.
Serve on tortillas or low carb style on a big salad.
Eat Well Spend Smart https://eatwellspendsmart.com/