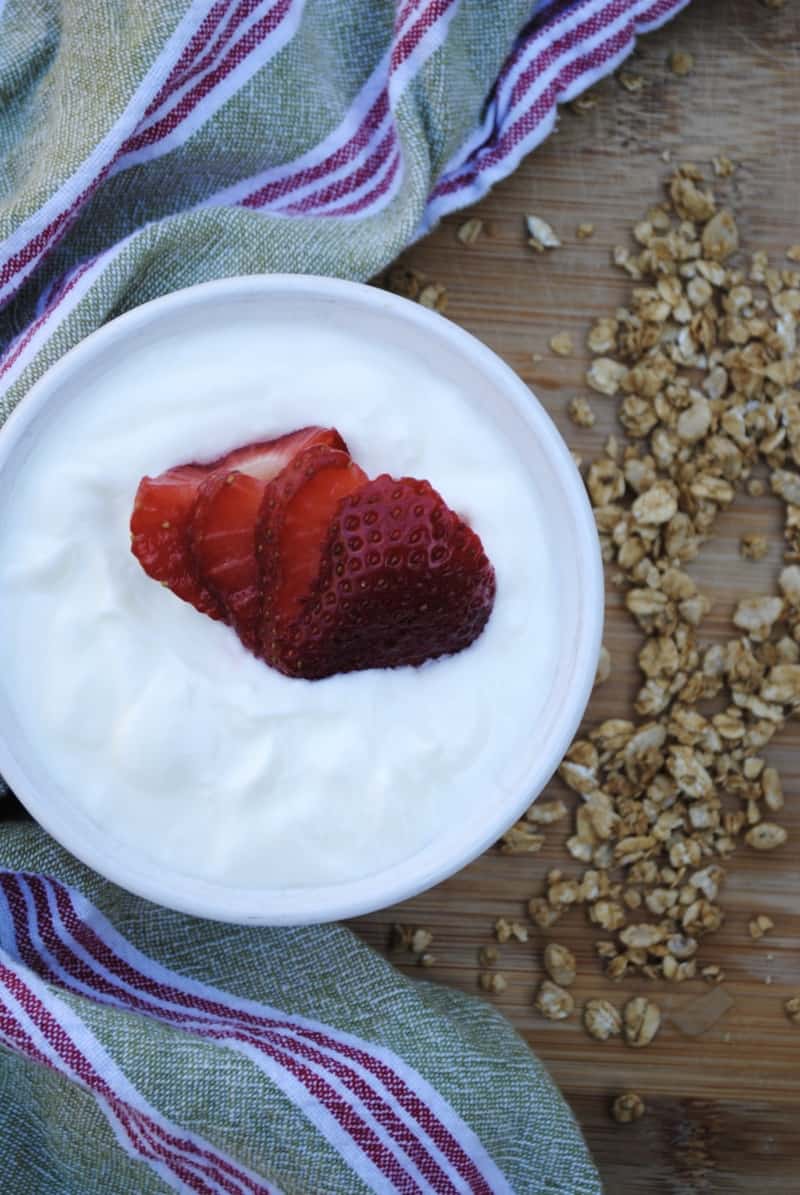 Did you know you can make your own yogurt at home? If you eat a lot of yogurt, it might be worth it to you to make it yourself. The kind of yogurt I get can get expensive after a while. I buy all of my dairy organic and I also love Greek style yogurt because it's thick. Do you know how much organic Greek yogurt is? Over $7!!!! I only bought that one time before I decided it was time to make it on my own.
Really I wasn't even getting what I really wanted anyway, which was a full fat yogurt. The only kind I can ever find in my grocery store is low fat or fat free. Low fat and fat free products often have higher sugar and carb content to make up for the loss of fat.
This homemade yogurt recipe uses a crockpot and only takes about 10 minutes of hands on time. It really couldn't have been more simple. You need live active cultures to make yogurt. You can use a store bought yogurt the first time and then subsequent batches can be made with your own yogurt starter. Yay! Homemade full fat organic Greek style yogurt on the cheap without all that excess sugar! Go try it for yourself.
Yogurt topping ideas
Yogurt is fine on its own, but the toppings are what make it! Try some of these ideas.
fruit (strawberries, blueberries, raspberries, blackberries, bananas, peaches, etc)
shredded coconut
honey
dates
nut
seeds (chia, hemp, sunflower, pumpkin)
Homemade yogurt
Ingredients
½

gallon

of whole organic milk

or any milk that you prefer

½

cup

of plain yogurt of your choice

2

tsp

gelatin
Instructions
Pour milk into crockpot.

Cover and heat on low for 2.5 hours. Do not let boil.

Then turn off crockpot, unplug, and with the lid on, let sit for 3 hours.

Next whisk in yogurt of your choice and gelatin.

Take out the insert and wrap with a bath towel.

Place in a cold oven (not turned on) and let sit for 8-12 hours.

Voila, the cultures have done their job and you have yogurt.

Pour finished product into desired container and store in refrigerator. I used glass mason jars.
Notes
If you want flavored yogurt or sweetened, mix in pureed fruit, stevia, honey, or maple syrup.