Learn how to freeze tomatoes two ways.  One is a bit more labor intensive and one is great for a quick preservation when you don't have much time. Put those garden tomatoes to good use all winter without having to know how to can.
What's for dinner tonight, Mom?
Hmm...something with tomatoes I suppose.
BLTs, spaghetti, tomato soup, tomato salads, salsa, eggs and tomatoes, burgers with tomatoes...we're overflowing with tomatoes around here.  I LOVE IT!  Swimming in an abundance of tomatoes is my summertime dream!  There's nothing like a fresh juicy garden tomato in the hot summer months.  It's hard for me to even believe that there was a time when I despised those bright red gems, even to the point of gagging when I accidentally ate one.  What was wrong with me?
Not anymore though.  Now I go outside daily and gleefully pick bowls full of full size and cherry tomatoes and we eat to our hearts' content. My daughter eats them like candy.  There's only so many things I can do with my tomatoes though, which is why I have to have some way to preserve them.  I know it sounds silly but I only trust myself canning with supervision from someone that is very confident in canning, so I most often stick to freezing my tomatoes.  For me it's just the easiest way.  Truthfully I like the canned version better, but since I have a fear that I haven't gotten over yet, freezing it is.
Today I'm going to show you two ways to freeze tomatoes.  One is super simple and the tomatoes get frozen whole, while the other option requires one more step and are frozen without the skins.  Both are easy and doable even for a beginner in the food preservation world.
How to freeze tomatoes
Method 1: Freezing Whole
1. Wash tomatoes and cut off the top.
2. Place on a cookie sheet with space in between and freeze for about 1 hour.  This is to prevent the tomatoes from forming one big clump and sticking together.
3. Place in freezer bags or your choice of freezer-friendly container.
4. When you are ready to use them, take them out to thaw slightly and the skins will slip right off.  Use immediately in whatever dish you choose.
Method 2: Blanch and peel
1. Wash tomatoes and set aside.
2. Fill a large pot with water and bring to a low boil.  Have close by a large bowl with ice water.
3. Score your tomatoes in an x or cross shape at the bottom of the tomato, and drop them into the hot water for about 30 seconds.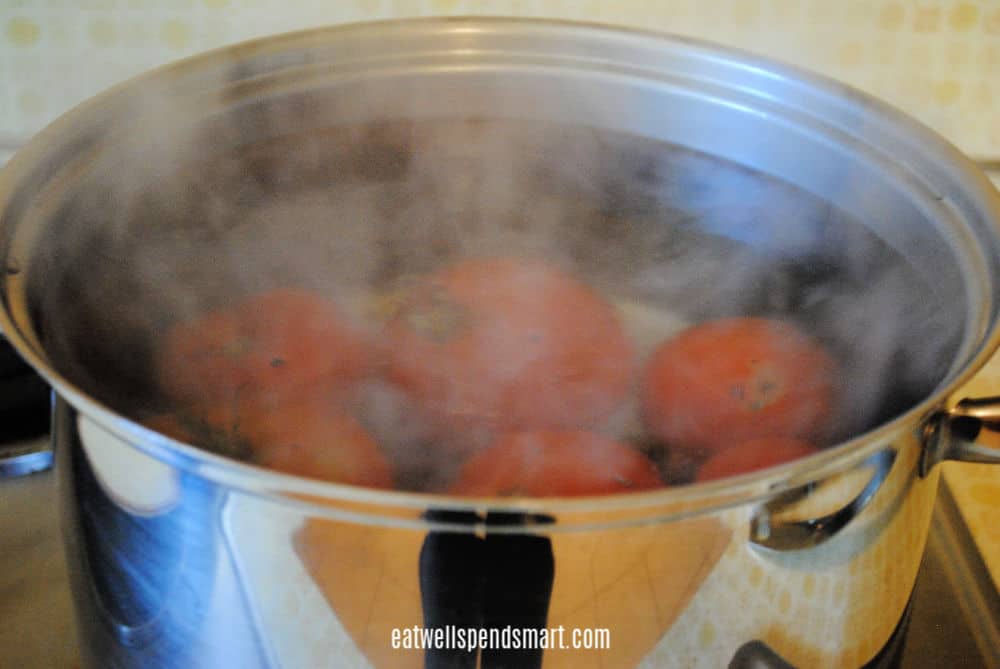 4. Remove them and immediately put them into the ice water for about 30 more seconds.
5. Take them out and the skins should peel off easily.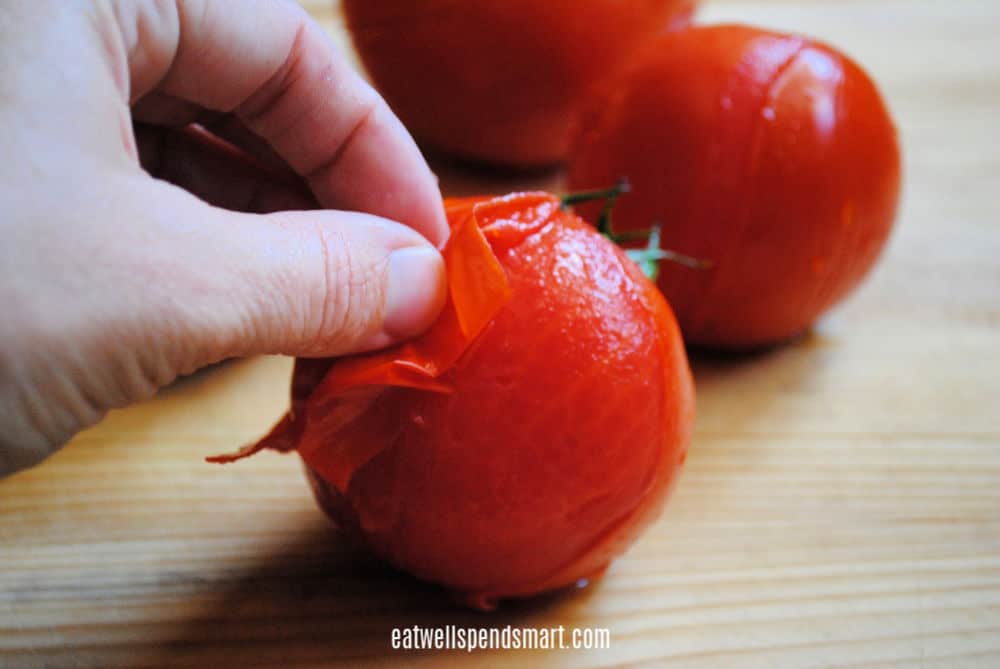 6. You may leave them whole, flash freeze them and place them in bags like the option above or you can quarter them and scoop out some of the inside seeds leaving just the meat of the tomato flesh.
7. Place in freezer bags and lay flat in freezer.
Both methods are easy and I use both methods depending on how much time I have. If I'm feeling particularly lazy, I just pop the whole tomatoes in the freezer and call it a day.  If I have a bit more time I do the extra step of blanching.
Happy summer preserving, friends!