No flour oatmeal muffins are a simple pantry recipe that the whole family will love. They are great for a make ahead breakfast or snack and they whip up in minutes in the blender.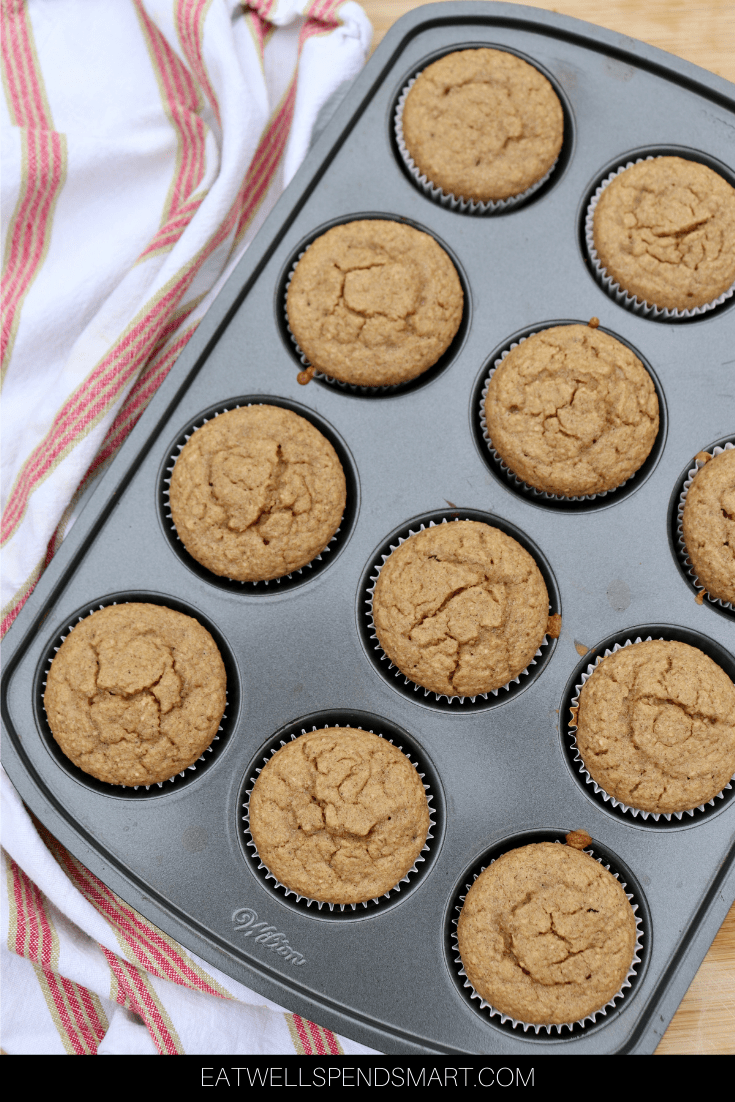 This post contains affiliate links, meaning, at no cost to you, I will earn a commission if you click through and make a purchase.
Who can resist a muffin? Not me! My kids can't either, and they go crazy over these oatmeal muffins. It's always a happy day when they smell them baking in the oven. YAY! MUFFINS!
I have been making them for years since my family began drifting away from gluten a few years ago due to food allergies. Gluten-free oats became a go to replacement in things like my simple oat pancakes and these muffins. We now eat wheat again in moderation but these flourless muffins continue to stick around.
Ingredients Required
The best part about them is that I always have the ingredients on hand to make them as part of my pantry staples. No milk needed, no fancy ingredients.
rolled oats: Any rolled oats will do. If you need them gluten-free, you must get a certified gluten-free brand. I buy most of my bulk pantry goods from Azure Standard.
ripe bananas: Ripe works best and imparts a delicious sweetness requiring less sugar. I almost always have a few questionable bananas on my kitchen island begging to be used in some productive manner, but if you need to ripen them quickly try this tutorial for Culinary Hill.
eggs: a binder and leavening agent. I would use large eggs if you have them.
sugar: Any sugar works, but I always choose an organic cane sugar. You can also use honey, but I think they rise better with sugar and the cost is less expensive.
baking powder: leavening agent. Make sure that your baking powder is not expired otherwise it will not rise well. If you need a corn-free baking powder, try this brand.
baking soda: another leavening agent
salt: Any salt will work. I use Redmond Real Salt in my kitchen.
cinnamon: optional, but smells and tastes lovely
vanilla: Any vanilla will do. Again I buy an organic brand from Azure Standard.
Tools needed
To make these no flour oatmeal muffins, you will need a blender to pulverize the oats into a powdery consistency and make oat "flour". After blending the oats into a fine powder, the rest of the ingredients get blended together in the same blender and then poured into a lined muffin tin. Then you are just twenty minutes away from muffin time!
high power blender: Any high power blender will work. I have a Ninja. I have never tried it but a food processor may work as well.
12 count muffin tin: A muffin tin is a must if you are making muffins but you could also bake this is a loaf pan and increase the bake time.
baking cup liners: This is not a deal breaker, but it sure makes clean up ten thousand times easier. I have also cut up squares of parchment paper in a pinch and used that for muffin cups. The other alternative if you have neither is to generously grease your muffin tin and then have the kids or husband clean it later. hehe
No flour oatmeal muffins
Delicious muffins made from oatmeal and other simple ingredients.
Equipment
blender

baking cups

muffin tin
Ingredients
2 ½

cups

rolled oats

3

bananas

ripe

2

eggs

⅓

cup

sugar

1

tsp

baking powder

1

tsp

baking soda

½

tsp

salt

1

tsp

cinnamon

1

tsp

vanilla

¾

cup

water
Instructions
Preheat oven to 350 degrees F.

Place oats in blender and blend for 30 seconds or until oats are broken down into a fine powder.

Add remainder of ingredients and blend for another 30 seconds until well combined. You will need to scrape down sides halfway through.

Place 12 muffin cup liners into a 12 count muffin tin.

Fill batter evenly in all muffin cups. The batter should reach almost to the top of each cup.

Bake at 350 degrees for approximately 20 minutes until muffins are puffed and lightly golden.

Let cool before eating to prevent muffin from sticking to the muffin cup liners.
Now go make these muffins and report back. They never last long in my house.