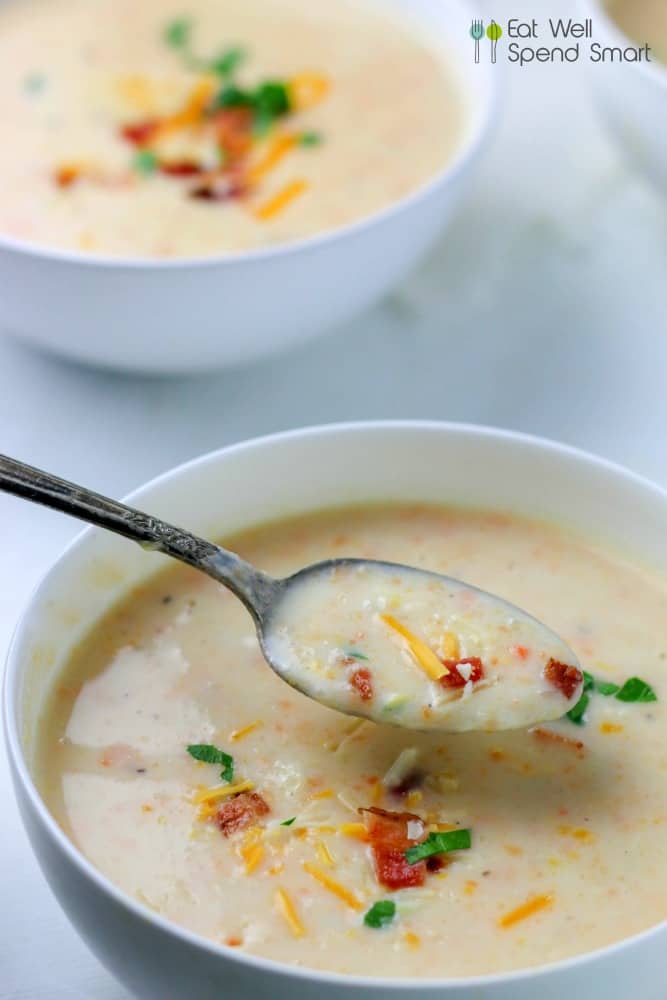 The time has come.  The time has come, my friends.
It's soup weather again, and my belly is so incredibly thankful.
I pretty much adore soups of all kinds.  Broccoli cheddar, chicken tortilla, kale and white bean, tomato...you name it, I like it.
My husband on the other hand, not so much a fan.  He sees soup as an appetizer.  I guess it's not manly enough for him or something.  I'm not sure.
I've learned to be very careful about my soup choices around here.
If I plan to serve a soup on its own, it better be loaded and hearty.  I can't serve a broth based soup or lighter fare on its own.  It must be accompanied by something else like a sandwich.
Yeah, he's weird.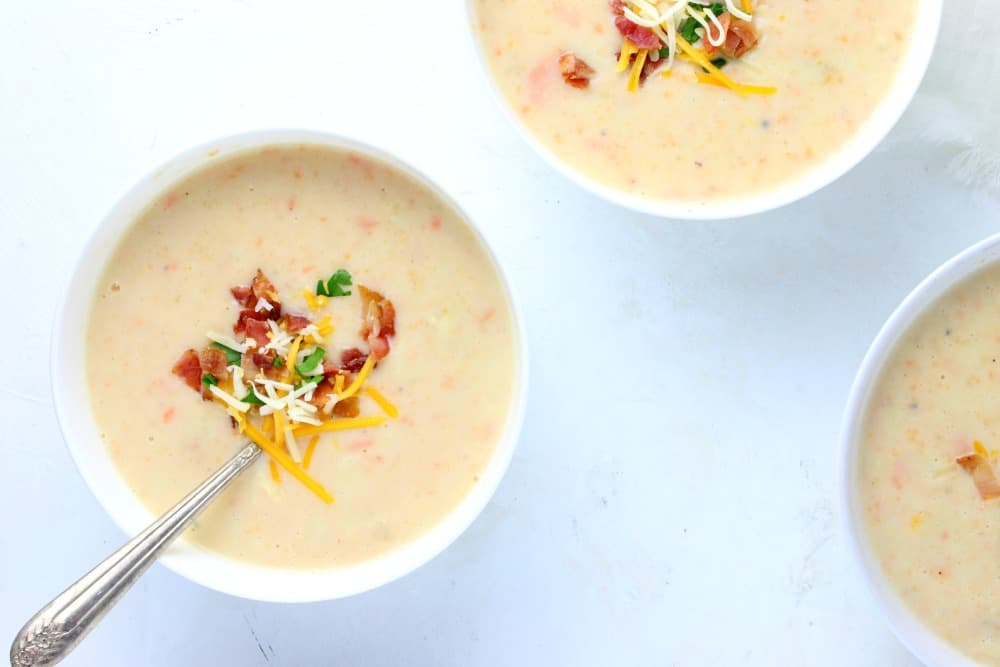 This potato soup, however, requires no side dish.  It's rich, hearty and delicious all on its own.  It's also inexpensive and full of fat soluble vitamins, which I love.
My kids even liked this soup.  My youngest kept saying, "mmm...good!"  That's music to this mama's ears.
It's a fairly simple meal as well.
Start with some bacon because bacon makes everything more tasty.
Chop up some veggies while the bacon is cooking and add them to the pot.
Add some broth and taters and simmer.
Finally add some cream and milk and you're pretty much done.  I use the cream that has risen to the top of my milk in case anyone is interested.
Potato soup
Rich and creamy potato soup that will warm the belly and tickle the tastebuds.
Ingredients
4

slices

bacon

chopped

½

cup

celery

diced

1

cup

carrots

diced

½

large

onion

diced

1

bay leaf

7

cups

potatoes

cubed

6

cups

chicken broth

1 ½

tsp

salt

½

tsp

pepper

1

cup

cream

1

cup

milk

shredded cheddar cheese

optional topping
Instructions
In a stockpot, cook chopped bacon over medium heat until crisp. Remove from pan and set aside. Leave about 2 T. of bacon drippings in the pot.

Add celery, carrots, and onions and saute for about 5-7 minutes until crisp-tender.

Add chicken broth, potatoes, salt, pepper, and bay leaf.

Boil for about 10-15 minutes until potatoes are fork-tender.

Add cream and milk and stir to combine.

At this point you may mash part of the potatoes to thicken the soup a bit. I prefer to leave some chunkiness to the soup so I don't mash completely, but it's up to your preference.

Simmer for about 5 more minutes until soup is thickened and hot.

Top with reserved bacon and shredded cheddar cheese if desired.