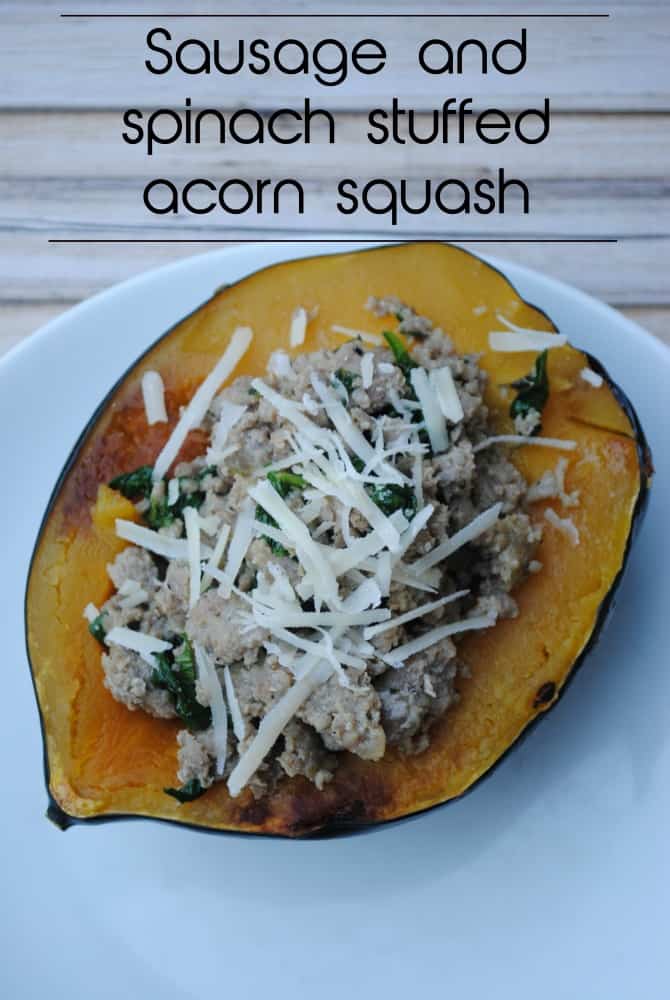 If you are wanting to shave some money off of your food budget in the months of October and November, you should absolutely start cooking with hard winter squashes.  They are some of the most frugal vegetables for the weight this time of year.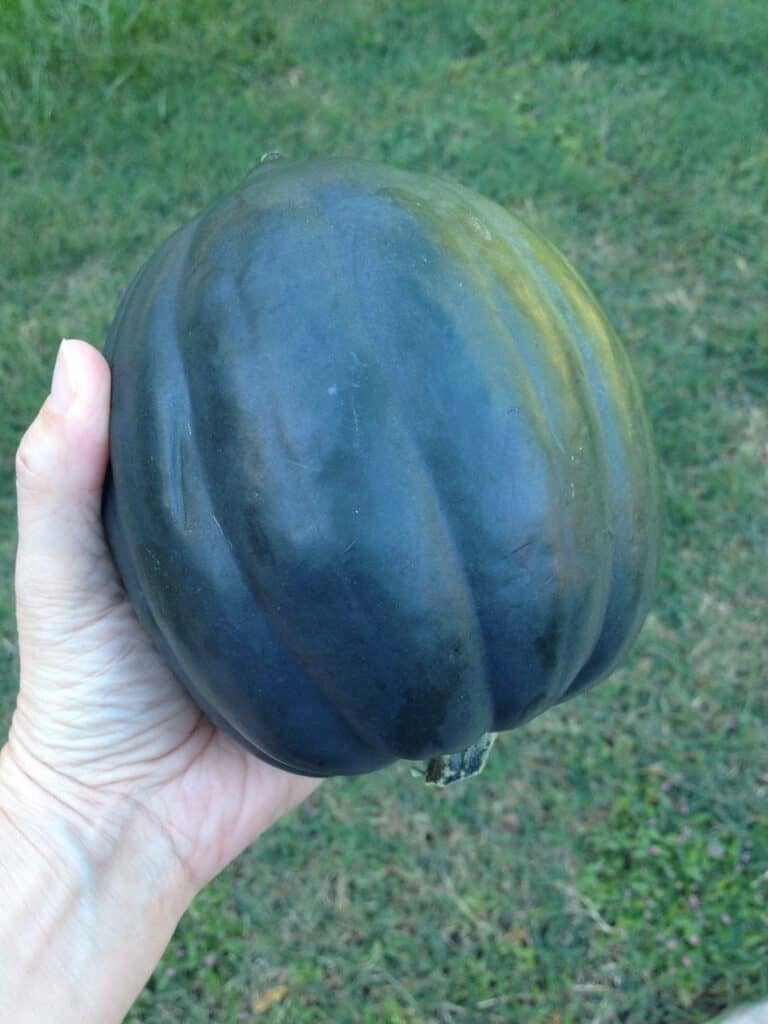 In my store today, I picked up a big acorn squash for under $1.  You can't find much in this world for under a $1, especially in the healthy food world, so you can imagine my delight when I was able to add two of these beauties to my cart for stuffed acorn squash for dinner.  I already had sausage in my freezer from our last pig that we had butchered.  The spinach was already in my fridge, and I added fresh sage from my garden.  So I spent $2, total on dinner tonight for all four of us.  It would be about a $6-7 meal if you had to purchase sausage and spinach.  Still not too shabby.
Really, you can fill this stuffed acorn squash with whatever you have on hand.  If you want to go meatless, I would cook some sort of grain with some extra vegetables and nuts.  You could also use any other meat that you have on hand:  chicken, beef, bacon, etc.  I bet you could even use beans or chickpeas and it would be delicious.  Use your imagination and what you have on hand and you will be well on your way to eating well, even on a budget.
If your kids aren't wild about their food all together, you could always serve the sausage on the side.  My four year old happily ate everything this way, while he snubbed the stuffed action.  Silly children.
Now on to the recipe.
Sausage and spinach stuffed acorn squash
A simple fall meal of stuffed acorn squash that requires very little hands on time, but looks like a fancy dinner.
Ingredients
2

acorn squash

cut in half lenghthwise

1

tbsp

olive oil

1

lb.

sausage

3

cups

spinach

6

fresh sage leaves chopped

optional

shredded parmesan cheese for topping

salt

to taste

pepper

to taste
Instructions
Cut acorn squash in half lengthwise with a thin knife, and scoop out seeds with a spoon.

Brush the orange flesh with olive oil. Place cut acorn squash cut side down on a baking sheet or baking dish. I like to line my baking sheet with parchment paper for easy clean up.

Roast at 350 for about an hour. Check at 45 minutes to see if it is tender.

Meanwhile in a skillet, brown sausage. If lots of fat is rendered, drain.

Add spinach and optional sage, and cook until wilted.

Test for seasonings, and add salt and pepper if needed.

When squashes are tender, remove from oven, salt the squash flesh, and fill with sausage and spinach mixture and top with freshly grated parmesan cheese. You can put them under the broiler to melt the cheese or leave them as is.
Notes
Sometimes I drizzle honey or real maple syrup on the squashes before filling to give a sweet and salty flavor combo.
More squash recipes: