Save money on food while traveling while still eating out and enjoying yourself.  You can be on a budget, but still eat well.
It's that time of year when families are packing up and hitting the road for that big family vacation. Aside from accommodations, food is typically the largest expense while on vacation. It also happens to be my favorite expense, as I love trying new delicious food that I didn't have to cook! Is it possible to save money on food while traveling?
Take heart, you little foodie. There are ways to still enjoy your vacation, eat delicious food, and save money at the same time.  Here are a few tips.
Save money on food while traveling
1. Pack snacks for travel
What is it about traveling that gives us the munchies? Snacks can be a huge budget buster on a trip. I recommend bringing your own, especially if traveling by plane. Airport food is a huge expense and one that is best avoided.
For snack ideas, read my 50 cheap healthy snacks.
2. Consider accommodations with a kitchen.
If staying several days in a location, I much prefer renting a condo or home as opposed to a hotel. Not only is there more room to spread out with the comforts of home, you get access to a kitchen.  Hit up the grocery store when you arrive and make your own breakfasts, lunches, and even a couple of dinners.
If staying near the ocean, it's also fun to get fresh seafood and cook it yourself one night instead of eating out, saving a lot of money but still getting that fresh seafood experience.
3. Hack your hotel room.
If you are confined to a hotel room, don't think you can't make your own food.  I've heard of people using cooking oatmeal with the hot water from a coffee pot. While I have never tried it myself, I know of others who have used a slow cooker or griddle that they brought from home in a hotel room to cook all sorts of things.  Clean up seems like it would be a bit cumbersome, but it's certainly an idea.
If your hotel room has a mini fridge and a microwave, there are all kinds of breakfast and lunch options you can make. Heat up your dinner leftovers, eat cereal for breakfast, make an egg for a sandwich in a coffee mug.  The options are endless.
4. Bring your own breakfast and lunch.
Pack a cooler full of fruit, yogurt, granola, hard boiled eggs, muffins, sandwich options, chips, cut up veggies, and reusable water bottles, and you have a cheap way to eat breakfast and lunch for the entire week without a lot of cooking involved.  If nothing else, packing snacks will save you a ton of money, especially when traveling by plane.  Those airport prices are killer! Taking a little time to prep before leaving on your trip goes a long way.
My family likes to adventure or hit the beach during the day, and then get cleaned up for a nice meal for dinner, so we don't care too much about what we eat during the day while we are relaxing. We save money on breakfast and lunch so we can splurge on dinner.
5. Free breakfast
If you don't want to stay in a condo or house and prefer staying in a hotel, consider booking one that offers free breakfast.  Taking advantage of the breakfast offered is a great way to save money and not have to get up and out the door so early in the morning. It's vacation. Who wants to get up early?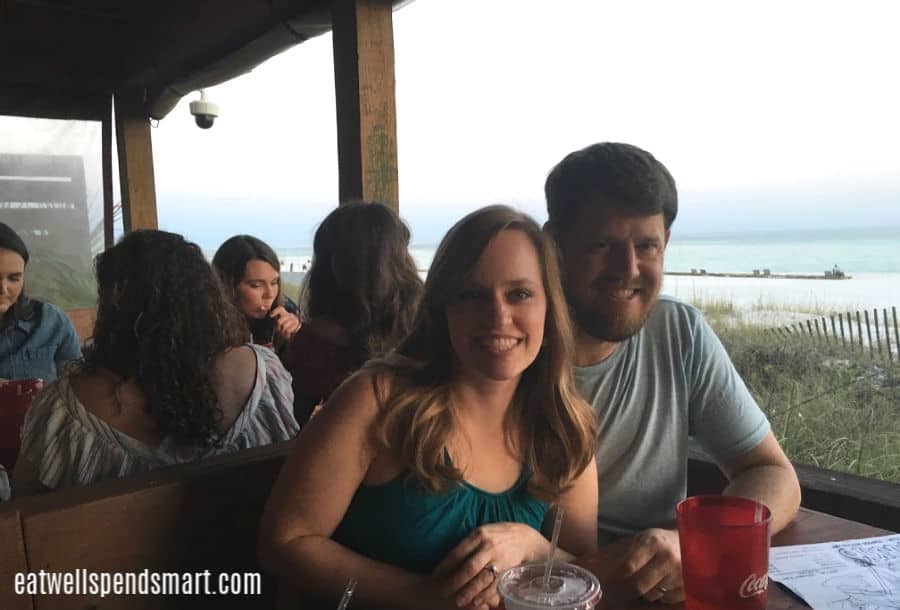 6. Split meals.
My husband and I often split meals when traveling.  Often portion sizes are large in the United States, so instead of taking home leftovers, we have just enough for the two of us.  Sometimes we order a second side salad or an appetizer to make the meal stretch a big further, but still cheaper than ordering another entree.
Since my daughter has allergies, she can't often eat off of the kids' menu, so we sometimes have the kids split meals too. Most of the time it is healthier and tastier than your typical chicken strips and mac and cheese offered on the kids' menu. Just last week, they split an awesome pork chop with apple chutney, baked beans, and green beans. They both left full and their tastebuds were happy.
If your child is under the age of three, consider just letting them eat off of your plate instead of ordering them a full meal and then having them eat only a small portion. Wasting food is the worst and very frustrating.  Just make sure you are ordering a couple of things that you know they will enjoy.
7. Look for places where kids eat free.
I don't use this tip very often anymore because my kids rarely eat off of the kids menu, but when they did, I loved finding places where kids eat free especially if they are not very adventurous eaters. Now I will say, that the more "foodie" type places that I love to visit on vacation, usually don't offer this, so this is more of a tip while on the road and looking for a place to eat.
8. Order family style.
Instead of everyone ordering their own meal, consider ordering a few meals for the entire table and eating family style.  It will often be more economical and you get the added benefit of trying several different dishes. I love trying a variety of foods at a new restaurant.
9. Eat out for lunch
If you love eating out but hate the dinner prices, try going out for lunch. Prices are typically less expensive and you get similar food as what you would have for dinner. Then for dinner, either cook or eat what you would have for lunch.
10. Try the mom and pop joints
One of my favorite things to do on vacation is to eat like a local.  The tourist traps are often overrated and overpriced. I love asking around what the favorite places are of the locals.  You can find great little mom and pop joints that offer fantastic eats at great prices.
Food trucks, cafes, and casual dining are also budget-friendly and a great way to enjoy the local cuisine.
11. Hit up happy hour
Restaurants often run great specials earlier in the night on appetizers and drinks. Starting your night a little earlier could mean a less expensive dinner out.
You might even consider ordering a couple of happy hour appetizers as your meal instead of a main entrée. This could be a great way to save money and get a little extra variety.
12. Skip the drinks
Drinks can jack up your bill extremely fast.  Skip the drinks and stick with water so you can spend more of your cash on the food!
13. Skip dessert or share
I know. Dessert is delicious, but consider skipping it to cut down on food costs. You could always get local ice cream later as a treat which would probably be less expensive.
If you just have to have to that dessert on the menu that's calling out to you, consider sharing with someone or with your entire family.
14. Look for special offers
Look for coupons and deals for local restaurants. Your hotel or travel guide may have coupons available. You can also look on Groupon for deals on local establishments. We have found some great deals on Groupon in the past for restaurants even in our own town.
15. Do your homework
If you are going to eat out on your vacation and spend good money, you want the food to be excellent, so take the time to research.  Even before going on your trip, look at online reviews, ask on social media for recommendations, look at online menus, etc. Enjoy your trip and the food experiences.  Make them worth the expense!
Now it's your turn! Let me know in the comments what your favorite tip is for saving money on food while traveling.