Grocery shopping on a budget for a family of four with a $60 weekly budget. See an example of what we bought, spent, and ate for a week on a limited budget.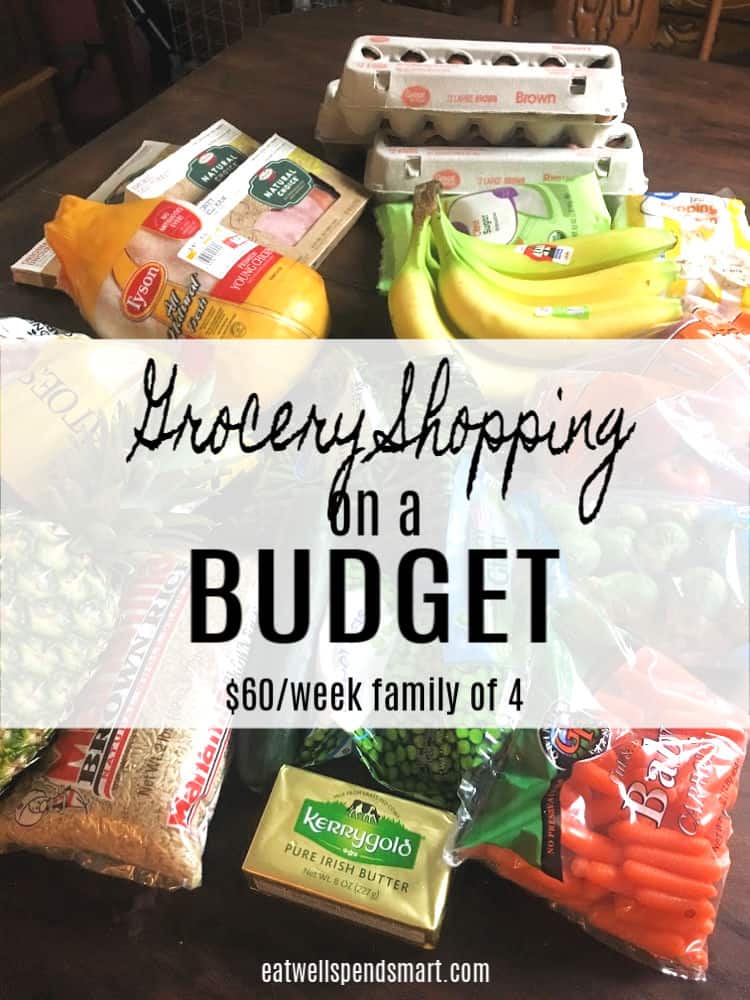 I can't believe this month and our $60/week grocery budget challenge has come to an end. It has been fun but challenging for sure since this is about $40 less than what I typically spend in a week.
To catch up:
I keep thinking I will have a perfect week where we eat at home every night and there are no special circumstances like company or hosting, but as I have reflected, this has actually been a pretty typical month. Every week we have something that comes up. We host company or people invite us out or over to their homes almost every single week. This is just life for us and why we have a separate budget for eating out.
This week I shopped at Walmart since so many of you said you didn't have an Aldi. I have answered the masses. Walmart it is. I admit it was more difficult and I wasn't able to buy quite as much, but I still followed my principles.
Grocery shopping on a budget principles
Plan simple meals.
Take a calculator to the store and tally as you go.
Buy meat that stretches for multiple meals.
Shop your fridge, pantry, and freezer first and use what you have.
Incorporate eggs (cheap protein source).
Buy inexpensive fruit that lasts all week (bananas, apples, pineapple).
Focus on inexpensive sale produce and frozen veggies.
Choose versatile items that you can use for more than one meal.
Don't be afraid to adjust your plan at the store when you see prices.
It's more of what you don't buy than what you do.
Limit packaged snacks.
Drink only water.
What I bought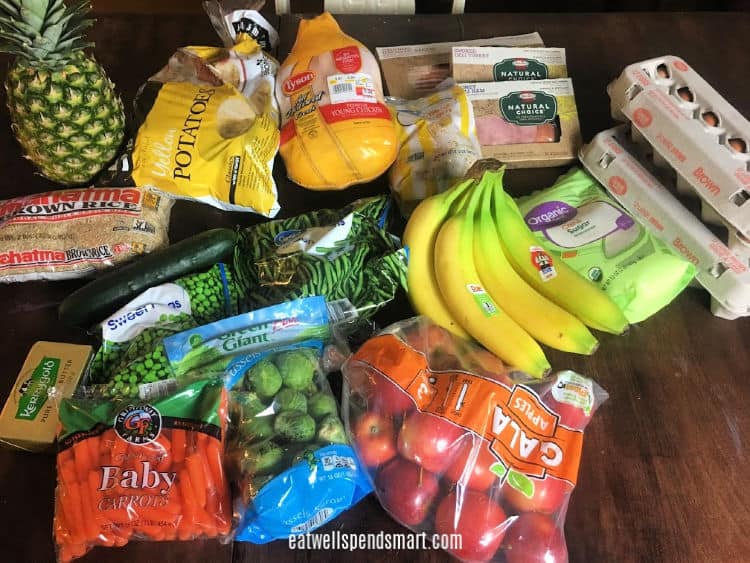 I had planned to buy a beef roast this week, but my plans changed when I got to the store and saw that it would not fit into my budget. I decided to stretch just a whole chicken and use my deli meat and eggs for another meal instead.  Thinking on the fly is sometimes necessary when grocery shopping on a budget. This is what I ended up buying and spending.
baby carrots                $1.48
Brussels sprouts         $2.98
3 lb bag Gala apples  $3.12
bananas 3.43 lb.         $2.02
pineapple                     $1.96
cucumber                     $.58
frozen peas                  $.80
frozen green beans     $1.27
potatoes                        $3.47
3 dozen eggs                 $5.88
whole chicken              $5.34
deli ham (Nat Choice)$3.33
deli turkey (Nat Choice)$3.33
bacon (Nat Choice)    $5.18
butter                            $2.88
brown rice                    $2.42
organic sugar               $2.47
popcorn  32oz              $1.66
buns                               $1.50
Total with tax:             $55.00
Add $18 for snacks that I bought on Friday. See Friday for details.
What I had on hand
oats
lasagna noodles
lettuce from last week
olive oil
vinegar
spices
celery
rice flour
sour cream
ketchup
mustard
jarred jalepenos and pickles
peanut butter
frozen pumpkin (from last year's garden)
baking supplies (baking powder, baking soda, vanilla)
hot sauce
ground beef (I split a big package last week into smaller portions for the freezer.)
maple syrup
What I prepped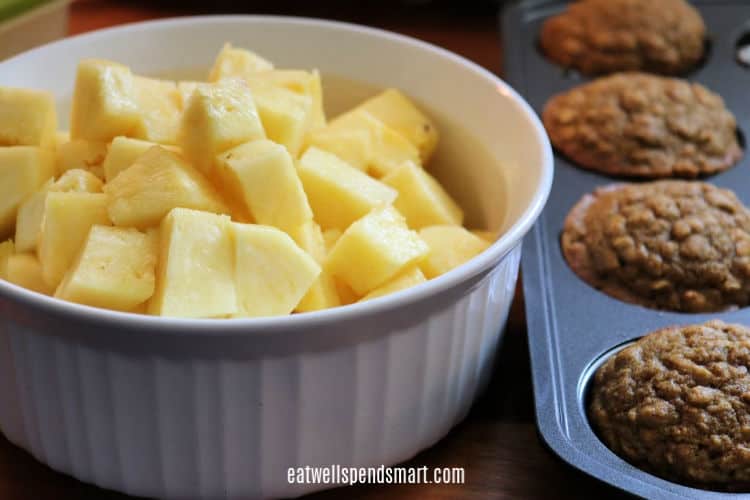 I prepped these foods to be ready for snacks, lunches, and quick sides.
1 batch pumpkin oat muffins
cut up the pineapple
sliced orange pepper and cucumbers
washed and chopped lettuce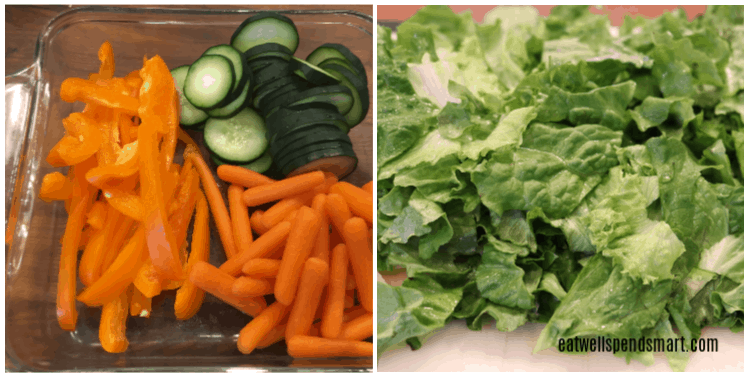 Breakfasts
I don't plan my breakfasts.  We simply have a few options and eat what sounds good. A time saving tip that I use is to make a big batch of pancakes, muffins, etc and reheat throughout the week. Eggs take minutes to make so they are super easy to serve alongside.
Lunches
I don't plan lunches either. I simply have a variety of options for us to choose from. Prepping cut up veggies and fruit helps to simplify.

I had a head of lettuce that wasn't eaten last week, so I made sure to eat a salad for lunch every day for the first half of the week before it went bad. I washed and chopped it so it was ready to go, which is what I should have done last week.  For me, if it's prepped I'll eat it. If it's not prepped, it dies a slow death in my fridge.
The first day I topped it with leftover chicken tenders from the weekend.
The second day I topped it with a bit of leftover chicken from my leftover IP chicken along with a hard boiled egg, apples, carrots.
The third day I made a buffalo chicken salad with chicken and hot sauce, homemade ranch, carrots, and pumpkin seeds.
My husband took lunch meat sandwiches, prepped veggies, pickles, and apples and peanut butter to work with him M-Th. On Friday I made a quick "lasagna" for lunch for the two of us. It was boiled lasagna noodles that I had cooked too many of on Wednesday night. I mixed it with a jar of marinara and one chopped up leftover burger. Then I topped it with the last 1 ½ slices of Swiss cheese and popped the skillet in the oven for about 15 minutes to heat through.
The kids ate:
leftover Sunday lunch
leftover egg dish
leftover burgers
pumpkin oat muffins
ham/turkey
veggies (carrots, pepper slices, cucumber slices)
fruit (apples, bananas, pineapple)
baked potatoes
hard boiled egg
leftover chicken with hot sauce
peanut butter sandwiches
Dinners
Sunday
Lunch was out with my husband's family after church and my in-laws graciously paid for everyone's meal.
Dinner was leftovers/fend for yourself.
Monday
Ham and jalepeno egg bake, Brussels sprouts, and waffle iron hashbrowns.
My kids loved this. I used a few slices of the deli ham and chopped it up along with a few jalepenos. Then I mixed it with eight eggs, water, salt, and pepper. I baked it in a pie pan at 350 for about 25 minutes until puffed. The Brussels I sliced and sautéd on the stovetop, and the hashbrowns were cooked in the waffle iron. I do not recommend this method the way that I did it.  While I still think it's a great idea, I need to perfect the technique.
Tuesday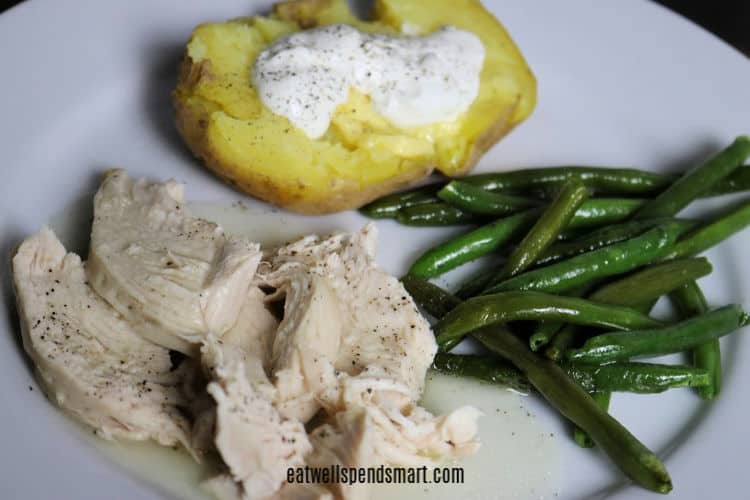 Instant Pot whole chicken, gravy, baked potatoes, sautéd frozen green beans.
I prefer my whole chicken cooked in the oven, but the Instant Pot won for time purposes on this particular night. Potatoes were cooked in the microwave and green beans on the stove. I made a quick gravy with the chicken drippings and the last of my rice flour.
I used ⅓ of the chicken for dinner, ⅓ of the chicken for lunches, and ⅓ of the chicken for Wednesday's dinner.
The chicken bones were cooked with water in my slow cooker all night for broth. I was too lazy to even season or put veggies in it so it was just bones and water.
Wednesday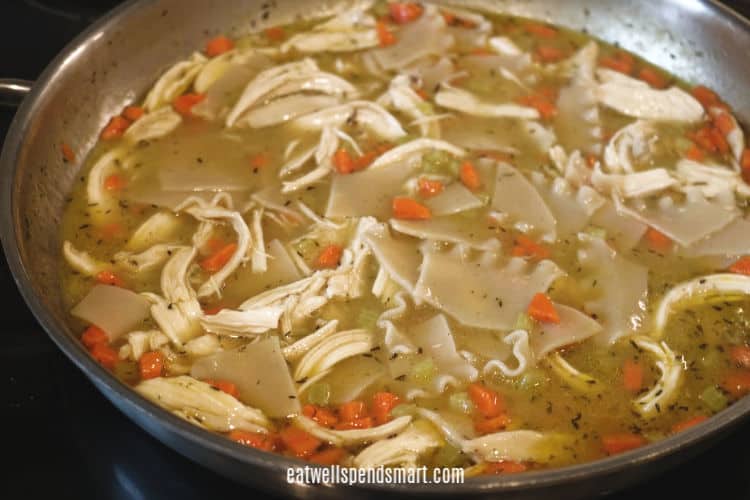 Chicken and noodle skillet and fruit
I had planned to make chicken noodle soup, but wasn't feeling it so I made something up on the fly. This was surprisingly very tasty and was similar to a cross between chicken and dumplings and chicken noodle soup. My son had two helpings. I had a random box of lasagna noodles that I broke up and used for this dish. First I sautéd carrots and celery. Then I added broth that I made in the slow cooker, leftover gravy, thyme, salt, and pepper, and broken lasagna noodles. When the noodles were tender, I made a slurry with cornstarch and water to thicken the sauce. Lastly I added 1 ½ c. of chicken reserved from Monday night. So yummy!
Thursday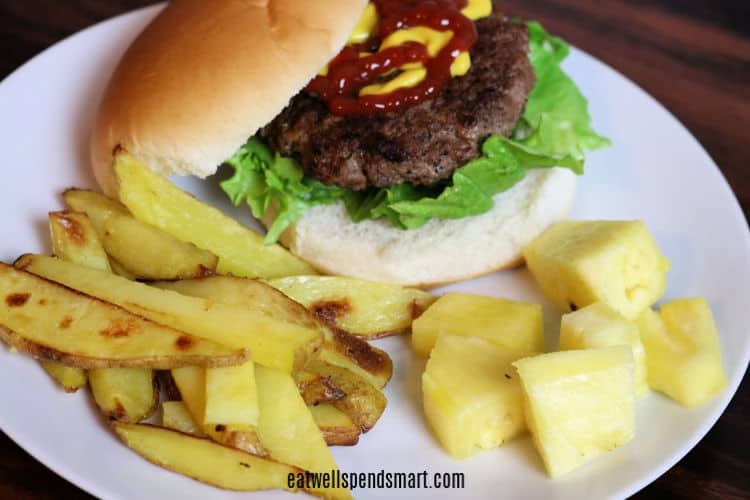 Burgers, oven fries, and cut up pineapple
It had been a long week already and I needed a no-brainer dinner. Burgers to the rescue with ground beef from the freezer put away last week.
Friday
Snack night
My husband's sister and nephew came to spend the night, and we were unclear about what dinner would entail. I figured we might eat out and dip into our eating out budget line items. Instead, we decided to stay in and have a wild game night of "Ticket to Ride" and snacks. We bought tortilla chips, salsa, avocados for guac, a box of toasted ravioli, and strawberries. It was an extra $18 for what we ate that night. I also popped some popcorn and served other fruit.
Saturday
Boneless pork chops, green beans, fruit
We had our main meal for lunch, which I don't have pictured but will explain. Our food pantry at church received meat from Longhorn. We had cases and cases of small boneless pork chops, and the husband and wife that run our food pantry gave us a couple of four-packs. I cooked pork chops and the last of the frozen green beans quickly on the stove top and served it with apples and pineapple.
Saturday night we ate at my brother-in-law's house. Yay for a night off of cooking!
Reflections
Looking back on this week, I can tell I was battling a week-long headache. I don't know if it's the change of season, all the rain we have had, or something else entirely, but my head hasn't been kind to me. I put very little energy into our meals this week and purposely kept it very simple. That's ok though because the most important thing is that my family was fed.
This is the last week that I will be documenting what we ate on our $60 grocery budget challenge for the month of March. I have to say, I'm happy that it's over. While I learned some very valuable lessons and will be sharing them soon, it will be nice to add back in an extra $20 to give us some conveniences like a few more snacks.