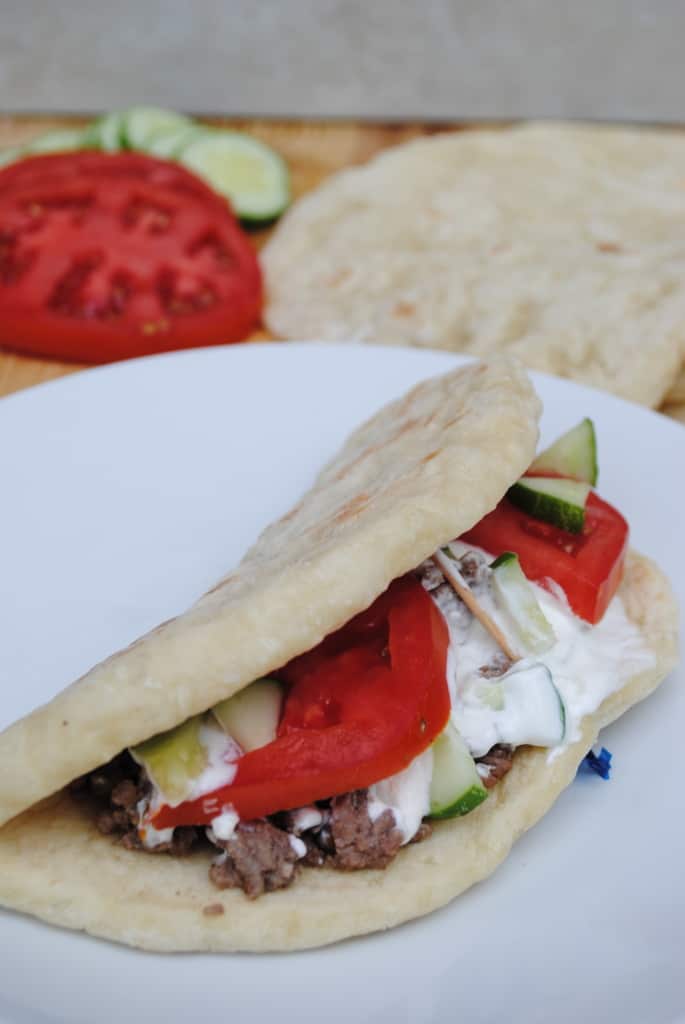 I'm a HUGE fan of gyros!  Salty, garlicy goodness contrasted with the cool cucumber sauce and fresh tomatoes.  So satisfying, so flavorful, so good!
Those of you that have been hanging around here for a while know that I like to try to make things as easy and simple as possible.  Some may call it lazy.  I call it efficient.  🙂  Or lazy...whatever!  Traditional gyros are made with lamb that is ground, spiced, made into a loaf, cooked, and sliced very thin.  Although super delicious, I don't have time to go to all that trouble on a typical day.  I'm not even sure I would go to all that trouble even when I did have time.
That's why I thought this ground beef gyros version would be perfect for a simple weeknight meal.  It cooks up like taco meat, just spiced differently and served on flat bread with a delicious cucumber yogurt sauce and other typical gyro fixings.
For the flat bread, I used my easy pizza dough recipe, but after rising, I divided it into 8 portions, rolled them out, and cooked them a few minutes on each side on a hot griddle.  Very easy.
If you don't do grains, you could also skip the flat bread and serve it as a deconstructed gyro salad.  It's super delicious that way as well.  Top a salad with cucumbers, tomatoes, spiced ground beef, and cucumber-yogurt sauce.
I think you'll really like these ground beef gyros.  Easy, satisfying, delicious, and out of the norm for your typical weeknight fare.  I also love that it's made with ground beef, which means it's much more economical than traditional lamb.
Make sure you eat this before the summer is over so you can take advantage of the fresh seasonal tomatoes and cucumbers!  Enjoy!
Ground beef gyros
Gyros made simple enough for a weeknight meal.
Ingredients
Cucumber Sauce
1

cup

organic thick yogurt or sour cream

storebought or Homemade

½

cup

diced cucumber

1

clove

minced garlic

juice of half a lemon

¼

tsp.

sea salt
Beef
1

lb.

grass fed ground beef

2

cloves

minced garlic

1 ½

tsp.

oregano

or more to taste

1

tsp.

sea salt

½

tsp

pepper
Instructions
Mix yogurt, salt, garlic, lemon juice, and cucumber together in a small bowl. Chill in refrigerator until ready to eat.

Meanwhile, add ground beef, garlic, oregano, salt, and pepper to a skillet or shallow dutch oven. If you are using lean grass-fed beef, there won't be any fat to drain.

Evenly distribute spices throughout beef and cook beef over medium heat until brown and cooked through.

Serve spiced beef on flat bread with a generous helping of yogurt sauce and other desired toppings.

Possible toppings: lettuce, tomatoes, sliced onion, feta cheese