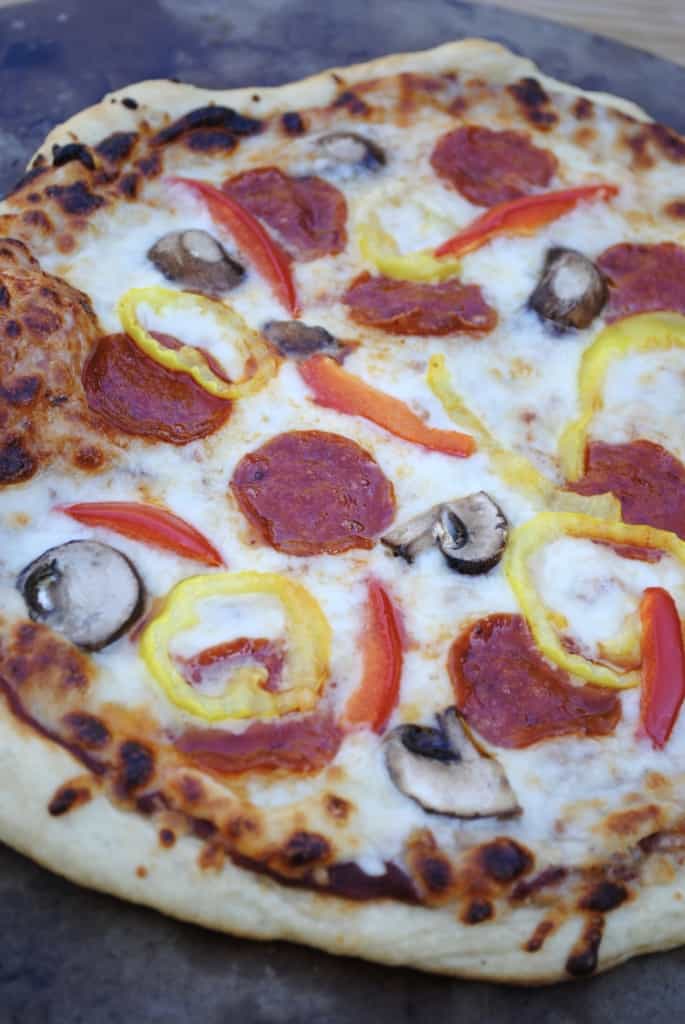 Almost every Friday night our family takes part in a tradition of Friday night pizza night!  It's one night of the week that I don't have to think about what I'm going to make.  Of course, it's going to be pizza!  It's MUCH cheaper than takeout, especially if you already have your staples on hand, which I do.  Two pizzas costs us approximately $8 and it feeds our family of four dinner and lunch the next day.  When we order pizza from our local pizza joint, it costs us at least $30.  Sorry, but I'm not paying that every week for junky pizza.
You guys know I like to simplify recipes as much as I can to make it doable for even the beginner cook.  This pizza is the best and easiest I have ever made, so I am really excited to share it with you!   When I first started experimenting with making my own pizza at home, I certainly had my fair share of soggy and dense crusts.  After months of trial and error, we finally perfected our homemade pizza.  It's super easy, light and crisp, and takes less time than takeout to be delivered.
I hope you enjoy it as much as we do.  It's also a great project to get the kids involved.  They can mix the dough, shape it and top with their own desired toppings with just a little assistance from you.  Of course it might take a little longer, but hey, everything takes longer with kids.  We might as well embrace it.  🙂
Tips for restaurant quality pizza
Make sure your yeast is fresh. If it doesn't get foamy when you mix it with the water and sugar, it's no good and will not allow your pizza dough to rise.
Preheat your oven and stone for at least thirty minutes to get your oven super hot. This is a very important step to ensure your crust gets crisp on the bottom. Restaurant quality pizza is cooked quickly in a very hot oven.
The parchment paper is essential here.  It allows you to easily transfer the pizza from the counter to the stone, and out of the oven.
The stone is pretty important.  You can try it without it, but you will get much better results by investing in a good baking/pizza stone. I purchased mine from Pampered Chef.
Look to your favorite gourmet pizza parlor for topping inspiration. My husband I love to try different combinations and our current favorite is mushroom, green olives, sliced fresh garlic, goat cheese, and spinach with olive oil as the sauce instead of the red sauce. My daughter likes pepperoni and pineapple, and my son enjoys just plain sausage.
Easy and delicious homemade pizza
Make restaurant quality pizza in your own kitchen for a fraction of the price with simple ingredients.
Ingredients
Crust
1 ½

c.

warm water

110-115 degrees F

2 ¼

tsp.

active dry yeast

2

tbsp

sugar

I use organic sugar

1 ½

tsp.

sea salt

2

tbsp

olive oil

4

cups

all purpose flour

I use an organic brand
Sauce
1

large can of tomato puree

I like organic Muir Glen brand

1

tsp

oregano

⅛

tsp.

garlic powder

½

tsp.

sea salt

16

oz.

block mozzarella cheese

low moisture

desired toppings: meat

peppers, onions, mushrooms, jalepenos, tomatoes, etc.
Instructions
In a bowl or stand mixer, stir together water, yeast, and sugar. Let sit for 10 minutes.

Stir in salt and olive oil.

Add flour one cup at a time and stir.

Knead dough for 10 minutes either using a stand mixer or by hand.

Split into two balls for large pizzas, three balls for medium size pizzas, or four balls for small pizzas.

Place the dough balls in separate oiled bowls, cover and let rise for 75 minutes.

While dough is rising, make sauce, shred cheese, and preheat the oven and baking stone to 500 degrees for at least 30 minutes.

For the sauce, stir together tomato puree, salt, oregano and garlic powder in a small bowl. Set aside.

On a lightly floured piece of parchment paper, carefully take out the dough and gently stretch it and push out to form a large circle, leaving a larger area at the edge. Do not roll out or push down too hard. Be careful to also not allow dough to get too thin.

Brush the edges of the crust with olive oil.

Spread on sauce, and add cheese and toppings.

Using a flat baking sheet, transfer pizza and parchment paper onto hot stone in the oven.

Bake at 500 degrees for about 8 minutes or until crust is golden and cheese is bubbly.

Transfer pizza off of stone and parchment paper onto an elevated cooling rack, so crust does not get soggy.

Repeat with remaining pizzas.

After pizza has cooled, transfer onto a cutting board and cut into eight equal slices with a pizza slicer.