Simple oven fries have become a weekly staple in my house. They were born out of laziness on my part and I have never turned back. I used to fry my own french fries, but it just became too much work to peel and  double-fry them to achieve crispy fries. This is my "good enough" and still tasty version. It requires much less oil, which is nice on my budget and I don't have to peel the potatoes! Now I just run a knife through them quickly and pop them in the oven.  The results are delicious too.  Soft in the middle, crispy on the outside, salty and delicious. My kids gobble them up, so there are never any leftovers, but that's ok.  They are really best fresh from the oven anyway.
Speaking of a budget, it's a winner of a side dish because they only require a few ingredients, one of which is the good old humble potato. I recommend yukon gold potatoes because the skin is thin and tender, they seem to cook quickly, and they crisp up wonderfully. I have not tried any other potato, so I can not vouch for the results, but if you want to give it a shot, go for it!
One thing that I do recommend you buy for these simple oven fries is parchment paper. It prevents sticking on the pan and trust me, you don't want to lose that crispy edge on the baking tray. So use the parchment paper and you won't have a sticking problem.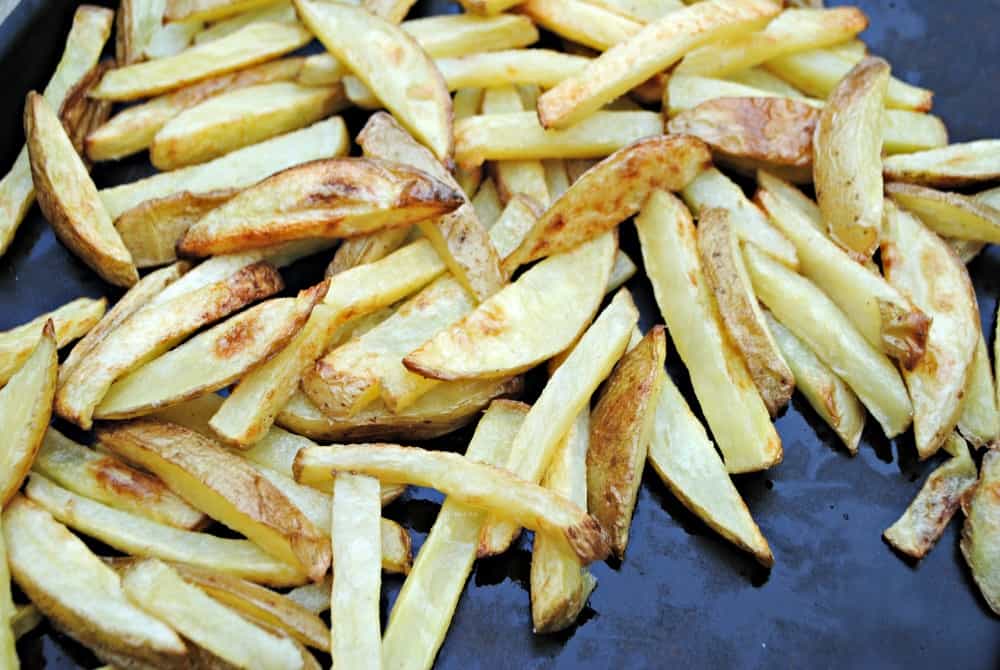 A note on the seasonings.  I kept the seasoning super simple here with just salt.  Feel free to jazz it up if you are into that.  You could give them a spicy kick with garlic powder and cayenne or chili powder.  You could sprinkle herbs and parmesan cheese on them for a delicious flavor.  You could basically add whatever spices you want.  My family just likes them plain with salt, but go wild if that's your thing.  I hope these simple oven fries become a new staple in your home as well.
Simple oven fries
Simple oven fries that will become a staple side dish. So easy. So tasty.
Ingredients
1-2

lbs.

of Yukon Gold potatoes cut into sticks about ¾ in thick

I usually cut up about 5 potatoes.

2

T.

olive oil or other suitable cooking oil like avocado oil

½

tsp

of fine sea salt or to taste

parchment paper
Instructions
Preheat oven to 425 degrees F.

Line a rimmed baking sheet with parchment paper.

Toss potatoes with oil and spread them into an even single layer onto parchment lined baking sheet.

Sprinkle with about ¼ tsp salt.

Bake in oven for about 20 minutes. Then flip over and bake for another 20 minutes or until crispy.

Sprinkle with remaining salt if needed or to taste.