Soft white sandwich bread easy enough for even the beginner baker.  This homemade bread is great as toast, holds up to a sandwich, and is fantastic slathered with butter.  Master this bread and you never have to buy store-bought bread again. Save money and eat tasty bread by following my tips for perfect soft white sandwich bread.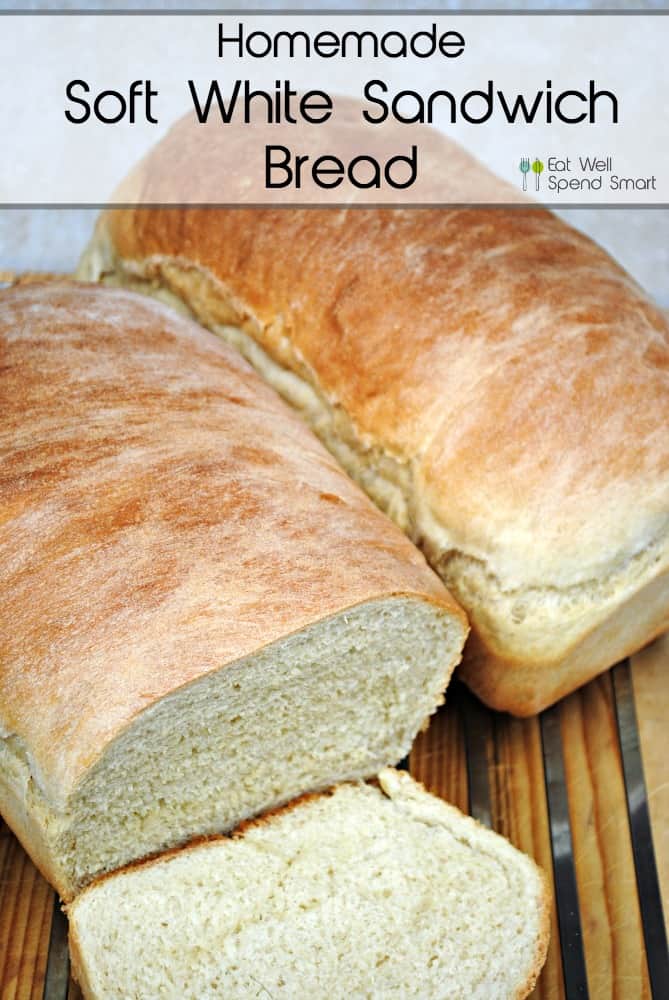 I eat bread.  I love bread.  There, I said it!
In the healthy living world, those words are dared uttered.  They will likely get me ousted from the healthy living community and my peers of real food bloggers.
Why I Eat Bread
But you know what?  It's true.  My world is happier with bread in my life. I've done the gluten free thing.  I've done the paleo thing.  I've tried it.  I didn't see a significant difference in my health or my children's health, and boy did we miss bread. (Note: My daughter was diagnosed with a wheat allergy, so I make her gluten-free bread.)
I am much less rigorous in my eating than when I started this real food journey several years ago.  I found it too stressful to be so strict on myself and my family, living in fear of food.  I found it difficult to come up with meal ideas that my entire family would enjoy.  I found it hard to balance my budget without some grains to fill in the gaps.  I found it to be too strict on my children when they just really wanted a good ol' peanut butter and jelly sandwich on soft bread for lunch.
I have since found a much less stressful place in my life.  One where I still enjoy making homemade food and eating "clean food" in my home, but one that doesn't get hung up on some homemade white bread every once in a while or eating out with friends a couple of times a month.
The weird thing is that when I was being so strict on my family, my kids' eczema was flared and my candida was at an all time high.  The more I restricted from our diets, the more I had to continue to restrict from our diets, because it seemed like the symptoms would shift, worsen, or go away and come back.  Our experience in our family has been as we broadened our food choices including beans and legumes, grains, dairy, clean animal products, lots of produce, and unrefined sugars, our overall health improved.
Now, do not hear me wrong.  This is OUR experience, and is certainly not the same for everyone.  Not everyone does well with grains, dairy, legumes, animal products, starchy vegetables, cruciferous vegetables, fruit, sugars, or fill in the blank.  I know this to be true, but for me and my family, we will eat bread and enjoy.
In case you want to try your hand at some tasty homemade white bread as well, you're in the right place.  Yes, I still make my soaked whole wheat bread, and it is delicious as well.  I even by sprouted bread from Aldi to mix things up. Sometimes though, I just want some white bread.  Sometimes I don't feel like soaking my bread overnight.  Sometimes I forget.  Sometimes I wake up and want bread by lunchtime.  This is that bread.  And in case you were wondering, it makes a fantastic sandwich and french toast.  Yum!
Tips for perfect soft white sandwich bread
Make sure your yeast is fresh
Yeast that is old may not work as well and could potentially create a flat loaf.  You're wanting a light and fluffy bread that fresh yeast helps create. Buy a new container of yeast if you aren't sure how old yours is. I store mine in the fridge to help it stay fresh longer.
2. Warm not hot water
Keep your water warm and not too hot. If it's too hot it can kill the yeast and can also cause over-proofing of the dough.
3. Pay attention to the dough's consistency
I have a general guideline for how much flour, but depending on the day and moisture in the air that may change. You are wanting a dough that is the consistency of super soft play dough.  If it's super sticky or runs through your hands, you need more flour.  Just gradually knead it in until it feels right.
Party on bread lovers.  And for you non-bread lovers, don't worry I still love you too. We can still be friends and I'll still have lots of yummy gluten free and grain free goodies on here for you as well.
Soft White Sandwich Bread
Homemade white bread easy enough for a beginner baker. Light and fluffy.
Ingredients
2

c

warm water

⅓

c.

sugar

1.5

tbsp

yeast

1 ¾

tsp

sea salt

¼

c

melted butter

6

c

bread flour

or 5 ½ c. all purpose
Instructions
In a large bowl, stir together warm water and sugar to dissolve.

Stir in yeast and let sit a few minutes until foamy.

Add butter and salt and stir.

Gradually work in flour about a cup at a time. (I use my stand mixer dough hook but you can also do it with your hands.)

Knead for several minutes until dough is smooth and elastic. It should feel like a good soft playdough.

Put in an oiled bowl, cover with a towel or plastic wrap, and allow it to rise for one hour.

After first rise, cut in half to create two loaves, shape loaves, and put into greased loaf pans.

Cover and let rise another hour.

Remove covering, and bake at 350 degrees for 30 minutes until golden brown and loaf sounds hollow when you tap it.

Remove from loaf pans and let cool completely.