My son has been in a picky phase lately.  I can barely get him to eat anything, and it keeps getting worse and worse.
For him, I truly believe it is a battle of the wills.  Once he finally gets a bite of food in his mouth, he almost always likes it and asks for more.  It's that first bite that is the problem.  If any of you have dealt with a picky and stubborn child who doesn't want to eat, you know it is maddening.
We do everything "right".  We don't allow other options for meals other than what the family is eating.  We don't snack a lot in between.  He gets water to drink instead of filling up on liquid.  He helps me in the kitchen.  He helps grow his food in the garden.  Still, it is very difficult to get him to eat.
He's to the point where he eats very little protein.  He loves chicken legs, and he regularly eats eggs and homemade chicken nuggets.  Beans, lentils, and beef are not foods he is usually willing to eat.
I have found one beef dish that he does truly love though.  Homemade tacos.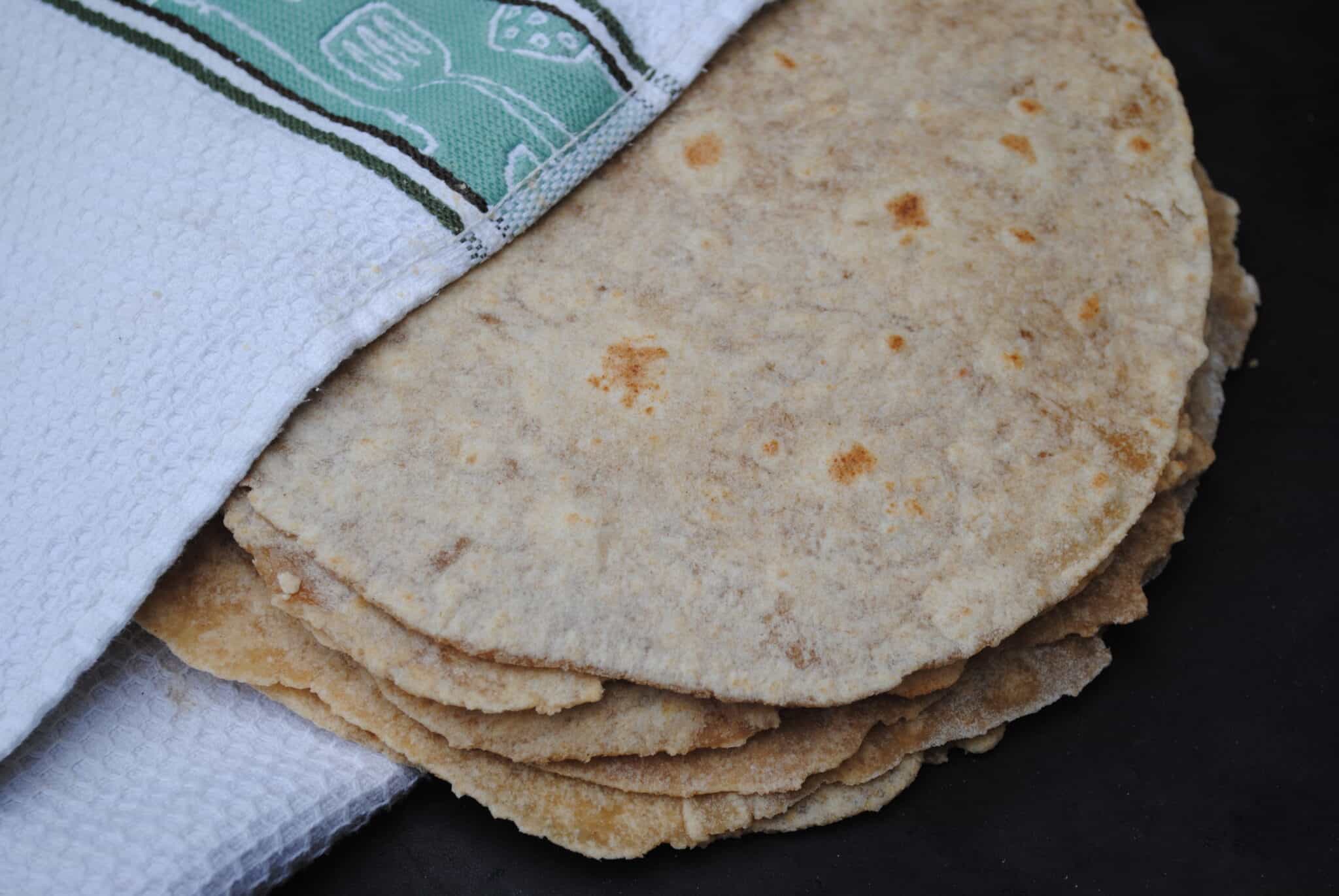 My mom was visiting this week, and we made tacos.  She was shocked to see my little guy demolish his taco.  He couldn't get enough and had two whole tacos, which is a LOT for his little belly.  TWO!  Even the meat that fell on the plate, got gathered up by the fistfuls and shoved into the hungry little mouth.
Now that enough to make this momma want to shout.
I've never shared with you my homemade tortilla recipe before.  I make them one of two ways.  If I remember to soak them in the morning, I make them with whole wheat.  Mixing them together takes just a couple of minutes in the morning, and then they are ready for you to roll out when cooking dinner that evening.  If I forgot to soak the whole wheat in the morning, I use unbleached all purpose flour, and use this recipe from Annie's eats.  I don't use shortening though.  I still use the fat in the recipe below.
I timed it this time, and it takes me about 25 minutes to roll out and cook all of the tortillas.  If you are cooking your meat at the same time, you can still have your taco meal done in 30ish minutes, even with homemade tortillas. If you don't have one already, use my homemade taco seasoning recipe.
Soaked whole wheat tortillas
Ingredients
3

cups

whole wheat flour

5

T.

butter

expeller pressed coconut oil, pasture raised lard, or any combination

1

cup

water

1

T.

apple cider vinegar

1

heaping tsp sea salt
Instructions
Cut in fat into flour. I usually just squish it around in my fingers until it's mixed well.

Stir water and apple cider vinegar together and add to flour.

Stir and work together until it forms into a ball.

Cover and let stand 8 hours.

Sprinkle salt a little at a time onto dough and knead in until all of salt is completely incorporated.

Heat a dry cast iron skillet to medium high.

Divide dough into 12 pieces and roll into balls.

On a floured board, roll out each ball to about 8-9 inches in diameter. Tortillas should be very thin.

Place in hot skillet until they begin to bubble and brown on one side. It only takes a minute or two.

Flip and cook the other side an additional minute or two until brown. Do not overcook or they will be hard.

While cooking the remainder of the tortillas, keep finished tortillas on a plate covered with a towel to keep them warm and pliable.