Summer charcuterie board ideas perfect for entertaining or when you don't want to turn on the oven. Enjoy summer bounty at its finest!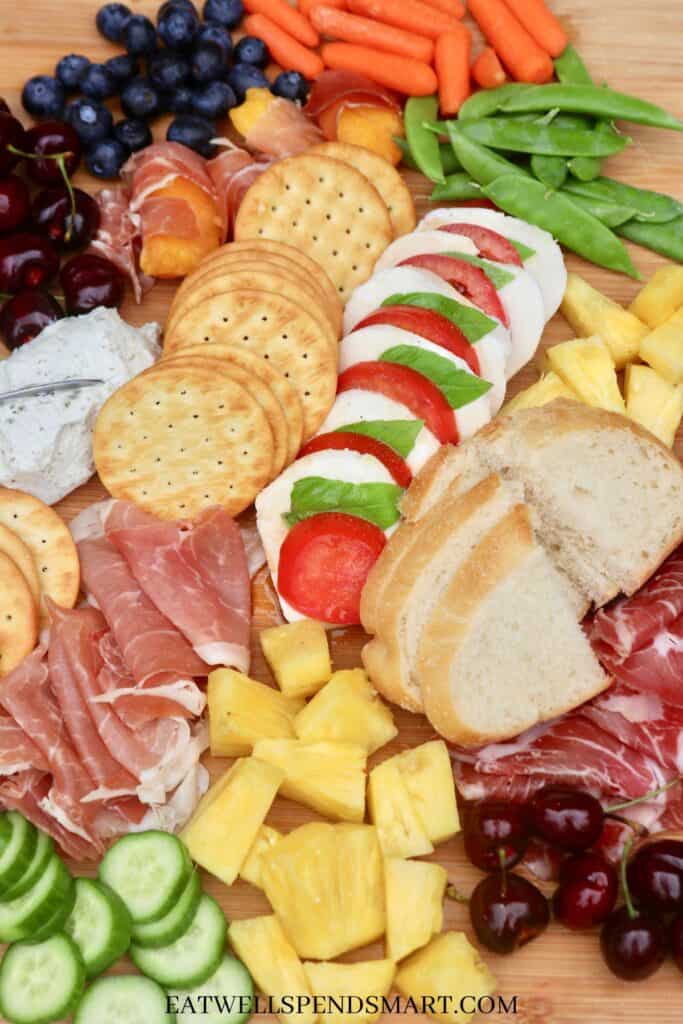 In the summer months no cook assembly meals are my go-to. Dinner on the patio on a warm summer night is one of my absolute favorite things. That's where a good charcuterie board comes in handy. Fresh produce is in abundance and we can put a summer twist on an already fun way to eat or entertain.
What is a charcuterie board?
Charcuterie is a French word that refers to the preparation of cured meats. If you are at an upscale restaurant and order charcuterie, you may be surprised that what arrives is a sparse looking board with a few meats, a couple of cheeses, and maybe some nuts or olives.
​Charcuterie boards in pop culture have taken on a different meaning and refer to food on boards in general, usually stuffed to the brim with anything and everything. It's a feast for the eyes for sure!
What makes a summer charcuterie board different?
While a typical charcuterie board consists of a variety of meats, cheeses, spreads, jams, and dried fruit, a summer board offers the bounty of summer fruits and garden-fresh veggies along with the cured meats and cheeses. To me, it's just a summer twist on an already delightful meal. A little more fresh. A little lighter.
A delicious charcuterie board is also perfect for summer entertaining:
movie night (outdoor or indoor)
pool party
casual summer gatherings
appetizer for dinner parties
date nights
Components of a perfect summer charcuterie board
Putting together a charcuterie board of your own can be intimidating, but it's definitely not complicated. Here are the basic components:
variety of meats: (Choose 2-3): salami, prosciutto, pepperoni, summer sausage, coppa, sopressata
variety of cheeses (Choose 2-3 different types of cheese) Soft cheeses like goat cheese, brie, or mozzarella slices. Firm cheese like cheddar, colby, etc. Hard cheese like parmesan, gouda, and asiago,
fresh fruits: Choose seasonal fruits like stone fruit (peaches, plums, nectarines, cherries, apricots), fresh berries (blackberries, raspberries, strawberries, blueberries), watermelon and cantaloupe, pineapple. Cut in easy to grab bite size pieces or wedges.
fresh vegetables: Choose summer vegetables like cucumber slices, carrots, tomatoes or cherry tomatoes, snap peas, bell pepper slices. Cut into bite size pieces or slices.
nuts and dried fruit
favorite crackers
baguette slices
small bowls with extras: (olives, fig jam, pesto, a favorite dip, pickled onions, refrigerator pickles) These work best in bowls to corral them in one spot so the liquids don't spread to the other food.
garnish: fresh herbs like basil, mint, etc.
How to assemble a charcuterie board
The first step is to place your meats and cheeses. These are your anchors. Be sure to layer or fold each piece of meat so it is easy to grab and the whole thing isn't stuck together.
​Next any bowls of goodies should be placed.
Place handfuls of fresh summer berries, other fruit, and vegetables around the meats, cheeses and bowls. You can place each item in a couple of different spots for interest and a balanced look to your board.
Finish by tucking in crackers and bread into the empty spaces and garnishing with any other fun things like olive oil, fresh herbs, etc. It is helpful to put cracker and dips next to items that they pair well with.
Here is what I included in one version of a summer charcuterie board from top left working across and down:  carrots, snap peas, pineapple, sourdough bread, coppa, cherrries, blueberries, prosciutto wrapped peaches, crackers, tomatoes with mozzarella and basil drizzled with olive oil and balsamic, garlic and herb goat cheese, plain prosciutto, and cucumbers.
Unique charcuterie board ideas for the summer
If you are looking for even more different and want to put in a little more effort, here are a couple more ideas for your summer charcuterie board.
Grilled board: Instead of just cured deli meats, try grilling some sausages and slicing them. Grilled pineapple rings, grilled onions, and grilled zucchini and squash would also be lovely. Fill in with handfuls of fresh fruit. A couple of mustards would be nice with this board.
Little dipper board: This would be the same kind of idea but heavy on the dips tucked around everything. Think fruit dip, olive oil dip, hummus, onion dip, pesto, sour cream vegetable dip, pimento cheese spread, spinach and artichoke dip, etc. Add more crackers, chips, and slices of bread or pita if you are going with this option.