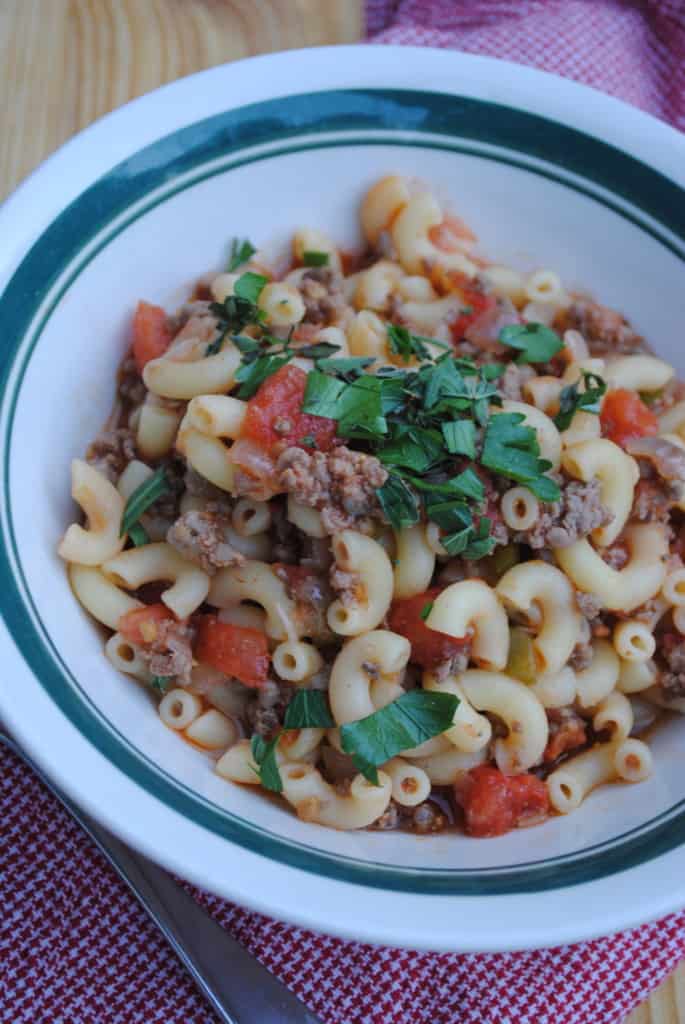 Goulash is one of those meals that the name sounds a bit off putting if you ask me.  It sounds sloppy and maybe not something I would want to eat.
Poor goulash.  It really doesn't deserve a bad rap.  It's actually super tasty!
This is a dish that my mom would make quite frequently in the summertime when I  was a kid, when fresh tomatoes were at their peak of ripeness and taste.  Truthfully though,  I didn't appreciate it as a kid like I do now.  You see, I had a serious dislike for tomatoes, even fresh juicy garden tomatoes.  I could never understand what all the fuss was about.
BLTs?  Sure!  I loved them, as long as you would hold the tomato.  I preferred a BLM (bacon, lettuce, and mayonnaise).
Oh my how times have changed.  Now I grow six tomato plants in my backyard.  They are a top priority when it comes to which crops we will plant in the garden.  You better believe we'll be growing tomatoes every single year.
I check on my precious tomatoes every single day, waiting for their skins to change from a lovely green to a vibrant red, just screaming to be picked.
My daughter absolutely loves them, especially cherry tomatoes.  We barely get any cherry tomatoes that actually make it into the house because she eats the ripe ones straight off the vines as an afternoon snack.  The three year old is not so convinced.  Maybe he'll be like his momma and eventually come to love them with age.
While those summer tomatoes and peppers are in season, you should definitely make this dish.  If you are gluten free, just use your favorite gluten free macaroni.  If you are grain free, this might work with zoodles (zucchini noodles).
Time saving tip:  For easy peeling of tomatoes, score an "x" in the bottom of the tomatoes.  Before cooking the pasta, place tomatoes in boiling water for 1 minute.  Remove and place in ice water.  Skins should slip right off.  In the same boiling water, cook your pasta.
Summertime goulash
Goulash: a simple summer dinner.
Ingredients
1

lb.

ground beef

1

green pepper

diced (about ½ cup)

1

small onion

diced (about ¾ c)

1

clove

garlic

minced or pressed

3 ½

cups

fresh tomatoes

peeled and diced (about 4 tomatoes)

1

tsp

sea salt

1

tsp

organic sugar

macaroni

about 3 ½ to 4 cups cooked

handful of fresh herbs

chopped

pepper to taste
Instructions
Brown ground beef in a skillet. Drain any grease if there is any. If you use grassfed beef there will be minimal grease.

Add onion and pepper to ground beef and saute until tender.

Add garlic and fresh tomatoes, salt and sugar.

Simmer for about 8-10 minutes until most of the tomatoes are broken down, but there are still some chunks of tomatoes that remain.

Taste for seasonings, and adjust to your liking.

Add cooked macaroni and stir to combine.

Add fresh chopped herbs and serve immediately.