This is the first year we have grown turnips in our garden thanks to my husband who ordered all the seeds ever created, bless his heart.  He got a little excited when it came to seed ordering this winter.  Honestly it has turned out great though because it has pushed us out of our veggie comfort zone.
Today the kids helped me pick turnips.  Other than our lovely spring greens (lettuce, kale, endive, collards, herbs), turnips were the first vegetable we were able to harvest.  I was pleasantly surprised how quickly they grew!  I grew up eating my grandma's boiled/stewed turnips, but other than that I had no idea how to cook them.  I wanted to try a way that I thought would be appealing to the kiddies.  Adding bacon is always a winner in our house, so that's exactly what I did.
Step by Step Process
I browned a few pieces of chopped bacon in a skillet and then removed them from the pan.
I added peeled and thinly sliced turnips to the same pan and browned them on each side.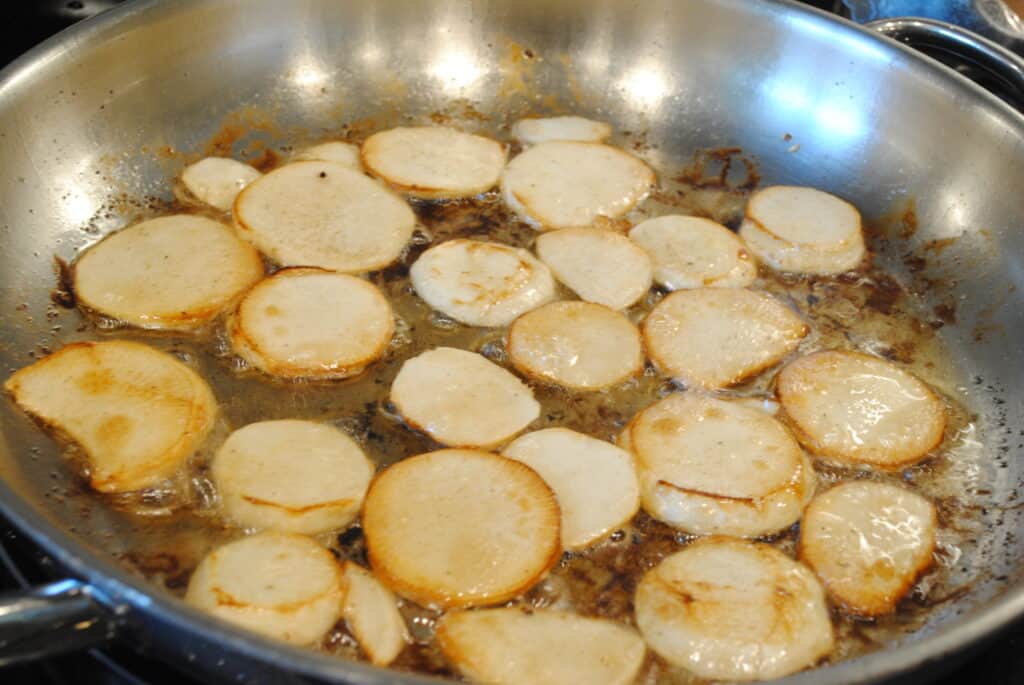 Lastly I added the chopped up turnip greens with a couple of cloves of garlic and salt and pepper and sautéed until wilted.
The results were quite tasty served alongside some roasted chicken and a salad also picked from our garden.  This is my favorite time of year!
Turnips with bacon and turnip greens
A simple turnip side dish that turns the turnips sweet and tender.
Ingredients
3-4

slices

of bacon

chopped

3-4

turnips

peeled and sliced thinly

tops of turnips

washed, thick stems removed, and chopped

2

cloves

garlic

minced or pressed

salt and pepper to taste
Instructions
Over medium heat, cook chopped bacon until brown. Remove cooked bacon and set aside.

In the drippings, add turnips in a a single layer. Cook for a few minutes until golden and flip over to the other side.

When both sides are golden, add the green tops and garlic and stir fry until wilted.

Add bacon back to pan.

Taste and add salt and pepper if desired.