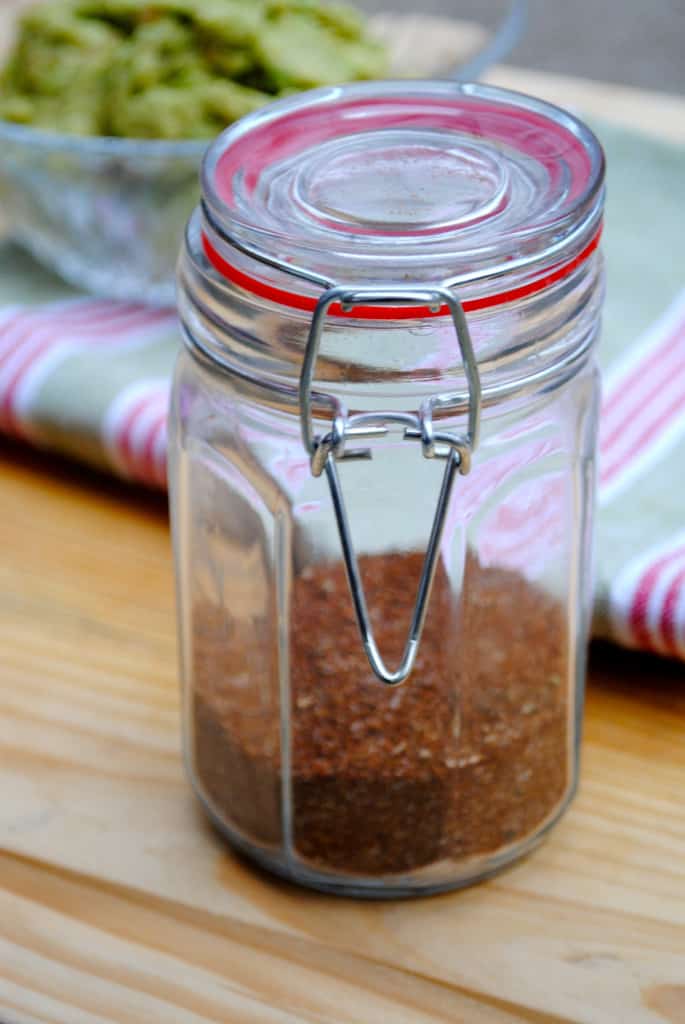 Who doesn't love tacos?  I don't know too many that don't.  It's one of my favorite meals because it's easy, quick, relatively cheap and tastes delicious!  You all know by now that I love to make food myself instead of relying on packaged food.  This is one reason why.  It was a Monday and I hadn't gone to the grocery store for the week yet.  I didn't really know what to make, but I did have a pound of ground beef in the freezer.  I didn't have tortillas or taco seasoning, but I did have spices for the seasoning, and butter, flour and salt for the tortillas.  This did mean I had to spend about ten more minutes in the kitchen but it saved me having to go to the store with both kids and saved me about $4-$5 as well.  I'll trade ten minutes in my kitchen for 30 minutes of torture dragging whining children to the store in the rain.  Coats and car seats annoy me.  Anyway, back to the taco seasoning.  🙂
A typical taco seasoning mix has additives, sugar, and MSG in it.  There's just no need for any of those ingredients to make a tasty taco seasoning.  It's super easy to make at home.  Plus any time I can decrease my grocery bill, I will.  It takes maybe about a minute more to put the spices in yourself instead of opening a package and saves you about a dollar if you already have all of these ingredients in your spice cabinet.  You can also control the quality and quantity of salt and spice if you make it yourself.
Homemade taco seasoning
Simple taco seasoning made with everyday ingredients
Ingredients
2

tbsp

chili powder

½

tsp

garlic powder

3

tsp

ground cumin

2

tsp

sea salt

½

tsp

black pepper
Instructions
Mix all ingredients together.

Store in a glass air tight container.

Use 1 T. seasoning mix per 1 lb. ground meat.