Are you a busy college student? Do you need a fresh easy breakfast idea? I've got you covered. Here are 15 healthy meals to get your morning off to a good start without breaking the bank.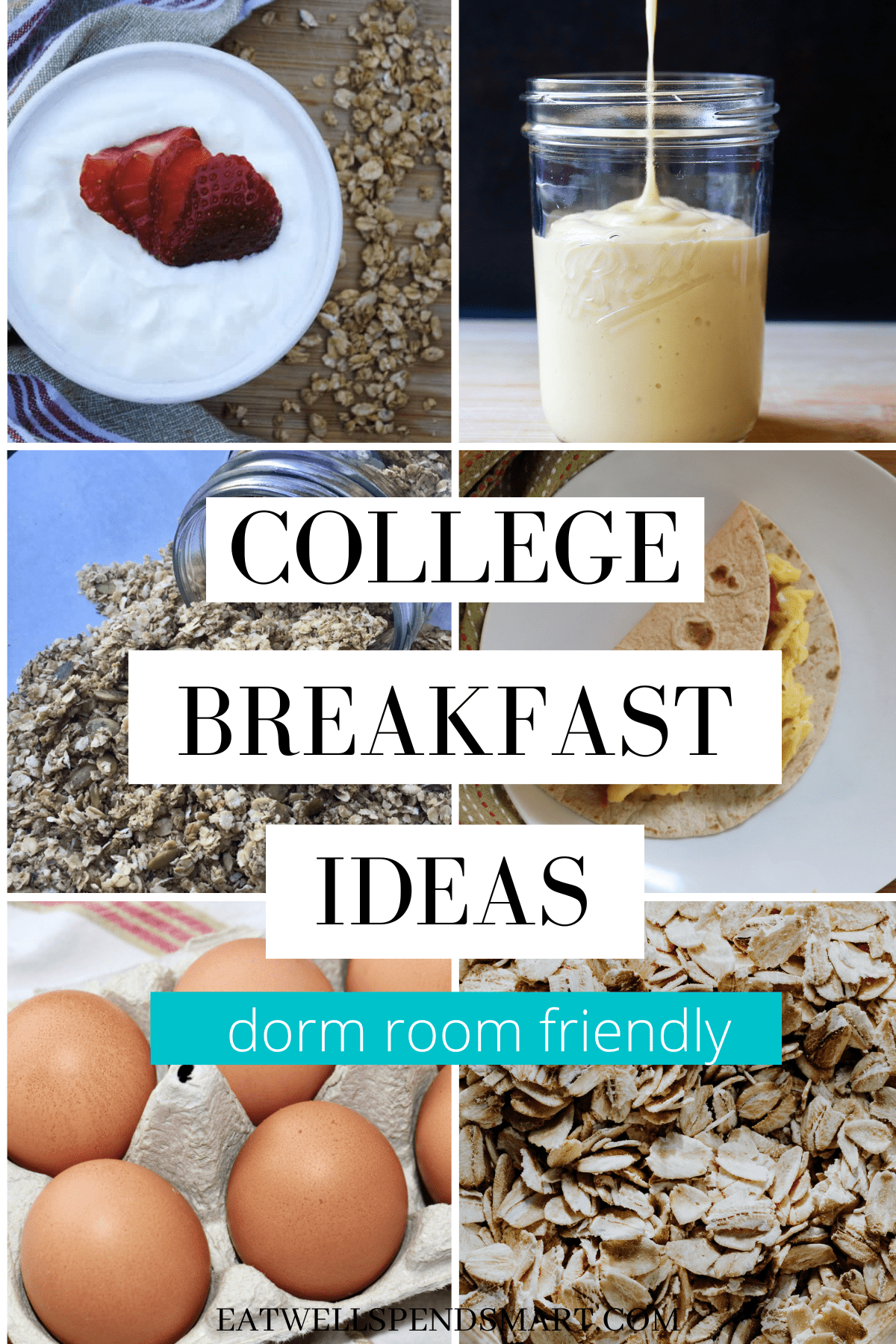 Breakfast is an important meal of the day. We often think about a healthy breakfast when sending kids off to school, but what about college students?
Yes, college students need good brain food too! College life often includes staying up late and pushing the boundaries of good health, so starting with a good breakfast is a great way to combat that extra stress on the body. I like to pair protein with carbs or healthy fats to create a perfect blood sugar balancing start to the day.
Sure, they could eat breakfast at the dining hall, but sometimes students are short on time and need something fast or just prefer to eat in their dorm room. It's terrible for them going to that first class with empty stomachs!
The dorm room dilemma
Let's explore today some options for broke college students who want to a nutritious breakfast but are confined to dorm room cooking limitations: mini fridge, microwave, blender, and possibly a coffee pot or toaster. Also the ideas in this list are meant to use simple ingredients that can be found in just about any grocery store.
*Note: Some college dorm rooms do not allow toasters or coffee pots, so keep that in mind when planning.
Mini fridges are small and space in a dorm is limited already, so keep that in mind when choosing food for the week. Choose only one or two versatile options to save space and keep it budget-friendly.
Easy college breakfast ideas
1. Greek yogurt, fresh fruit
A super quick, no-cook breakfast, Greek yogurt is high protein and a nice way to start the day. Top with fresh berries or any fruit that you like.
2. Avocado toast
If you can use a toaster, you can top the toast with so many options. Smashed avocado, peanut butter, or cream cheese make good toast toppers and don't require any extra work.
3. Oatmeal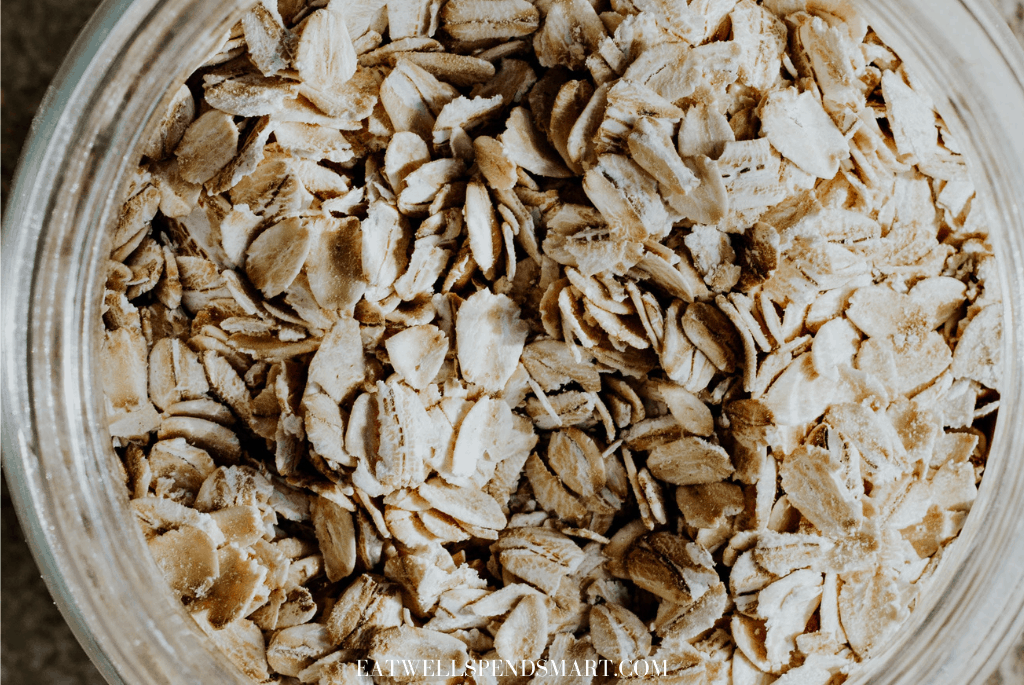 For college dorms, quick oats will be easiest to work with if you are wanting cooked oatmeal. Simply cover your oats in a bowl and cook for a few minutes. Top with fruit, nuts, peanut butter, chocolate chips, and sweetener or your choice if needed. Add protein powder or collagen for an extra boost of protein if desired.
Overnight oats are a no-cook option that you put together the night before. The texture takes some gettin used to, but they can be tasty. You can even prep several of these in advance for the week to save even more time.
4. Cottage cheese and fruit
Cottage cheese is another high protein food and pairs really well with fruit (peaches, banana, blueberries, strawberries, etc). It may be a little unconventional for breakfast, but I love it!
5. Microwaved eggs
Eggs can absolutely be made in the microwave and used in a variety of ways. Eat them plain or use them in other ways like a sandwich or burrito.
6. Breakfast burrito or tacos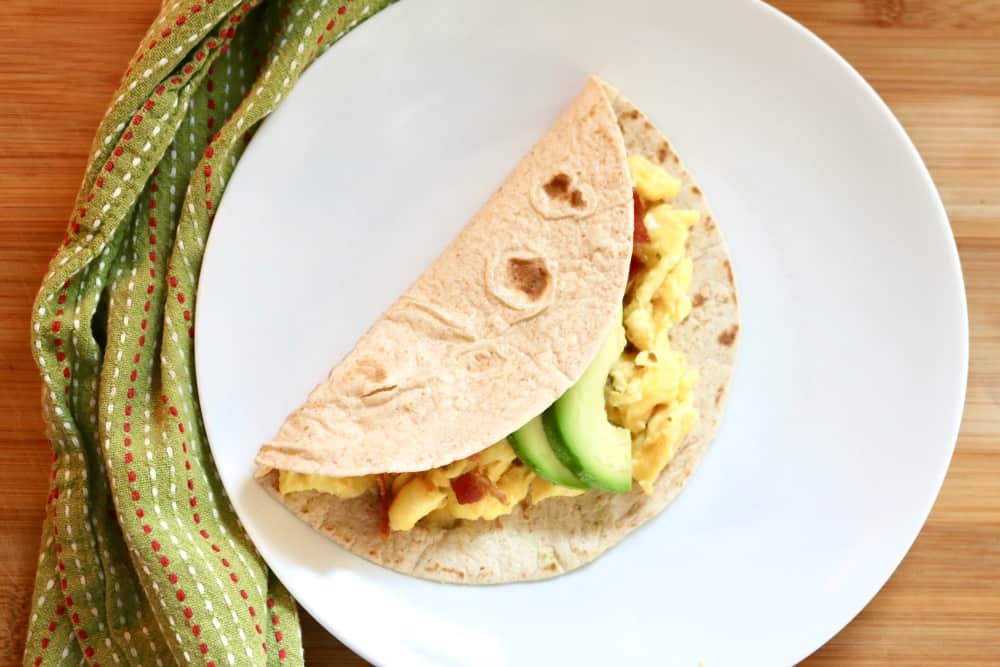 Once you know how to microwave eggs, it only takes one more step to make them into a breakfast burrito. Place the cooked eggs on a tortilla and top with shredded cheese and salsa. Microwave for another 15 seconds to melt the cheese if desired. These can also be prepped in advance and reheated throughout the week.
7. Fruit smoothie
If you have a personal size blender the options are endless for an on the go breakfast. Keep a little frozen fruit on hand, and maybe some add ins and yogurt and you can have a healthy breakfast in minutes. Here's one recipe to get you started.
8. Ready made protein pancakes
Most grocery stores have ready made frozen pancakes that you just have to reheat. No kitchen. No problem. I prefer a protein rich pancake variety like Kodiak Cakes, but you can do whatever budget and availability allows.
9. Pre-cooked frozen sausages
Similar to the ready made frozen pancakes, most grocery stores carry decent brands of pre-cooked sausages that you can reheat in the microwave in minutes. So fast and protein rich.
10. Bagels with cream cheese and strawberries
Bagels are a great base to get creative with. One easy idea is to top it with cream cheese and fresh sliced strawberries.
11. Bagel with peanut butter and banana
Bagels can also be topped with peanut butter and banana slices. Perfect portable food to eat while walking to class.
12. Apples or banana with peanut butter or almond butter
Apples or bananas can be sliced and dipped in peanut butter or almond butter for a cheap quick breakfast.
13. Hard boiled eggs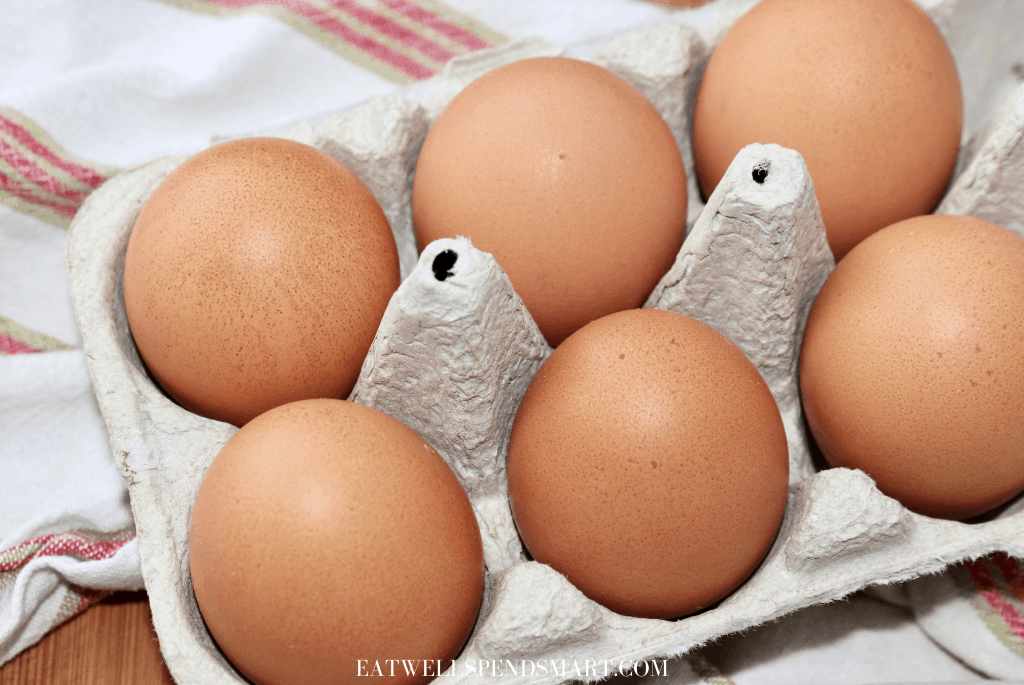 Yes, you can hard boil eggs in a dorm room.
Hard boiled eggs in the microwave
Hard boiled eggs in a coffee pot
14. Muffins in a mug
Yes, you can make a muffin in a microwave. I wouldn't choose this option every day, but it's nice to have in your back pocket for a treat.
15. Cereal or granola
If all else fails you can keep your room stocked with cereal for a fast breakfast. Look for something a little more filling than your typical sugar laden cereal though. Look for a higher protein option or even granola to keep you full longer.