Meal planning for busy moms can feel daunting! Are you a busy working mom or just a busy parent in general that finds it difficult to meal plan around your busy schedule? You are not alone! Here are my strategies for getting healthy food on the table on busy nights without going crazy.
It can feel like a full time job getting dinner on the table every single night.  One way or another, the family has to eat.  If we don't have strategies and plans to get dinner on the table even when time is crunched, we will find ourselves in the drive through eating fast food more often than we like.  I have made it my mission to help even busy families get healthy meals on the table with as little time spent in the kitchen as possible on busy weeknights.
Meal planning basics
The first thing we need to do is to bust the myth that mean planning is hard. Meal planning does not have to be complicated. In fact, especially for busy moms, I would recommend keeping it as simple as possible.
1. Plan what you will eat that week. This does not mean that you have to pre-assign meals to each day of the week. It certainly can, but it doesn't have to. You are essentially just deciding in advance what food to have in your house so you are prepared. Keeping a master list of meals that your whole family loves to eat is very helpful. Make this the bulk of your meal plan. Do not try to get fancy. This isn't the season, especially if you have picky eaters. Stick to winners for the whole family if you want to keep your sanity.
2. Create a shopping list based on your meal plan. Make sure to check what you already have so you aren't wasting money on something you already have.
3. Go grocery shopping and stick to your list. If you are very busy, I love using grocery pick up like Instacart or Walmart grocery pick up. Instacart saves me an incredible amount of time every single week. I "shop" while in my bed on Saturday night and on Sunday I pick up my food without having to step foot in the store.
9 Meal Planning tips for busy moms
Now to get into the nitty gritty of step number one, here are some of my favorite tips for meal planning for busy moms!
1. Power of pressure cooking
Pressure cookers have been around for many years.  It is certainly not a new thing, and it is a powerful tool to getting dinner on the table fast.  I was always afraid of pressure cooking, but I have changed my mind since I got my new electric pressure cooker, the Instant Pot.  I have been absolutely amazed by how much this little baby cuts down on cooking time.  Dry beans in 30-40 minutes, shredded chicken in 15 minutes, soups and stews in no time, boiled eggs in 5 minutes, spaghetti squash in 8 minutes, and more.  I was absolutely sold the day that I made a beef stew with partially frozen meat in 40 minutes.  If you have trouble remembering to meal plan, thaw meat, or throw something in the slow cooker before work, you will love the Instant Pot.  An electric pressure cooker does take time to come to pressure though, so you wouldn't want to put a beef stew in if you have to leave in 30 minutes.
Our favorite Instant Pot meal is Instant Pot taco rice.
2. Use your slow cooker
There's nothing like getting to the end of the day and dinner is already done. You will feel like the hero of your home every time. The slow cooker is a favorite strategy of mine especially in the colder months. Soups, stews, and shredded meats are awesome cooked in the slow cooker. Browse my recipe collection for ideas.
Eat Well Spend Smart's Slow Cooker Recipe Collection
You can also put slow cooker freezer meals together ahead of time if you really want to get ahead. I went to a fun party with a group of ladies a while ago where we put together 10 bags of slow cooker freezer meals.  I honestly did not think I would enjoy them as much as I did, but they have been such a time saver for me.  On days when I am gone all day, it's so great coming home to a house that smells amazing and dinner is just about done.
It took about an hour to prep these ten bags, but now I simply put the frozen bag in the fridge the night before to defrost a bit so I can stick it in the slow cooker in the morning.  So easy and so delicious.  I have hopes to do more of these and share them with you in the future.  In the mean time, check out The Family Freezer for a ton of ideas.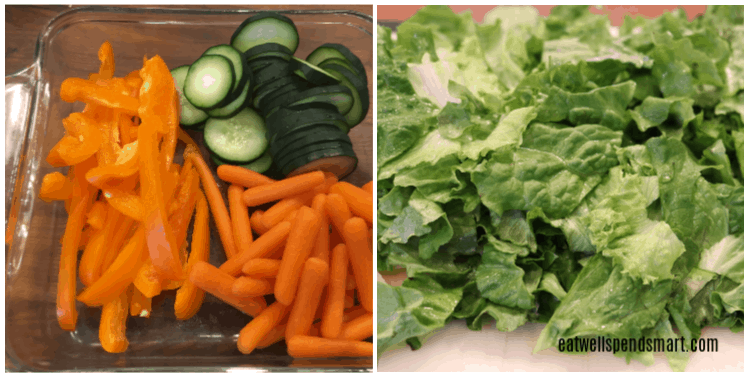 3. Meal prep on the weekend
Meal prepping can mean prepping whole meals or components of meals. It's meant to serve you and not cause extra burden, so only do this if it's helpful. If you are prepping components of meals, try cutting up your vegetables, fruit, meat, etc on the weekend or when you have time, so they are ready to go throughout the week.  Slice onions and peppers, hard boil eggs, bake sweet potatoes, make a salad dressing, batch cook dry beans, make breakfast sandwiches or burritos for breakfast, so you only have to spend a few minutes at dinner time cooking the meal.
You could also make a double batch of your Sunday meal so you can have leftovers for lunch during the week or stick them in the freezer to build a convenient freezer stash. A little prep work on the weekend batch cooking can save a ton of time when the weekdays are busy.
The question to ask yourself is what could you do now to make your life easier during the week? Don't do too much though or you will risk burning out fast!
Related: Make ahead breakfast freezer meals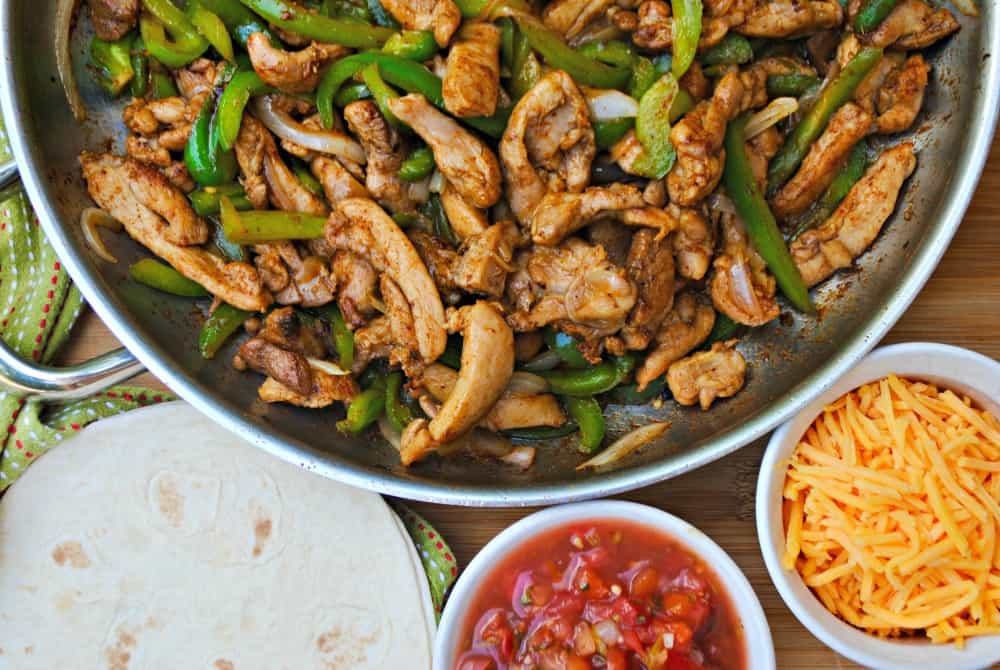 4. Plan quick meals
This has always been my preferred method of getting dinner the table fast for years.  I recommend everyone make a list of 5-10 meals that you know how to make without a recipe and that don't take much time to make.  Make those the backbone of your meal plan. In our house some family favorites on that list are:
French toast
quesadillas
spaghetti
scrambled eggs
macaroni and cheese
grilled sandwiches
hamburgers
tortilla pizzas
Browse my recipe index for meal ideas meant to please the entire family.
5. Sheet pan cooking
On nights when there is little energy left in the tank, sheet pan dinners are my best friend. Throw some protein on a pan with fresh or frozen vegetables. Then drizzle with olive oil and season generously with whatever seasonings you're feeling, and roast at 425 degrees until done. The trick is to pair protein and vegetables that cook at similar times. Fish and shrimp can take under 10 minutes while chicken, beef, and sausages can take 20-35 minutes depending on the size.
One of my favorite meals that can be made on a sheet pan is sausage, potatoes, cabbage and onions.

6. No cook options
You don't always have to necessarily cook dinner to get a healthy dinner on table. There are plenty on no-cook or low-cook  options that we often eat for dinner. A simple meal like this may seem a little random, but what really matters is that our families are nourished and the bellies are full.
cut up fresh fruit
raw vegetables
grocery store rotisserie chicken
sandwiches
cheeses
cottage cheese
hummus
avocado or guacamole
chips and salsa
smoothies
fermented veggies (kraut, kimchi, dilly carrots, pickles, etc)
cold sliced meats
cold soups (think gazpacho)
clean crackers with cheese or dips
granola and milk
nuts
fruit and nut butters
7. Leftover night
Planning a leftover night in the week helps reduce waste and gives you a night off. It's a great double duty strategy.
Pull out all of the leftovers towards the end of the week and set them on the counter along with some fruit. Let your family mix and match with whatever sounds good.
8. Turn leftovers into a new meal
If you don't have enough leftovers for full meals or if your family doesn't care for leftovers, try making them into something new.
This is one of my favorites that saves a ton of time.  I almost feel like a broken record with this strategy, but it's a goodie.  Do you have leftover meat, beans, mashed potatoes, roasted veggies?  Turn them into something new for another night.  Put meat on a pizza or a pocket.  Throw it in a soup.  Spice it up and pile in on some rice for a burrito bowl.  The same thing with beans and veggies.  Throw them in a soup, quesadilla, casserole, nachos, or a bowl and you have a delicious second night meal that took minutes to make.  With most of the ingredients already cooked, re-purposing can be extremely fast.
Uses for leftover baked potatoes
Turn a whole chicken into multiple meals
9. Healthy back up food
It's always a good idea to have bail out food stocked in your freezer or pantry to give yourself a break. Maybe some chicken strips, meatballs, or bbq that's already made for you. Almost every grocery store carries options for this kind of food with decent ingredients. Figure out what you like, feel no shame, and keep a few of these on hand to intentionally give yourself a break from cooking. Friday night is my favorite night to include this in my meal plan. It's something a little fun and requires no work from you after a long week.
Try my fall meal plan to make your planning even easier! Grocery lists, seasonal recipes, and more in one easy download!
What strategies do you use to get dinner on the table quickly?