Learn how to cut onion rings easily with this simple tutorial. Use onion slices for sandwiches, burgers, caramelized onions, or to make fried homemade onion rings.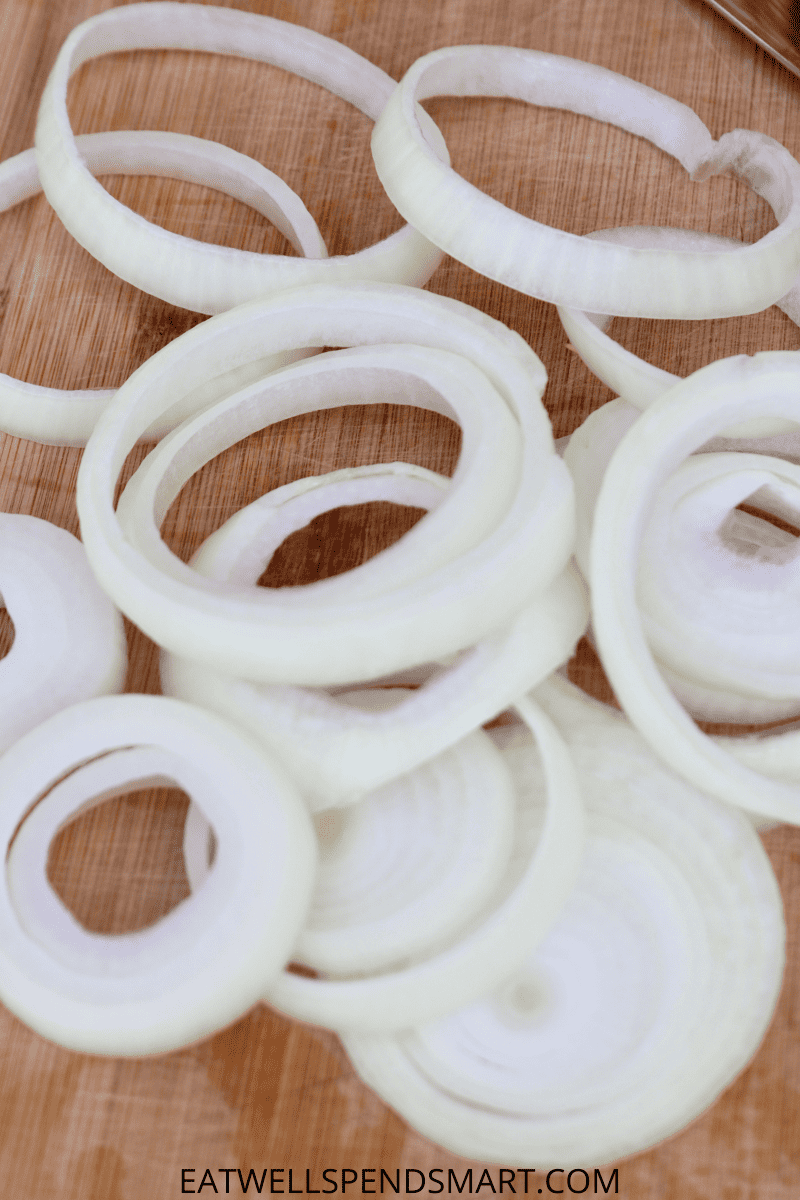 Raw onions can be cut in many different ways. It can be tricky when cutting an onion to figure out how to slice it to achieve the desired results. For example, slicing an onion into strips is totally different from slicing it into rings and requires completely different cuts. Home cooks need to get familiar with these differences.
Let's break down the basic steps for cutting onion rings. By the time you are finished reading and practicing on your own, you will be a pro!
Tools needed
First, you need two simple tools: a sharp knife and a cutting board.
Sharp knife: I prefer a sharp chef's knife to cut most sturdy vegetables. It is my everyday knife, and I highly suggest you invest in one if you don't already have one.
Cutting board: I like a medium wooden cutting board, but other cutting boards will work. I don't recommend glass cutting boards as they dull your knives.
Identifying parts of an onion
Onions have two different ends: a root end and a stem end. I'll be referring to these in the instructions so let's familiarize ourselves with each.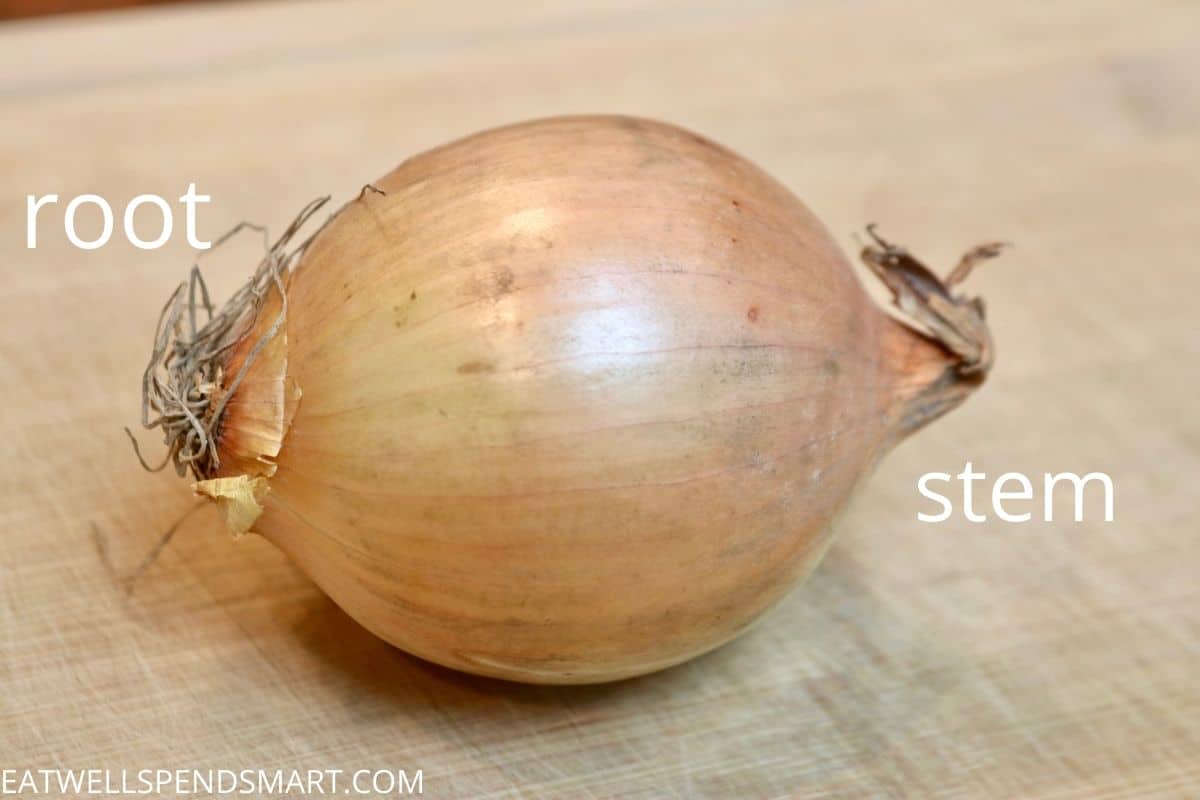 The root end is what was in the ground and looks a bit hairy.
The stem end is where the stem of the onion was poking out of the ground before the processor cut it off before storing and selling.
How to cut onion rings
Now that we know the parts of the onion, let's get down to business. Follow these simple steps for perfectly cut rings.
Below is a video tutorial if you prefer video to still pictures.
Step 1: Cut off the stem end of the onion.
Start with any kind of bulb onion: white onions, red onions, or yellow onions. First, turn the onion on its side and cut off the stem end.
Step 2: Peel the onion.
Next, carefully peel off the outer layer of papery skin from the onion. You can use your fingers or a paring knife to help lift up the edges of the onion skin.
Step 3: Cut off the root end.
Next, cut off the root end of the onion.
Step 4: Slice off a thin sliver off the side to create a flat sturdy cutting surface. (Optional step)
Now that you have a peeled onion, we have one optional step of cutting a sliver off the side. This is an optional step, but it helps to create a flat end so your onion doesn't roll around. This is basically just a step to help stabilize your onion. Safety first.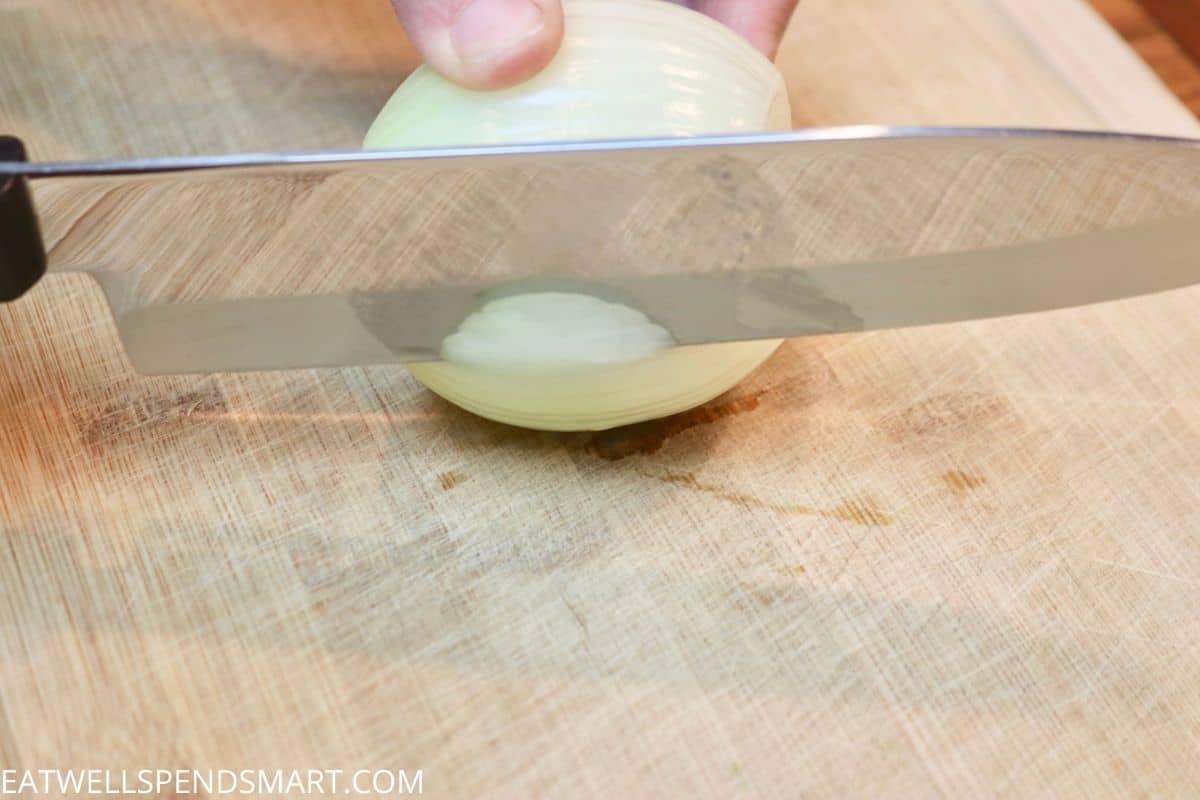 Step 5: Turn onion on its side and slice downward to create rings.
Lastly, turn the onion on its side. If you made the optional slice on its side, place it flat side down.
Now cut straight down to cut rings. They can be as thick or thin as you like. For thin rings, make sure to cut them with a smaller width. For thick slices, make your cuts a little wider. Try to keep them a similar size regardless of what you choose.
For individual rings, just separate the slices with your fingers. They pop out easily.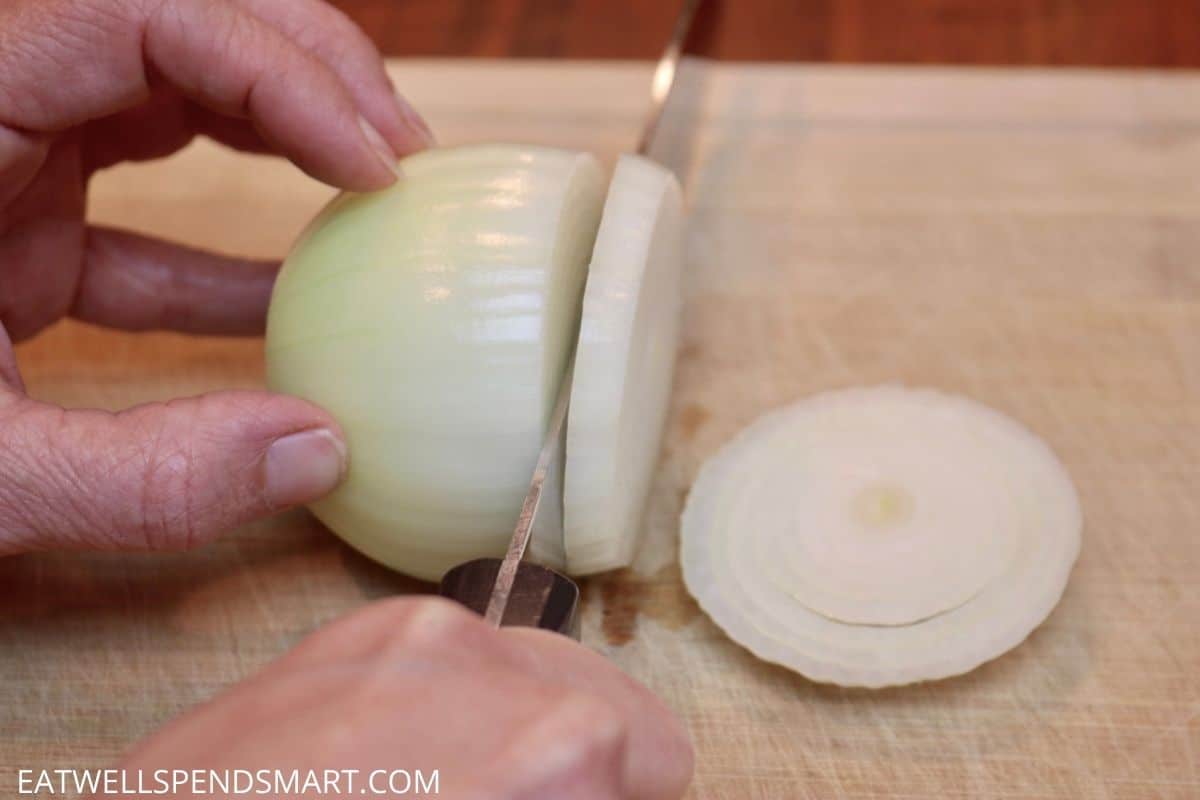 Storing onion rings
Onion rings can be kept in an airtight container in the refrigerator for about a week. They are best used within a couple of days for best flavor.
Throw away if they start to have an off putting smell or get slimy.
More cooking skills
How to cut onion rings
A tutorial for how to cut onions into rings
Equipment
1 chef's knife

1 cutting board
Instructions
Cut off stem end of onion using a chef's knife.

Cut off root end of onion.

Make a small slice on side of onion to stabilize onion on cutting board while slicing.

Turn onion on its side with your stabilizing cut touching the cutting board.

Starting at one end slice downward in whatever thickness you desire to create rings. Continue until reaching the end of the onion. Separate your rings by popping them out with your fingers.