Learn how to sear a roast to achieve a perfectly brown caramelized crust on your next chuck roast, prime rib, or any other large piece of meat. Home cooks everywhere need to know this skill to build maximum flavor in your cooking.
What does it mean to sear meat?
Maybe you have heard that you need to sear meat first before proceeding with the recipe. What the heck does that even mean? Have no fear. Not only are you going to learn what it means, you are going to learn how to master it in your own kitchen.
Searing simply means to cook the outer surface of the meat at a high temperature until a rich brown crust forms. You want your beef roast to be full of flavor and have an attractive appearance. Searing will accomplish both of those goals.
Without searing a roast you lose an opportunity to build layers of flavor and you will be left with grey unappetizing meat. We don't that, now do we? We want flavah, baby!
How to Sear a Roast
Follow these steps for a perfectly seared roast. You are looking for a deep-brown sear for your roast beef, and we are going to get you there. Watch the video below or read the step by step instructions.
Take the chill off the meat
Remove the roast from the refrigerator and let it sit out at room temperature for up to thirty minutes. During this time you can prep whatever else needs prepping like chopping vegetables.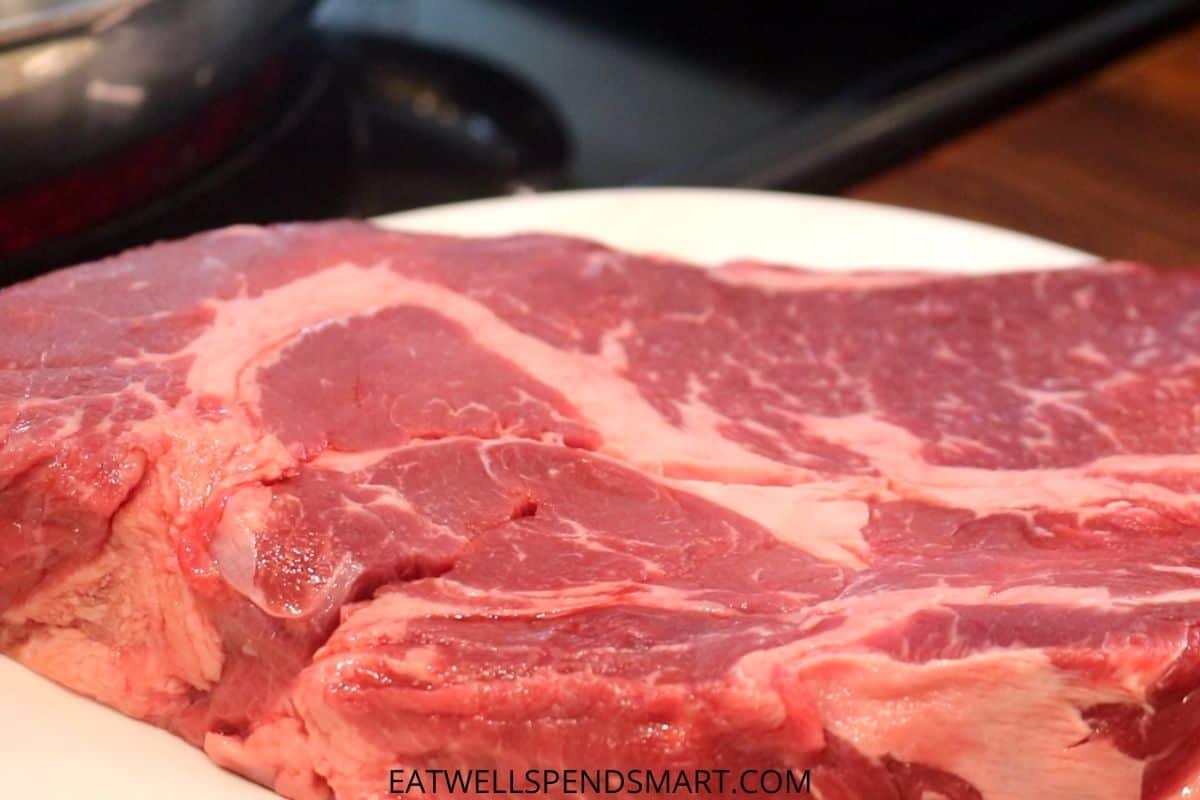 Choose the right pan
I prefer a cooking vessel with a little sticking power for best results. Something like a stainless steel skillet or roasting pan, cast iron, or enameled cast iron Dutch oven is preferred. This would not be the best time to use a non-stick skillet because you won't be as likely to get a nice golden sear. Also make sure it is big enough to allow your meat plenty of room. You don't want it to steam.
Pre-heat your pan
Searing and developing that beautiful crust really requires high temperatures. Building flavor starts with a hot pan. You will never get that golden coloring if you are cooking on low. Getting your pan hot is an essential step. I like to pre-heat mine on about a 7 or medium-high heat for 8-10 minutes before cooking.
Blot your roast to remove moisture
Take a paper towel or kitchen towel and blot excess moisture. Liquid is the enemy of browning and causes more steaming to take place.
Season meat
I prefer to use salt only when searing so my other spices like garlic, black pepper, and herbs don't burn. Salt generously on all sides to season the roast.
Place oil in the pan
Use 1-2 tablespoons of oil and swirl it around the bottom of the pan so it's evenly coated. The best oil to use is debatable. Refined oils generally have a high smoke point but I usually try to avoid them in my cooking. Avocado oil, beef tallow, or light olive oil (a more refined oil) are all acceptable and have a higher smoke point. Extra virgin olive oil has a lower smoke point so keep that in mind and avoid if possible. Using a small amount of oil in the pan simply helps the roast to brown evenly.
Don't move the meat
Resist the urge to keep checking on the meat. It will take about 3 minutes or so to cook on the first side and develop that brown crust that you are desiring. If you keep checking on it, you risk tearing the meat before it releases from the pan when it is ready. You also risk less browning. Just let the meat do it's thing and flip when it's ready. Cook on the second side another 3 minutes.
Sear the sides
Once you have seared both sides, I like to also sear the sides. To sear the sides, use tongs and hold the roast upright on its side for a couple of minutes. Repeat on all sides.
Proceed with recipe
Once your browned crust forms on your beef, you have now finished searing and it's time to move on to finish cooking the roast. You can choose to place it in a slow cooker like my slow cooker pot roast recipe or in the oven. Both will be excellent now that you have your beautifully seared roast.
How to sear a roast
Learn the techniques for searing a roast to achieve a rich brown crust, the first step before finishing cooking the meat.
Equipment
stainless steel skillet or Dutch oven

tongs
Ingredients
3-4

lb

chuck roast

1½

tsp

salt

2

tbsp

oil

avocado oil, light olive oil, or beef tallow
Instructions
Remove roast from refrigerator and let sit at room temperature for 30 minutes to an hour.

Blot dry excess moisture with a paper towel or kitchen towel.

Preheat skillet to medium-high for 5-10 minutes until pan is very hot.

Salt both sides of roast generously with salt.

Add oil to skillet and swirl to coat pan.

Add roast and let sit undisturbed for about 3 minutes or until golden brown.

Flip to the other side for another 3 minutes or until golden brown.

Using tongs hold roast up on its sides to sear edges.

Remove from skillet and finish cooking in oven, slow cooker, or InstantPot according to your recipe.