Roasting frozen vegetables is a super simple way to get veggies in your diet without the hassle of peeling and chopping. In one minute you can have a nutritious side dish in your oven roasting for dinner.
This post contains affiliate links. If you make a purchase through one of my links, I may receive a commission at no additional cost to you.
Why frozen vegetables?
Everyone knows that fresh vegetables are good for you. We are constantly being told to eat more produce. Often when we embark on a healthy eating journey, we get ambitious and buy ALL the fresh veggies from the grocery store and then end up shamefully tossing them in a a couple of weeks after they go bad. I get it. After a long busy day it can be a lot of work to peel and chop that big butternut squash or messy beets.
Enter frozen veggies. The prep work is already done for you. No peeling and chopping required. Just open the bag, dump it on a baking sheet, drizzle with olive oil, and season before popping it in the oven.
They reduce food waste when you keep a combination of fresh and frozen vegetables on hand. Frozen vegetables are also great to keep stocked up for emergencies. I always keep a hefty stock of them in my freezer.
The best way to prepare frozen vegetables
Roasting is by far, in my opinion, superior to any other cooking method for frozen vegetables. Roasting helps achieve crispy vegetables similar to using fresh. Of course, they will be slightly mushier in texture than fresh, but not by much.
The convenience factor wins out over the slight difference in quality. We are big fans of roasting frozen veg in my house. Mama needs easy!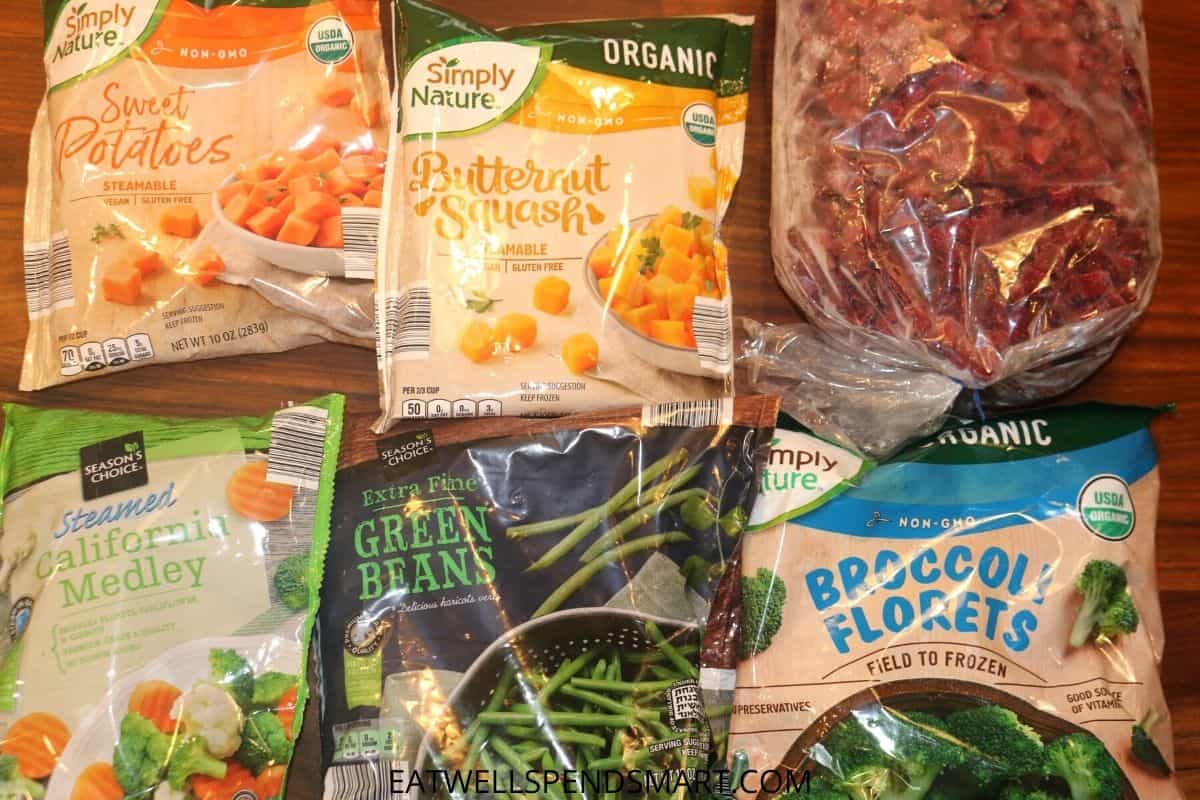 Which vegetables roast well?
There are so many different frozen vegetables that taste great roasted in the oven, but here are some of my favorites.
broccoli florets
cauliflower florets
carrots
mixed vegetables
green beans
chopped beets (I love the frozen beets from Azure Standard.)
butternut squash
sweet potatoes
Tips for roasting
Watch the video below for a detailed hands on explanation for how to roast vegetables.
Use high heat
To roast your vegetables and get a crispy texture, you will need a very hot oven. I find that a big mistake when a lot of people making when cooking is they cook everything at 350 degrees. To get your veggies nice and browned and delicious you need a much higher temperature. Roast at the minimum 425 degrees F. If your vegetables seem to not be getting browned to your liking, increase the temp to 450 degrees F.
Use parchment paper
Lining your baking sheet with parchment paper is perfect for easy clean up. It also helps prevent the vegetables from sticking to the pan. I prefer to use unbleached parchment paper.
Do you need to thaw frozen vegetables before roasting?
No, you do not need to thaw the vegetables before roasting. Simply place them frozen on the tray and break up any pieces that are stuck together. Remove any large ice chunks as well to prevent steaming.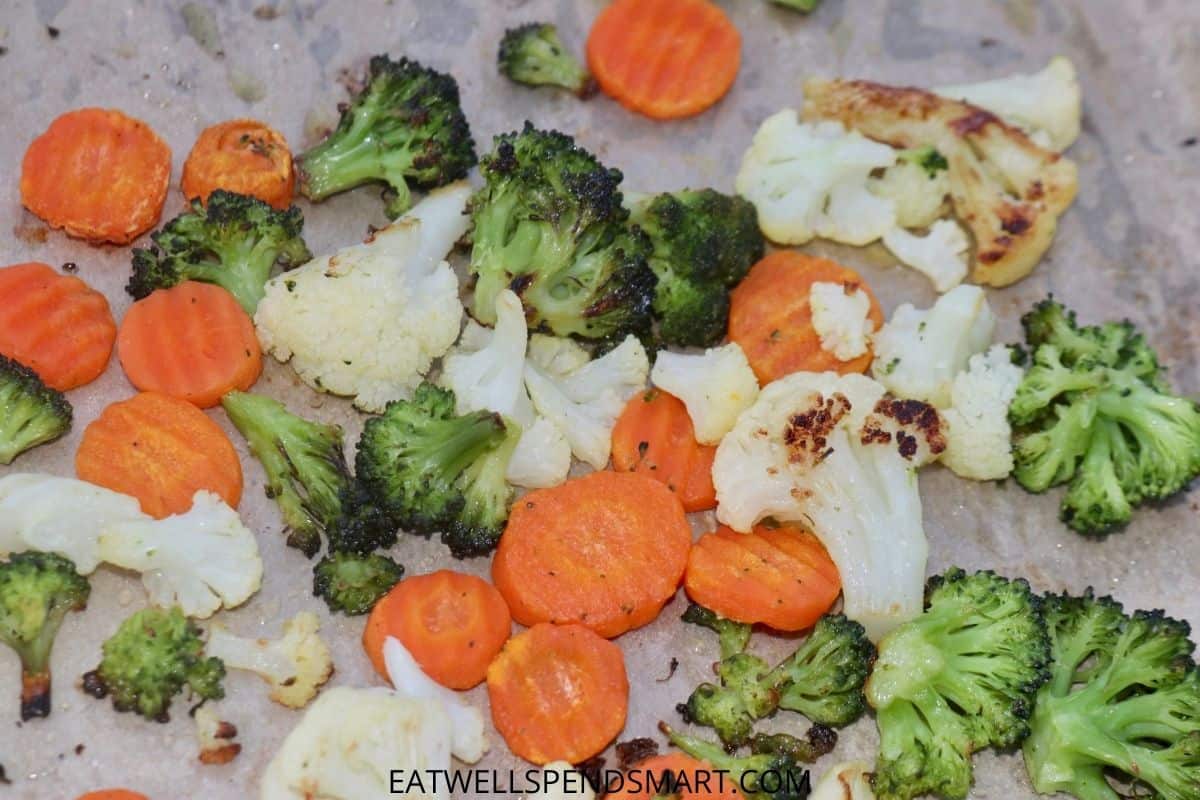 Oil and season
Drizzle your vegetables with olive oil or your favorite cooking fat, spread vegetables into a single layer with plenty of room, and salt and season generously. You can play around with the flavors: rosemary, thyme, oregano, garlic, ranch seasoning.
How long to roast?
Here is where you have to use your intuition and senses. For vegetables like broccoli and cauliflower, it will likely take around 20 minutes. For root vegetables like beets, they will take 30-45 minutes. Start checking around 20 minutes to see if they are roasted and browned to your liking. If they are done but not as crisp as you like them, you may consider cranking up the heat or turning on broil for a minute or two. It also depends on how large the chunks are. Larger chunks take longer to cook. Use your senses to guide you.
More roasted vegetable recipes
roasted carrots and green beans
honey roasted beets and carrots
How to roast frozen vegetables
A tutorial for roasting any frozen vegetable
Equipment
parchment paper

large rimmed baking sheet
Ingredients
1

bag

frozen bag of mixed vegetables

2

tbsp

olive oil

¼

tsp

salt

or more to taste after roasting
Instructions
Pre-heat oven to 425 degrees F.

Line a large rimmed baking sheet with parchment paper.

Open bag and dump frozen vegetables onto baking sheet. Break up any stuck together pieces.

Drizzle with olive oil, toss to coat, and spread out in baking sheet in a single layer leaving space between vegetables if possible.

Place in oven and roast for 25 minutes or until vegetables are slightly browned. They may be more browned on the bottom than the top. For beets or root vegetables, it may take closer to 35-40 minutes.

If desiring crispier vegetables, increase temp to 475 or broil for a couple of minutes, taking care not to burn.

Remove from oven, taste, and add more salt and pepper if needed.
Have you ever cooked frozen vegetables? If so, what's your favorite kind?