Oven roasted asparagus is a beautiful and simple recipe for spring.  It only takes about fifteen minutes to roast and you are left with crisp and flavorful asparagus.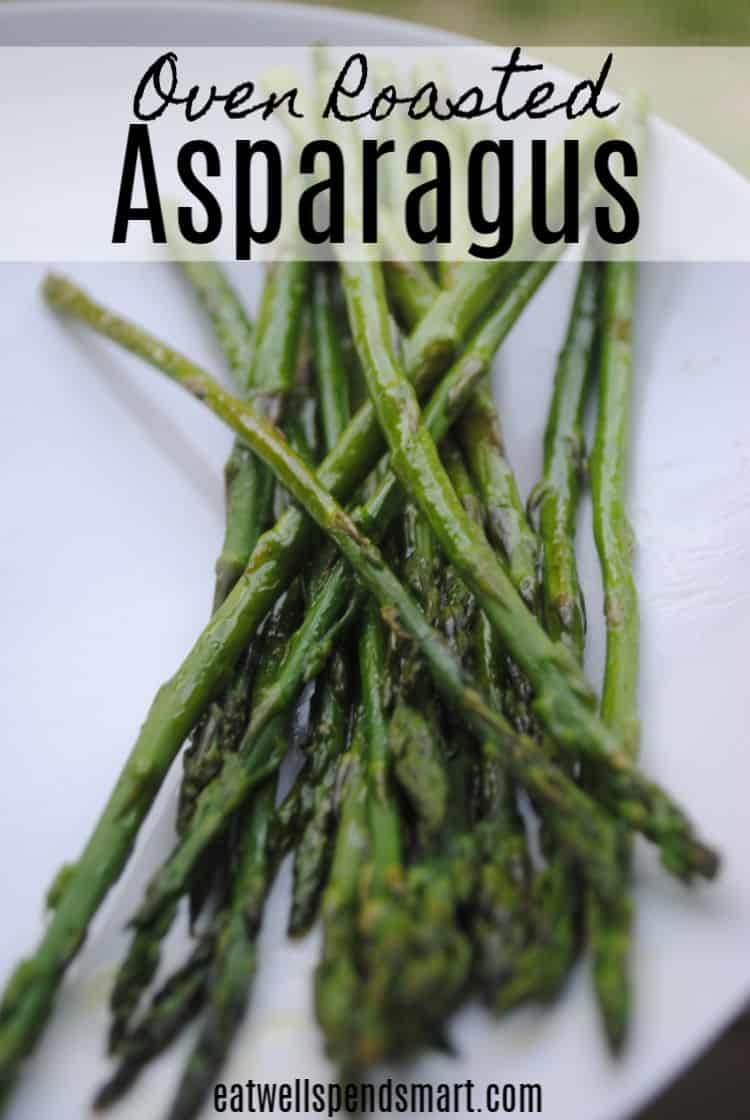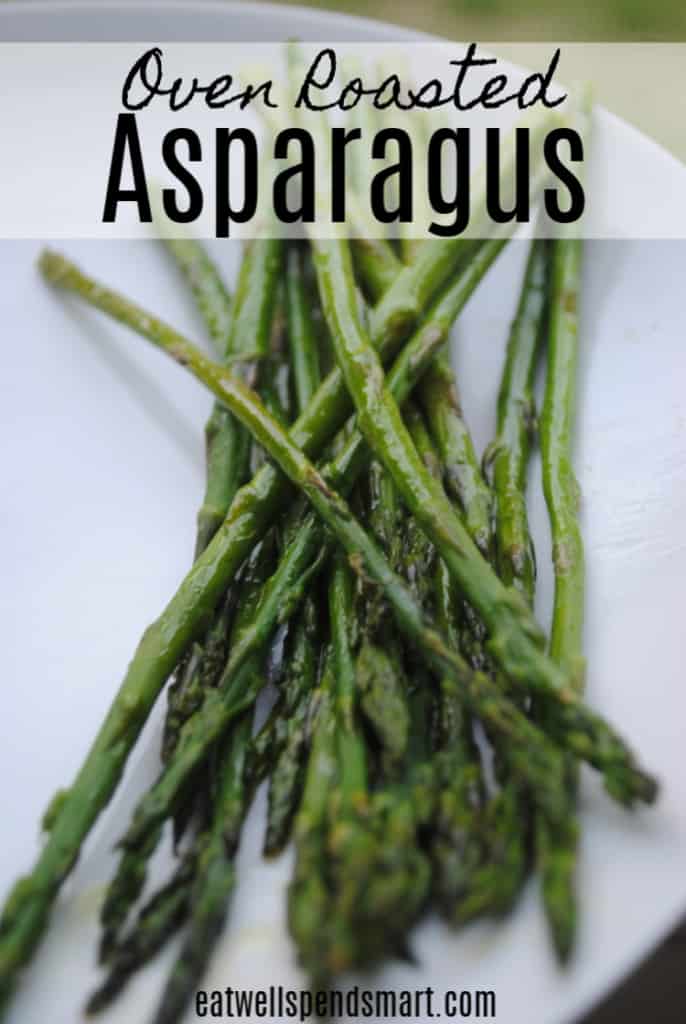 Asparagus: Perfect Spring Vegetable
Asparagus is probably my favorite spring time vegetable.  I look forward to it coming to the markets every year. After eating my fill all winter of root vegetables, Brussels sprouts and broccoli, I'm ready for the light and bright tender vegetables that spring brings, especially in the form of asparagus.
My grandparents are lucky enough to have this delicious vegetable growing right in their own backyard. Such a treat! Even if you buy it from the store, it will be cheapest and best in the spring.  One of my food budget principles is to eat seasonally.
The best thing about fresh asparagus is that it is so simple to prepare and only takes a few minutes of hands on time. Just promise me you will never eat canned asparagus.  You will ruin yourself and think you don't like this delicious vegetable.  DON'T DO IT! In my opinion, canned asparagus is gag worthy.
Optional Roasted Asparagus Variations
This recipe is simple, versatile, and highlights the goodness of the vegetable itself.  This is just the basic recipe, and truthfully this is the way I prepare it the most.  Simple, easy, elegant. It is perfect as is, but if you are looking to elevate the recipe just a little, here are a few variations.
Try adding a lemon cream sauce.
Roast it with some garlic.
Drizzle with butter and lemon juice.
Wrap a few stalks in bacon before roasting.
Sprinkle some fresh grated or shaved parmesan cheese on top.
Add toasted slivered almonds on top.
Oven roasted asparagus
Beautiful and simple spring side dish of asparagus roasted in the oven.
Ingredients
1

lb

asparagus

or as many as can fit on a sheet pan

2

tbsp

olive oil

salt
Instructions
Preheat oven to 425 degrees.

Wash asparagus and pat dry.

Snap off about 1-2 inches of the woody bottom. Just snap it where it naturally breaks.

Place on a baking sheet of any kind in a single layer.

Drizzle with olive oil. Lightly sprinkle with sea salt.

Roast in oven for 10-15 minutes until asparagus is crisp tender and tops are beginning to get crisp.

Serve hot as is, or top with optional lemon cream sauce, parmesan cheese, lemon juice and butter, or slivered almonds.
More spring recipes:
Chicken with snap peas stir fry