An easy old fashioned Salisbury steak recipe with seasoned ground beef patties slathered in a rich mushroom and onion gravy. A simple recipe that the entire family will enjoy.
Old Fashioned Salisbury Steak
When I think of Salisbury steak, my mind goes to 80s and 90s childhood tv dinners and school lunch.  It doesn't exactly bring fond tasty memories to mind.  The dish was actually named after a doctor during American Civil War times and evolved quite a bit from his "minced pulp of beef".
I re-discovered Salisbury steak in recent years, and it is nothing like the salisbury steak of my childhood.  Homemade Salisbury steak like Grandma used to make actually tastes good and is a pure comfort food meal that the whole family enjoys.
Using ground beef as the meat for the hamburger steak, this old fashioned salisbury steak is economical yet gives you that satisfying feel of a rich hearty dinner with the mushroom gravy slathered on top.  The best part about it is that it is a one skillet dish, so clean up is fairly easy.
This makes enough for four people, but if you have teenagers in the family, you might want to double the recipe if you think they will eat more than one serving.  Also no worries if your children don't dig the mushrooms and onions.  Mine didn't either when they were young.  I just make sure when I spoon the sauce over on the patties, I don't get a scoop with mushrooms and onions.  No harm, no foul.
Step by Step Instructions
First, in a large bowl, mix together your meat mixture including lean ground beef, bread crumbs, egg, and seasonings. Form into oval patties. Brown your seasoned ground beef patties in a large hot skillet with olive oil over medium heat and set aside.
Then cook your sliced onions and sliced fresh mushrooms until golden brown in the same skillet.
Add a little more butter and a couple of tablespoons of flour and cook for a few minutes.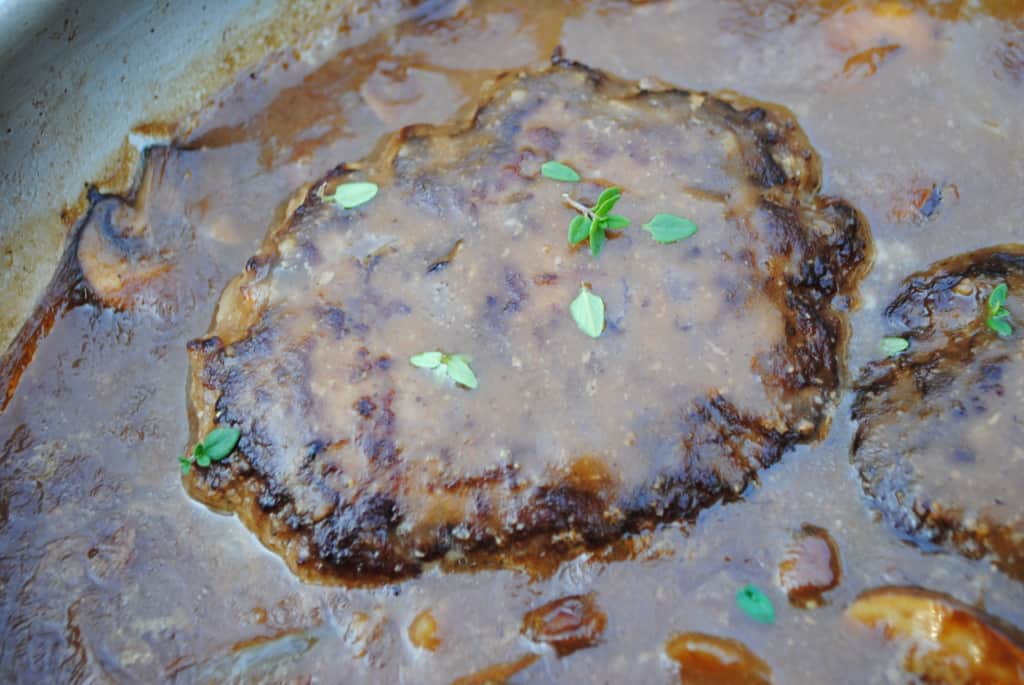 Whisk in the beef broth or beef stock and Worcestershire sauce and cook until thickened.  Add the patties back into the pan and spoon sauce over them.  Bring to a slow simmer and cook until patties have reached 165 degrees or are no longer pink inside.
What to serve with homemade salisbury steak
Here are my suggestions for side dishes:
mashed potatoes
egg noodles
green beans
Since you have all of that beautiful rich brown gravy, I like to serve it on a bed of something that can soak up the sauce. Mashed potatoes or egg noodles work wonderful for this. Of course we also have to have some sort of green vegetable, and my recommendation would be green beans to keep it classic and easy. With these side dishes you have yourself a hearty meal that will be a hit at your dinner table.
Old fashioned salisbury steak
Tender ground beef patties slathered in a mushroom and onion gravy. So much more tasty than the school lunch and tv dinner versions.
Ingredients
2

tbsp

olive oil

1

lb.

lean ground beef

¼

c

bread crumbs

omit if gluten free

1

egg

½

tsp

salt

½

tsp

garlic powder

¼

tsp

pepper

1

tbsp

butter

6

mushrooms

sliced

½

of a large onion

sliced

2

tbsp

flour

all purpose gluten free flour may be substituted

1 ½

cup

beef broth

1 to 2

tbsp

organic Worcestershire sauce

depending on how tangy you like yours

salt and pepper to taste

This will depend on how salty your broth is. If it is bland, by all means add more seasoning.
Instructions
Mix together ground beef, breadcrumbs, egg, salt, pepper, and garlic powder in a large bowl.

Divide meat mixture into four oval patties.

In a large skillet heated to medium heat, add olive oil. Place in ground beef patties and cook for about 5 minutes on each side. You are looking for a golden brown coloring on the beef. The inside doesn't have to be completely done but close.

Set aside patties on a plate after browning.

In the same skillet, add 1 T. butter to the pan along with sliced onions and mushrooms. Cook until browned and softened.

Stir flour into vegetables and cook for a couple of minutes more.

Whisk in beef broth and 1 T. Worcestershire sauce, and cook until thickened.

Taste and add more salt, pepper, Worcestershire sauce, and garlic powder until it suites your tastes.

Add beef patties back into sauce, spoon sauce over patties, and simmer for a few more minutes until they are cooked all the way through.
More comfort food dishes to try
Try some of my other comfort food favorites if you are in the mood for some good old fashioned cooking.
Old fashioned chicken and dumplings