When I think of salisbury steak, my mind goes to tv dinners and school lunch.  It doesn't exactly bring fond tasty memories to mind.  I re-discovered salisbury steak last year, and it is nothing like the salisbury steak of my childhood.  It actually tastes good and is a meal that all of my family enjoys.
Using ground beef as the meat, this salisbury steak is economical yet gives you that satisfying feel of a rich hearty dinner with the mushroom and onion gravy slathered on top.  The best part about it is that it is a one skillet dish, so clean up is fairly easy.  I still usually serve it with roasted vegetables or a salad for a complete meal, but at least there are not ten million dishes to wash at the end of dinner.  The fewer dishes the better in my opinion.
This makes enough for four people, but if you have teenagers in the family, you might want to double the recipe if you think they will eat more than one serving.  Also no worries if your children don't dig the mushrooms and onions.  Mine don't either.  I just make sure when I spoon the sauce over on the patties, I don't get a scoop with mushrooms and onions.  No harm, no foul.
Now for the step-by-step
First brown your seasoned patties and set aside.
Then cook your onions and mushrooms in the same skillet.
Add a little more butter and flour and cook for a couple of minutes.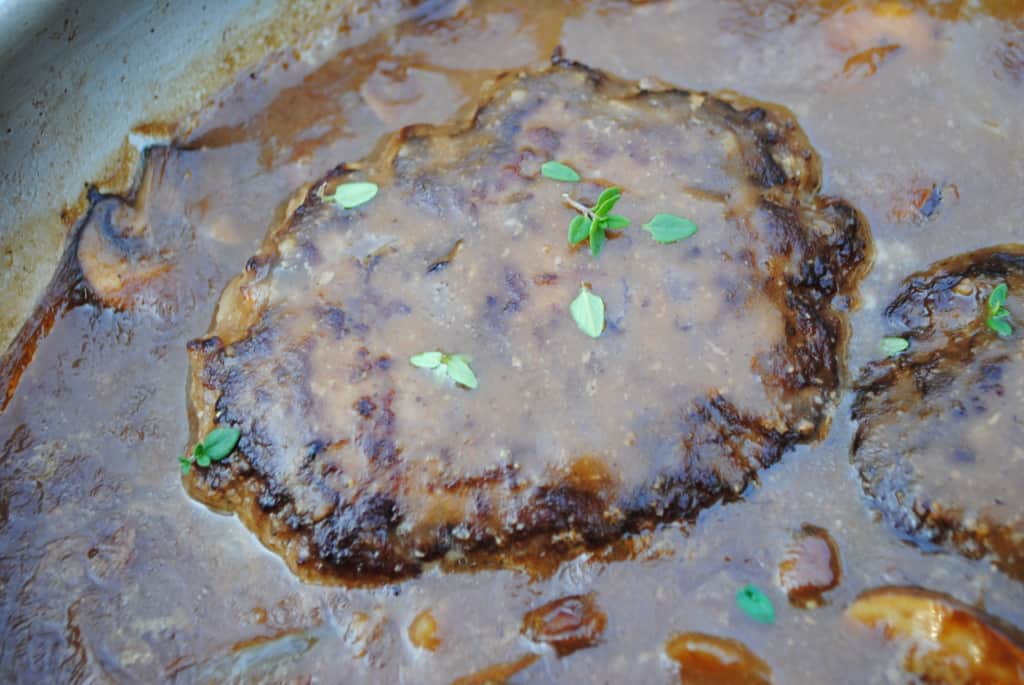 Whisk in the broth and cook until thickened.  Add the patties back into the pan and spoon sauce over them.  Simmer until done.
Salisbury steak
Tender ground beef patties slathered in a mushroom and onion gravy. So much more tasty than the school lunch and tv dinner versions.
Ingredients
1

lb.

ground beef

1

egg

½

tsp

salt

½

tsp

garlic powder

¼

tsp

pepper

2

T.

butter

6

mushrooms

sliced

½

of a large onion

sliced

2

T.

flour

1 ½

cup

beef broth

1 to 2

T.

organic Worcestershire sauce

depending on how tangy you like yours

salt and pepper to taste

This will depend on how salty your broth is. If it is bland, by all means add more seasoning.
Instructions
Mix together ground beef, egg, salt, pepper, and garlic powder in a bowl.

Divide into four oval shaped patties.

Place in skillet over medium heat, and cook for about 5 minutes on each side. If your beef is super lean, add a little oil or butter to your pan to prevent sticking. You are looking for a brown but not burned coloring on the beef. The inside doesn't have to be completely done but close.

Set aside patties on a plate after browning.

In the same skillet, add 2 T. butter to the pan along with sliced onions and mushrooms. Cook until browned and softened.

Stir flour into vegetables and cook for a couple of minutes more.

Whisk in beef broth and 1 T. Worcestershire sauce, and cook until thickened.

Taste and add more salt, pepper, Worcestershire sauce, and garlic powder until it suites your tastes.

Add beef patties back into sauce, spoon sauce over patties, and simmer for a few more minutes until they are cooked all the way through.