Healthy food at Aldi is easy to find. I made it a little easier to sift through the labels and have made a list of clean and healthy foods that I regularly buy at Aldi.  It's my favorite store to save money and eat well. Don't forget to download the free shopping list.
Updated February 20, 2019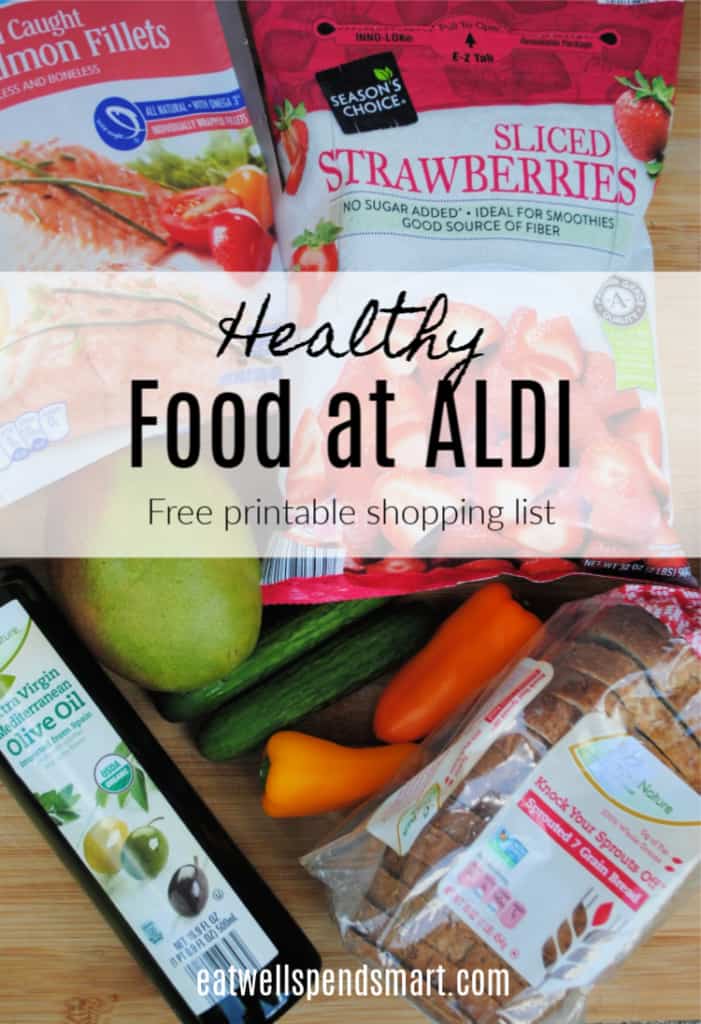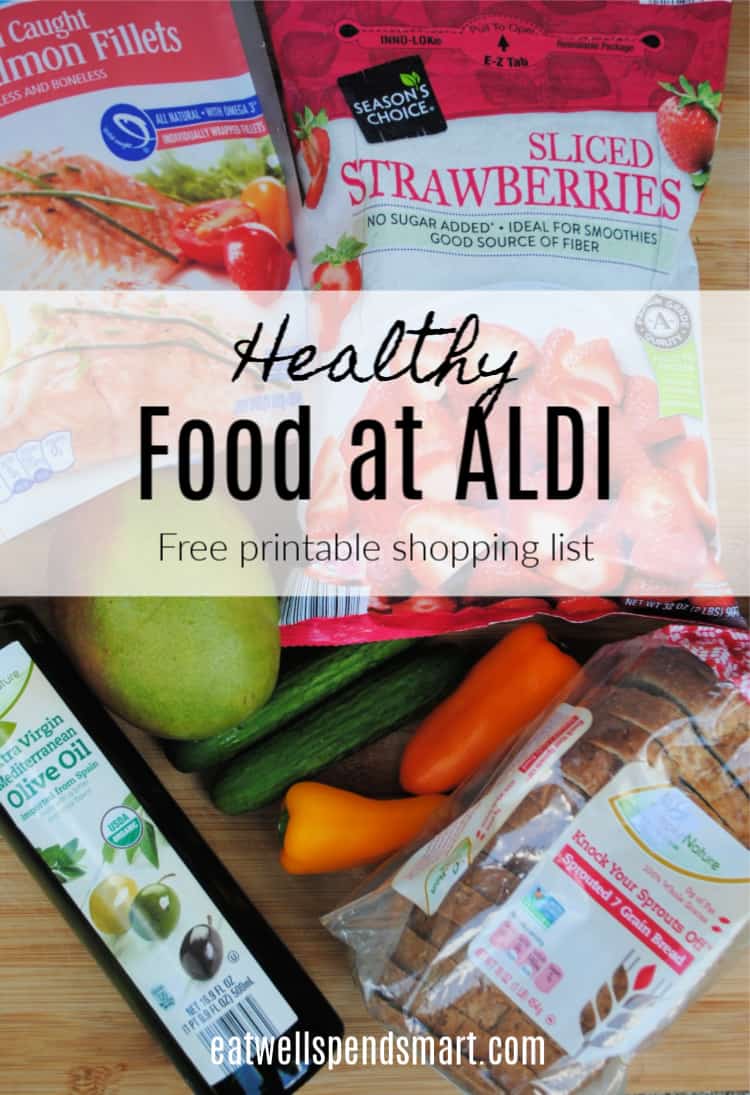 Shopping at Aldi for savings
When people that I know are struggling with their grocery budget, one of the first things I tell them is to try shopping at Aldi. It took me a long time to come around to the Aldi craze, but I am consistently amazed at the cost savings at Aldi over my other local grocery store.  I save 30-40% every single week just by changing my grocery store.
Aldi certainly has its own culture:  renting your cart with a quarter, limited choices, small inventory, small stores, no name brands, bringing or buying bags, and bagging your own groceries.  Once you get past the initial stage of learning the ropes of the store, Aldi becomes like a beloved friend that week after week delivers on quality food at low prices.  Personally I like the simple, no-frills feel of the store.  I'm in and out in no time, that is unless I get sucked in by a great buy in the Aldi finds or special buys sections.  That doesn't happen often though, because one key to me keeping my grocery budget in check is to make a list and stick to it.
Just like every store though, there is a fair amount of food offered that I do not buy.  Either I could make it for less at home or the ingredients just aren't that great and it's highly processed.  I thought it might be helpful to make a list of all of the items that I do purchase on a regular basis.  Now, some items I could still make cheaper at home, for example, yogurt, broth, and bread, but I still included them in this list because they meet my standards for healthy options when you are short on time.
List of Healthy Food at Aldi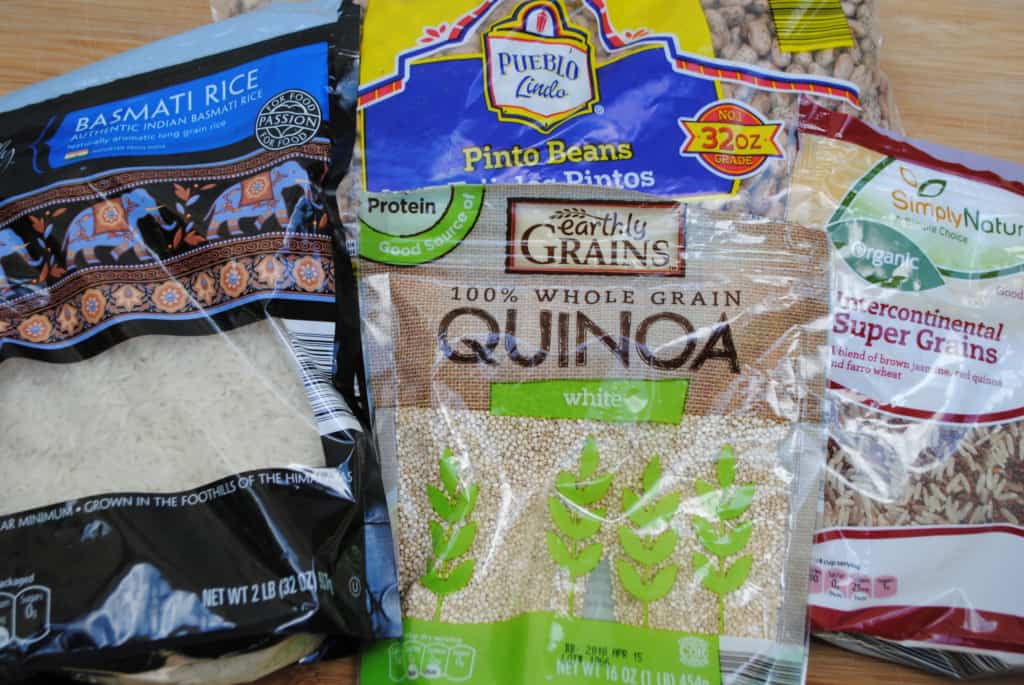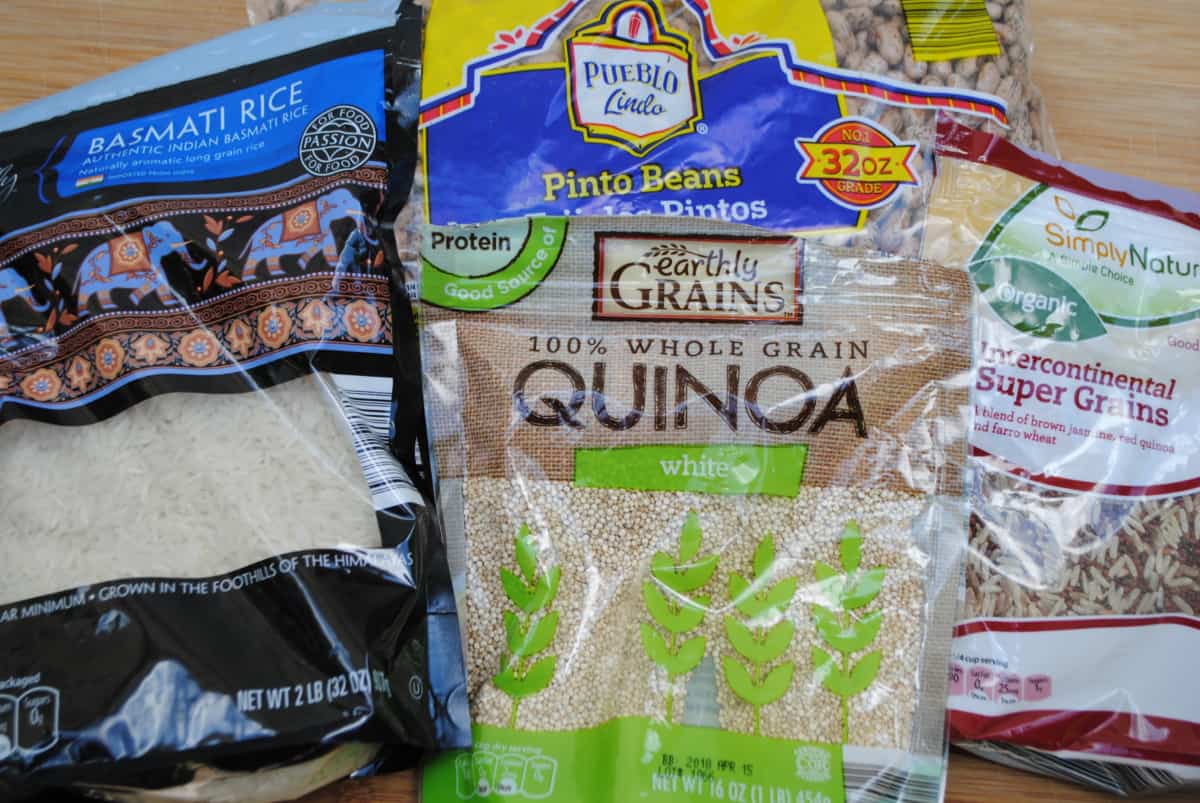 Dry beans and grains
dry beans (black, pinto white, garbanzo)
dry lentils
rice (white or brown)
quinoa
maseca
specialty grains
noodles (The gluten free, rice, and organic are all options that I buy)
old fashioned oats
sprouted bread
Nuts/Seeds
flax seed meal
chia seeds
hemp seeds
nuts (watch for added oils and sugar)
pepitas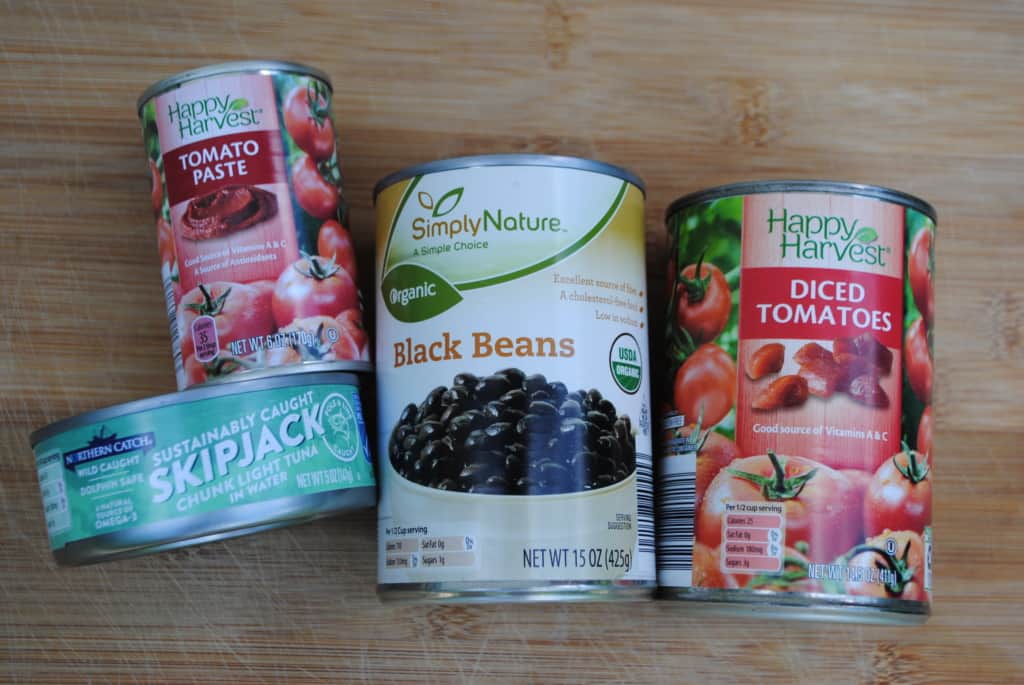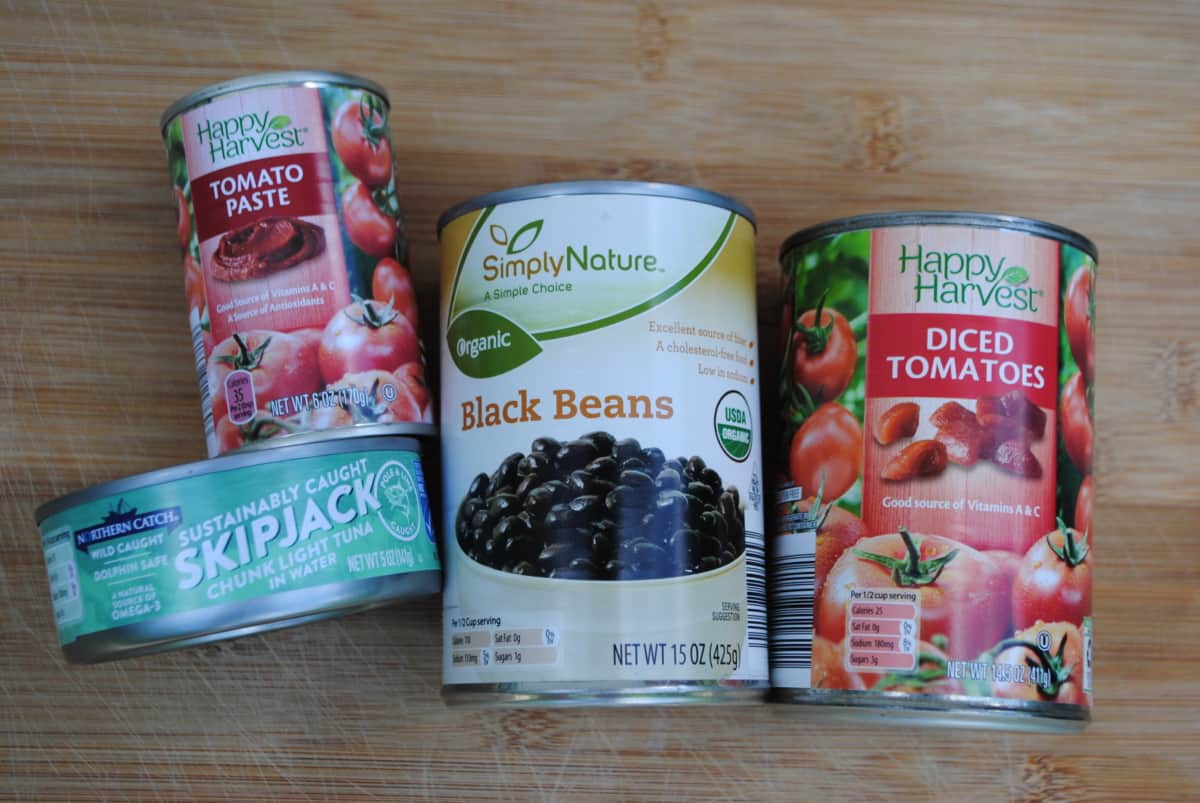 Canned goods
canned tuna and salmon
canned beans
canned tomato products
canned pumpkin
canned vegetables (Fresh is always better, but these work in a pinch or food storage.)
Baking/Cooking
100% maple syrup
honey
cocoa powder
spices (Simply Nature organic)
baking soda
yeast
apple cider vinegar
white vinegar
pitted dates
vanilla (Stone Mill)
olive oil
coconut oil
ghee
avocado oil
organic sugar
Pantry
jarred artichoke hearts
jarred olives
jarred banana peppers
jarred jalepeno peppers
salsa
mustard (dijon and yellow)
organic ketchup
jam/fruit spread (Specialty Selected)
apple butter (Berryhill)
organic free range broth (Homemade is better and cheaper, but this is a good option in a pinch.)
marinara sauce
peanut butter and nut butters (look for one with no added sugar or oils)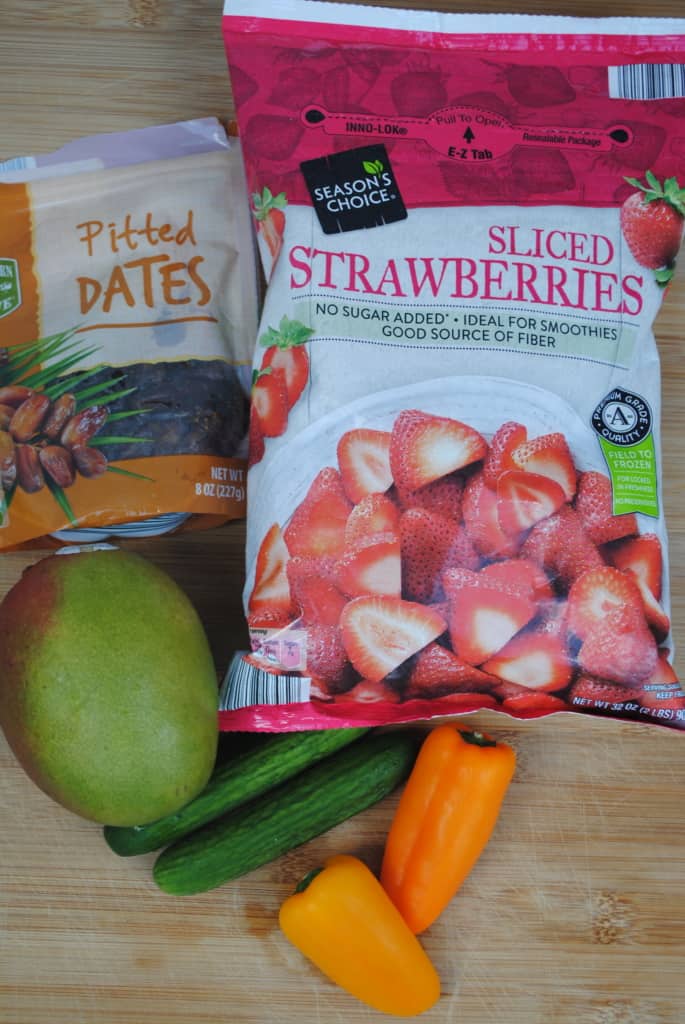 Produce and Frozen
all produce (Fruit and avocados are especially great prices at Aldi.  There is even a growing organic section.)
frozen fruit
frozen cauliflower rice
frozen corn
frozen mixed vegetables
frozen broccoli
frozen asparagus
frozen peas
all fruit popsicles
frozen seafood (salmon, flounder, shrimp, scallops)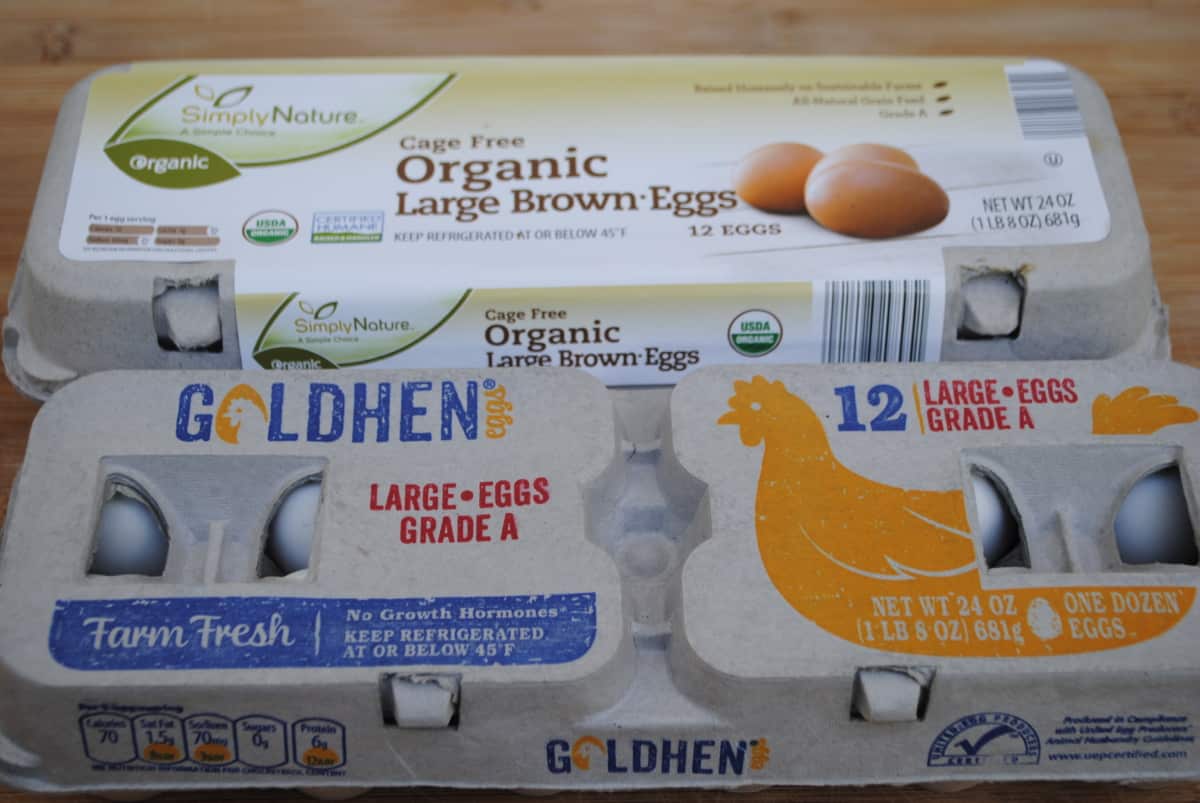 Meat/Eggs
eggs (conventional or organic)
bacon ("Never Any" brand)
lunch meat ("Never Any" brand is decent)
prosciutto
chicken sausages (Never Any brand)
pork sausage roll (Appleton Farms)
beef, chicken, pork (There are often organic or grass-fed varieties.  I still prefer to buy my meat in bulk from local farms, but if you don't have access to these options or are on a tight budget, the meat here is an option.)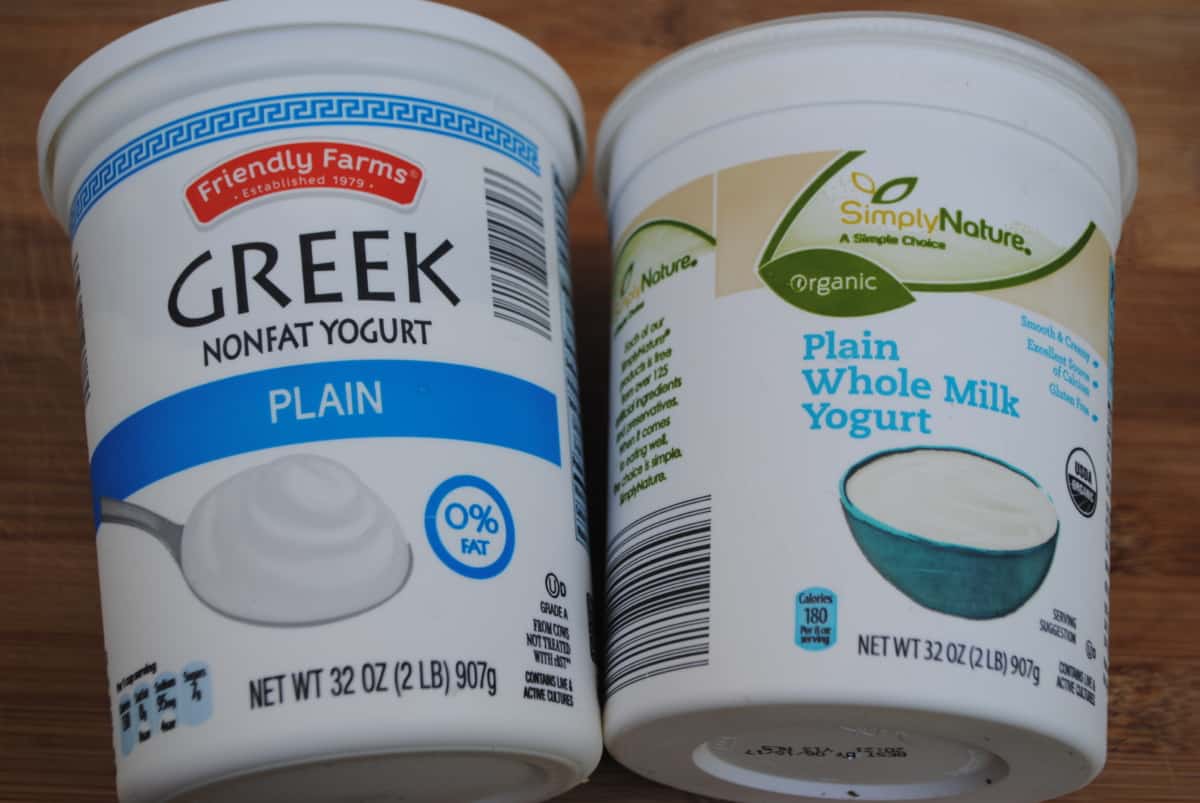 Dairy
yogurt (Simply Nature whole milk)
almond milk
milk (I personally do not buy milk here.  I purchase organic raw milk from a local farm, but I still included it here.  They have both organic and conventional milk not grown with artificial growth hormones.)
butter
cheese (There are lots of options here.  Just make sure you turn the package over and look at the ingredient list.  Stay clear of funky ingredients.  The cheese blocks, mozzarella balls, etc are typically good buys.)
cottage cheese
sour cream (Friendly Farms)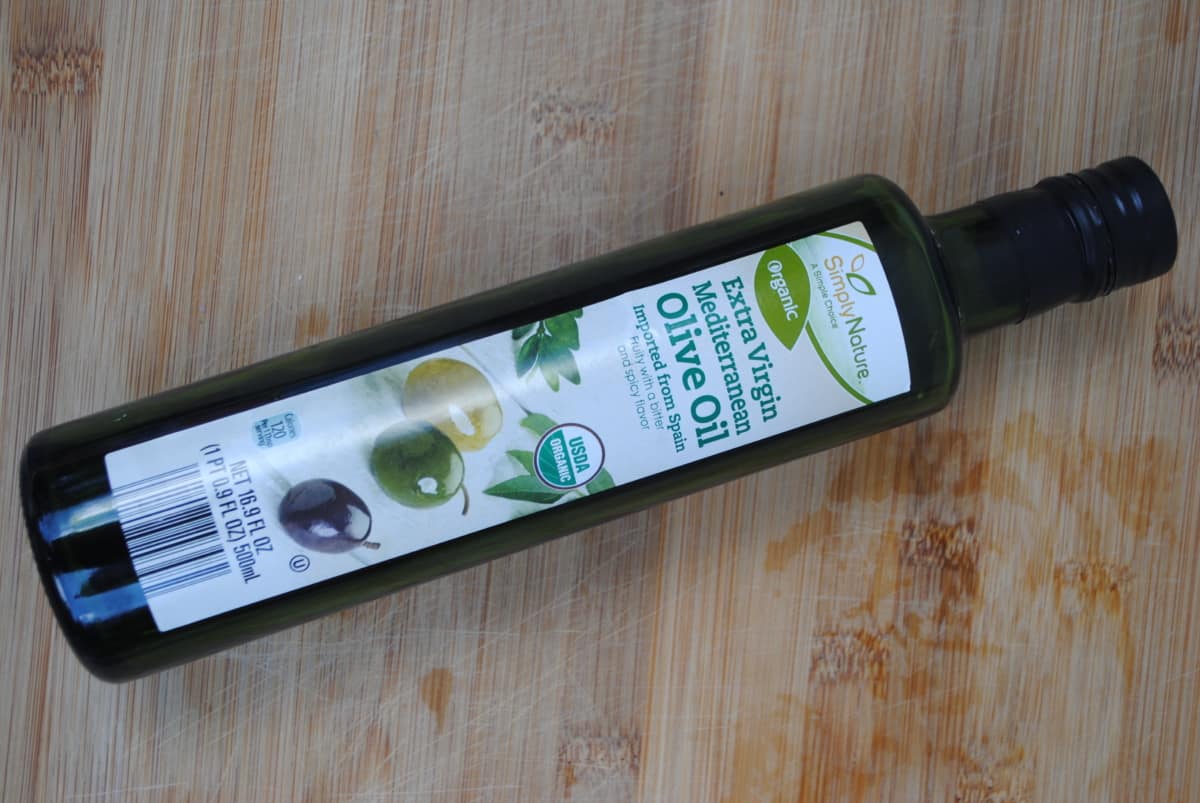 Snacks
applesauce (Simply Nature unsweetened)
applesauce fruit squeezes
dark chocolate (Look for the 70-80% dark.)
tortilla chips (Simply Nature organic)
fruit strips (Simply Nature)
freeze dried fruit
hummus (Park Street Deli)
Live GFree cookies and snacks
popcorn
raisins
La Croix
What about you?  Are you an Aldi fan?  What are your favorite Aldi buys?