Slow cooker black bean soup recipe using dried black beans. Try this easy super cheap pantry meal when money is tight.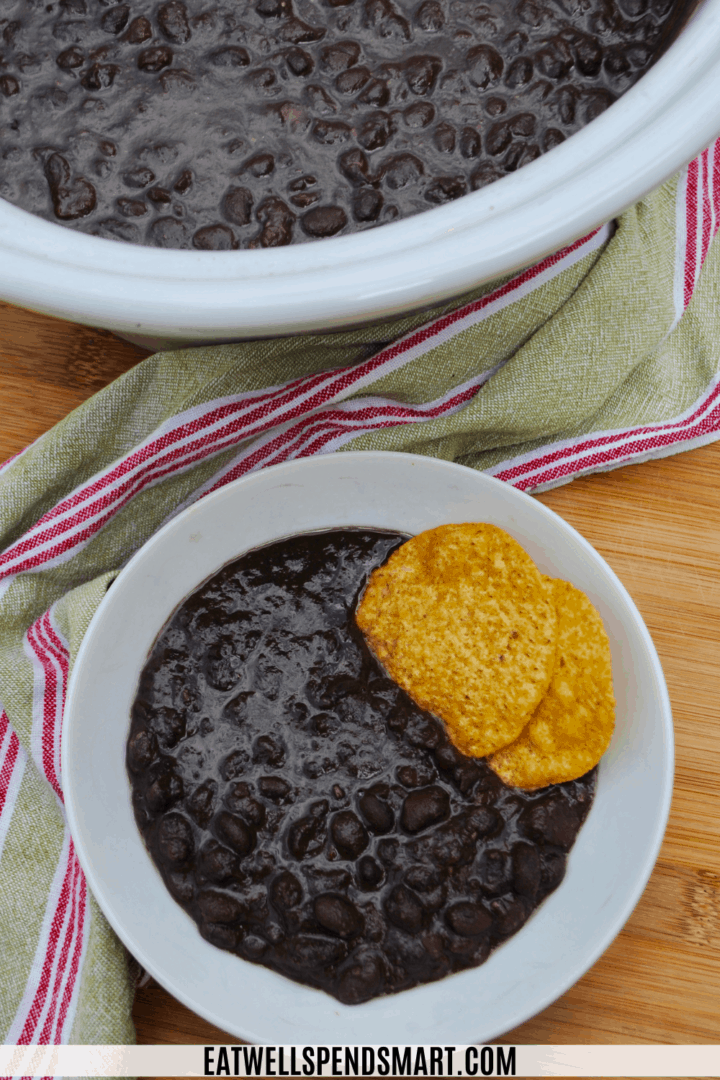 Everyone loves a good slow cooker recipe, especially one that is as easy to prep as this one. This slow cooker black bean soup is truly a chop, dump, and go recipe. This makes it great for busy days.
Using only inexpensive dried black beans, jarred salsa, onion, red bell pepper, and spices, black bean soup is one of the most economical meals you can make on a tight budget.
Should I soak my beans?
To soak or not to soak beans. There is a lot of debate on whether or not soaking is worth the extra effort. Lopez-Alt from Serious Eats explored this topic at length and came to the conclusion that soaking beans is not necessary. He claims soaking makes them less flavorful and adversely affects the texture. While I can not say for sure if that is true, I found it very interesting.
I do think soaking beans can improve digestion. I find this to be true based upon personal observation and traditional wisdom, although I don't have any hard science to back up this claim. If you want to soak your beans ahead of time, use one of these traditional four-step soaking methods from The Bean Institute.
Bottom line: If you typically have trouble digesting beans, stick with the soaking. If your gut can handle anything, you should be fine without soaking. I have done it both ways and honestly it comes down to convenience and if I forgot to soak the night before or not. I have never had a problem with my beans not becoming tender cooking in the slow cooker without soaking first as others have claimed. Make sure your dried beans are somewhat fresh to avoid this problem.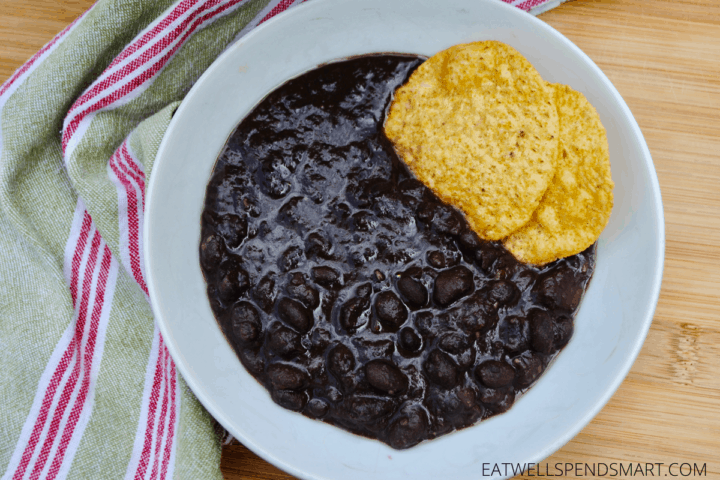 Serving black bean soup
Kids (and sometimes husbands) can be a bit reluctant to eat a meatless meal. For this reason I like to serve mine with a cheese quesadilla to give it a little more substance. Who doesn't love a quesadilla to dip in the soup?
My son likes to take tortilla chips and dip in the soup as well.
For toppings, you could use any of the following: cilantro, cheese, sour cream, hot sauce, tortilla chips, or chopped red or green onions. I personally think everything is better with toppings. If you are on a tight budget, the soup is still delicious without them.
Slow cooker black bean soup
A black bean soup made in the slow cooker with minimal ingredients.
Equipment
slow cooker

immersion blender or blender
Ingredients
2

cups

dried black beans

4

cups

water or broth

1

cup

prepared salsa

I like a medium spice level

1

red bell pepper

chopped

1

onion

chopped

1

tsp

salt

2

tsp

chili powder

1 ½

tsp

cumin

½

tsp

garlic powder
Instructions
Rinse beans thoroughly and pick out any debris or unsightly beans.

Place beans and remaining ingredients in slow cooker and stir.

Cook on low for 8 hours until beans are tender.

Using an immersion blender, purée beans as much or little as you desire. Soup with thicken the more you blend.

Taste and adjust seasonings as needed.
Notes
Recipe above does not include soaking time of beans. If you are prone to digestive issues from unsoaked beans, please see post details for instructions on soaking the night before.
Other bean recipes:
Slow cooker red beans and rice